Best Cheap Food Dehydrator – Inexpensive Affordable Budget Model Reviews & Buying Guide [Upd Jan 2023]
If you are looking for a way to prepare healthy dried products, please keep reading this article to learn about the choices of the Best Cheap Dehydrator models available in the market in 2023.
Millions of people have rediscovered the benefits of food dehydration. Healthy, nutritious, and tasty products are achieved at tremendous savings, offering you sustainability.
These appliances are considered "flavor concentrators," delivering each bite a mouthwatering burst of flavor. It is effortless as you wash, slice, and dry the produce, a much easier foodstuff preservation method than canning or freezing.
As dehydrating does not damage the valuable nutrients in products that may be lost during high heat cooking in the pan or the oven, nutrients are retained in the products so as their flavor.
Drying needs no additives or preservatives, and dried products reduce in size, making storage easier than storing canned or frozen food.
Best Affordable Food Dehydrator Reviews 2023
Let's take a look at the 5 best cheap (I know, I know, cheap is subjective) food dehydrator models.
NESCO FD-80A
Features
With a powerful top-mounted fan with 700 watts of drying power, the NESCO FD-80A comes with an adjustable thermostat (95-160ºF), an original Converga-flow drying system to force air through the pressurized chamber, 2 jerky spice and cure packets 1 clean-A-screen and a user-friendly dehydrator for drying food. It is expandable to 8 trays, allowing the storage of a larger amount of food.
Benefits
I found that NESCO FD-80A is capable of drying a large variety of food within hours. The Converga-flow drying system allows faster and more nutritious drying. This is because the air passes through each individual tray and converges in the center.
The adjustable thermostat has a temperature range from 95 degrees to 155 degrees. This ensures more flexibility and hence, leads to better results. Furthermore, the top fan makes sure that the flavors don't mix by avoiding liquid spillage.
It has a user-friendly control knob that helps to adjust the heat. Also, the bale handle removes and replaces the powerhead and the dishwasher-safe parts. The NESCO FD-80A is an excellent choice for a food dryer.
User Reviews
From my research, I have found that the majority of the customers were happy with the product. It can dehydrate a large amount of diverse food at the same time. It helps that the item comes with eight different trays with an equal amount of heating covering them.
Also, the wide temperature range has helped to achieve enhanced dehydration results for different types of food. But, the product gets tired quickly, and parts need frequent replacements. Other than that, the NESCO FD-80A has impressed most customers.
Pros
Eight trays provide room for a large amount of food.
Adjustable thermostat with a temperature range between 90F and 165.
Converga-air flow drying system permits fast, even, and more nutritious drying.
User-friendly dehydrator.
Cons
The trays become flimsy and weary very soon.
The top-mounted fan dries bottom trays very slowly.
Takes a long time to dry food.
Presto 06301
Features
The Presto 06301 is a digital electric food dehydrator with a six-tray system. The trays expand to twelve and can dehydrate different types of food items, even seafood.
It can dry food without additives and has a digital thermostat with a timer for precision that allows you to safely use the dehydrator overnight. Drying temperatures range from 90 to 165 degrees.
A fan is placed at the bottom so that the air passing through the trays is equal and regular. It is a cost-efficient alternative to commercially dried food.
Benefits
This is a deluxe digital dehydrator composed of six drying trays, extending to twelve. So, you will have more than enough space to dehydrate a vast amount of food, from fruits and vegetables to even meat.
When kept unused, the drying trays nest and significantly reduce the storage space by 40%. Two nonstick net shades have been added for drying smaller and stickier foods.
The digital thermostat allows a wide temperature range of 90 to 165 degrees. The timer doesn't hurt either, allowing more flexibility and precision.
User Reviews
From my research, I can say that the dehydrator can dehydrate and cook many food items simultaneously. This is a luxury, courtesy of the six trays and the dehydrator's ability to save space.
Customers appreciate the function of the timer and the thermostat. Now, they don't have to worry about overcooking food or having to turn off the machine.
They are also impressed by its ability to keep fruits fresh beyond their lasting periods. But, one customer listed a problem that can be worked on. Even the slightest of drippings is sucked into the machine, which is unsanitary.
Pros
Six-tray system, expandable to twelve.
Adjustable digital thermostat with a temperature range between 90°F and 165°F
Nesting trays increase storage space by 40%.
Has a digital time for more precise timing.
The bottom-mounted fan ensures even distribution of air.
Cons
Liquid/juices from food can drip into the bottom-mounted fan.
Creates a lot of noise.
The drying process, at times, requires monitoring.
Presto 06300
Features
The Presto 06300 is a cost-effective and affordable food dehydrator that comes with four trays. It dehydrates food without the use of additives or preservatives.
A fan is placed at the bottom so that the air passing through the trays is equal and regular. For this product, the trays do not need to rotate, as they are immune from being miscible.
Furthermore, it comes with nesting drying trays that offer more compact storage. The dehydrator is set at a temperature of around 165. And, it comes with a see-through cover to observe the drying process on the top tray.
Benefits
The Presto 06300 can dehydrate fruits, vegetables, herbs, and spices in a four tray system. Four extra trays can be separately bought to increase space within the nesting trays.
This product saves customers from the hassle of buying pricey dehydrated foods. The see-through cover allows the opportunity to monitor and keep an eye on the drying process.
Since the fan is placed at the bottom, it does need to rotate. Here, air comes out equally and from across all the trays.
User Reviews
The Presto 06300 is relatively small and offers a limited set of features. But, it is a good product for those looking for a cheap dehydrator model that can serve their basic needs. Customers are happy with this product, which apparently work best for beginners.
Despite its smaller size, it can be used to dry different types of food all at once. Along with the extra trays, it can serve a larger dehydrator at a cheaper rate.
A downside is the machine's need to rotate the trays manually. However, this ensures efficient drying.
Customers would undoubtedly prefer a more flexible, adjustable thermostat. Yet, it can be said that the Presto 06300 is an excellent product for its price. Is it the best inexpensive dehydrator? Time will tell.
Pros
4 internal trays, expandable to 8.
Has a bottom-mounted fan for even distribution of air.
Comes with a see-through cover that allows monitoring of the drying process.
Beginner friendly.
Nesting trays to allow more space.
Cons
Trays have to be rotated manually to ensure each and every one of them gets equal heat.
The bottom-mounted fan adds the risk of liquids dripping into them.
Requires monitoring.
Comes with a preset temperature, reducing the degree of freedom and the chance to choose any temperature to cook in.
NESCO FD-75A
Features
The NESCO FD-75A comes with an efficient top-mounted fan with 600 watts of drying power and 5 internal trays. The Opaque Vita-Save exterior keeps harmful light from threatening the nutritional content of the food.
It has a patented Coverga-flow drying system to force air down through the trays. This allows fast, even, and nutritious drying. The adjustable thermostat dehydrates different types of food according to their optimum temperatures.
Benefits
The NESCO FD-75A can dry different types of food in a matter of hours. As mentioned, a flow drying system forces air down across each individual tray. So, it can provide quick and optimum drying and keep liquids from dripping into the heater.
The five-tray feature, which can be expanded to twelve, allows the drying of a large amount of food at a time. Also, the adjustable thermostat allows flexible heating according to the food type.
The Vita-Save exterior eliminates harmful lights from coming into contact with the food. This is an essential feature as harmful lights destroy food nutrients.
User Reviews
It is a hit with customers for being worthy of its price, and it has garnered mostly positive reviews so far. It can extend the expiry date so that the dried food can be kept without preservation for a long time. This makes it convenient for backpackers and those who pack food for trips.
The 5-tray compartment system allows a lot of dehydrating at the same time. Also, it is easy to operate and safe to leave on throughout the night.
There have, however, been complaints that the new trays are flimsy and fragile. That is an area, which can be worked on for this product.
Pros
5 internal trays, expandable to 12 for more storage space.
Converga-flow drying system to push air down consistently and evenly.
Adjustable thermostat allows the user to choose different types of temperature for different types of food.
Vita Save Exterior prevents harmful light from coming into contact with the drying food.
Cons
Additional trays are flimsy and weary and do not last long.
The top-mounted fan often dries the top trays fast and the bottom trays slowly.
Gourmia GFD1650
Features
The Gourmia GDF1650 is a budget food dehydrator. Features include 6 drying shelves, a digital thermostat with 8 preset temperature settings, and a countdown timer.
It comes with 360-air flow circulation for consistent, uniform heating. Furthermore, a transparent door is there for monitoring the drying. Due to the 360-circulation system, its 6 trays do not need rotating.
Need further guarantee of the authenticity and functional capacity of the product? It is ETL certified and can provide safe, efficient, and high-quality dehydration.
Benefits
The six trays available allow the loading and drying of many different food items at the same time. These items include fruits and vegetables to even different types of meat. Different types of food can be dried together without a problem.
It offers snacks, which are free of additives and preservatives. These snacks are much cheaper compared to commercially processed store-bought food.
The digital thermostat allows us to pick the preferred temperature to heat food. The 8 increasing preset temperatures help dehydrate foods according to their characteristics.
The countdown timer offers precise timing. Now, you have the luxury of not having to worry about the food being overheated.
The 360 circulation system allows even circulation of airflow throughout the dehydrator trays. This ensures safe and efficient drying, leading to a satisfactory end result.
User Reviews
The best feature of the Gourmia GFD1650 is how it does cooking and preserving food easier. It eliminates the hassle of naturally drying food, which can take hours. And it is less expensive than commercially bought processed food.
Users admire the output of the Gourmia GFD1650. It can cook, dry, and preserve food within the promised time, making lives much easier.
Furthermore, customers love the recipe book and the user manual that comes with it. They make it simpler for users to operate the machine.
However, there is one regular complaint about the Gourmia GFD1650. It is that the thermostat only has 8 preset temperatures available for use. This eliminates the liberty to choose a temperature outside those 8. Other than that, I would certainly recommend this dehydrator.
Pros
6 drying shelves for a large amount of food to dry.
360circulation system for consistent, uniform heating.
Trays do not need rotation.
A transparent door allows observation of the drying process.
ETL certified.
Cons
Preset temperatures in the thermostat allow a limited degree of freedom.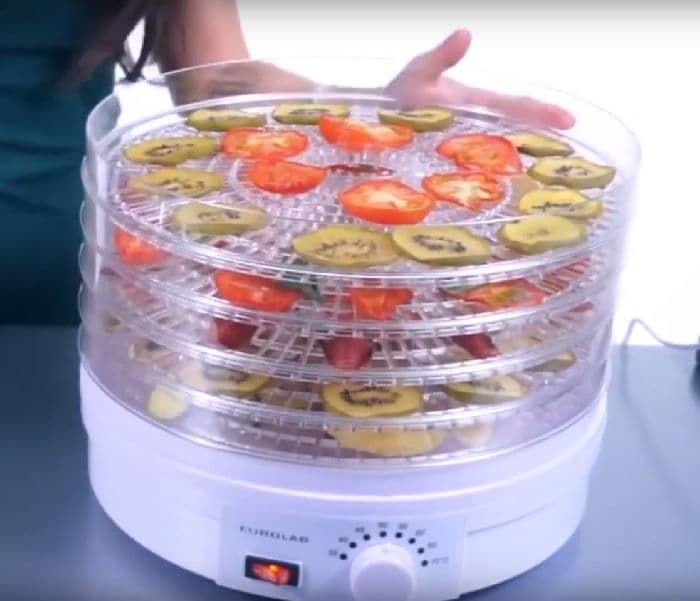 Dehydrator Features To Consider
While one should scrutinize individual brands and products to find the perfect dehydrator to cook and preserve food, it is also important to consider a few other factors before buying one for added benefits. Design, fan positioning, thermostat and etc., can determine the quality and output of a dehydrator.
The Design: Round or Square?
Each has its own pros and cons. The square one takes up lesser space and is easier to carry and move. The circular ones take up more shelf space.
The rectangular trays allow more room to stuff additional items inside. The edges of the circular shelves make it inconvenient to store food at the ends.
The square dehydrators have the dryer and the heating element at the rear end. This results in an even distribution of air throughout the trays. But, the circular trays need monitoring and rotating for better results.
Yet, circular machines have their advantages as well. Indeed, they don't have their heating elements at the rear end. But, they have rotating trays that ensure that the airflow reaches all the trays. The round ones can also do their drying duties at a lesser time than the square ones.
Both the design types serve the purpose of drying, cooking, and preserving food. Though, if you are looking for convenient drying, rectangular dehydrators are better suited.
The Number of Trays: Fixed or Expandable?
The greater the number of trays, the more amount of food can be dried at the same time. Some appliances come with a fixed number of trays, while some allow extra trays to be attached.
Having the option to extend always offers the advantage of having the chance to add more food. But, it has its drawbacks as well.
The extra trays tend to be flimsy and fragile, and they wear and tear easily. Also, they may need regularly replacing, causing inconvenience to the users. Another drawback is that extra trays may not adjust well with the fixed trays.
It may seem like an excellent choice to input extra shelves to be able to add more food. But, sticking to the existing ones might lead to better functionality.
Thermostat: Adjustable or Fixed Temperature?
This is an easy pick. Fixed temperatures offer a few preset temperatures, allowing only a handful of options to pick from.
The preset temperatures provided are usually in ranges good enough for any type of food. Though, they diminish the freedom of choosing between temperatures, like slightly increasing or decreasing the temperature.
This is why adjustable thermostats are effective. They have a range of temperatures to choose from (usually between 95 and 165 Fahrenheit). This will allow selecting the temperature of your choice when drying your food.
Bear in mind that dehydrators with fixed temperatures are usually cheaper than the ones with an adjustable thermostat.
Timer
Since we prefer comfort and convenience to everything else, we would definitely opt for a dehydrator with a timer, wouldn't we? A timer allows us to have complete control over the machine. This is because it cuts power automatically once the process is complete.
The timer lets us choose a specific period for the dehydrating process. Now, we don't have to leave all our other work and stand next to the machine while the drying process is ongoing. Prevent overcooking or overheating without having to waste time!
Hence, it is evident that a digital timer is quite handy when using a food dehydrator. The machines without timers aren't all that bad either, except for the fact that you will have to monitor the drying process. They cost much less and do not require the hassle of choosing a time range.
Top Mounted Fan or Bottom Mounted Fan?
This is an essential aspect to consider when it comes to picking a food dehydrator. Both have their fair share of pros and cons, making it difficult to choose between the two.
Let's start with bottom-mounted fans first. Located at the bottom, they make it easier to dry herbs and spices and benefit in the quick drying of food. They are easy to operate and are cheaper than the ones with top-mounted fans. Furthermore, devices with bottom-mounted fans take lesser space and are suitable for those who require less food.
They do, however, come with an equal share of cons. There is a risk of food spilling down to the fans, the trays need rotating for even distribution of air, the food on the bottom trays dry faster than the ones on the top, and last. Still, not least, they are challenging to clean and maintain.
Now let's take a look at top-mounted fans. Unlike with bottom-mounted fans, there's no chance of food dripping into the fan. The trays need not rotating as the air from the top distributes evenly through all the trays, and they are easier to clean as well.
A disadvantage is that they are much more expensive than the bottom-mounted ones. If you were to ask me, I would undoubtedly recommend dehydrators with top-mounted fans.
Top-Rated Food Dehydrator Brands
Excalibur
Appliances from Excalibur evenly and efficiently dry anything. Excalibur 3926TB (3900 Deluxe Series) 9 Tray dehydrator can dry all kinds of products: fruits, vegetables, meats, and more!
Using this appliance, you can make fruit leathers and homemade jerky, all fresh!
Trademarked with the horizontal-airflow drying system, the produce is dried perfectly and evenly on all the trays. The warm air removes moisture and pushes moisture out the front of the machine.
Plus, these dry from 2 to 10 times faster than most other dehydrators.
Popular models from Excalibur:
3926TB
3900B
2400
2900ECB
3526TB
Nesco
Nesco Dehydrators like Nesco FD-75A are easy-to-operate kitchen appliances that allow you to dry slices of fruit and vegetables, herbs, and flowers, granola, or strips of jerky in hours instead of days.
These feature a Converga-Flow drying system, which forces heated air up the units' exterior pressurized chambers, exactly not through the trays, then pushes the air horizontally across each tray, converging at the center.
This fast and even drying deliver uniformity, no flavor mixing, and no need to rotate the trays around during the drying process.
As you have seen in my review above, several Nesco models are mentioned among the best cheap food dehydrator models priced under $100.
Popular models from Nesco:
FD-75A
FD-61WHC
FD-1040
FD-60
FD-80A
STX
STX Dehydra Food Dehydrators are excellent quality kitchen tools that feature Horizontal Air Flow System in drying/dehydration.
These were tested many times and now give assurance that these perform and any of the heavy-duty home use dehydrators on the market today!
The trays accompanying in this appliance are made out of material approved as compliant with the US FDA, not containing any "BPA" (Bisphenol A).
Popular models from STX:
STX-DEH-1200W-XLS
STX-DEH-600W-SST-CB
TSM Harvest
TSM Harvest dehydrators are excellent for raw product cooking, perfect if you are embarking on your own naturally dried foods journey.
TSM Products Dehydrator with 10 Shelves quickly makes excellent tasting natural snacks, like jerky, fruit leathers, apple chips, or any of your favorite dried fruits or vegetables.
These create horizontal airflow for maintaining even temperatures in the drying operation.
Frequently Asked Questions
What are the best products to dehydrate?
If you've got a food dryer for the first time and aren't sure where to start, begin processing products that are the tastiest and most straightforward to dehydrate. With a dehydrator, you can even precook your meat for a whole meal ahead of time.
Fruits
Fruits are among the most popular choices and a great jump-off point for someone new to the game. Just remember to let your fruit soak in something like a citric acid solution first to limit the growth of bacteria and keep the fruit looking good.
Some of the most common fruits to dehydrate are apples, figs, pineapples, plums, pears, grapes, berries of all kinds, bananas, dates, and cherries. In fact, you've probably encountered most of these fruits in dried form in your local supermarket. If you really lack inspiration, the dried products aisle can give you ideas on what will work well.
The list above is hardly comprehensive. We encourage you to experiment with other fruits you like to see if the results are something you enjoy. Another avenue to explore is fruit leather. This is made by pureeing the fruit first, then dehydrating it spread out on a sheet.
Veggies
Vegetables, of course, also work well in dehydrators. Most should be blanched before the process to prevent food poisoning and keep the veggies looking good, so this requires some research beforehand.
Meat
To make jerky, you can dehydrate meat, preferably of the leaner variety, to again, not risk foodborne illnesses. Currently, I am trying to figure out which is the best food dehydrator for jerky.
Herbs
For the more advanced, dehydrating herbs is a great idea to make use of in cooking.
How much power does a dehydrator use?
Given that every dehydrator is different, we can't give you an answer ourselves. To find out the costs of your chosen food dryer model, here's what you need to do.
To calculate the power consumption in Kilowatt-hours (kWh):
Multiply the wattage of your dehydrator by the number of hours you will be using it.
Then divide this number by 1000.
Next, multiply this by the cost of electricity in your locality,
and now you have the cost of operating the dehydrator.
If you have difficulty finding out the cost of electricity in your area, you can use the average kWh cost in the US, 12 cents.
One thing we can assure you, however, is that dehydrating food for yourself is much cheaper than getting the store-bought version.
How long can you keep dehydrated fruit?
The thing that makes dehydrators such a significant investment is how long they extend the shelf life of fruits. This drastically reduces the amount of food waste in your home because you will almost certainly finish consuming the fruits before they have had the chance to go spoiled.
Here's the astonishing number: fruits dried and stored correctly can last up to five years. However, this is the best-case scenario, and the shelf life of your fruits depends on factors like the moisture content, preparation methods, and how it's stored.
Can dehydrated food go bad?
Like all other products, dehydrated foods can also become unfit for consumption. However, it will take much longer to get to that point.
If prepared incorrectly, dehydrated products can spoil in a brief time. The biggest problem is when the product has not been made dry enough. Excessive moisture dramatically affects how long the food will stay good.
It's also bad if, after dehydration, the food absorbs moisture due to non-airtight packaging.
Conclusion
I am still working on the additional best affordable dehydrator review chapters for this article.
I am researching the best models for different purposes – best food dehydrators for beef and deer jerky, raw food, herbs, fruit, nuts and seeds, backpacking, dog treats, and more.
You are welcome to check in again in a couple of weeks to learn more about the Best Cheap Food Dehydrator options you can find online.