Cuisinart MCP-12N Multiclad Pro Review – Stainless Steel 12-Piece Cookware Set
This is my honest Cuisinart MCP-12N review. I will tell you the story of how my husband got addicted to cooking thanks to this amazing stainless steel cookware set.
My husband has not stepped foot in my kitchen for a long time.
But then, as funny as it sounds, he suddenly got interested in this whole cooking thing after one-too-many nights spent half-asleep watching Top Chef and Masterchef reruns.
It just looked so much fun and easy for him! So, it wasn't long till he announced that he should get his first stainless cookware set. After doing quick research online, he has found the great Cuisinart Multiclad Pro MCP-12N.
Here is what Sven told me about his excellent choice.
Why Did I Choose Cuisinart MCP-12N?
It was a chef friend who mentioned the MCP12N set to me and claimed that this is one of the best stainless steel cookware sets you can get for a reasonable amount of money.
She said that since I was just a newbie, I should try something that's not too much on the expensive side.
I've heard (and read) that a 12-piece set can go from $400 to even thousands! So, like the trusting friend that I am, I followed her advice, and I ordered the product online.
With the Cuisinart MCP-12N Multiclad Pro 12 Piece Stainless Steel Cookware Set (what a name!), not only did I become a step closer to realizing my Masterchef dreams, but I also managed to save myself a lot of bucks that, quite frankly, I can use on other things such as cookbooks and other cooking materials!
So, let me tell you about the first time that I tried one of the pans. Now, bear in mind that it's not the dish that we're talking about here, it's the quality of it.
For my first "dish," I decided to use the 8-inch skillet to make a grilled cheese sandwich. Accurate enough, there was no sticking-in-the-pan, and I don't know if it's just me, but that that was the best grilled cheese sandwich I've ever had!
Every piece of this cookware set did not disappoint. I've been using it for about three months now (almost every day), and it all still looks brand new – Multiclad stainless new.
Features
Cool grip handles
The Cuisinart MCP-12N Multiclad Pro stainless steel 12-piece cookware set features cool grip stainless steel handles. They are designed to remain cool even at high temperatures.
The handles keep the stovetop cool as well as remaining cool themselves. This will ensure a comfortable and easy cooking experience for the user. It also prevents unnecessary accidents.
Triple-Ply Construction
The Triple-Ply construction features a brushed stainless-steel exterior. It also comes with a mirror-polished interior and a pure aluminum core. The stainless surface produces a quick release of heat through a non-reactive process.
Aluminum has an extremely high rate of conductivity. Thus, the core distributes heat evenly. With thorough conduction of heat, 'hot spots' appear less frequently.
Oven safe up to 550F
The pots and pans are made of stainless steel, which has a high conduction rate. This causes the cookware to heat quickly, even at low heat.
Luckily, it tolerates high heat well and is oven safe up to 550F. So users do not have to worry about overheating.
Compatible With Induction Cooktops
This great cookware set can be used on a variety of stovetops, and it is induction ready. This makes it convenient for users who own induction stovetops.
The cookware heats up very fast. So, the induction cooktop uses electromagnetism technology to speed up the cooking process.
Package Contents
You will find included everything you need in this spectacular cookware set to perfectly perform all the basic cooking tasks.
2 saucepans (with stainless steel lids)

1.5 quart saucepan with lid (MCP19-16N)
3 quart saucepan with lid (MCP193-18N)

2 skillets (uncovered)

8 inch skillet (MCP22-20N)
10 inch skillet (MCP22-24N)

3.5 quart saute pan with lid (MCP33-24HN)
8-quart stockpot with lid (MCP66-24N)
A 20 cm steamer insert with cover for the 3 qt saucepan (MCP116-20N)
5 stainless-steel lids in total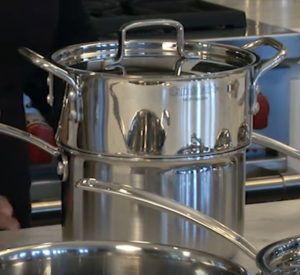 There are two cheaper stainless steel sets – Tri-ply TPS-10 and Cuisinart Multiclad Pro MCP-7N.
Cuisinart TPS-10 Set Contents
2 saucepans (with lids)

1.5 quart saucepan with lid
2.5 quart saucepan with lid

2 skillets (uncovered)

8 inch skillet
10 inch skillet

3 quart saute pan with lid
6 quart stockpot with lid
4 glass lids in total
As you can see, the pans and pots are smaller, and the lids are made from glass.
Cuisinart Multiclad Pro Stainless Steel 7 Piece Set MCP-7N Contents
2 saucepans (with covers)

1.5 quart saucepan with lid (MCP19-16N)
3 quart saucepan with lid (MCP193-18N)

10 inch skillet (MCP22-24N)
8 quart stockpot with lid (MCP66-24N)
3 stainless-steel lids in total
Cuisinart MCP 12 vs MCP-12N
What Is The Difference between Cuisinart MCP-12 and MCP-12N sets?
Initially, I got confused, but I quickly found out that there is only one difference – handle design. Yes, that's it. The new 'N model' comes with improved handles.
Cuisinart MCP-12N vs All-Clad Stainless Steel Sets
Coming soon!
Cuisinart 77 11g vs MCP 12N
Coming soon!
Cuisinart Multiclad Pro 12 N User Reviews
The Multiclad Pro MCP-12N is indeed one of the best cookware sets available at this moment.
Everyone who has purchased a Cuisinart cookware set loves it due to its sturdiness, durability, and overall usefulness. The utensils can sustain over long periods.
The bottom part of the steel has been reported to be burned easily, which puts the brand in an unfavorable position to garner further attention.
I must say that this is the most elegant stainless steel cookware set that we could have bought for the kitchen.  When I started using it, I thought I could quickly get burned because of the heat usually seeping through the pots and pans.
I was pleasantly mistaken.  This particular product has a cool grip feature that allows me to hold onto the container without worrying about feeling too much heat and accidentally dropping the cookware.  Perhaps this is because of the high conductivity caused by the pure aluminum core.  As advertised, it ensures maximum heat retention and distributes the temperature evenly.
Thus, I was able to carry the kitchenware without having to worry about any hot spots on the pots or pans.
Before buying this, I usually worried about the heat prematurely escaping whenever I cooked. With the Cuisinart MCP-12N, I did not have to worry at all.  This set of modern design cookware has tight-fitting covers that will not easily come off.
Because of this, the warmth and freshness of the food definitely stay in.  I love cooking vegetables and soups that I really need to keep warm and fresh for guests.  This is the perfect set of pots and pans to cook in for sure if you want to seal in the freshness of the food.
I love this product even more because it will not allow the food to drip out of the rims.  This feature definitely helps seal in the moisture even more.  Because of this, I always have flavorful meals to offer my family.  I will surely keep this in my family for years to come and have this as an heirloom.  I will never trade it for any other type of cookware again.
I think a newbie cook like me benefits from this piece of cooking art because these are made from steel with an added pure aluminum core. That is why the heat gets equally distributed thru the food.
The first time I braised some baby back ribs, I used a covered sauté pan, and it was perfect! And so far, I have had no cooking mishaps whenever I use these pans.
I know that I started with the CuisinArt MCP-12N as some sort of temporary cooking pan, but by the looks of it, I think I'd be using them for many, many more years to come.
For something that is so affordable, the MCP12N is a big blessing for chef-wannabes on a budget.
Pros and Cons
The Cuisinart Multiclad Pro technology with stainless steel covers and aluminum core help conduct the heat evenly. This ensures uniform heat distribution. The food is cooked thoroughly and faster as well since the conduction rate is high.
The stainless steel and multi-clad properties might also be a blessing in disguise for stainless steel cookware. This cookware heats up exceptionally fast, and this could lead to overheating. Overheating, in turn, overcooks the food and might also burn it.
Also, the high rate of conduction leads to 'temperature shock' when it fluctuates between extreme highs and lows. This causes warping of the cookware, which distorts the shape permanently.
On the other hand, the handles remain cool even after heating to high temperatures. This prevents burns and is very convenient when cooking for long periods.
The presence of stainless steel is a plus point for any cookware. It is durable and nonstick. Food cooked with this type of cookware also tastes better.
But, it tends to get easily stained and discolored. Rust might also form and stick to the surface.
Speaking of the interior, the rims are tapered. This prevents the contents from dripping or spilling when you are pouring it into the vessel.
Frequently Asked Questions
What is Multiclad stainless steel?
Multiclad Pro stainless steel is a combination of layers of different metals with steel. Usually, most multi-clad cookware has an aluminum core with a stainless-steel exterior.
The core allows for even heat distribution and ensures proper heating of the food. The steel exterior is non-stick and ensures the cleanliness of the cookware.
What is the difference between Tri-Ply and Multiclad?
Tri-Ply is an alloy of three different types of metals molted together. It is usually stainless steel combined with either aluminum or copper.
The exterior of Tri-Ply cookware is magnetized steel, making it usable with induction cooktops.
Multiclad cookware is a combination of stainless steel with an aluminum-based core.
What is the difference between Cuisinart Multiclad vs Calphalon Tri-Ply?
The Cuisinart Multiclad has stainless covers with a polished mirror interior. The exterior is made of brushed stainless steel. The core is pure aluminum. It also has a temperature tolerance of about 550F.
The Calphalon Tri-Ply has a polished mirror exterior and a brushed interior. The oven's heat tolerance is lower than that of the Cuisinart Multiclad line. Furthermore, its covers are constructed with tempered glass.
Conclusion
Multiclad technology speeds up the cooking process, making the set long-lasting and easy to use.
As you can glean from my Cuisinart MCP 12N Multiclad Pro review, all features work together to give you a sublime culinary experience. This makes Cuisinart Pro MCP-12N set a worthy purchase for any consumer out there who is looking for swiftness and ease in cooking.
Related Articles