Instant Pot Ultra 10-in-1 Electric Pressure Cooker Review
Nothing would feel as delicious and as rewarding as a home-cooked meal after a tiring day outside. However, it is regrettable that many people fail to enjoy this because of their busy and demanding schedules, leaving them with no time to cook at home.
It is tough to find time to prepare the foods you will eat, especially if such will require slow cooking. In this case, you will need a considerable fraction of your time to be spared and dedicated specifically for the task of preparing and cooking the meal that you want.
Now, slow cooking will not need as much effort as before. It will be possible to do it as often as you want with the Instant Pot Ultra programmable pressure cooker's help, giving you all the features you would want from a pressure cooker.
3 Things to Look for When Buying an Instant Pot
Allowing You To Cook Faster – nobody would want a pressure cooker that will take forever to cook food. Customers often go for pressure cookers which will enable them to have their food ready at the soonest possible time.
Energy Efficiency – with the rising costs of electricity, coupled with the fact that some pressure cooking would take time, it is also a primary consideration that the pressure cooker will not consume too much electricity.
Safe To Use – even if it is quite expensive than other units or brands, customers would still be willing to spend extra bucks if they know that one product will be safer than the other and also safe to put in the fridge.
Instant Pot Ultra Features
The Instant Pot Ultra offers 10 different functionalities that make it a versatile kitchen appliance. It can be used as a pressure cooker, slow cooker, sous vide, sauté pan, sterilizer, yogurt maker, food warmer, cake baker, and steamer.
The improved stress-free venting system is designed with an easy-release steam switch that makes releasing steam much simpler than before. The switch automatically resets when the lid is closed, ensuring user-safety while cooking.
The latest 3rd generation technology, embedded with a microprocessor, helps the device monitor the pressure and temperature of the food being cooked, and adjusts heating intensity and cooking time accordingly. This technology allows for faster cooking times than traditional cooking methods.
The Instant Pot Ultra is designed to replace 10 common kitchen appliances, allowing for the consolidation of counter space. It can act as a pressure cooker, slow cooker, rice/porridge cooker, yogurt maker, cake maker, egg cooker, sauté/searing, steamer, warmer, and sterilizer, which makes it a useful and efficient appliance in the kitchen.
Additionally, the Instant Pot Ultra is equipped with several safety features such as overheat protection, a safe locking lid, an upgraded gentle steam release switch with a diffusing cover to reduce noise, prevent splashing on the counter, and more.
This appliance is ideal for growing families as it can cook enough food for up to 6 people. It can be used for meal prepping and batch cooking, making it a great device for singles as well.
Instant Pot Ultra Review
Efficiency can be regarded as one of the most useful features of this product and a significant reason for its popularity. It does not only allow you to save on the time which will be spent cooking, but it will also allow you to enjoy savings on your electricity because of its energy efficiency.
With this product, it will be possible for you to maintain all of the healthy and nutritional contents of the foods as they are slow-cooked. It is not just the nutritional value of the foods cooked which is left, but also its full flavor.
Another thing that has made this product a favorite among kitchen lovers is that it functions as a pressure cooker. It can also be used to sauté, slow cooking, rice cooking, warming, and steaming. It has a complete set of features, all rolled into one fantastic product. It would be an excellent all-in-one appliance for a student if Instant Pot would be allowed in dorms.
If you are looking for a convenient companion in your kitchen, the Instant Pot Ultra will also prove to be handy with its other additional features. For instance, it has a 10-function key that can be used to perform various cooking tasks. Its safety and dependability are also added features that can be enjoyed with a purchase of this product.
Instant Pot Ultra Customer Reviews
By helping them save energy by as much as 70% and a significant time in cooking, this pressure cooker does not come short of praises coming from customers who have bought and tried them in the past.
By being lead-free, customers have also expressed admiration for its health benefits without losing the food's flavor.
The popularity of this pressure cooker can also be attributed to its ability to bring reduced clutter and dirt inside the kitchen. It does not result in spills, steam, and even noise, making cooking an unpleasant task. It does not also produce excessive heat in the kitchen, making slow cooking a more enjoyable activity.
However, several customers have pointed out that some lid sections are made from metal, which can get extremely hot after a long time of cooking. Some have also considered its small cooking capacity as a disadvantage.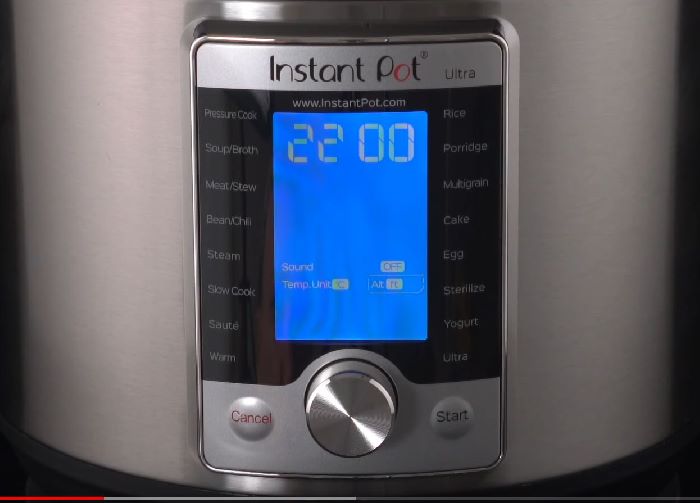 Instant Pot Ultra Comparisons
Instant Pot Ultra vs Cuisinart CPC-600
Comparison with Cuisinart electric pressure cooker coming soon!
Please comment below on which comparisons you would like to see:
Instant Pot Ultra vs Pro
Instant Pot Ultra vs Max
Instant Pot Ultra vs Duo
Instant Pot Ultra vs Duo Plus
Instant Pot Ultra vs Duo Evo Plus
Instant Pot Ultra vs Pro Plus
Instant Pot Ultra vs Duo Crisp
Instant Pot Ultra vs Ninja Foodi
Instant Pot Ultra vs Nuwave Nutri Pot
Instant Pot Ultra vs Duo Mini
Instant Pot Ultra vs Comfee
Instant Pot Ultra vs Lux
Additional Items to Consider
Many of the customers who have purchased the Instant Pot Ultra have also bought Miss Vickie's Big Book of Pressure Cooker Recipes and Cooking Under Pressure (20th Anniversary Edition). These items were also commonly purchased because they provide users with ideas on cooking with their brand-new pressure cooker.
Instant Pot Survey
Please vote for your favorite Instant Pot model!
Conclusion
The Instant Pot Ultra 10-in-1 Electric Pressure Cooker is a great kitchen appliance for anyone looking to save time and prepare delicious meals.
It can be used to create healthy meals quickly and easily, with a great selection of pre-programmed settings and all the cooking functions you need. With its intuitive controls and safety features, the Instant Pot Ultra cooker is an invaluable tool for any kitchen and a big step forward from the regular pressure cooker bike Mirro.
Whether you're a beginner or a pro, the Instant Pot Ultra 10-in-1 Electric Pressure Cooker is the perfect choice for anyone who wants to make delicious meals with ease.