Best 12V Car Kettle And Car Water Boiler Reviews (Upd Jul 2021)
All around the world, people travel from place to place for business or personal needs. During traveling, they need a refreshment to keep their mind focused on the journey. Many favor a cup of coffee, tea, oats or etc.
If there is a kid traveling then baby food like milk, cornflakes or chocolates needs to keep at hand. Now, it is not possible to carry a stove during the journey. Thus, a portable 12V car kettle at an efficient form factor and lightweight is a dream come true.
A cigarette lighter socket will provide power for the 12V kettles reviewed in this article. These best car kettle manufacturers designed them in a way that they are safe. Travelers do not have to worry about the hazardous effects of using a kettle during their journey.
The products are cheap and flexible to use. From my research on these products, I found out that these three models are cheap and flexible to use. I will also be discussing the durability of these appliances.
Did you just search for the 'electric kettle camping'? If so, this review will also shed some light on available travel water boiler options.
12 Volt Water Boiler Comparison Table
If you are in a hurry, here is a quick comparison table of the best electric kettles reviewed below.
Image
Product
Features
Price
FDIT Portable Car / Truck Kettle

Functions – cigarette lighter water heater
Voltage – dual voltage 12V and 24V
Cup capacity – 1000 ml
Power – 150W @ 12V / 250W @ 24V
Heating time – 25 minutes

Check Current Price
Road Pro 5027S

Functions – travel water boiler
Voltage – 12V
Cup capacity – 590 ml (20oz)
Power – 100W
Heating time – 25-30 minutes

Check Current Price
Gulrear 12V Car Kettle Boiler 280ml Portable Heated Travel Water Boiler For Car

Double-layer structure with food-grade silicone boron glass inner and polycarbonate plastic outer layer
Voltage – 12V
Cup capacity – 280 ml
Power – 75W
Heating time – 15 minutes

 

Check Current Price
Best 12V Kettle For Car
FDIT Portable Car / Truck Kettle (Versatile)
The Fdit Car Kettle is an extremely light and portable travel water heater kettle for your car, which can hold up to 1000 ml liquid put inside it. The working voltage of this kettle is 12v and 24v, so it is a great choice if you are looking for the best truckers kettle. It can heat 1000 ml of liquid in 25 minutes.
This 12 volt hot water kettle is available for cars, trucks, buses, and other vehicles. Make your journey more enjoyable by taking advantage of its efficient 12 volt hot pot. The kettle is efficient at keeping hot beverages warm at your desired temperatures.
The kettle powers off automatically when the liquid inside reaches boiling temperature. The kettle gets its safety protection button on when the temperature reaches 248.0℉.
This water heater for cars is powered by a 12-volt cigarette lighter socket.
It is made from non-toxic materials, 304 stainless steel, and food-grade plastic. These features ensure durability and health safety.
The sealing performance of this kettle car promises to keep the liquid warm for a long time. The 12V car water boiler is really convenient for those people who often need to go on long journeys. This product can easily be used up to 3-4 years since the materials are of really high pedigree.
Specifications
Functions – cigarette lighter water heater
Voltage – dual voltage 12V and 24V
Cup capacity – 1000 ml
Power – 150W @ 12V / 250W @ 24V
Heating time – 25 minutes
Pros
304 steel and food-grade plastic ensure food safety and durability
It is cheaper than other 12 volt car hot water maker models
It is used widely for boiling water for tea, coffee and other warm beverages
12v/24v ensures car power plug, built-in fuse, external power indicator, and safe design
Vacuum insulation technology ensures burn prevention
Efficient charging base ensures safety and sufficiency of heating
Preserves heated liquid for an extended time
Cigarette lighter as a bonus feature
Quantity of this 12 volt water boiling kettle is higher than other electric car kettles
Light-weight
Works on dual voltage
Cons
It is not available in different colors
It takes more space in a car
It takes more time to heat a liquid
Road Pro 5027S
The Road Pro 5027S is a 12 volt kettle you can use to boil water in the car during your journey. It is a flexible electric water pot.
However, the quantity of liquid it can hold is not really efficient. The product is available in only one color i.e. black.
The 12 volt car water heater has to be plugged in directly into the socket to get the power on. This is a feature found in all other travel water boilers (like FDIT portable car 12V water boiler and Uniox portable kettle).
The 12V tea kettle for car is slim and features the space-saving design. When the water boiler reaches the desired temperature, it turns off automatically.
The Road Pro travel kettle takes 45 minutes to boil water. This appliance is helpful for people who make far journeys very often, as it is flexible for them to carry. Though the design is not fancy, it is useful.
I have been in much of a dilemma on whether to give a positive or a negative review to this model. Although it is not the best water boiler out there, it is able to serve the main purpose behind buying it.
From my research, I can say that this boiler can be used for 8-12 months with comfort. But, the not-so-tight lid may prove to be an annoying factor for customers.
Specifications
Functions – travel water boiler
Voltage – 12V
Cup capacity – 590 ml (20oz)
Power – 100W
Heating time – 25-30 minutes
Pros
Space saver and flexible to use
Automatic power off button when the desired temperature is reached
The unit is very light
It can be plugged directly into cigarette lighter/ power socket
Cons
The lid is not air-tight, so the liquid inside does not remain hot for a long time
This model can only be delivered in the US
The appliance is only available in one color
EAST MOUNT Electric Water Heater Travel Mug
The EAST MOUNT Electric Water Heater Travel Mug is a smart temperature control travel mug. The smart thermos in the mug can be set from 30℃ to 90℃. The liquid in the mug will remain at the same temperature that you set.
You won't need to heat the liquid again. With this mug, you can travel anywhere without having to worry about where to heat them. The cup can hold any kind of liquid starting from coffee, milk, tea to even instant noodles.
There is also a car coffee heater that regulates up to 304 stainless steel medical grades. You can heat in the car heater without any hassle. There are plus and minus signs to set the temperature accordingly.
It takes a total of 15 minutes to heat the liquid completely. It can be taken out from the heater and washed with water. The temperature won't stand in the way. The mug is made in such a way that the external circuit doesn't touch the water which makes it safe to use.
It adjusts itself with the water volume in the cup. The coffee cup closes automatically, and the mug has anti-slip rubber bottom which offers good stability. It uses a voltage range of 12V and a high-low mode selection so that it can suit different kinds of cars.
The mug doesn't cause any further hassle in the car as the cups have unique memory and intelligent function which increases safety during driving. These cups can be a great gift to your friends and family. They are a perfect blend of innovation and excellence.
Pros:
It has memory function and intelligent function
There is a car electric kettle
Temperature can be regulated in different Celsius level
Made of the healthy and environmental stainless steel liner
Cons:
The device that plugs into the car gets very heated
The flip-top is not rigid
Doesn't hold much liquid
Gulrear Intelligent Car Electric Kettle
The Gulrear Intelligent Car Electric Kettle is one of the best travel mugs out there. It is designed with a double-layer structure. The double-layer ensures the water remains warm. The inside of the kettle is made with silicon boron glass.
Also, the outer layer of the kettle is insulated and anti-collision. They make sure the body does not get ruined from scalding. There is an intelligent heater system. The car kettle has insulation functions and boiling functions. You can adjust the temperature on the display screen and buttons.
The cup uses an advanced crystal heater with Ultra-high heating efficiency, and they make sure to minimize the heat dissipation rate and make sure the energy is saved.
The kettle has an efficient charging system which can be generated by a cigarette lighter charger base. The kettle comes with a standard 12V power supply plug. They guarantee sufficient boiling and safety as the microcomputer intelligent control system keeps the liquid warm and boiled precisely and separately.
It also allows the thermal temperature to change freely. The kettle can be installed in any stable location, or you can just hang it. This feature saves a lot of space.
The capacity of the portable water boiler cup is 280ML. The rated power and voltage of the cup are 75W and 12V. The electric kettle cup comes with a charger base, a car holder, 8 stent hooks, and a fuse. It will allow you a hassle-free trip anywhere.
Pros:
The car heating cup is portable.
Energy-saving
Made with safe material
Gets full protection from dry heating, overvoltage, and over current.
Cons:
The cup size is a bit small
Some complaints about the fuse blowing up because of the cup
Yarr 12V 750ml Stainless Steel Car Electric Heating Mug
The Yarr 12V 750ml Stainless Steel Car Electric Heating Mug is made with stainless steel. It can be powered by a cigarette lighter plug of 12V. The fuse current in the mug is 9A which take about 30 minutes to heat the liquid to 100 degrees.
The electric heating mug is made with stainless steel and food-grade PP material. You can boil any liquid to drink any coffee, beverage, and tea. The cup is made with a high-quality safety silicon seal which keeps the water warm and makes sure the liquid does not spill. They are extremely easy to use.
You can connect it to the cigarette lighter as well. When the water is boiling, the indicator turns green from red.
There are some precautions to follow in this mug so that accidents do not occur. The capacity of the mug is 750ml. You are recommended to remove the cup from the lighter when the cup is empty.
The cup doesn't need resetting, it automatically starts working when the temperature hits less than 90 degrees. It's designed ergonomically to fit the cup holders.
Another important feature of the cup is that it only fits the 12V 120W cigarette lighter plug. It won't work on the 12V 75W. Make sure to put the plug at the end of lighter while using as in case the power is not good enough, the fuse may be blown away or it may melt the plug.
Pros:
Build with high-quality material
Conveniently usable
Ergonomic design
Cons:
Some complaints about the cigarette lighter being burned
Uniox Car Kettle and Insulation Cup
The Uniox Car Cigarette Lighter DC12V Electric Kettle has a very special design. This model promotes efficiency and comfort in multiple ways. The mini electric kettle weighs 1.17 pounds with a dimension of 10.1 x 3.1 x 3.1 inches.
The Uniox Car Cigarette Lighter charger kettle is available in three colors: red, sky blue and grey. I have found the grey one to be more adaptable to the car interior.
The heating insulation cup has been built with dual-layer stainless steel. It takes only 16 minutes to heat 320ml of water in default 120W mode.
The digital temperature display is a techy addition to the kettle if you ask me. The thick film heating technology accelerates the rate of heating. Did I mention that the heating temperature can be customized?
Moreover, the double-layer vacuum body lessens the cooling rate inside. For safety purposes, this kettle comes in food grade silicon rubber. The rubber prevents the kettle from slipping off the hand due to high friction.
It also prevents it from adapting to the temperature inside. Hence, regardless of the heat, it'll never make the outer body hot. This feature is similar to that of a 12 volt cigarette lighter.
The capacity of the cup is 348ml, which is great if 3-4 people are using it at a time. But, the cap of the 12-volt kettle has been found to be incapable of venting steam.
As its name says, the kettle uses 12V DC. You can choose 80W or 120W mode. The default power setting is 120W, but if you are not in a hurry, switching to 80W will let you save a bit of power.
This portable 12 volt water kettle is very suitable for preparing tea or coffee, making instant noodles as well as for heating milk. It is a convenient gadget for school car trips and camping trips.
Uniox 12V Kettle Specifications
Functions – portable car water heater and insulation cup
Voltage – 12V
Cup capacity – 348 ml
Power – 80W
Heating time – 16 minutes (320ml of water from 25°C to 100°C)
Pros
2-layer stainless steel provides safety
The 12 volt tea kettle is ergonomically well-built and efficient
Digitally displayed and customizable temperature
Food grade silicon rubber ensures food safety
Cigarette lighter as a bonus feature
Thick film heating technology prevents cooling of heated liquid
Portable and convenient for traveling.
Cons
Cap fails to vent steam properly
It needs a charger adapter as large as the jar itself.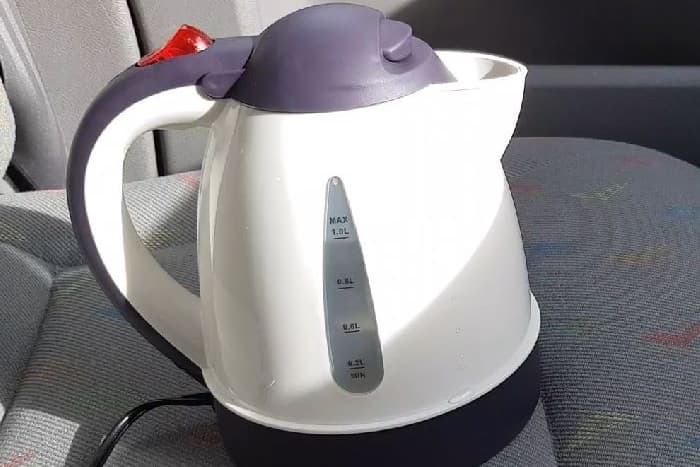 12V Kettle Buying Guide
The features people expect from a portable traveling 12 volt kettle are flexibility, light-weight, lower power consumption, tight lid, quantity, safety, durability, and wide using capability. From my research on these appliances, I can tell you what to expect and what not to from these products.
Kettle vs. Cup
The Uniox kettle is made from stainless steel and food-grade plastic. The insulation formulated cup prevents the water from getting cold easily. The kettle can be used to enjoy the prepared food without having to serve it on any other plate. It is small in size and very convenient to use for any kind of trips and journeys.
The FDIT portable 12V kettle and the Roadpro 5072S come in kettle style. The kettles are convenient to use, though they are more space-consuming and heavy in weight. However, the kettles are cheaper than the cup style car water boilers. The food-grade elements used in these kettles are also of high pedigree.
Dual voltage
Some travel water boilers perform on dual voltages. In many cases, it is seen that car water heaters need a variable of voltages to work on. The power supply of vehicles varies from one vehicle type to another. The FDIX car travel kettle works with both 12-volt passenger car and 24-volt truck electrical systems. This kettle can be used in both cars and trucks.
If one is looking to buy the portable small electric kettle you can use in a car and truck, only then, the dual voltage device is feasible. It is to be noted that the option of 12 volt car tea kettle is much more applicable for car users.
Capacity
The capacity of the 12V water kettle depends on the use of the customers. Generally, the demand is for medium capacity kettles of 300-500 ml. The kettle with more capacity consumes more space and is also of more weight. Customers usually prefer light-weight and portable appliances.
The Uniox car hot pot is light in weight and consumes less space. If the customer size is of 5 or 6 members then they do need a high capacity kettle to prepare more food at the same time. On the other hand, if the customer size is of 2 or 3 members then a medium or small capacity kettle is enough and convenient for them. The low capacity kettle needs less time to boil the liquid inside.
Tips
The best 12v car water boiler models mentioned in this review come from Uniox, FDIT, and Road Pro. What to do to maintain the unit properly and what not to do to prevent destruction are discussed below.
Do's
Always unplug the base first, then let the kettle cool down and remove the remaining liquid from the kettle; then, get it clean to avoid any kind of electric shocks.
Soap water should be used to clean the inner part of the travel kettle
The electric 12 volt kettle for car should not be immersed in water completely
A sponge or damp cloth should be used to clean the outer area of the kettle
To avoid accidents, the kettle should be operated on a flat surface
Keep leather items away to avoid steam damage
Children should be kept away from the kettle
When the kettle is heating up but not boiling, you should use lime to descale mineral deposits.
If you have a propane stove in your RV, consider making a stop and using the stove to boil the water. Get a thinner aluminum pot with tight-fitting lid, and have boiling water within 2 minutes.
If you plan to use your kettle regularly, you should upgrade the standard cigarette lighter receptacle to a quality marine one, like Blue Seas, and upgrade the wiring to it from the battery with at least 12awg, preferable 10awg.
Don'ts
We should not use abrasive soaps or cleansers
Don't open the lid of the kettle without powering off the kettle
Don't keep the mouth of the kettle open for a long time
Don't let any liquid stay inside the kettle for a long time
Do not use battery power to heat water. Keep the engine or generator running.
Frequently Asked Questions
I heard about the battery-operated water kettle. Is it a thing?
No. It is very inefficient to power the 12 volt portable hot water maker from the battery. Even the car or RV battery can be drained if you try to boil the water when the engine is not running.
Conclusion
In conclusion, the Uniox 12v kettle is the most satisfying portable 12v water heater for cars. Judging from the materials used and the automated design, this kettle is a steal!
The appliance is durable and safe. From my research, I can say that this is the best model amongst the three that we have discussed here.
On the other hand, the FDIT 12V water boiler is a great option for 5-6 members traveling together. The car electric kettle is big in size and the space consumption is more. The food-grade plastic is appreciable and the stainless steel used ensures durability.
The Road pro 5027S is a light-weight and space-saving model. Moreover, it is automatic and is based on a single power capacitor.
However, the durability of this product could be better. This electric kettle received lots of negative feedback due to its less tight lid.
From my research, I can say that from the following 12v car kettles, the Uniox Kettle is my top pick.