Best Cookware Set Review | Best Pots and Pans Set Guide 2023
Deciding the best cookware set to buy should not be taken for granted, especially in 2023, when thousands of pots and pans set choices are available for purchase.
We cannot deny that we prefer cheap utensils and plates, cheap woks, etc., over those that cost twice or thrice as much. The logic behind this mentality is that they're just objects for cooking or heating purposes, why spend hundreds of dollars?
However, practically speaking, it will cost more to buy low-priced kitchen utensils that will not last a year, or even less, than something that may require a little more investment but could last for 3-5 years, right?
When purchasing a product, we should not be evaluating only the price but its quality.
If you are in a hurry, click here to see best-selling pots and pans sets on Amazon.com!
In this review, I will be explaining to you mommies, daddies, or whoever is in charge of preparing your family's meals the different types of kitchenware sets, together with their advantages and disadvantages.
There are no biases; everything that is written is real and based on facts.
Let's begin with learning about a few of the best pots and pans sets in different price ranges and for different budgets – below $100, $200, and so on.
If you are looking for information about cookware types and brands, please scroll down. We will get to it.
Other Cookware Types Reviewed: Best Ceramic Cookware
Best Cheap Cookware Set
I had chosen the Rachael Ray Cucina Hard Porcelain Enamel Nonstick 12-Piece set (see below) as an example of the best cheap pots and pans set in the lower end of the price range.
And then I noticed that the price had gone up.
So I had to return to Amazon.com and keep searching for the best cheap cooking sets for reviewing.
T-fal C512SE
T-fal C512SE Excite 14 piece setCheck Price
The T-fal C512SE Excite is an excellent aluminum nonstick cookware set. After finally ordering a set, I have noticed that it's convenient for my glass top stove. I also found that the cookware set is suitable for ceramic top stoves as well.
You can expect a 5 quarts Dutch oven, a 2 quarts saucepan, and a 1-quart saucepan in the cookware set. The fry pans you will be buying are 10.25 and 8 inches in diameter. All the pans and the oven come with a separate lid, of course.
Although it is partly made in China worried me about its durability, I have no complaints yet. I found the cookware set to be decently durable. You can also expect the color to not fade anytime soon.
You can use the handles while cooking since they are non-conducting. If you ever find the handles are coming loose, they can be easily tightened, which is a neat little trick. Although the chance of it happening is very rare, and the handles usually serve for an acceptable duration.
As mentioned, this cookware set can work great whether you have a gas or an electric stove. You can also use them in ovens. I have used mine for up to 350 degrees Fahrenheit. The good news is, they are also dishwasher safe.
You can cook in this particular set without worry since the interior is coated with a non-sticky layer. You will find measuring spoons too, and it comes with a 1-year warranty. However, anyone looking to buy it for use with an induction stove is making a wrong decision; this set is not induction friendly.
It is essential to keep in mind that the number of pieces included in this set is artificially boosted by adding the 5 measuring spoons. In fact, it is a 9 piece set.
What is included?
8-inch fry pan
10.25-inch fry pan with lid
1-quart and 2-quart sauce pans with lids
5-quart dutch oven with lid
5 measuring spoons
Available colors:
C512SE – Blue
C508SE – Gold
C511SE – Purple
C514SE – Red
C512SE – Blue
Vremi VR0046
Vremi VR0046 15 Piece Nonstick Cookware SetCheck Price
The Vremi VR0046 15 Piece Non-Stick set is a personal favorite of mine since the set has impressive size for the price that it comes in. Since the brand is relatively new, I had to do some digging before finally buying a set for use.
You can expect the frying pans to be 8 inches and 10 inches in diameter, although it may vary slightly. You will find it easy to seal the pans and Dutch ovens with the lids customized for each of them. The utensils are actually entertaining to experiment with since the pans and ovens are non-sticky coated.
It is safe for use in ceramic and glass top stoves. You can expect using them will not get any scratches on the stove. One of the best things about this huge set is that all of the components are dishwasher safe, making cleaning as convenient as possible.
You can use them without straining your hands since they are relatively light and even fun to use. Though the color will fade if used on a gas stove, for ceramic and electric stoves, the color stays intact for a very long time.
It is a good fit for use in the oven. The materials used for preparing the pans are completely oven-safe. I even used them in my oven, and I am satisfied with the cooking. Once again, this set is not fit for use with an induction stove, which would be a terrible thing to find after purchase.
What is included?
mini 1 quart pot with a lid and long handle
mini saute pan and long handle
small 1.3 quart pot with a lid and long handle
medium 1.75 quart pot with a lid and short handles
large 4.2 quart pot with a lid and short handles
large frying pan with a long handle
5 nonstick heat resistant nylon cooking utensils: slotted spoon, slotted spatula, spaghetti server, soup ladle, and potato masher
Available colors:
Best Budget Cookware Sets
I have selected two reasonably priced cooking sets in the budget price range that you will like if you are looking for the best budget cookware set.
Rachael Ray Cucina Hard Porcelain Enamel 12-Piece Nonstick Cookware Set
This 12-piece kitchenware set includes two covered saucepans, one covered stockpot, two skillets, and a sauté pan. Two utensils are also included – a slotted turner and a slotted spoon.
The set's sturdy enamel porcelain surface enables its users to cook up to maximum heat (oven safe to 400 degrees Fahrenheit).
The Rachel Ray Cucina set comes in simple and basic warm colors (listed below), according to its primary function: increasing the amount of time the food can be heated and stays heated.
All utensils are nonstick (as the name itself would suggest), so the food does not stick, doing the cooking and cleaning the mess afterward incredibly easy.
This Rachel Ray set is also well known for its durability; it has been designed to withstand maximum heat and use. Even after years of service, you can expect the items to remain as functional as new; many customers are amazed about how the paint still has not peeled away!
As long as the set pieces are always cleaned after use, you may be assured that the product will have years to go by before it has to be discarded.
Additionally, the glass lids are shatter-resistant. The steel handles have been rubberized, so users do not have to worry about their hands being burnt off since the handles do not get hot very quickly.
This set is manufactured by Meyer and available in:
Agave Blue 16344 (most popular)
Cranberry Red 16339
Lavender Purple 16783
Mushroom Brown 16333
Pumpkin Orange 16328
Sea Salt Gray 16802
T-fal C836SD Ultimate Stainless Steel 13 Piece Cookware Set
This is a 13-piece cookware set comprised of two fry pans (an 8-inch and a 12-inch), one 12-inch covered fry pan, three saucepans, and a covered stew pot.
The T-fal C836SD has been crafted with stainless steel, and the set pieces have a base with multiple layers and a copper bottom. A copper bottom ensures that the food is being cooked at an even and fast heatwave.
The cookware set's overall stainless steel is instrumental in keeping intact the stain grey surface of T-fal C836SD, no matter how much it gets used.
The specialty of this budget pots and pans set, the steel construction offers long-lasting durability even at maximum use.
The handles are also built from stainless steel, ensuring they will never get hot to the touch. In addition to the outer stainless cover, the handles are too riveted in silicone, making them easy to use and clean.
The pieces are nonstick both inward and outside, so you should have no trouble getting the mess off in no time.
Another good thing about the T-fal C836SD is that despite carrying all these additional facilities, it weighs no more than you would expect it to. They are neither too heavy nor too light that they will slide right off the stove.
The T-fal C836SD set will prove to be a long-term investment. It will give you your money's worth!
Best Affordable Pots and Pans Sets
T-fal E765SH Hard Anodized Titanium Cookware Set
The T-fal E765SH Hard Anodized Titanium set is a dream-come-true for the everyday user!
It is a 17-piece set. As the name suggests, the aluminum on the surface is hard anodized, making it the ultimate durable kitchenware product.
But that is not the feature that puts the T-fal E765SH among the best affordable cookware set choices; a unique function is its Thermo Spot heat indicator which alerts the user as to when the pan has been properly preheated.
If you add food to the pan only after it is ready to cook, it enables the food items to retain their original nutrients in the finished food dish.
The interior is stainless steel, making the cooking process easy and fast.
According to the users, seasoning pans, which are stainless steel, is also a less challenging task.
Along with the preheat option and the non-stick durability, the T-fal E765SH is a no-brainer for selecting long-lasting cooking utensils.
As an additional treat, it also comes with glass lids installed with steam holes. This way, the user can always keep a watch on the processing of the food dish.
So, take your pick today; you only have to choose a color because, among the 17 pieces, it would be hard to find a pan that you need but is not included in the list for the T-fal E765SH.
When it comes to such a multifaceted item that is prone to last longer than most others, a price tag of around $300 should not be an issue of hesitation.
Best Expensive Pots And Pans
Now we have left the territory of best inexpensive pots and pans sets and rising higher and higher over the multiple hundreds of dollars price ranges, looking for the best cookware set.
Calphalon Signature Hard Anodized Nonstick Cookware 8-Piece Set 1948247
This 8-piece set consists of two omelet pans (a 10-inch and a 12-inch), two covered saucepans, a covered sauté pan, and a covered stockpot.
This utensil collection is everything you need to get through the day-to-day culinary routine.
The Calphalon Signature set is easy to use and clean as if it were crafted in the art of stainless steel. But, no, it is not. Instead, it uses a Signature Sear Nonstick interior construction, which is just as effective as steel.
People with heart conditions may be advised to use this set since the nonstick properties are a great way of implementing low fat and healthy cooked dishes.
Along with the main pieces, 2 long silicone riveted handles are never hot to the touch. What makes the cooking process even more comfortable is the tempered glass covers. These see-through covered pans enable you to monitor your cooking without having to open the lids numerous times and thus, running the risk of the food getting cold.
According to customer reviews, what is probably the best thing about the Calphalon Signature Hard Anodized Nonstick Cookware items is that they can withstand the pressure of metal utensils.
Now, you no longer have to compromise with wood or silicone utensils to avoid the risk of ruining your cooking pan or pot.
With all these various facilities, this cookware collection is hands down the best price range of $400. We dare you to find a better one!
All-Clad E785SC64 HA1 Hard-Anodized 10-Piece Cookware Set 2100090555
The All-Clad E785SC64 is all clad with 2 fry pans (one is an 8 inch while the other is 10 inch), 2 saucepans with closed lids, a sauté pan with a lid, and a stockpot with a cover as well.
This set has excellent features: a hard-anodized aluminum surface with a nonstick interior that can heat food up to 500 degrees without causing any kind of damage to the utensil. So, what else does the All-Clad E785SC64 bring to the table?
You may find only a few cooking utensils on the market that comes with the option for induction cooking. Well, the All-Clad E785SC64 is specially designed for this particular function, which brings everything into perspective, namely the price.
There may not be many manufacturers who dare to charge as much as $500 for their kitchenware collections. Still, there are also only a few that can use induction technology.
The pots are also high quality and emit an equally high quality of even heating that seems to exude from within the food while cooking. It makes sure that the nutrient properties of the food items are not lost and are instead locked into the final dish.
Another additional feature is the shape of the pieces themselves; they all have a specific cauldron-like form, which helps keep the balance while the user is stirring or sautéing the food.
Other Cookware Types Reviewed: Best Stainless Steel Cookware
A Quick Guide To Common Best Cookware Set Types
Many types of cookware are suited to different uses and styles of cooking. A successful cook needs to have the right equipment.
Many cookware sets are available, but mixing and matching different brands or materials to make a personalized set is also a popular choice.
Aluminum
Aluminum cookware is strong, lightweight, inexpensive, and a great heat conductor. It is often combined with other reinforcement materials. Aluminum on its own is reactive with acidic foods.
Pros: Lightweight, excellent heat conduction, available with or without non-stick coating, a wide range of prices
Cons: uncoated aluminum reacts with acidic foods, not suitable for induction. Lighter weights may warp when heated.
Popular brands: Tramontina
Hard-Anodized Aluminum
Anodized aluminum has been processed so that the surface is hardened, making it non-reactive with acidic foods.
Pros: Durable and resistant to corrosion, non-reactive, often suitable for induction, excellent heat conduction
Cons: The very dark color is often unappealing, hand wash only
Popular Brands: Calphalon, Cuisinart, Mauviel.
Cast Aluminum
Cast aluminum cookware is made by melting aluminum and pouring it into a mold. The result is a robust and lightweight piece of cookware. It is usually coated with a non-stick surface.
Pros: Stronger and thicker than aluminum, often suitable for induction, excellent heat conduction
Cons: Reactive if not coated, sometimes hand wash only, expensive, may have hot spots
Popular Brands: Swiss Diamond, Scanpan.
Stainless Steel
Stainless steel is a mixture of iron, chromium, and aluminum. Stainless steel cookware is stamped with the chromium-to-nickel ratio, with the best being 18/10
Pros: Durable and long-lasting, widely available, non-reactive to all foods, wide range of prices and qualities, available with and without non-stick coating, many brands are suitable for induction.
Cons: Poor at heat conduction unless it is combined with another material. Good heat conduction comes at a price; stainless steel can be expensive.
Popular Brands: Le Creuset, Cuisinart, Chefs Essentials, Demeyere.
Copper
Copper cookware is very responsive to heat adjustments. It's lightweight and is a great heat conductor. Copper cookware can be very expensive.
Pros: Heats evenly, excellent at heat conduction, the temperature can be changed quickly, is ready for cooking almost immediately
Cons: Not suitable for induction, very expensive, requires polishing to maintain the shine.
Popular Brands: Cuisinart, Mauviel, Matfer, CONCORD
Ceramic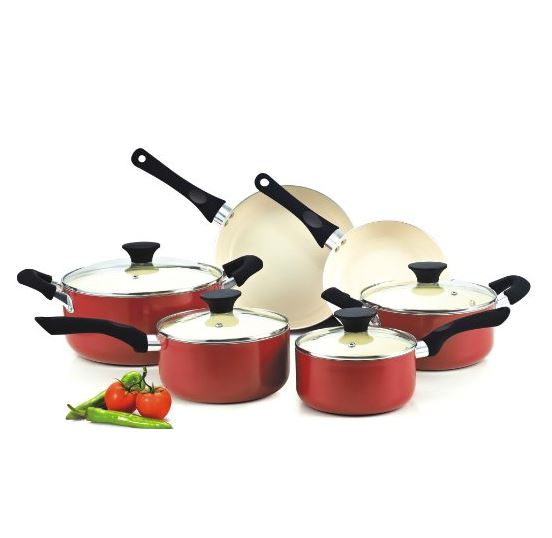 Ceramic bakeware is available in many shapes and sizes. It heats gradually and is perfect for dishes that need to be simmered.
Pros: Looks nice, can be stain and odor resistant when coated in glaze or enamel, heats evenly, and retains heat well.
Cons: Breakable if dropped, doesn't heat quickly, limited availability, expensive.
Popular Brands: Emile Henry, Revol
Carbon Steel
Carbon steel (also called black steel) is a combination of stainless steel and cast iron. It's ideal for high temperatures and is often found in woks or baking pans like Matfer Bourgeat black steel frying pan.
Pros: Good heat conduction, excellent for stir-frying and high heat cooking, very durable, practically non-stick if seasoned correctly.
Cons: Reactive to acidic foods, must be seasoned, must be hand-washed and dried to prevent rust.
Popular Brands: Lodge, Mauviel, Matfer
Cast Iron
Cast iron is possibly the most versatile type of cookware. It is made by pouring a combination of molten iron and other materials into a mold and then cool. Because it is molded, it will not warp when being used at high temperatures.
Pros: Very durable and often passed down through generations, affordable top-rated pots and pan sets, perfect for high heat, heats evenly and retains heat, non-stick when seasoned, suitable for outdoor cooking for induction.
Cons: Reactive to acidic foods, must be seasoned, must be hand-washed and thoroughly dried, very heavy.
Popular Brands: Lodge
Enamelled Cast Iron
Enamelled cast iron is made the same way as cast iron but is a bit lighter. The enamel coating makes it non-reactive with acidic foods.
Pros: Lighter than regular cast iron, heats evenly and retains heat, suitable for induction, non-reactive
Cons: expensive, must be hand-washed and thoroughly dried, enamel can chip
Popular Brands: Le Creuset, Lodge, De Buyer
Pure Titanium
Pure titanium is very light, strong, and versatile. It is popular among backpackers and hikers who only need to heat water for rehydrating food.
Pros: Light, strong, durable, suitable for backpacking and hiking
Cons: Poor heat conduction, food sticks to the pan
Popular Brands: HealthPro, Titan
Titanium Reinforced Cookware
Titanium reinforced cookware is made with a cast aluminum base, allowing for fast, even distribution of heat and good retention of heat. This base is coated with a ceramic cooking surface that has been infused with titanium. This coating ensures a better cooking surface and increases the durability of the cookware.
Pros: good heat conduction, non-stick, retains heat, non-reactive
Cons: usually hand-wash only, may be scratched by metal
Popular Brands: Saflon
Best Pots and Pans Brands
In addition to the manufacturers mentioned in this review, I want to mention these top-rated and best cookware brands:
Cuisinart
AmazonBasics
Vremi
Cook N Home
GreenLife
Simple Chef
Copper Chef
Heim Concept
Paula Deen
Calphalon
Chef's Star
Copper Pan
Deik
Circulon
Cooks Standard
GreenPan
Wolfgang Puck.
It is impossible to decide which is the best cookware brand because each of them offers something unique. I can promise you will see many of these names in the upcoming best pan sets reviews.
Frequently Asked Questions
Coming soon!
What is Coming Next?
I am looking into different types of top-rated pot and pan sets – ceramic, titanium, non-stick – and considering reviewing each type separately.
People are also asking me to write the best cookware set review under 1000 dollars, so I might look into it.
Conclusion
Your choice of the best cookware set will depend on your needs.
If you are looking for something that is durable, easy to clean and offers versatility, then stainless steel is probably the best option.
If you are looking for something that is lightweight and non-stick, then a ceramic or aluminum cookware set may be a better choice.
No matter what type of cookware set you choose, make sure that it meets your specific needs and budget. With the right cookware set, you can create delicious meals for your family and friends.
Related Articles