Best Rice Cooker For The Money To Buy In 2023 – Review & Buying Guide
Rice undoubtedly is the most consumed grain in the world. I am pretty much sure people eat it in every country of the world. It is the staple food in many South Asian countries.
However, popularity or consumption is not just limited to the eastern world. It is widely popular in European and American countries as well. Whether it is delicious Mexican meatball rice or delicious Italian risotto, you cannot make them without rice.

Many think cooking rice is an easy job, but this is where ordinary cooks make mistakes. Cooking it to perfection can be the trickiest task ever. Even many prestigious chefs get terrified by the idea of failing to boil the grains to perfection.
If kept for too long, they can be too soft and soggy, or if removed too early from the boil, they can be rubbery hard. These are common problems that Asian housewives face daily in their kitchens.
Mistakes of cooking can spoil the whole meal. Sometimes, cooking to perfection is not just the issue. Spending time to cook the same item daily can be tedious. Especially if you have problems regarding fuel supply, preparing this product becomes even more difficult.
To overcome these problems, rice cookers have been invented. They were first developed in Japan and then spread to the West.
It takes about 30-60 minutes to cook rice in these appliances. They can cook to perfection, and most importantly, you do not need to stand in the hot kitchen to see if the grains are cooked or not.
Let's take a look at the features of the best-rated rice cookers and steamers, shall we?
Rice Cooker  Benefits
What's more annoying than coming home from a long day and realizing you have to cook because there's nothing to eat? All you want to do is put your feet up in front of the TV and relax, but now you have to stand over a hot stove paying constant attention to your meal, so it turns out right.
This is where the modern-day best rice cooker steps in. Even if you haven't had a tiring day, cooking rice is another hassle that can quickly be taken care of by automatic rice cookers. No more needing to check if your rice is cooked every few minutes or looking away for a minute to come back to burnt rice. Rice cookers are also great if you're having guests over because it frees up a spot on your stove for you to use otherwise, as well as, of course, not having to worry about the rice.
The beauty of rice cookers is that all you have to do is add your rice grains and water; the rest is fully automated and requires no more attention from you. Most devices don't even need you to get out your measuring cups because they have marks on the inside indicating which level to fill up the water.
After adding your ingredients, you can count on perfectly cooked rice every time! Closing the lid activates your appliance and begins the cooking process. Most models will give you a countdown until the rice is ready and beep when the process is complete.
Rice cookers can be a huge convenience in any home, especially one where rice is often cooked. Invest in one today to reap the benefits!
Best Rice Cooker Brands
Aroma Rice Cookers
Aroma Housewares ARC-914SBD 2-8-Cups (Cooked) Digital Cool-Touch Rice Grain Cooker and Food Steamer, Stainless, 8 Cup, SilverCheck Price
Whether you are looking for a good cooker for a small family or a big group of people, Aroma will have the perfect product for you. Their steamers can cook from 1 to 60 cups of perfectly prepared meal that can be enjoyed by everyone. At the moment of writing this review, Aroma ARC-914SBD was among the best-selling rice cookers.
The solid construction of their cookers is one thing that is worth highlighting. The use of stainless steel as the primary material will give you the confidence that the product will be functional for a long time, and hence, be able to provide the best value for money.
Aroma cookers are also multi-functional, allowing you to do more while requiring less time. For instance, even while you are cooking the grains, you can also stew vegetables and steam meats simultaneously. Also, their cookers can be used for making jambalayas and soups, among others.
The transparent lid in some of their cookers is also a good thing. Because of this, you can better monitor how the cooking process is going without the need to remove the cover and let the steam out. The lid is made from high-quality material that can resist breakage.
Zojirushi Rice Cookers
Zojirushi NS-YAC18 Umami Micom 10-Cup (Uncooked) Rice Cooker and Warmer, Pearl WhiteCheck Price
One of the most remarkable features of Zojirushi cookers is the unique Fuzzy Logic technology. With this, you can expect that the appliance will have the ability to automatically modify the heat and temperature based on the progress of cooking, assuring you with more consistent and better results. You can learn more about this feature from our Zojirushi NS-ZCC10 review.
Several steamer models (e.g., NS-YAC10 and NP-NVC10) feature the Umami setting. This feature will provide you with the ability to have rice that will have an enhanced flavor. This will allow you to have more savory rice, which is seldom achieved when regular cookers are used.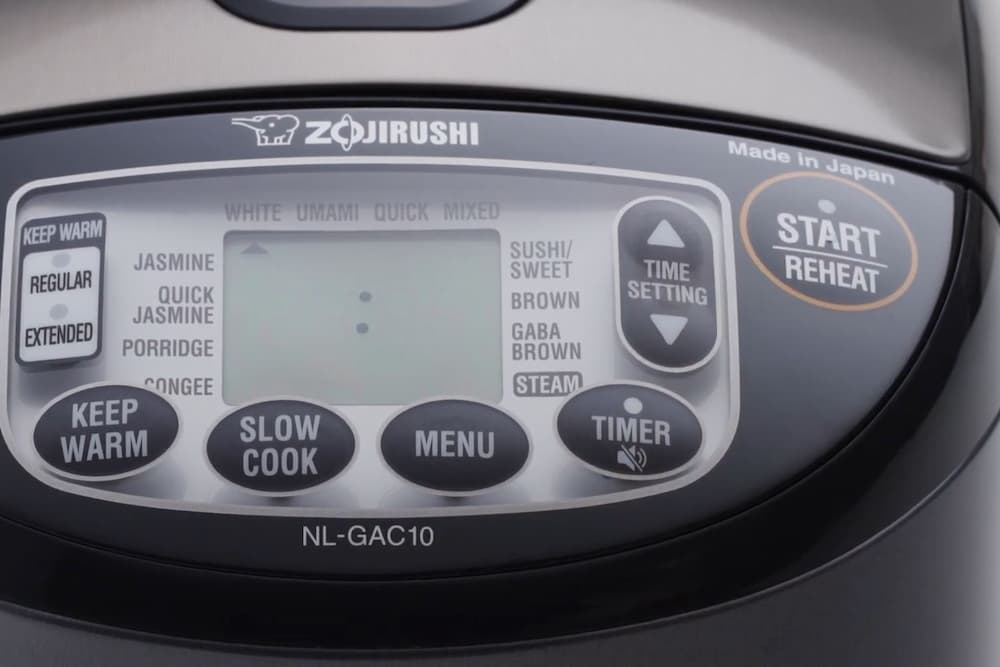 Many of the users of Zojirushi cookers have also liked the integration of an LCD screen at the top of the appliance. This will make it easier for you to monitor the progress of cooking and see the commands you have inputted.
There are also several cooker models from Zojirushi that use the induction heating mechanism to achieve perfect results. This kind of heat has been commended in many expert reviews because of a different way to cook rice, which is recognized better than conventional heating.
Tiger Rice Cookers
Tiger Corporation JBV-A10U-W 5.5-Cup Micom Rice Cooker with Food Steamer and Slow Cooker, WhiteCheck Price
With the warming function of the different rice steamers manufactured by Tiger, you can have your meal hot even if it has been cooked for already 12 hours. This will prove to be good if you want to cook rice that can be eaten for the entire day.
Also, contemporary design is an important consideration when looking for a rice steamer/cooker. The Tiger cookers have elegant designs, making them a perfect addition to your kitchen. It is not only functional but also visually appealing.
Many people who have different models from this manufacturer have expressed their satisfaction over the fact that it never overcooks the product. It makes sure that it is cooked the right way. It is common for its users to express kind words over the quick-cooking function of its products.
When reading what other people have to say about Tiger steamers, it is a common trend for its users to be happy about the durability of these products. Some of them have been using their Tiger cookers for more than 10 years, yet they are still functional as they have used it the first time.
Panasonic Rice Cookers
Panasonic SR-DE103 Fuzzy Logic 8 Pre-Program Rice CookerCheck Price
Advanced Fuzzy Logic Technology is also integrated into more expensive models of rice steamers like Panasonic SR-DE103. This is a helpful feature because it automates the adjustment of power and heating in the grains being cooked to provide you with the confidence that the results are consistent.
Also, some of their cookers have push-button lid release, which makes it more convenient to open the unit when you need to remove the product from the steamer. This is contrary to conventional cookers. You have to manually lift the cover if you want to get some rice.
Panasonic SR-3NAL 1.5-Cup (Uncooked) Automatic Rice Cooker, SilverCheck Price
Panasonic rice steamers will also be a good choice if you are looking for flexibility. Depending on the specific model that will be chosen, there are various pre-programmed buttons and settings. This will allow you to select the cooking function that will be required easily. You can also find cheaper models like Panasonic SR-3NAL if you are not ready to spend lots of money on advanced features.
Panasonic is among the best brands in kitchen appliances, including steamers and cookers. With this, you can be assured that whatever model is chosen will reflect the commitment of Panasonic to high quality and the highest level of satisfaction of their users. Regardless of the model that you purchase, you can be sure it will work as expected.
Sanyo Rice Cookers
Sanyo EC-503 3-Cup (Uncooked) Rice Cooker and Vegetable Steamer, WhiteCheck Price
There is a wide selection of micro-computerized cookers that are available from Sanyo. They are specially designed to deliver intelligent functionality, such as adjusting automatically depending on the progress of the cooking that has been completed.
The design of Sanyo rice cookers is well-thought. For instance, in some models, the lid is made so that boiling over will be prevented. Also, some are designed to have the mechanism of collecting dew to make sure of perfect cooking.
While some steamers are equipped with elaborate functionality, including some Sanyo models, some are fitted with simple buttons, making it a breeze to operate. Some have a one-touch functionality to make it easier for you to start cooking.
On the other hand, some models are equipped with various buttons on the panel, which is good because you will have multiple cooking options and will offer more flexibility in cooking. However, some might find it quite complicated to operate.
Black & Decker Rice Cookers
BLACK+DECKER RC506 6-Cup Cooked/3-Cup Uncooked Rice Cooker and Food Steamer, WhiteCheck Price
One of the Black+Decker cookers' excellent features is the lid's and sides' stay-cool handles. You can be sure that the handles will not be too hot when you cook the grains or use the keeping it warm feature.
Also, according to many Black and Decker appliance users, they are commendable because of having a cooking pot that is not only non-stick but is also easy to clean, whether you decide to clean it manually or with the use of a dishwasher.
The locking lid is a valuable addition to the design of multiple Black & Decker cooker models. With this, it is possible to seal the moisture inside, which, in turn, will result in having perfectly cooked fluffy rice.
Lastly, simplicity is also essential to the popularity of the steamers from this manufacturer. It lacks the complication many people often experience in operating other models of such a product.
Frequently Asked Questions About Rice Cookers
What is the Best Rice Cooker For Brown/Jasmine/Sushi/Basmati/Japanese Rice?
If you are looking for the best rice cooker for brown rice and other types of grains, check out this article in a couple of weeks.
I am reviewing a handful of cookers and compiling lists of gadgets for different purposes.
Which grains can I cook in the rice cooker?
The rice cooker works excellently for bulgur, millet, and quinoa (see table below).

Which grains shouldn't I cook in the rice cooker?
Pearled barley, farro, and wheat berries are grains you should definitely cook using the traditional pasta (stovetop) method.
Conclusion
Rice cookers have come a long way since the '50s, but there's still nothing quite like a rice cooker for perfectly cooked rice. We hope this article has helped you narrow your search for the perfect rice cooker. If you're looking for a rice cooker, we hope you'll consider one of these models.
If you have any questions, comments, or concerns, I'd love to hear from you in the comments!