Zojirushi NS-ZCC10 Review | NS-ZCC10 vs NS-ZCC18 Neuro Fuzzy Logic Rice Cooker
Welcome to my Zojirushi NS-ZCC10 review, where you will learn more about this easy-to-use rice cooker and warmer.
You only need to rinse and put your grains in the cooker, add water up to the appropriate line, close the lid, press the button, and wait for tune and signal that you are ready to enjoy your meal.
This appliance allows you to cook many different types of rice efficiently.
If you eat a lot of rice, the Zojirushi cooker is a worthy investment. Enjoy a perfectly cooked meal every time, and absolutely, you can spend your time preparing other parts of your meal while your staple is being cooked.
Zojirushi NSZCC10 Features
Cook Up To 5 1/2 Cups Of Rice
Prepare up to 5.5 cups dry / 10 cups cooked quality grains at home using Zojirushi's advanced Neuro Fuzzy logic technology and heating system.
The cooker can keep your product warm, should you not be able to eat immediately. The appliance has a multi-menu selection which allows you to choose automatic keep-warm, extended keep-warm, or reheat cycles.
You can cook different types of grains such as white, sweet, mixed, porridge, brown, and semi-brown.
Cooking times vary with each type of rice:
white – 51-60 minutes
sushi – 47-58 minutes
brown – 82-108 minutes.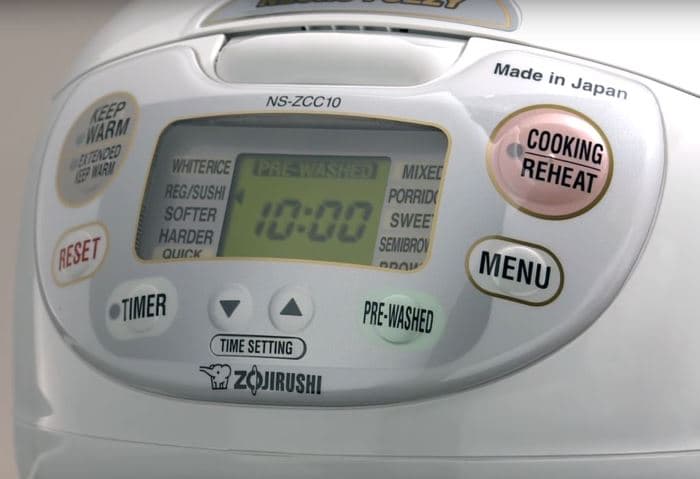 Spherical Non-Stick Inner Pan
NSZCC cooker allows spherical heating because it comes with a spherical, nonstick inner pan. This also prevents the grains from sticking to the pan.
The Zojirushi NSZCC10 has a pan that is simple to remove and easy to clean up as it has stay-cool side handles.
It has been made much more convenient as it comes with an LCD clock and timer, a removable, washable lid, a contemporary white exterior, and a retractable power cord.
Compact
NS-ZCC10 is easy to move around because it weighs light and has a carrying handle.
Zojirushi is one of the best rice cookers for small kitchens because it only measures 11 by 9 by 10 ½ inches.
People who have bought and tried this unit have said that they are worth every penny they spent on it.
Specifications
Dimensions – 10-1/8 by 13 by 8-1/8 inches
Wattage – 680 Watts
Size – 1.0 liter
Box Contents
The appliance comes with accessories:
two measuring cups (one for regular and one for rinse-free rice)
a non-stick spatula,
a spatula holder,
recipe book.
It also has a removable inner lid and inner pan.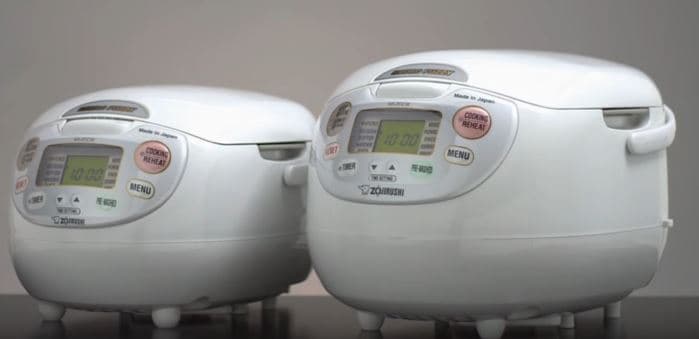 Zojirushi Rice Cooker NS-ZCC10 Reviews From Users
As stated by many experienced users, phenomenal cookers, such as the Zojirushi 5.5 cup rice cooker, have given a new breath of life into an ordinary household kitchen.
With an overwhelming number of positive responses, it is easy to see how the Zojirushi NS-ZCC10 rice cooker has become such a success. It is designed to be used in all aspects of casual cooking, and the container requires little hygiene management to clean.
The end product has been reported to have more texture and a stronger flavor than other rice cookers. The size allows the user to make a huge batch of grains in one go. As far as the durability goes, a customer stated that he has been using NS-ZCC10 for six years without any glitches.
This appliance can also be used to make porridge and soup while being able to deal with oatmeal and grains as well. It is incredibly proficient at making brown rice taste more wonderful.
If one flaw has to be pointed out, it's got to be the machine's battery replacement mechanism. The whole unit has to be disassembled by a professional electrician to warrant a more extended usage to change the battery.
While this may discourage long-time users, the fact remains that Zojirushi NS ZCC10 5.5 Cup cooker is still one of the best models you can get.
Pros and Cons
Here are the main advantages and disadvantages of the Zojirushi NS-ZCC10 cooker.
Pros
Easy to clean
Easy to use
Timer function
Versatility
Cons
A battery should be regularly changed
The non-stick surface of the pot scratches easily if you use metallic utensils
Zojirushi NS-ZCC10 vs NS-TSC10
Here are the most important differences between NS-ZCC reviewed in this blog post and NS-TSC models.
Heating Technology
NS-ZCC features more advanced Neuro Fuzzy heating technology using a total of 3 temperature sensors – the pot temperature sensor and 2 extra sensors that check room and lid temperatures.
The cheaper NS-TSC just has a pot temperature sensor and a Micom Fuzzy Logic.
Heater Construction
The ZCC models have a spherical heating element that heats the contents of the pot from multiple directions, while the TSC models have a non-spherical heating element.
Manufacturing Country
The NS-ZCC models are among the few models manufactured in Japan.
The other models are coming from the Zojirushi factory in China.
Ergonomics
The NS-ZCC10 and NS-ZCC18 models are easier to use thanks to the cool touch pot handles and easy to clean steam vent.
Best-Selling Zojirushi Rice Cookers
Below you can see 3 best-selling models from this manufacturer.
Please let me know if you think I should review them.
Frequently Asked Questions
Where is Zojirushi NS-ZCC10 made?
Zojirushi NS-ZCC10 is made in Japan.
Can Zojirushi NS-ZCC10 be used to cook other whole grains?
Yes, of course! People use the NS-ZCC10 for cooking barley, quinoa, oats, farro, wheat berries, and more.
What settings should be used for cooking whole grains?
For faro, barley, and wheatberries, you can use the white rice setting. For quinoa and oats, it is better to use a porridge setting.
Where can I find the Zojirushi NS-ZCC10 manual?
If you are looking for the NSZCC10 manual, click here to download it.
Zojirushi NS-ZCC10 battery replacement – do I need to worry about it?
According to Zojirushi rice cooker owners, the battery life is 4-5 years. When the battery dies, you will still be able to use your cooker, but the clock and timer will not work when the unit is not plugged in.
According to the user manual, the battery should be replaced in the authorized service center. After doing quick research on the internet, I found numerous how-tos from product owners showing how to do it yourself. They even show how to replace the CR2354 battery with a cheaper and more common CR2032.
Zojirushi NS-ZCC10 replacement pan – where can I buy it?
You can buy the Zojirushi NS-ZCC10 replacement pan on Amazon or directly from the manufacturer.
Conclusion
I hope my Zojirushi NS-ZCC10 review has answered all your questions about this awesome rice cooker.
The Zojirushi NS-ZCC10 rice cooker is an excellent choice for anyone looking for a premium rice cooker that is both reliable and efficient. With its advanced features, such as the Neuro Fuzzy logic and its multiple cooking modes, you can be sure that you will be able to prepare a variety of rice dishes with ease. This rice cooker is also very easy to clean and maintain, making it a great choice for busy households.
All in all, the Zojirushi NS-ZCC10 rice cooker is a great product that is sure to meet the needs of any home cook.
Please leave a comment below if you have any questions!