Breville 800JEXL Review – Juice Fountain Elite 1000-Watt Centrifugal Juicer Extractor
If you prefer making fresh and natural organic juices to buying artificial liquids they call 'juice'  in stores, then the Breville 800JEXL Juice Fountain Elite 1000-Watt juice extractor is an excellent choice for you!
This appliance will help you to reach your fitness goals.
Are you trying to lose weight? Is your goal to stay in great shape and build some pure muscle? It will give you a helping hand.
Tired of putting too much effort into making your own fresh juice when it is supposed to be easy?
Are you conscious of what you drink?
Do you like drinking fresh juice every day?
Well, here's a product you'll truly love – the powerful 800JEXL 1000 watt juice extractor from Breville! Please keep reading to learn why this juicer is best for juicing and covers all your needs.
This got a big feed chute. No cutting is needed for your produce. The appliance disassembles quickly, has no screws, and fits easily in the dishwasher.
Breville 800JEXL Juice Fountain Elite Features
Great Juicer For Excellent Juice Quality
Due to its high juicing speed, Breville 800JE XL will provide you with comfort and effortless fresh juice every day and anytime you want it.
The 1000-watt (1-1/3 horsepower) motor brings ultimate power and durability, while the built-in electronic "smart- chip" regulates the blades' power. Also, it has 2-speed control – high (13,000 RPM), and low (6,500 RPM).
The juicer features patented, dual-action, diagonal knife blades encased by a titanium-plated stainless-steel cutting disc.
Cutting, slicing, and dicing your favorite fruits and vegetables such as apples, carrots, oranges, and the likes are unnecessary because of the machine's 3-inch stainless feed tube, which can efficiently process whole fruits and tubers.
Are you still wondering why this gadget is among the best juicers you can get?
This juicer makes great-tasting fresh juices in seconds. No need to push and force feed your juicer. The machine will give you the result you wanted in less than a minute!
It is indeed an excellent juicer for true juice lovers and health-conscious people. The critical thing many users of this machine are noticing – it makes more juice than pulp.
That's less waste and more product for you!
The machine's housing is made of die-cast steel and a stainless-steel micro-mesh filter. This appliance has a pulp container, juicing pitcher, and manual plus recipe book, and all parts are dishwasher safe.
Now let's take a closer look at the most essential features.
Patented Extra Wide Feed Chute
The feed chute is something that you would love about the Breville 800JEXL. You can easily fit in whole carrots, apples, oranges, tomatoes, avocados and etc.
It has a width of 3 inches. You can get an extra food pusher that can be bought separately. Push the food slowly for a better blend.
Safety Locking Arm
The safety-locking arm is tightly fitted with two grooves on either side. For the juicer to even start functioning, you need to make sure that the juicer cover is fitted in place. Alongside this, you need to lock in the safety-locking arm for the blending to start.
Large Pulp Container with Integrated Handle
The pulp container of the Breville 800JEXL is more than enough to hold a large amount of 3.2 quarts of pulp. It is dishwasher safe.
You can also buy an extra container if you need 2nd one or just a replacement. A transparent lid for easy transport and for avoiding spillage covers the opening.
Two-speed Electronic Control
You can use your Breville Juice Fountain in two different modes. Obviously, they have their own purposes.
Use the first mode that is the low speed, for juicing soft fruits with high water content. Use the high speed to blend hard fruits and vegetables with ease. The modes are easily selectable by a knob.
Overload Protection Button
Your Breville juicer might overheat like any other kitchen appliance. But, Breville makes sure that your safety comes first.
Hence, in case your juicer overheats too much, it will turn off automatically. Press the overload protection button at the bottom of the juicer to reset the juicer machine.
Unique Breville AssistTM Plug
Your Breville 800JEXL Juice Fountain Elite has an improved and easy-to-handle cord. The plug is a unique design that allows you to easily plug in and plug out from sockets without much hassle. The hollow center enables easier grip and handling.
Built-in Froth Separator
You may like your juice with foam on top or simply a clear one to sip onto with no messy lips. For either choice, the froth separator is present in your Juice Fountain. The frother is a built-in attachment that can be turned on and off according to your preference.
34fl oz / 1-liter Juice Jug
The juice jug that comes with the Breville Juice Fountain Elite can hold up to 1 liter or 34 fl oz. of juice. It is marked with different scales for ease of measurement. You can put it in the top rack of the dishwasher to keep it clean with ease.
Note that the juice container can hold only the extracted juice, not the pulp. It comes with a handle for easy use with both right and left hands.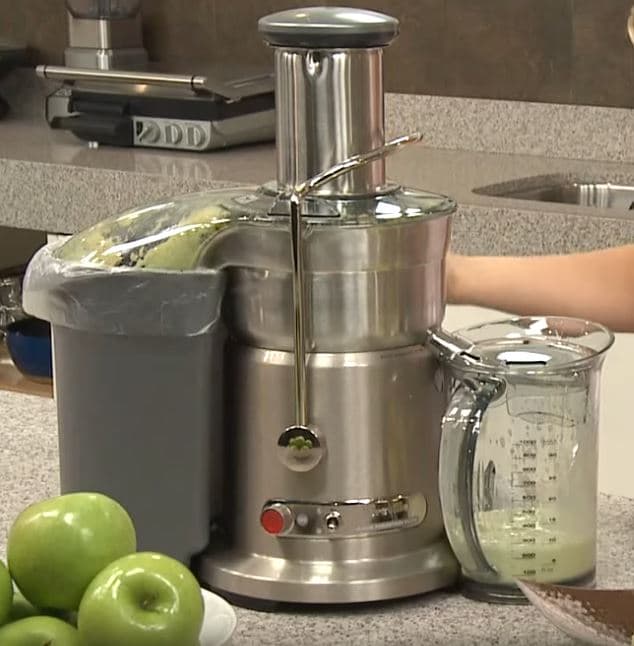 Juice Jug Lid
The 800JEXL has a juice jug lid that enables the juicer to operate safely only when the lid is on. It helps to reduce the spilling of juice.
Just put the lid on the juice container and you can either pour juice from the jug or even refrigerate it. The lid, too, is transparent with elongated skirts for a better grip.
High-Performance Motor Base
You need to plug in the appliance to a 120V power source to fuel the 1000-watt motor. The motor base is exceptionally durable for better performance.
When in hard mode, you can expect some vibrations. Other than that, just in case of overload, the machine will shut off automatically.
Stainless Steel Micro Mesh Filter Basket
The Breville Juicer Elite has a unique Stainless Steel Micro Mesh Filter Basket. This function is included to prepare the best quality juice.
It is dishwasher-safe, so you can just put it in the top rack and see how it gets washed. To make it easy to clean, give it a good rub using the provided nylon brush. Just make sure you never use bleach to clean any juicer parts because it might get them discolored or damaged.
Food Pusher
The plastic food pusher is for quickly pressing produce inside the extra-wide feeding chute.
It is provided for safely pushing fruits. You can easily position the pusher in place by inkling the groove of the pusher with the inclined design of the chute.
Specifications
Power (watts): 1000 watt
Type of Juicer: Centrifugal
Speeds: (Fast) 13,000 RPM / (Slow) 6,500 RPM
Speed Control Type: Electronic
The capacity of Pulp Container: 3.2 qt (3 L)
The capacity of Juice Container: 1.1 qt (1 L), froth separator included
Juicing Disc Filter: titanium reinforced
Safety Features: safety lock mechanism preventing unsafe operation
Included Accessories: 1.1 qt (1 L) Juice container and Cleaning brush
Voltage: 110-120V (not compatible with 220-240V)
Product Dimensions: 9″ (D) X 16″ (H) X 16.5″ (W)
Item Weight: 17.2 lbs
Warranty: 1 Year Limited Product Warranty
Now let's see how the Breville 800JEXL compares to other similar juicers.
Breville 800JEXL vs BJE820XL | Breville Juice Fountain Duo vs Elite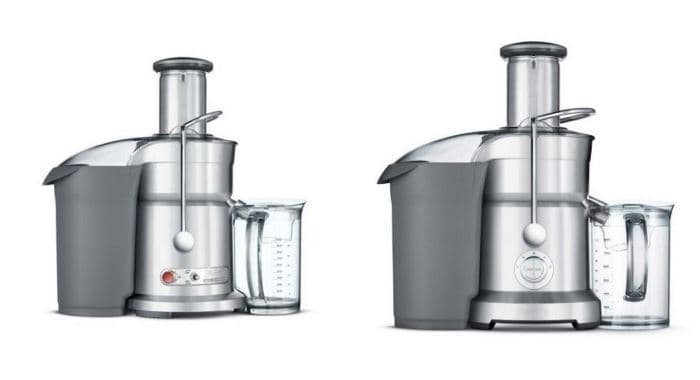 It is perplexing that two Breville juicer models have so many features in common. But, the Breville 800JEXL (Elite) and BJE820XL (Duo) do have a few differences that set them apart.
The prime difference is the number of blending speeds that these two juicers provide. The first one has only two speeds of 6500 and 13000 rpm. On the other hand, BJE820XL has 5 juicing speeds- 6500, 8100, 9700, 11300, and 13000 rpm to choose from.
The 800JEXL has a motor power of 1000 watts, while the BJE820XL has a motor power of 1200 watts.
Another of the prime differences is the number of cutting blades these two juicers have. You have one cutting blade in the 800JEXL but two cutting blades in the BJE820XL, the second being a puree disc.
Breville 800JEXL vs JE98XL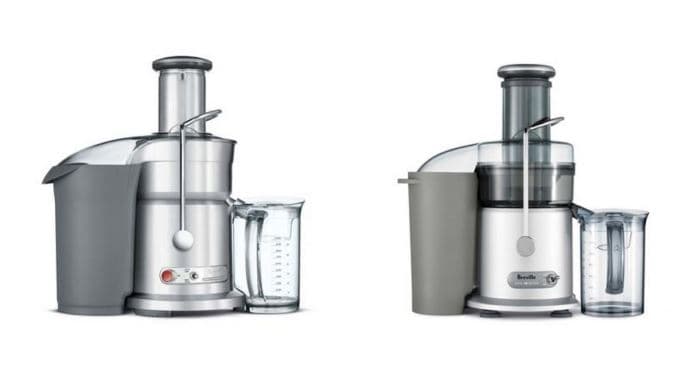 The Juicer Elite machine is in every way better than the Breville JE98XL. The Breville 800JEXL is the improved version of the JE98XL model, a big commercial success in the line of Breville juicers. You will find reasons to be very obvious.
Although the designs and dimensions are similar, you will find differences in technicality. The Breville Juicer Elite functions easier and gives better performance. This is due to the 1000-watt motor, while the JE98XL only offers 850 watt motor to spare.
Some plastic parts of the Breville Juice extractor have been replaced with highly durable die-cast metal. It also looks better than the JE98XL.
The cutting disc in the 800JEXL is made of titanium. This makes it stronger and more durable than the JE98XL which has a stainless steel version. It also holds 3.2 quarts, whereas JE98XL holds about 2.6 quarts.
Breville 800JEXL vs BJE510XL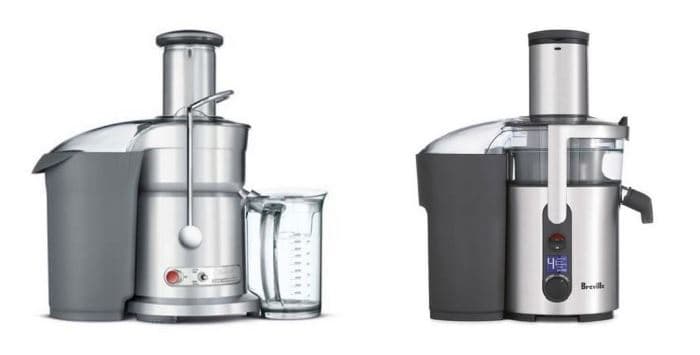 There are few differences between the Breville 800JEXL and BJE510XL. Yet, they are very much essential and should be considered while buying.
You will see that both models have their fair share of pros and cons. When it comes to power, you should pick the Breville 800JEXL with 1000 watts of juicing power. The BJE510XL has 100 watts less.
The Breville 800JEXL has only two speeds (low-6500 rpm and high-13000 rpm) to choose from. Here, the BJE510XL has three more variants of speed to choose from. Take your pick of items from soft food, citrus, pineapple, apple to hard veg.
The Breville 800JEXL has three control buttons, while the BJE510XL has that and a backlit LED display. The larger model is made of die-cast, while the BJE510XL is made of stainless steel. As you can see, durability favors the Breville Juice Fountain Elite 800JEXL.
Breville 800JEXL vs Omega J8006
The Breville and the Omega J8006 have more differences than any other model. It is because both of these products are from two different lines of juicing mechanisms.
Centrifugal juicers like Breville Juice Fountain used a rotating cutting disc to cut food in a centrifugal motion. But, the Omega J8006 chops the produce in a masticating motion.
The Breville has a food chute of 4 inches in width, while the J8006 has a food chute of 1.5 inches in width. Thus, Breville has a significant advantage in this case.
Breville's 1000-watt motor provides thousands of rotations per minute. Still, the Omega gets away with only 80 RPMs – it is a masticating juicer. You need to keep in mind that effectiveness is more or less the same in the case of both.
Related Reading: Omega J8006 Review
Here is the comparison table summarising all comparisons discussed above.
| | 800JEXL | BJE820XL | JE98XL | BJE510XL | Omega J8006 |
| --- | --- | --- | --- | --- | --- |
| Power (Watts) | 1000 | 1200 | 850 | 900 | TBA |
| Speeds | 2 | 5 | 2 | 5 | TBA |
| Speed Range, rpm | 6,500 / 13,000 | 6,500 - 13,000 | 6,500 / 12,000 | 6,500 / 12,500 | TBA |
| Type | Centrifugal | Centrifugal | Centrifugal | Centrifugal | Masticating |
| Body | Heavy grade die-cast metal | Heavy grade die-cast metal | Heavy grade polymer | Stainless steel | TBA |
| Cutting Disc | Titanium | Titanium + Stainless steel | Stainless steel | Stainless steel | TBA |
| Stainless steel micromesh filter | Yes | Yes | Yes | Yes | TBA |
Breville 800JEXL Customer Reviews
Compared to the other juicers in the market, the Breville 800JEXL has been received more warmly by loyal customers.
The device efficiently makes fruit juices and is clean in handling leftovers, pulps, and residue sap that sticks to the plastic. It is also careful in the extraction part of the juicing process, being wary of making the end result healthy and delicious and containing the necessary nutrition one would require in natural homemade fruit juice.
Customer reviews have extensively deemed the Breville Juice Fountain Elite and its various features worthy. It has also affronted its lack of lasting durability and loud performance.
Grab the Breville 800JE XL now and enjoy the wellness and comfort of the product. It makes more juice, so you can now have more tasty drinks for your family to enjoy whenever you want!
Most of the Breville 800JEXL review articles are favorable. Considering that the juicer offers so many great benefits, people have a lot to say about it!
Most reviews mention the ease of use of the Breville juice machine. It has two settings only, so there isn't much to figure out regarding the settings. It features a wide feed opening that reduces effort and preparation time significantly.
The highly effective cutting disk can handle even the hardest produce you put in. However, it is not great for juicing leafy greens like spinach, kale, and wheatgrass. The juicer also comes with a large container for pulp, so you don't have to empty the container during the juicing session.
Some users also mention that the juicer has a great shape. Although it is kind of bulky with dimensions of 9" by 16" by 16.5", there are way bigger juicers in the market than the 800JEXL. It is also a bit heavy, so it may not be as portable as you may wish. All the same, it looks great in that you can leave it on your kitchen countertop, and it will stand out.
For a juicer to function effectively, the different parts must be continuously stressed. While other juicers cannot withstand the pressure and break down eventually, the Breville 800JEXL can stand up to heavy-duty use for a long time. This means that you can use it for over three years without spending on replacing the juicer.
If you don't fancy using juicers because of how hard it is to clean them after use, you should consider buying Breville's 800JEXL juicer because this won't be an issue. You only need to clean four parts of the juicer. Some of them can be washed using a dishwasher, while for others, all you need is a simple cleaning brush.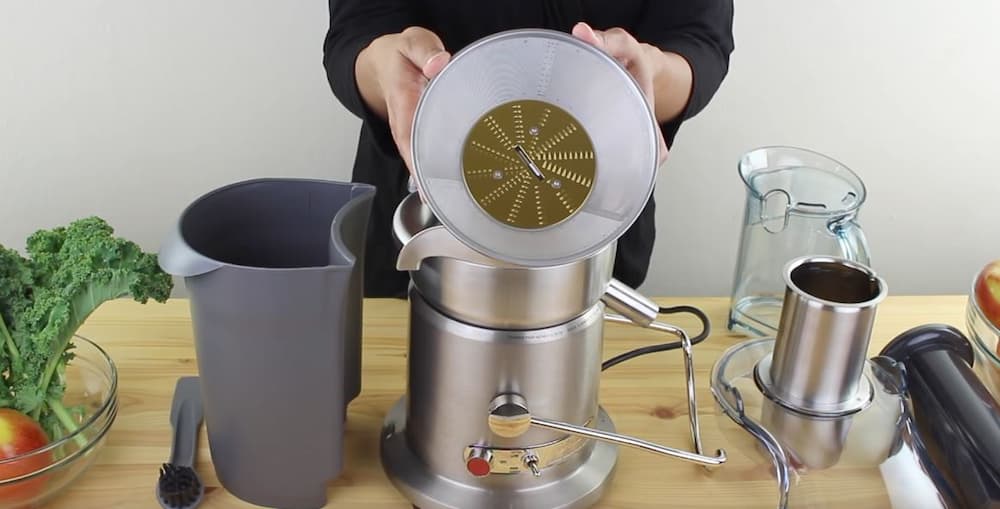 Pros and Cons
Pros
Patented Juicing System
The primary goal of taking vegetables and fruits is to get nutrients. Some fruits contain a lot of water, but it's not the water we are looking for.
When using the Breville 800JEXL juicer, you can be sure to get all the nutrients from the veggies and fruits. It has a patented juicing system that enables it to extract more nutrients than other juicers. It also uses less than 1.8F of heat to extract juice, which protects the enzymes from breaking down and maximizes nutrient absorption.
Dual Speed System
Fruits and vegetables all have different textures. Some are hard, while others are soft. Ingredients that are hard or have rough skins require more significant force than the softer ones.
The Breville juicer has a two-speed system; 6,500 RPM for soft ingredients and 13,000 RPM for hard fruits. This allows users to juice a variety of products and even juice ginger.
Safety Features
The appliance has a safety locking arm mechanism. The feature prevents the juicer from operating if the cover is open. It also limits spillages during juicing. If you have small children that you fear could interfere with a juicer, get this model, which won't be a worry.
Positioning of The Feeding Chute
Unlike in other juicers, the feeding chute is located above the shredding disk. The positioning makes the juicer more effective than if the ingredients were introduced from a side shredding disk. It ensures the complete shredding of the fruits and veggies. It also reduces juicing time.
Cons
Breville 800JEXL Review Warns About Leakage Danger
If you feed the Breville 800JEXL juicer with fruits with high water content and run it at a high rate, the juice might leak from the appliance. To prevent this, use a slow speed when necessary. Also, be more patient and apply less pressure to the pusher.
Frequently Asked Questions
Is the Breville Juice Fountain Plus 800jexl a masticating juicer?
No, it is not a masticating juicer. The Breville 800jexl is a centrifugal juicer.
Does Breville make masticating juicers?
Yes, Breville makes the masticating juicer, the Breville BJS700SIL Big Squeeze Slow Juicer. Please leave a comment below if you would like me to write the Breville BJS700SIL review.
Are Breville juicers dishwasher safe?
All parts of this juicer but the base are safe for the top rack of the dishwasher. But usually, it is OK to rinse the parts off.
Is the Breville 800JEXL juicer BPA-free?
All plastic parts of Breville 800JEXL that come in contact with juice are BPA-free.
Related Reading: Omega VRT350 Review
Conclusion
All in all, if you are looking for a juicer that takes up an ample amount of space and gives you a durable and impressive blending and juicing service, the Breville Juicer Fountain Elite is something worth taking home.
I have done a lot of digging since I would love to stay away from the tedious task of juicing. I have definitely found this to be a juicer with a balance between cost and efficiency.
Also, it has a 1-year warranty along with all these features and a sophisticated lustrous design. You should definitely consider buying it.