Omega J8006 Review And Comparison With Omega 8007 | J8008 Nutrition Center Single-Gear Commercial Masticating Juicers
Recently I was in the retail store to shop for a new juicer.
There are a lot of brands to choose from, but I have done my homework and read more than one Omega J8006 juicer review. I was well-informed about some of the best juicers, and I was not confused about choosing which one to get.
I was really impressed with the Omega J8006 juicer reviews that I read online, so I decided to give it a try.
I have been using it for a few weeks, and it is a good thing I chose to buy it as it has the features that I am looking for in a new unit to use at home.
Omega Nutrition Center Juicer J8006Check Price
Features
Designed for Health-Conscious Consumers
The J8006 has been designed for individuals who are conscious when it comes to their health. It works great with fruits, vegetables as well as wheatgrass.
What's more, it can also do tasks that other juicers cannot do, such as turn nuts into butter, whip up soy milk, mince herbs and garlic, and grind coffee and spices.
It can mash any food you put in it, so you will definitely be able to use it when making baby food.
Fresh High-Quality Juice
The Omega J8006 Nutrition Center juicer features a dual-stage juicing system. It uses a low speed of 80 RPM, which results in minimal heat build-up, clogging, foaming, and oxidation.
This, in turn, will promote healthy enzymes so that your beverage will be not only fresh but also longer lasting. The lower oxidation also means that it will not turn brown quickly.
Powerful
Omega 8006 Juicer is equipped with a 1/3 horsepower single-phase induction motor which is powerful enough to juice up fruits and vegetable and be able to extract their vitamins, nutrients, and minerals fully.
It can also provide you with high juice yield even from a very dry pulp. The unit features a built-in "reverse" mode to prevent food from getting stuck in it.
What's more, it operates quietly making it pleasant to use.
Specifications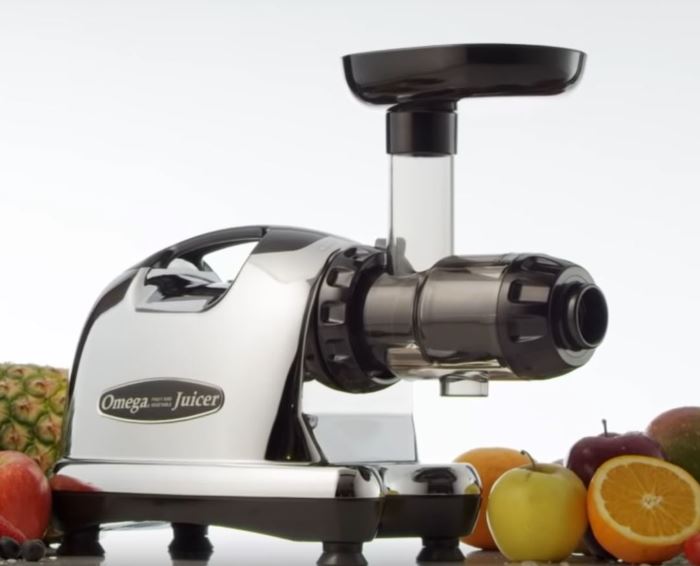 Motor: 150 watt
Type: horizontal masticating
Speeds: 80 RPM
Included Accessories: none
Measures: 14-1/2 by 6 ½ by 15 ½ inches, making it ideal for kitchen countertops with limited space
Warranty: 10-year warranty, which comes in handy should you have problems with the appliance
High juice yield makes it more economical than other models in the market
Auto pulp-ejection function for continuous juicing
The dual-stage juicing system prevents foaming, clogging or heat build-up
Multi-purpose appliance allowing you not only to juice but also to mince, chop and mash- you can use it as a food processor, pasta extruder, homogenizer, grinder, and more
You might be interested also in the newer J8007 and J8008 and their differences from the Omega juicer 8006.
Comparisons
Omega 8006 vs 8007 vs 8008
Many readers are asking us about the comparison of Omega juicer J8006 and newer J8007 and J8008 models. That is understandable because these two are among the best juicers available on the market.
The comparison table is coming soon!
Omega J8006 vs VRT-Series
If you are wondering how 8006/8007/8008 horizontal juicers compare to VRT-Series models, see the comparison in my Omega VRT350 review.
Omega 8006 vs Kuvings NJE-3570
Having a party? The Kuvings NJE-3570 may prove to be handy and useful. This multi-purpose extractor can easily grind beans, whip milk, extrude pasta, and mince any herbs and spices. With this, you can spend less time and effort in food preparation and be able to have extra time to attend to other things that matter to you.
Powerful Motor
The Kuvings NJE-3570 has a high-powered motor running on 170 watts, giving you an efficient and fast performance, even during the busiest days.
Though carrying a powerful machine, the engine still remains quiet so that you do not have to disturb everyone in the room when preparing food.
Eight Different Nozzles
This juicer comes with eight different nozzles for pasta, juice, herbs, or coffee beans. As Kuvings NJE-3570 knows that no food is prepared exactly the same way, the nozzles are carefully designed to meet our every need to every occasion.
Easy To Use
Kuvings NJE-3570 is very easy to assemble and disassemble. There are no complicated actions you need to do just to set this juicer up. Cleaning it is also very easy.
Customer Reviews
People give this product a very high recommendation. Though many of them noted that it is quite bulky, it has a good support handle grip. With this, moving the juicer around the house is easier.
Also, many praised its high-quality performance. You can throw any fruit in it for juicing, and it will give you a fine result. Users also liked how it is super easy to use and clean, perfect for people who are always throwing a party.
All in all, the Kuvings NJE-3570 is highly recommended.
Price
This juicer is a little bit pricey, though looking at what it can do, the price is worth the penny, especially if you are the kind of person who uses juicers a lot. If you are, definitely, this is a good investment on your side.
Cleaning Omega Juicer
The cleaning of Omega J8006 is easy and straightforward.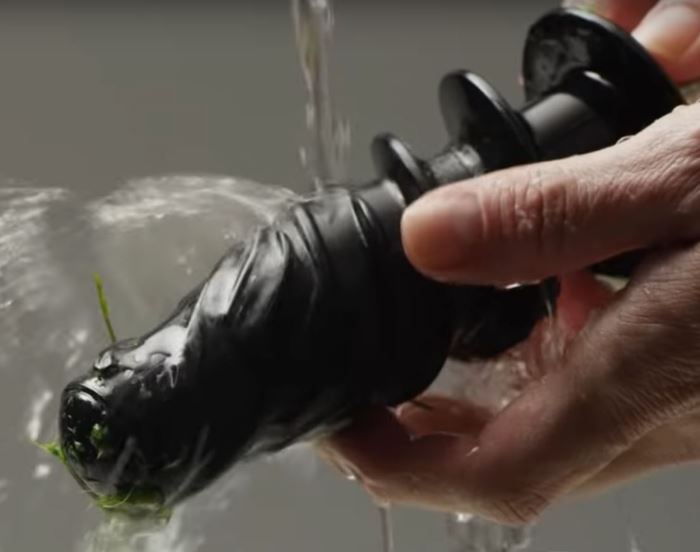 Consumer Reviews
The new Omega 8006 Juicer has received high ratings from consumers.
The only complaint a few people have against it is that it takes time to clean, but aside from that, they are impressed at its ability to produce fresh and rich juice from any food they place in it.
It is also quite an expensive appliance. If you are not ready to spend a couple of hundred of dollars on a juicer, you should check out my best juicer of choice.
Pros and Cons
Coming soon!
Related Articles