Ninja BL770 | Ninja Mega Kitchen System BL770 Review And Comparison With BL771 | BL772 | BL773co
With the diverse variety of kitchen appliances available these days, choosing the perfect ones for your kitchen can be a little troublesome. But this Ninja Mega Kitchen System BL770 review will surely help to lessen the burden.
The blending system of the product does the work of three different appliances. Along with that, the outlook it carries is very soothing for your kitchen. The dimensions and weight of this machine are very comfortable for regular usage.
The Ninja BL770 Blender & Food Processor Mega Kitchen System set covers a blender, mixer, chopper, food processor as well as an ice crusher. Imagine how compartmental your lengthy cooking tasks will become! It is the first step to a neatly organized and minimalistic kitchen setting.
The elegant look just adds up to your kitchen outlook. The time-efficient nature of the processing tasks is also worth mentioning.
Today, I intend to walk you through both sides of this product called the Ninja BL770 Mega Kitchen System.
Ninja BL770 Mega Kitchen System and BlenderCHECK CURRENT PRICE
Ninja Mega Kitchen System BL770 Overview
The Ninja Mega Kitchen exudes comfort in both the exterior and interior factors. It is presentable as a dream appliance that combines a blender, a food processor and a juicer.
This system appliance introduces new dimensions in crushing and blending technology. It is perfect for blending frozen items, processing food and extracting vitamins.
The pitcher in this set is an extra-large one that can fill up to 72oz. Accompanying gadget includes the 8 extra-large cup Processor Bowls and Nutri Ninja Cups. The capacity of the pitcher is perfect for serving a big family.
Among all Ninja blenders, this appliance has the highest power (1500 Watts). It is still not comparable to 2HP Vitamix motors, but such power helps to reduce food processing time and who does not want that, right?
The blades are high-quality removable ones for easy use. They specialize in many food categories and are of two types: 4-blade and 6-blade system.
They thrash and crush through ice, fruits, and vegetables in seconds. The result is a collection of marvelous sauces, dips, and smoothies.
The 2 Nutri Ninja cups come with lids. So, they serve as easy-to-go cups so you can take your smoothie out daily.
The 8-processor cups serve as a great help in chopping and dough making. And, you can even mix 2 lbs. of dough in 30 seconds if you use the dough blade.
The Ninja Mega Kitchen System BL770 is the assembly of specialized appliances. It keeps in mind the comforts and troubles of daily life.
If you are looking for an easy kitchen system, it is wise to go over the details of all brands and decide for yourselves. Personally, I would go for the high performing Ninja Kitchen System.
Functionality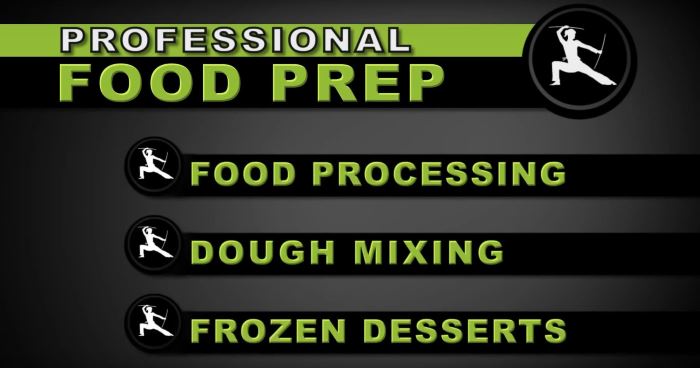 The functions of the Ninja BL770 Kitchen System come with many notable pointers. These can turn out to be important deciding factors in whether you should buy the machine or not.
The Ninja BL770, one of the best blender food processor combo models, is not only known for its versatility but also for its intricate detailing of parts, which facilitate the food processing in many ways.
Chopping or Preparing Food
One can use the food processor container and blade assembly to chop vegetables (salad, coleslaw) or make sauces (salad mix, dips). The mini-prep bowl-chopping blade screens cheese and crumbs.
Juice
This system comes without juicer. But, it can help you make healthy and delicious smoothies, also known as whole juice.
Soup or Hot Food Item
This machine will not make your soup for you by heating the liquid to a boiling temperature. It can make soup only with cooked ingredients.
In fact, the manual mentions not to use boiling hot liquids in it. Doing so will cause your blender to develop cracks and render the whole system useless.
Smoothies
Fruit and vegetable smoothies can be made with the 72 oz. pitcher that is accessorized with tower blades. But, the blender may have trouble working through the fibers of these delicacies. Especially, mango, broccoli, carrots, and cauliflower tend to become thick and granular liquids.
No matter the duration of blending, the drink will not be smooth enough. Even the seeds of small berries do not go through complete thrashing.
Also, while making smoothies, you will notice that foods tend to stick to the internal wall. Pause the blender and scrape them off to make sure the smoothie has the granules in the right proportion.
Grinding/Milling
Grinding of coffee beans or milling grains into baking powder is difficult with this set. It is not designed for such tasks. But, softer ingredients like herbs or oats can be milled in the blender very easily.
Thus, grinding/milling is not a strong suit for this kitchen appliance. And for such tasks, it is suggested to use the single-serve cup over the food processor or main pitcher. Apparently, the main pitcher is the worst performer.
Nut Milk
The machine fails to even out the mixture of nuts and small seeds that are needed to make nut milk. You can still try making it, but the sad outcome and the wastage of nuts will leave you disappointed.
Nut Butter
Although the machine is great for making nut butter, the output may still be a bit grainy. For easier processing, you can pause the blending at intervals and then, scrape off the stuck foods.
This will lead to a more evenly made nut butter. For small batches of nuts, a mini prep bowl is a suitable option.
Pureeing
The blender cannot make a proper vegetable puree. Adding water to it does not help much either. The small container does a better job at making purees but even that is far from perfect.
For mincing onion, garlic and others herbs, the single serve cup and mini prep bowl will do far better jobs.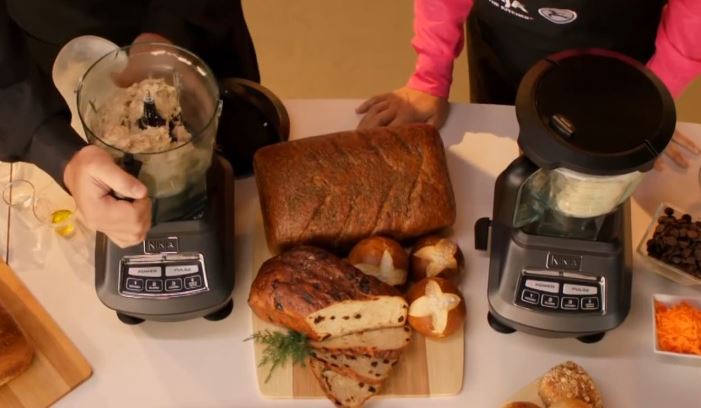 Dough/Batter
In 30 seconds, the food processor bowl and blade accessories can knead all kinds of dough. But for adding extra ingredients, one will have to open the lid every time. I feel that the Ninja Mega Kitchen System's complex lid opening system can be quite bothersome for users.
Desserts
The big jug and the single-serve can smack ice very easily and effortlessly. The ice can even be turned from cubes to snow cones. However, the abysmal quality of plastic may not be able to tolerate the cold temperature, developing cracks.
Specifications
Coming soon!
Comparisons
Ninja BL770 vs BL771 vs BL772 vs BL773co
BL770
The Ninja Mega Kitchen System (BL770) set also includes a 72 oz. pitcher, 64 oz. processor bowl and two 16 oz. cups with lids.
BL771
The Mega Kitchen System (BL771) with meal prep kit comes with all the exact features of the BL770 model. The difference is an addition of the 3-cup bowl-inside-bowl with chopping blade. This small bowl is to go into the processor bowl for further functioning.
BL772
The Ninja Mega Kitchen System with Meal Prep Kit and Bonus Nutri Ninja (BL772) also appears to have all the features of the BL771 model. The reason it stands out is for having 3 smoothie cups with lids instead of 2.
BL 773co
The Ninja Mega Kitchen System BL773co is similar to BL772. The difference is the Ninja BL 773co comes with an 8-Cup Food Processor Bowl with Reversible Slicing/Shredding Disc & Grating Disc instead of the 64oz Processor Bowl (and no 3 Cup Bowl-inside-Bowl).
Ninja BL770 vs BL682
These are quite similar models. The biggest difference is the Auto IQ feature of BL682 that senses the consistency of product it is blending and varies blending speeds and pauses accordingly.
In 2019 this model is being phased out and replaced with BL642 mentioned below.
Ninja BL642 vs BL770
The Ninja BL642 also is the Auto IQ model with a 1500W motor. It comes with 3 different size cups – 18oz, 24oz, and 32oz.
Ninja BL770 Reviews From Users
With this high and fast run of technology, the topmost priority of businesses is ensuring easy-functioning and time-convenient products. Hence, the expectations out there are not easy to fulfill for products manufacturers.
The Ninja blender BL770 has caused quite the uproar in the kitchen appliance market. In my research, I found that the customer reviews offer a perfect reflection of the product. Hence, they are essential in making it easy for you to decide whether you want to buy the Ninja kitchen appliance system or not.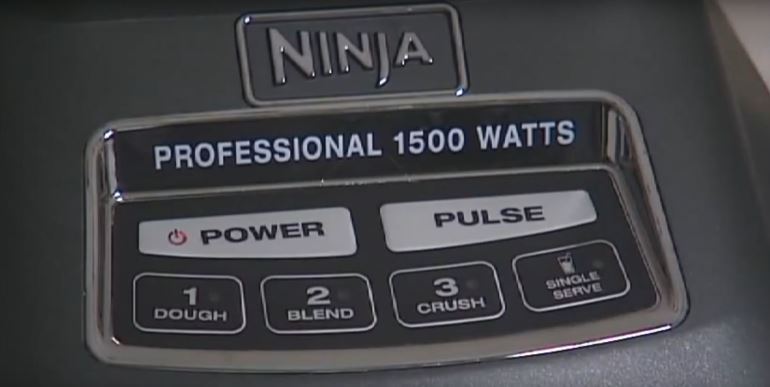 Power
With a power of 1500 W, this machine can blend your food item in a short time. The power contributes to the time-efficient factor of this system.
Customers even noted how easily it thrashes ice within minutes, without the use of heat. The liquefaction of vegetables and fruits is a pretty great output for smoothie making.
Maintenance
The system has many intricate detailed parts and is sometimes tough to maintain. However, the pitcher and bowls are easy to clean.
The attachments are dishwasher proof. The dishwasher-proof factor is something many customers look forward to. The plastic is very high quality and does not attract any marks or scratches on the surface.
Noise
The noise is a frequently registered problem for the Ninja Professional Kitchen System 1500 watts. This is a byproduct of the high power (1500 W) it uses to run. The machine is designed to do heavy works like crushing through ice and thus, high power is necessary.
Environment
Bisphenol A, an industrial chemical, is often used to make plastic. But it has proven to be harmful when in contact with food. The Ninja kitchen appliance system is BPA free. As this appliance is used for many cooking processes, the lack of harmful contamination is a relief.
Warranty
Major competitors of BL770 usually have warrant periods of 5-7 years. Naturally, customers have complaints about its relatively short warranty period (one year). Some buyers avoid buying high end products without a good warranty period.
Space
The space-saving factor of this model interests a lot of customers. Despite being a heavy-duty set, it weighs only 15.1 pounds.
The measurement of the appliances promotes easy movement as well as good storage. This is far more reasonable than having to own different machines for different food types.
Food Type
Customers have often noted that food items containing fibers do not do well in this blender. The mixture does not come out even, but rather lumpy and grainy due to the fibers.
Features
Let's take a look at the most prominent features of the Ninja BL770 System.
# 1 Containers
The set of appliance comes with a main pitcher (72 oz.), a food processor bowl (64 oz.), single serving cups (16 oz.) and 24 oz mini prep bowl (BL771, BL772, and BL773co models) 24 oz.). The mini prep bowl needs to be fitted into the food processor bowl in order to work.
Bisphenol A is a harmful chemical, often found in plastics. The containers of Ninja Mega Kitchen Appliance are BPA free. But, they are not of a decent quality and not even shatterproof (and so can crack easily).
They are also found to be not heat resistant. The plastic used in containers is of poor quality and is prone to early cracks.
# 2 Removable Blades
Stainless steel is used for the blades in the blender. The blades in the main pitcher, food processor and mini prep are removable and are made from stainless steel. Also, the multi-level positioning of blades generates a proper vortex during blending.
But, the customer reviews suggest otherwise. The Ninja single serve standard level blades do a far better job at making delicious smoothies. The multi-level blade setting makes it hard to fill the pitcher with ingredients.
The blades of the blenders in Ninja Mega Kitchen System 1500 are very sharp. So, users need to be very careful while using them.
The blades, which are too sharp, are found to become dull and lose working capability very soon. Properly designed, average blades last longer and have a more constant performance.

Pros and Cons
Before buying any electric appliance, one has to judge the pros and cons to come to a fair judgment.
Regarding appliances, we always look forward to buying something that will last long. And hence, let me provide a detailed scrutiny of Ninja Blender BL770.
Pros
The high power range can crush the toughest food item easily
Bisphenol A free
The 72 oz. blender capacity helps to process food in large amount if needed
Three-speed settings for different food types
The plastic is resistant to scratch and is long-lasting as well
Makes food processing easy and time-efficient
Has a pulse feature
4-blade and 6-blade settings to choose from
Containers are lightweight and hence easy to carry
Has 2 Nutri-ninja cups with lids so you can carry drinks to work easily
The appliances are easy to carry and store
Dishwasher proof
The containers are environment-friendly
Cons
Makes noise, especially in the case of tough food items
The smoothies are very granular and fibrous
Has a tough time processing food items evenly
The short warranty period is disappointing
Box Contents
Coming soon!
Frequently Asked Questions
What is the difference between Ninja BL770 and BL771?
They are similar, except the BL771 has an additional small '3 Cup Bowl-in-Bowl' with Chopping Blade, a small bowl that goes into 64oz food processor bowl.
Can I use Professional Prep System with my Ninja BL770?
Yes, Ninja Professional Prep System XSK770 is compatible with BL770, BL771, BL772, and BL773co.
Can you shred cabbage with a Ninja Professional model BL770?
Yes, you can, but you may get quite small pieces even using the pulse mode. You may get better results with optional Ninja Professional Prep System XSK770.
Can I get large or larger drink cups for my Ninja BL770?
No. You can not use any other cups except the included 16oz cups.
Are the Ninja BL660 and BL770 pitchers interchangeable?
No, they are not interchangeable.
Will the Nutri Ninja BL770 blade assembly work with the BL740?
No, Nutri Ninja BL770 and BL740 blade assemblies are not compatible.
Is the Ninja QB1004 interchangeable with Ninja BL770?
No, these are different appliances.
Is Ninja BL770 glass or plastic?
All Ninja BL770 components are BPA-free plastic.
Is Ninja Coffee & Spice Grinder attachment compatible with Ninja BL772 and BL773co?
No, Ninja Coffee & Spice Grinder attachment is incompatible with Ninja BL77x models. The coffee grinder is compatible with Auto-iQ® models like BL450/490/640/680 and NN100 models and select BL480 series models.
What is the difference between Ninja BL770 and BL770a?
I could not find any information about the differences between Ninja BL770 and BL770a. I am sure the difference is minor, something like different packaging or included recipe book.
Are Ninja BL771 parts compatible with BL820?
No, there are no parts that would be compatible with both models.
What accessories fit with Ninja BL770?
Here is the list I found on the Ninja website:
72 oz. Pitcher with Lid
Motor Base
Ninja® Mini Prep Bowl Kit (from BL771)
Frozen Treat Accessory Kit
Nutri Ninja cup parts:

16 oz. Tritan™ Nutri Ninja® Cup
Nutri Ninja® Blade Assembly
Nutri Ninja® To-Go Lid

Books:

The Blended Drink Handbook for Ninja® Mega Kitchen System®
Make it Fresh, Make it Delicious Recipe Book
Ninja® Mega Kitchen System® Recipe Book

Blades

Chopping Blade
Dough Blade
Stacked Total Crushing® Blades
I am surprised I do not see the 8-Cup food processor bowl in the list of available accessories.
What is the difference between the Ninja BL770 and the BL780?
The Ninja BL780 (also called Ninja Supra Kitchen System)  is a weaker version of BL770 with 1200 Watt motor and fewer accessories. Now it has been discontinued, but you can still find renewed or reconditioned units online.
What is the difference between the Ninja NJ600 and BL770?
The Ninja NJ600 is stand alone blender without additional single serve cups and without food processor functionality.
Conclusion
From this Ninja BL770 Blender & Food Processor System review, it is apparent that the resourcefulness of the set is what has attracted so many. It is especially for those who don't like owning different processing appliances.
The heavy-duty attributes of this set of appliances are very hard to find. The power capacity and cutting performance can help with any food-processing task.
This system facilitates the provision of three-in-one appliances. However, there are certain performance notes of this model that you might want to check again. The Ninja Mega System is not the perfect appliance for everyone, but it has the potential to satisfy many.