Best Blender Food Processor Combo For Home Use – Reviews And Buying Guide 2023
Why look for the best blender food processor combo for home use when you can randomly choose any and get it over with? But are you then willing to spend your hard-earned money on a random appliance? Because then, it might all go to waste because of a sudden breakdown of your product.
No, right?
Fret not! Through our rigorous research of the best food processor blender combo models available in the market, we're right here to help. But at first, let's look at why you need this appliance in your kitchen.
Two is better than one. The blender and food processor combo is the perfect representation of this phrase. After all, why settle for a blender or a food processor only when you can have both at the same time?
Consequently, you need not worry about the counter space because this one tool can serve as both while taking relatively less space.
Now that you're convinced you badly need a food processor and blender combo for your kitchen, you might be worried about where to start looking. Once again, fret not! Without further ado, let us present to you my 7 top picks I have reviewed and analyzed in detail.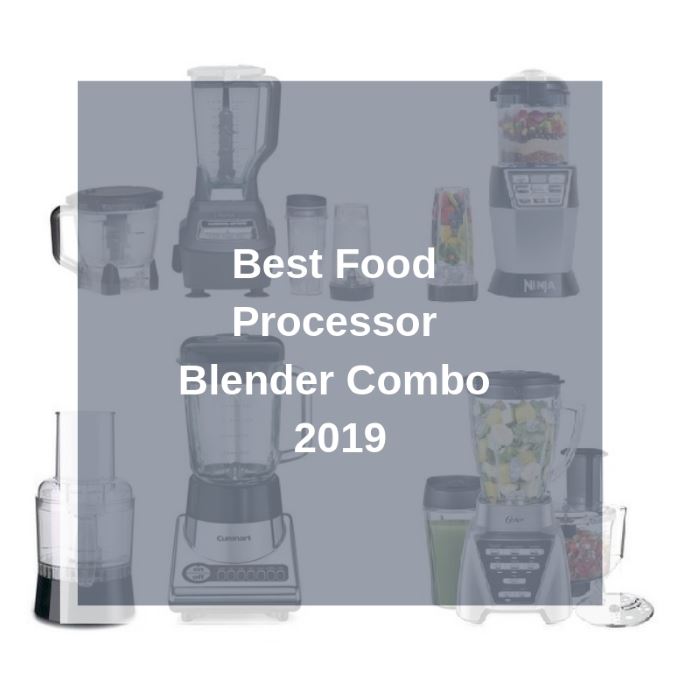 Best Blender Food Processor Combo Models
1. Ninja Mega Kitchen System BL770
The Ninja Mega Kitchen System BL770 Blender/Food Processor with 1500W Auto-iQ Base comes with a 1500 watt motor and a large number of fantastic customer reviews, making it our top pick pretty effortlessly. Without a doubt, it is a hardworking machine that can live up to all your culinary challenges in a jiffy.
The additional accessories in this unit enable the user to get an unbeatable food processor, a powerful blender, a personal smoothie maker and a dough mixer – all through the same machine!
The Total Crushing Technology used in this appliance utilizes three separate blades instead of one at three different levels. These blades can easily crush ice and turn it into the snow. This lets you add a smooth and creamy texture to all your home-made frozen drinks.
The combo blender has a jar of 72 oz., one of the largest we have seen so far. It is accompanied by a bowl measuring 64 oz. The 8-cup food processor bowl enables impeccable chopping and can prepare up to 2 lbs. of dough.
One of the core features of this product is its unique reliability. If you're looking for a machine that would go a long way, this might as well be your pick. The Ninja Mega will provide you services for years together, even with daily use. The super high durability makes the exterior strong and sturdy. Hence, it can withstand a couple of falls without much trouble.
The package also comes with two 16 oz Nutri Ninja cups for making personalized drinks and smoothies according to your own taste. It will also provide you with a recipe book that lists 30 recipes you can prepare using the Ninja blender processor combo. Additionally, customer service is very helpful and responds almost immediately in case of any trouble.
One aspect you may want to consider is that this blender takes a lot of space. However, you may also want to remember that this unit replaces 4 different appliances. Hence, the pay-off should be worth it. You can read more about this machine in my our elaborate Ninja Mega Kitchen System BL770 review.
Quick Specs
Power – 1500 Watts
Blender Jar – 72 oz
Processor Bowl – 64oz / 8 cup
Additional cups – Two 16 oz Nutri Ninja cups with to-go lids
Number of programs – 5
Dough blade – included
Pros
A powerful 1500 watt motor
Helpful customer service
An effective jar capacity
Can turn ice into snow within seconds
Has suction cup feet
Great value for money
Cons
3. Oster Pro 1200 Blender 2-in-1 with Food Attachment
With a motor power of 1200 watts, the Oster Blender Pro 1200 with Glass Jar, 24-Ounce Smoothie Cup and Food Processor Attachment has become a renowned kitchen appliance. At the same time, this amazing product comes at a very affordable price.
The stylish finish of the Oster blender mixer combo is one of the first things that caught our attention while doing our research. The exterior is rather good-looking and well-designed.
The Oster Pro incorporates Smart Setting Technology that features pre-programmed settings for smoothies and milkshakes. It also offers 7 different speed control settings to choose from. Additionally, it includes 3 one-touch preset programs for salsas, smoothies, and milkshakes.
According to customer reviews, the ice crusher offered by this product does wonders. With a 900-watt ice crushing power, this blender cum food processor effortlessly crushes whatever is thrown into it starting from frozen fruits to ice-cubes, leaving no bit unblended. The clean-up is pretty easy, too.
The Oster Pro is basically enormous. With a 6 cup Boroclass jar capacity and 5 cup food processing bowl, it becomes a product suitable for large-sized families.
The wide base at the bottom of this product allows food particles to reach the blade easily. Additionally, the Oster Pro 1200 also features a slicing disk and a chopping blade. The slicing disk makes it easy to slice fruits and vegetables while the chopping blade chops them into fine shapes.
Oster Pro is one of the products that will blend even the hardest food particles with ease. Considering its relatively low price range, we'd rather say that it does a fairly impressive job.
One of the prime features that made this model our top pick was its Dual-direction technology. This attribute makes the blade spin in both directions to battle through all types of food regardless of how tough it is, enable smoother food processing. It is important to mention that this blade system is 50% larger than other Oster products. Apart from that, another significant feature of the Oster machine is its durability.
A frequent complaint that came from some customers is the leakage issue caused by blending cups. However, many customers in favor of this Oster Pro 1200 said that this particular problem was caused due to human error and that it had nothing to do with the product itself.
Quick Specs
Power – 1200 Watts
Blender Jar material and capacity – 6oz glass
Processor Bowl – 5 cup
Additional cups – 24 oz smoothie to go cup
Number of programs – 7
Dough blade – not included
Pros
Affordable
Powerful motor
Easy to clean
Good ice-crushing power
Well-designed
Preset programs make the food processing quicker
Blades spin in both direction to accommodate smooth processing
Cons
Leakage complaints
Can be noisy
4. Nutri Ninja Bowl Duo NN102
The Nutri Ninja Nutri Bowl Duo NN102 with Auto-iQ Boost is a compactly sized blender/food processor combo. Working at a power of 1200 watts, the Nutri-Ninja can handle whatever ingredients you put into it.
If you're looking for a machine using which you can make your personalized smoothies and drinks, this is it. Because this blender features two 24 ounce blending cups along with a 4-cup food processor. Not only that, but it also consists of a recipe book with 75 recipes!
The blades of this machine are very smooth. This facilitates the user to easily break through even the toughest ingredients – be it fruits, nuts or ice. The sharpness of the blade also enables the system to extract rich and nutritious juice from the food particles.
A noticeable feature of this machine is its Auto-iQ Technology. This is a very tech-friendly operation present in this system. This technology actually does your job for you by automatically assessing blending and pausing patterns.
This super-efficient technology has practically made the NN102 hands free. You can literally turn it on, give the instructions and finish some other chore. In the meantime, Nutri Ninja will do it all for you. It is not a surprise that it is the customers' favorite feature. While it's very easy to use, its adroitness has left the customers overwhelmed.
It is to be mentioned that this machine is very effective in resisting odor. The lid is made of silicone which prevents odor absorption and seals the jar tightly.
The Nutri Bowl blender creates a beautiful fusion of rich and delicious nutrients from different ingredients. This blender is also capable of making the dough.
However, the blender can be a tad bit loud for some users. But that is something you have to face with every blending tool ever. Despite the fact that it can be a little difficult to clean, we'd say the overall value it delivers is totally worth the shot.
Quick Specs
Power – 1200 Watts
Blender Jar – 24 oz Tritan Nutri Ninja cup with spout lid
Processor Bowl – 4 cup
Additional cups – second 24 oz Tritan Nutri Ninja cup
Number of programs – 7
Dough blade – not included
Pros
Very powerful
Chops food particles effortlessly
Auto-iQ technology makes the user's task a lot easier
Odor resistant
Book of 75 recipes
Auto settings provide a wide range of options
Suitable for small sized families
Cons
Difficult to clean
Tad bit too noisy
5. Hamilton Beach 58149
Hamilton Beach 58149 Power Elite Multi-Function Blender with food processor attachment is the ultimate food processor that provides numerous functions, including grating, crushing ice, chopping, and blending. It comes with a stainless steel blade, a glass jar, a chopper and a 3 cup bowl. This processor is very convenient to use and clean.
It is quite a big appliance, weighing about 7.72 pounds and measuring 14.69×8.5×8.66 in inches. 7.72 might seem a little heavy. But it is heavy because it comes with a revolutionary Wave-Action system that has made its functions smoother than ever.
Its peak power of 700 watt makes the Hamilton Beach blender food processor combo suitable to process any volume of food with ease and speed. Users can choose between two speech options as well as a pulse feature, giving users the freedom to use it at their desired intensity. The blades in this appliance are sharp enough that it will work through any food item, but can also cause injuries. So, look out for that!
Its spout is designed in such a way that you will make the least mess possible. The 3 cup chopping bowl and the smaller jar allow users to process a variety of food with ease. It has a large capacity of about 40 ounces where you crush and blend fruits to make smoothies as well as whip up any sauces or purees.
Besides that, for your added comfort, every part of the blender is dishwasher safe. Not only that, the bottom of the blender has been structured so that the cords will fit into it for better storage.
Customer insights have shown that this blender is one of the less noise making processors. Users love this product for making smoothing since it can easily and smoothly crush ice and mix in fruits. Users have faced little to no spillage at all from its well-made spout. Because of these reasons, this appliance has become a favorite for many customers.
Quick Specs
Power – 700 Watts
Blender Jar material & capacity – 40oz glass
Processor Bowl – 3 cup
Additional cups – not included
Number of programs – 12
Dough blade – not included
Pros
Huge capacity
Easy to store
Easy to Assemble and dissemble
Medium noise range
Convenient to wash in dishwasher
Smooth results every single time
Provides options when it comes to cups or jars
Cons
Too heavy
The blades are too sharp because of which chopping can lead to purees sometimes.
6. Ninja Blender/Food Processor QB1004
If you're looking for a reliable and versatile food processor, the Ninja Blender/Food Processor QB1004 is the right one for you. This little guy can conduct food processing with its bowl, chopping with the chopper it comes with and blending using its 48-ounce pitcher- all with efficiency and smoothness. Not to mention the variety of choices it gives you in the kitchen.
Its interchangeable 450-watt power pods can help you crush ice into snow in a matter of seconds.  It provides storage lids that are convenient to use and wash since it is also dishwasher safe. These items are also BPA free, making it very safe for use.
The bowls come with a splash guard to prevent spilling if you're one of those messy foodies. Besides that, this appliance has two 4-blade and 6-blade sets that provide consistent results on every use. It also gives you more control with its enormous size chrome pulsing button.
Owners of the Ninja QB1004 keep coming back to it due to its quality features. Some of them even use this blender to make pancake batters, which just goes to show you how versatile this machine can be. It also comes with sealing lids that some users put on the bowls or cups to save the food for later.
Quick Specs
Power – 450 Watts
Blender Jar – 48 oz
Processor Bowl – 40 oz
Additional cups – 16 oz chopper bowl
Number of programs – ND
Dough blade – not included
Pros
Offers different options when it comes to the three containers
Easy to wash in dishwasher
BPA free
Lightweight
Much less messy due to its splash guard
Reasonably priced in comparison to other processors
Cons
Low power capacity makes it slower than other processors
Some reviews have pointed out how the plastic bowls chip off into the food, making it unhealthy.
7. KitchenAid KHB2351CU 3-Speed Hand Blender/Food Chopper
Last but not least; this KitchenAid KHB2351CU 3-Speed Hand Blender comes at a really reasonable price to meet all your blending and food processing needs. It has an S-shaped blade that can blend any ingredient, be it for a smoothie or for baby food.
When it comes to hand blenders, it is important to have a good grip to hold when processing food. And this one has a well-known soft-grip system that will not slip from your hand easily and feel comfortable to touch as well.
The attachments that come with this appliance include a whisk, a chopper, a blending jar with 3 cups and a storage bag. Besides that, the attachments that come with this are all BPA free and safe to use. And all of these attachments are dishwasher safe for your convenience. You also get a lid to save your food or even to serve it.
This blender can also be used as an egg-beater, which many customers can attest to. Do you want soft peaks with minimum effort? This appliance can be your friend.
The most important feature of this blender is undoubtedly its blending arm that is 8 inches long. You can easily lock it into the motor body and remove it. It is long enough that you can use it even in deep pots.
And, of course, if you happen to face any trouble or find any defects, don't worry! The Kitchenaid blender and food processor combo comes with a 1-year limited warranty.
Customers who have reviewed the KHB2351CU raved about how they were able to create tons of dishes with the help of this blender. The only problem they face is figuring out how to work the handle. But once they get the hang of it, it works wonders.
Quick Specs
Power – 85 Watts
Blender Jar – 3 cup
Processor Bowl – 2.5 cup
Additional cups – not included
Number of programs – 3
Dough blade – not included
Pros
Easy to grip handle
Different attachments that can be used for different purposes
A long handle made for ease
BPA free
Dishwasher friendly
1-year warranty
Easy and smooth to attach and detach
Cons
The chopping tool can be difficult to attach at times
The lid can sometimes fill with water
2. Cuisinart BFP-10CH Powerblend Duet
Widely popular for its top-notch quality, the Cuisinart BFP-10CH PowerBlend Duet Blender Food Processor features a 500-watt motor. It may not be as powerful as the other food processor blender combo sets on our list, but it does not fall short on performance.
This system includes a 3-cup food processor. That means you can easily prepare up to 3 cups of meat, vegetables, and nuts in this one machine.
The lid of the product is very tightly fitted. This avoids all sorts of leakage issues and droplets of food particles here and there. The machine is overall very sturdy and comes with a heavy glass jar.
Since this is a relatively small machine, it is very easy to store and does not require much space. It also provides a separate space for storing the cords. Additionally, it comes with an instruction manual that makes the Cuisinart BFP-10CH very easy to assemble.
The food processor and blender combo comes with a feed tube, a pusher, a slicing disk, and a chopping blade. The 56-ounce glass jar is fairly large for most small to medium sized families and can handle anything you throw at it, be it soup, smoothies, pistachios or even hot drinks. According to customer reviews, the ice-crusher is simply terrific and does a great job at crushing ice for different recipes.
The seven pre-programmed speed settings provide a wide range of options for the user to navigate. At the same time, the jar is easy to clean with dishwater-safe parts. Along with LED touchpads, this system renders a smooth design.
During our research, we learned that an additional feature of this appliance is that it can resist scratches as well as bad odor. However, since the blender jar is made of glass, it is not very durable. An accidental drop from a height can shatter the jar into tiny pieces.
Hence, you need to handle the Cuisinart BFP-10CH blender with a glass jar with extra care.
Quick Specs
Power – 500 Watts
Blender Jar material and capacity – 56 oz glass
Processor Bowl – 3 cup
Additional cups – no
Number of programs – 7
Dough blade – not included
Pros
Very easy to wash
Easy to assemble
Dish-washer safe
Consists of a wide variety of speed controls
Does not take up much storage space
Features of a wide-mouth feeder tube
Great quality ice-crusher
Cons
Not so durable
Cannot be controlled manually
The motor power is not good enough for hard ingredients
Food Processor Blender Combo Types
Now that you know some of the best rated blender food processor combos, it is necessary to be informed about how to shop for these products.
High-Performance
A high-performance blender is the kind of blender that can blend food ingredients that are usually harder to chop using regular blenders. It usually has a very high power capacity, 1000 to 1500 watts, due to which it can produce very smooth results with much less effort and time.
These are heavy-duty monsters that are only suitable for you if you're an athlete who needs a good quality blender to get their protein shake done in seconds or if you're just a foodie who likes to experiment with your food.
It is comparatively more expensive than other types of blenders. But if you're thinking of switching to a diet based primarily on liquids and plants, then this is your best pick. And you will not regret making this investment.
Conventional
A conventional blender is basically the one your mom has been using for all those years. It is the most common type of blender used in home kitchens. It is also sometimes referred to as a counter-top blender.
This type of blender can perform about all kinds of mixing, liquefying but at a lower performance rate than the first type, its power being around 500 to 1000 watts. It also comes at more reasonable prices. So, if you need a blender for making soups or blending smoothies, this is for you.
Personal
Personal blenders are typically small units similar to conventional blenders. These are great for single servings, so, it is very suitable for people living alone themselves.
Its wattage usually is below 500 watts. Some of the models can run on batteries which makes it great for portability. So, it is basically a convenience item that is perfect for people who are in a hurry to make that morning smoothie before they head out.
Immersion Blenders
Immersion blenders are hand-held kitchen appliances that are becoming a very popular food prep tool at homes everywhere. They are called by many names, such as- stick blenders, wand blenders, or burr mixers.
They usually come with a stick with blades at the bottom. You can hold the stick and blend food as you would with a whisk but with more ease and less effort. Its power is between 300 to 500 watts, so, its functions are limited to an extent.
However, it is quite reasonably priced and versatile. Most models of this type are used for blending drinks, smoothies, etc. It can also be used to chop and puree ingredients.
Features Explained
Before you do that, you need to understand the functions and features of a best rated blender food processor combo and how do they work to make it a useful appliance.
Physical Features
Capacity
A blender's capacity means its ability to process food. That is, how much food can it exactly process at a time.
Blender jars come in different volumes. So, depending on who you're cooking for, the capacity need should be considered.
For instance, if you're living alone and only need single servings from your blender, you should opt for a model with lower capacity. But if you have a huge family to cook for, then higher capacity is better for you.
Size
The models come in different sizes, ranging from 16 ounces all the way up to 72 ounces. So, you have to decide what size is suitable for you based on your requirements.
The size of your appliance will affect how much storage space and the kitchen space overall it will take.
So, if you have limited space and cabinets in your kitchen, look for a space-saving model that will fit into your kitchen. The physical dimensions should give you an idea about the overall size.
Power
The power refers to how effectively the blender can process foods using its motor.
Just as we learned in the types of blenders, the power capacity of blenders can vary based on its usage. For smaller tasks like making smoothies in a jiffy, using a blender with 700 watts should suffice. If you're looking to process more solid food, then you will need higher wattage in your blender.
Blenders with power below 500 watts may not be the best for you under any terms because they tend to function a little weaker.
Speeds
Speed is a measure of how well your blender can perform. Blenders with higher speed can save you a lot of time and can deliver maximum functionality.
Of course, you can make do with a slower blender. But it is advisable to at least use a blender that has a "pulse" feature. Slower speed blenders can be used for functions like chopping and slicing.
Functionality
Functions
You will find many different kinds of blenders with added accessories to provide different functions. What you will choose should depend on the priorities you have when it comes to blenders, such as, what kind of food you're going to chop and what for. So, pick the blender that meets your own needs.
Pre-Programmed Settings
Pre-programmed blending helps you to work with a hands-free blending system that is really convenient. Such systems sometimes produce results even better than other blenders done manually.
So, ensuring such settings in your blender gives you a great deal. However, it still boils down to your priorities in an appliance like this.
Ergonomics
Noise
You would think that the factor of noise would not matter a lot. But a huge portion of user reviews on such appliances are centered on how noisy their blenders are.  If that does not fall under your concern, then any blender is fine. But there are some blenders that tend to create much less noise than the regular ones if that's something you want to look out for.
Ease of Cleaning
Being able to use an appliance is not enough; you need to be able to clean them.
Most of the attachments of the blender should be dishwasher safe. But that is something to look for if you want less effort in cleaning up.
Safety and Durability
Durability and Warranty Period
No matter what your preferences are, it is always important to check if the blender you're buying is known to have better durability or not. Otherwise, you'll have to run to the store to buy one every now and then.
The best way to ensure durability is by researching whether the company selling the products offers good warranty periods, return/refund policies and have an overall reputation of providing good quality products.
Safety
Blenders can also come with safety features such as auto shut-off and auto-lock. If you have children in your house, you can opt for a model with safety features to avoid hazards and accidents.
Accessories
Blenders can come with a lot of additional equipment that acts as accessories to make it's functioning better or more useful. Some of these accessories include blades, mills, potato rasp, beater, spatula, feed tubes, etc.
Whether you need a blender that comes with these specific accessories will depend on what kind of usage you're trying to get out of the blender.
So, select the one that best serves your interests.
Additional Features To Look For
Some extra features such as citrus press, juicer, processor chop, micro-serrated stainless steel blades, etc., are not exactly a necessity in a blender but can help to make your usage a little easier. So, you can choose those according to your needs.
Frequently Asked Questions
What is a food processor?
A food processor is an appliance that comes with a bowl, different accessories like an attachment to the lid that can be used to insert ingredients, several blades for different uses such as cutting, chopping, slicing, shredding and more.
This kind of appliance is perfect for any of these works that could have been done with the human hand. Except that it is better than doing it yourself because it takes lesser time and much less effort.
What is a blender?
The blender consists of a pitcher with high speed rotating blades. It comes with jars that can be narrow at the bottom. This product is great for much intense processing that can range from liquefying food to chopping them in tiny little pieces.
Blenders have the ability to turn any solid food into liquid or purees and even make a juice. It can also help to combine the liquid with solid ingredients.
How is a food processor different from a blender?
Food processors and blenders are often deemed to be the same or similar. But there are some distinct differences between how blenders and food processors work and the results they produce.
Food processors chop, slice, and grate. On the other hand, the blender will only convert any food into a pulp or liquid. What the food processor is good at, the bender is bad at, and vice versa.
For example, a blender might be good at liquefying and mixing liquids with other food, a food chopper is not necessarily the best at it. It cannot blend any food into a liquid. Then again, a blender might be too intense to simply chop up food.
Why get a combination of a food processor and a blender?
Since both appliances perform different functions, using a combination of both of them will provide you with maximum versatility. You can use one appliance that can work as 2 in 1.
If you buy both the processor and the blender, it can cost you a lot more money than it would buy a combination of the two.
Using two of the appliances at a time can be a lot more time-consuming than it would use the combo, thus, making you waste a lot of time.
Having one appliance instead of two saves you storage space.
Conclusion
Choosing the right model for your needs can be a confusing task. Finding the best blender chopper combo can be even more so. But at the end of the day, what it all boils down to is the main uses you want to get out of your appliances.
I hope that this buying guide has clarified what sort of functions and features you need to consider while buying such appliances and give you a good idea about some of the best ones in the market. So, hopefully, you will now be able to figure out what exactly you want in your food processors and what model is the most suitable for you.
In my opinion, a high performing appliance like Hamilton Beach cannot disappoint you in any of your food adventures. So, look out for that!