Panasonic Bread Maker Reviews – SD-YD250 vs SD-SD250
When having a bread maker that is good for two different loaf sizes is not enough, Panasonic has the solution. There are models from the brand that have three loaf sizes. That means having more options when making bread at the convenience of your home.
The temperature control program is also another good feature of bread makers from this manufacturer. This will give you an assurance of having perfect and consistent breads every time they are made. They also have minor adjustment features to make sure that the bread is still perfect, regardless of the room temperature.
If you are looking for a machine that does not just make ordinary breads, then you have another good reason to opt for a Panasonic bread maker, as it will make it possible for you to also make pizza, rolls, and cakes that will surely satisfy anybody's taste buds.
Available Panasonic Breadmakers for the US and Japanese Market
When I updated my review draft in November 2022, only 3 Panasonic bread machines were designed for the US market. These are the new Panasonic SD-R2550, classic Panasonic SD-RD250, and  Panasonic SD-YD250 that may or may not be available.
Many retailers are importing Japanese models. If you decide to get one of the imported units, there are a few things to keep in mind.
First, Japanese models are designed for a 100-volt supply. You need a step-down transformer to use it in the States.
Second, they come with a limited or non-existent warranty.
If you would like to read a review of a particular Japanese model, please leave a review below.
| | | | | |
| --- | --- | --- | --- | --- |
| Model | Version | Voltage | Modes/Programs | Nut Dispenser |
| Panasonic SD-R2550 | US | 120V | 20 | Yes |
| Panasonic SD-RD250 | US | 120V | 5 | Yes |
| Panasonic SD-YD250 | US | 120V | ND | ND |
| Panasonic SD-MDX4 | Japan | 100V | 43 | ND |
| Panasonic SD-BMS105 | Japan | 100V | ND | ND |
| Panasonic SD-MT4-W | Japan | 100V | 41 | ND |
| Panasonic SD-MT3-W | Japan | 100V | ND | ND |
| Panasonic SD-BMT2000-W | Japan | 100V | ND | ND |
| Panasonic SD-SB4-W | Japan | 100V | ND | ND |
Panasonic SD-RD250
Panasonic SD-RD250 Bread Maker with Automatic Fruit & Nut DispenserCHECK CURRENT PRICE
If you are a huge bread lover, you must love the smell of bread wafting to your nostrils every time you open your eyes in the morning. Well, if you want it that way, you must live near a bakery. But if you don't find a bakery in your neighborhood, how about baking your own bread? Yes, you can now make your own bread in your own kitchen with the Panasonic SD-RD250 Automatic Bread Maker!
You must have known about how hard it is to knead the dough just to come up with the perfect bread. With this new revolution in bread baking, all you need to do is round up your ingredients, put them in the bread maker then wait for the bread to come out as heavenly as you want it!
With the amazing functionality of the Panasonic SD-RD250 bread maker, I'm sure you will be very happy when you have it on your counter. It is designed for your modern kitchen, and the small size is just right for your kitchen counter.
Gone were the days of laborious kneading. Today, you can just get the ingredients and just load them up in Panasonic SD-RD250 while you do your other chores or while you are out. The Panasonic SD-RD250 bread maker features a microprocessor that allows for easy programming.
There are 5 baking modes for you: Basic, Bake, French, Pizza, and Pasta.
The first time you use it may smell something like a burning motor. No need to worry that is fairly normal for appliances that are used for the first time. Also, while the bread maker is kneading, SD-RD250 might vibrate a bit, so don't put it near a counter edge just to be on the safe side. Even if Panasonic SD-RD250 vibrates, it is not noisy.
If you are about to start on your cooking, there are certain techniques you can use. You must ensure that you get the right setting for your choice of bread. First, you must consider the dough type whether it is pizza, basic bread or French. Then, you can choose among several baking speed options before you decide on the crust setting.
Panasonic SD-RD250 Automatic Bread Maker is an amazing kitchen appliance that cuts down your food preparation time. If you want to add your own mix of nuts and fruits into your bread, there is an automatic dispenser that evenly distributes the nuts and fruit bits. When your bread is done, you have to remove it to cool before you can enjoy it. There are also different size options to fit the size of your family.
Enjoy delicious homemade bread with the help of the Panasonic SD-RD250 Automatic Bread Maker. When you have it in your kitchen, you just as well have your own bakery! Get this now and you will be very thankful you did.
Panasonic SD-YD250
Panasonic SD-YD250 Automatic Bread Maker with Yeast DispenserCHECK CURRENT PRICE
All bakers and bread lovers out there, you will surely jump for joy when you get this Panasonic SD-YD250 Automatic Bread Maker. Whether you look forward to the smell of bread or you want to bake your own, this is the perfect bread making equipment that you should get for your kitchen. Homemade bread is gonna be a staple in your table if you have this portable bread maker from Panasonic.
Baking is not gonna be as easy as doing it with the Panasonic SD-YD250. It has several settings to choose from depending on the kind of bread you are about to bake. Program your bread maker by using the easy touch buttons on the top panel of the equipment so that you can select the best setting for your bread. There is an option for Basic, Whole Wheat, Multi-Grain, French, Pizza, and Cake doughs. Choose one of these so that you get the best bread for your family.
Get your ingredients and get ready to bake. Choose the size crust and other settings you want, load the ingredients, then you can just leave the machine to do its part. Panasonic is one of the trusted brands of bread makers and other types of consumer electronics that is why with this SD-YD250 bread maker it did not fail to deliver the convenience and ease of use of modern electronics.
The bread machine is a wonderful portable piece of equipment that would just sit in your kitchen counter waiting for its next baking task. Though it may not have a viewing window, there is still that yeast dispenser that adds yeast in equal intervals.
Without a viewing window, more heat can be concentrated to the cooking.
Not only that, the top locking lid is very secure and you will have peace of mind even if you just leave the bread maker on its own. Well, to add to that,
The Panasonic bread maker does not only come with an oven. Also, the bread maker also comes with other accessories to make your baking experience a very satisfying one! Choose from over 50 recipes and learn baking tips from the included book.
More Panasonic Breadmaker Models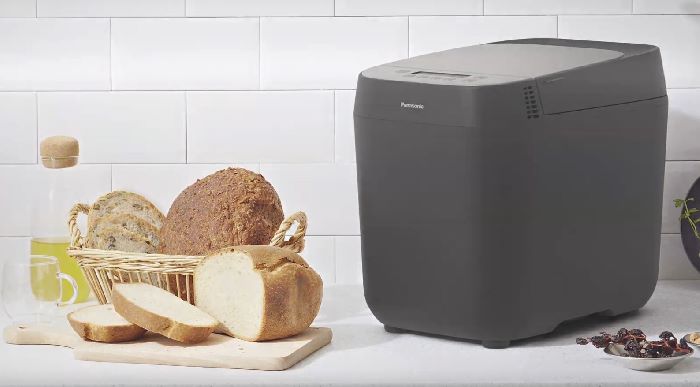 Panasonic SD-2500
Panasonic SD-2501
Panasonic SD-ZB2502
Panasonic SD-ZB2512
Panasonic SD-2511K
Panasonic SD-2511W
Panasonic SD-ZX2522
Panasonic SD-ZP2000KHX
Related Articles