Zojirushi Bread Machine Reviews – Zojirushi BB-CEC20 vs BBCC-X20
With bread makers from Zojirushi, users will enjoy making their own bread and making other things such as fruit jams, cookie dough, and different kinds of baked goods.
Zojirushi bread machines are perfect for any person who has an innate love for baking on their own.
If you are worried about convenience, Zojirushi bread makers will take that worry away. They have convenient handles that can allow ease in transferring the machine from one location to another.
Aside from the program buttons that are easy to use, there is also a viewing window to keep you updated on what is being done.
While many bread makers can be set for a limited time only, with Zojirushi bread machines, users have the option to set the timer for the whole day or for the entire night. If you are in a hurry, you will also have to set the timer as quickly as two hours.
Zojirushi BB-CEC20
Provide your family the most delicious breakfast as they start off their day or a mouthwatering snack as they come from the office or school by serving them delicious homemade bread made easier with Zojirushi BB-CEC20 Home Bakery Supreme 2-Pound-Loaf Breadmaker.
Living up to its reputation in providing premium quality products, Zojirushi has once again proved its name and expertise by launching Home Bakery Supreme Breadmaker which allows mothers and daughters all over the world to come up with tasty bread most easily and conveniently possible.
Making bread is easy as 1-2-3 with Home Bakery Supreme Breadmaker. All you need to do is put all measured ingredients in the machine together (it comes with measuring utensils, so you won't have a problem with this). Choose the appropriate setting for your recipe made simpler with a user-friendly LCD control panel. If you are a mom who needs to attend to her kids or a daughter who has to do household chores, or even a father or a son who has other stuff to make, this product would have both your hands-free to do other things that you wanted to do for it will do the rest after you have dumped everything in it.
Home Bakery Supreme features a dual-blade system that meticulously kneads the dough making your rectangular-shaped 2-pound bread baked to perfection. It also comes with a large viewing panel making you see what's going on inside the machine while it's baking. It has 3 crust settings where you can choose light, medium, or dark crust bread.
Zojirushi BBCEC20 Home Bakery Supreme Breadmaker also has a Home Made Menu feature that has 3 memory settings that allow you to save functions, so you don't have to do the same things all over again if it's just of the same recipe.
Another best thing about Zojirushi Home Bakery Supreme Breadmaker is its 13- hours delay time. You can prepare all the ingredients at night before you sleep, and you wake up with the scent of a delectable freshly baked bread in the morning. Also, before you go out to work, you could set the ingredients in their place, set the timer, and when you go home from a tiring day, a delicious smell of bread welcomes you.
Lastly, this product comes with a removable non-stick bread pan that is easy to clean and a user's manual with recipes included.
Once you get to taste a delicious homemade bread, thanks to Zojirushi BB-CEC20 Home Bakery Supreme, you would never want to go back to buying commercial bread in the market again.
If this 2-pound breadmaker is too big for your kitchen, check out my Zojirushi BB HAC10 review.
Related reading: Zojirushi BB-HAC10 Home Bakery Bread Maker Review
Zojirushi BBCC-X20
Serving and baking bread for a larger family could become quite a task if you do not have a Zojirushi BBCC-X20 Home Bakery Supreme Bread Machine on your countertop. Special occasions call for specially-baked bread, and what's more special than a cake you baked yourself, right? Enjoy the fruits of your labor with this bread machine!
While other bread makers are made for smaller families, you might be discouraged and compelled to get an oven instead. Don't dismay; this is a bread maker made especially for people with larger families. Zojirushi now offers this supreme bread machine that can bake 2-pound loaves of your own bread recipe. So, if you want to get cooking now, get your own Zojirushi BBCC – X20 Home Bakery Supreme Bread Machine.
Why would you get Zojirushi BBCC X20? Well, the host of features that this equipment has is enough to delight an expert baker, then what more a beginner or amateur one? If you are a beginner or a starting chef, you might learn and practice your recipes using the rectangular bread maker. The automatic settings and customizable controls will make everything a breeze.
Like most other bread makers, the Zojirushi BBCC X 20 has three crust levels: a quick-baking cycle, a 13-hour delay timer, and a user-friendly LCD control panel.
The 3-recipe memory function will surely help you if you are working on your recipes.
You must be hesitating about making sourdough with a bread machine, but with the Zojirushi bread maker BBCC-X20, you can finally do so using the sourdough starter.
You cannot only do some baking, but you can also make some jams in this bread machine.
To ensure that your output is a heavenly piece of bread, two kneading paddles would mix and distribute the ingredients for an even taste!
Get creative and think of new recipes without having to write down every detail. The Home Made function allows you to save your preferences in this machine and use it repeatedly for your recipe. That way, you come up with the same perfect creation each time!
More Zojirushi Breadmachines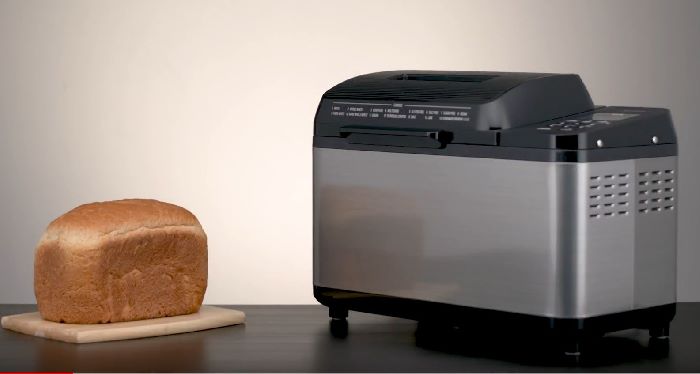 Here are more Zojirushi bread machine models:
Zojirushi BB-PDC20BA
Zojirushi BB-SSC10WZ
Zojirushi BB-PDC20BA
Zojirushi BB-HAC10
Conclusion
The Zojirushi BB-CEC20 and BBCC-X20 Bread Machines are both excellent home baking solutions that offer a wide range of features to meet your baking needs.
The BB-CEC20 is the more affordable option, and it is ideal for anyone looking for a simple, straightforward bread machine with basic features.
The BBCC-X20, on the other hand, is a great choice for bakers who want the convenience of a fully automated machine with more advanced features.
Both machines have their strengths and weaknesses, but either one would be a great addition to any kitchen.