Zojirushi BB-HAC10 Review – Home Bakery Mini Breadmaker From Zojirushi's
This is my Zojirushi BB-HAC10 Home Bakery review.
Do you love baking? Are you often tempted to snack on a piece of freshly baked bread, but the bakery is so far that the loaf you buy there loses the magic of freshness before you get home?
Or maybe you want to try out different recipes because you find the loaves of bread sold in the grocery store a bit boring?
Well, the Zojirushi BB-HAC10 breadmaker is just right for you!
With this programmable Zojirushi bread maker, you can savor the taste of fresh home-baked loaf every day!
Zojirushi BB-HAC10 Features
1 Pound Capacity
This Zojirushi BB HAC10 produces 1-pound loaves of the pastries you want, such as bread and cakes. You'll be surprised how the Zojirushi BBHAC10 Home Bakery 1-Pound-Loaf Programmable Mini Breadmaker makes perfectly shaped bread!
If you want to bake cookies or pasta dough and fresh fruit jams, it also has settings for the following foods. You can even cook all the croissants, pizza, and rolls you want!
Easy To Use
And because of its portable size, it will be easy for you to find a place for the Zojirushi BB HAC10 Home Bakery mini breadmaker in your kitchen for it to squeeze in.
The bread machine from a famous brand is also easy to operate, so you won't have a hard time wondering how to make it start working.
Multiple Settings
You don't have to worry about the aftertaste because it has no aftertaste effects on the loaves and cakes you baked in it.
The home breadmaker also offers three textures to select from – regular, firm, or soft. It also provides a crust-control function that lets you choose regular or light crust.
The appliance has a non-stick kneading blade that will guarantee that your dough is thoroughly kneaded for excellent results.
Your bread, especially the cake you are baking, will not be ruined when you get it out of the pan because the BB HAC 10 has a pan made of non-stick material.
This appliance also has a viewing window, so you will be able to check the progress of your bread.
And for additional convenience, this machine has an easy-to-read LCD panel and easy-press buttons.
Advanced Control Panel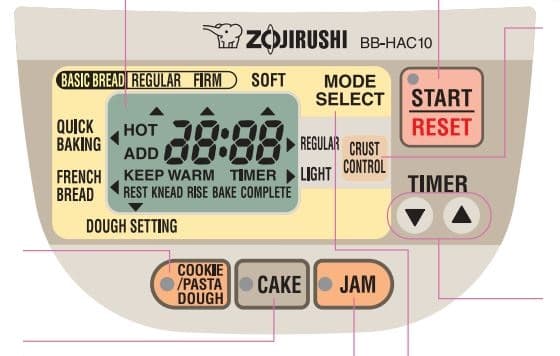 The Zojirushi BB-HAC10 control panel features more than a few keys and a display!
Display
Start/Reset key
Crust Control key
Timer keys
Mode Select key for selecting Basic, Soft, Quick Baking, French Bread, and Dough Setting
Jam key
Cake key
Cookie/Pasta Dough key
Display
After buying the new appliance, I sometimes get confused by the overall look at the display.
It seems this is not the case with the Zojirushi BB HAC 10, as the LCD screen is pretty decent. It has a range of options put up on display.
It shows the exact time for the baking to complete. It has an indicator for the color of the crust.
By looking at the display, you can understand what it is doing and what needs to be put for a perfect slice of bread.
Start/Reset Key
I found the buttons and operability on this fantastic mini bread machine pretty easily. It does what it states.
Simply press the button, and the whole bread-making process begins. It also triggers the Timer operation.
Hold a bit longer, and the whole process cancels. The operation lamp confirms the response after you press the button.
Crust Control Key
The crust control is marked by a different background on the LCD screen.
It offers two options for bread making. It helps you decide whether you want it made lightly or regularly. These two options are right beside the crust control button.
I prefer using the light setting if I want my bread made with a light crust. You may opt for the regular setting if you're going to use your bread maker for regular, quick baking, or cake baking.
Timer Keys
The timer key has only two dedicated buttons, increasing or decreasing cooking time by 10 minutes. It is situated below the start button.
You can use these keys to increase or decrease the baking time of the bread.
There is also a 13-hour delay timer function. It also shows the difference between the time left between the time you have set and the present time. It automatically turns to 0 minutes after you increase it to 13 hours. This means that the delay timer's maximum setting is 13 hours.
Note that you can use this only in Basic, French, and Soft baking mode.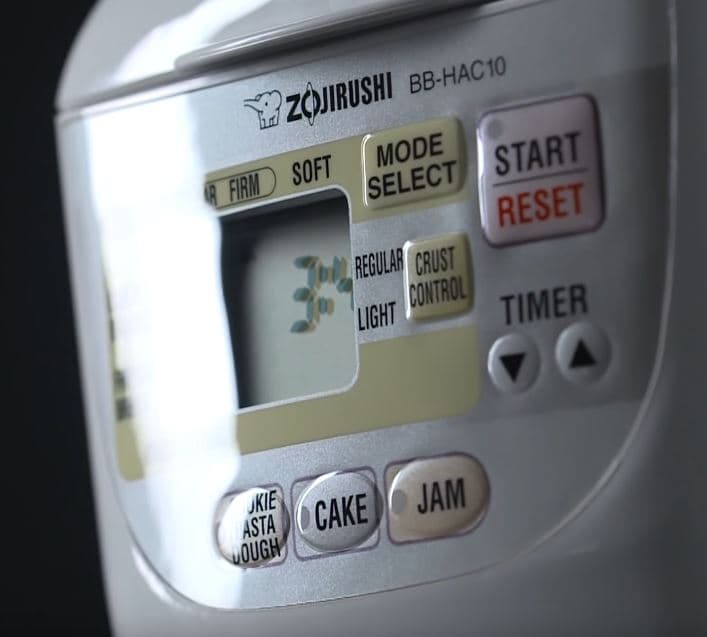 Mode Select Key
You can use the key to select Basic, Soft, Quick Baking, French Bread, and Dough Setting modes.
This is probably the button with the most options. Thus, you need a lot of clicking to do on this one to get your baking done.
It offers different modes, like the basic mode for regular or firm bread made with dry yeast. It also offers a quick bake for very fast yeast-raised bread.
You can select the French bread option for making delicious bread with activated dry yeast. You may also try the soft bread-making mode.
The dough setting mode helps you prepare dough for your bread using activated yeast.
I am still trying to figure out which setting will give me the best corn bread and other quickbreads.
Jam key
It says what it does. Want to make some jam? Turn this mode on, and you are good to go.
Cake key
You simply use the cake key to bake a cake and not just for a loaf of bread.
Cookie/Pasta Dough key
Making dough for pasta is always a hassle. This key enables you to put less effort into meeting your weekend urges.
Specifications
Power – 450 Watts
Voltage – 120 Volts
Dimensions(W x D x H) – 8-1/2 x 11-1/4 x 12-1/4 inches
Warranty – 1-year
Zojirushi BB HAC 10 User Reviews
Breadmakers have always been entirely different from most other kitchen appliances. Still, the Zojirushi BBHAC10 brings forward a volley of uniqueness found in a limited number of other bread machines.
This device has satisfied many customers. Even the lack of programmable features is off-putting for old and loyal fans of this product series.
While the Zojirushi BB-HAC10 bread machine may not support a large family, it is the perfect food-making device for a small group of people, preferably couples living alone. The extra feature that aims to keep the optimum temperature for the applied heat is pretty nifty.
Not just that, if you are going out on a vacation or an out-of-town trip and still want fresh homemade bread, you can bring this delightful machine with you. It is so easy to pack and has a sturdy handle for easy transport.
The Home Bakery Mini Breadmaker BB HAC10 set includes a simple-to-follow instructional video, a manual, and a booklet of easy recipes.
I had done a lot of digging looking for information about the product before deciding that this is the model I need and finally bought it. Thus, I have come across many things to keep in mind from other owners. You need to be efficient with time management with the machine.
The best thing about this product is that it gives you follow-ups about whether the water is too hot or cold. One of the alpha rules to making bread is activating the dry yeast at the right temperature.
If you put in water that is too cool, the yeast won't activate. But, if you pour in water that is too hot, the yeast will die.
I loved it for the size of the bread loaf it can produce. After much research, I found that everyone has the same say in this case (see what BB HAC10 users say in their reviews). Each slice of bread weighs a pound, so you neither make less nor more.
I love how it can bake a range of white bread. With this maker, you can make more than just plain white bread, starting from light rye bread to even raisin bread. I tried making soft milk bread, and it turned out very well.
There are very few noticeable problems. But, I have seen reports of the pan having comparatively poor durability.
The BB-HAC10 will also squeak sometimes if you do not adequately take care of your bread machine. For example, it can be caused by physical damages from dropping it on the floor and so on.
On the other hand, the compact size is worth mentioning. It is very comfy for use on the kitchen counter. It is one of these machines that takes up a small space and doesn't need much stress to handle.
If your loaf is not being made perfect, look at the manual. In my opinion, if you do not proceed according to the user manual, often the bread is not made correctly.
I found that the Zojirushi Mini bread maker is straightforward to wash and clean. This is despite the fact making, and baking bread spreads breadcrumbs inside the machine. Surprisingly, it is also a quiet worker.
The one-year warranty is beneficial should anyone have concerns. Their customer support is very helpful as well.
I must admit that many people may face sone challenges making bread with this bit of machine. But, they do need to keep in mind the amount of yeast they put inside the dough. If it's less, the bread is bound to come out thick.
Zojirushi BB HAC 10 Pros and Cons
Pros
Compact and Lightweight
The Zojirushi Home Bakery mini breadmaker is perfect for making small loaves for two people. It is convenient and easy to carry. It is very compact and light, made of stainless steel at a light weight of only 15 lbs, and designed in a stylish shade of white.
Durable
This little machine is exceptionally durable and works perfectly for long periods. The pan, however, has a thin non-stick layer, and over time, it wears off, so it might cause the dough to stick to it and produce misshapen loaves.
Cons
It takes 20 minutes to heat up the water, so that might be an inconvenience to some. Also, some users have faced problems regarding a squeaking sound coming from the machine's internal parts.
Steep Learning Curve
It is straightforward to use with some fantastic features. However, they are not all mentioned precisely in the manual (see the user manual here). You might require some research on using it correctly to get the most out of this product.
Price
Also, it is a bit costlier than the average breadmaker. Still, according to my research, I have found that it is worth the extra money.
Zojirushi BB-HAC10 Alternatives & Comparisons
If the Zojirushi Mini Breadmaker BB HAC10  is not precisely what you need, there are 3 other Zojirushi Home Bakery bread machines to consider
Maestro (BB-SSC10)
Virtuoso (BB-PAC20)
Supreme (BB-CEC20)
Zojirushi BB-HAC10 vs BB-SSC-10
Coming soon!
Zojirushi BB-HAC10 vs Panasonic SD-YD250
The comparison with the Panasonic bread maker is coming soon!
Box Contents
Bread maker main body
Nonstick kneading blade
Nonstick baking pan
Instructions and recipes
Measuring cup for liquids (1 cup maximum capacity)
Measuring spoon for dry ingredients (large side measures 1 tablespoon, small side – 1 teaspoon)
Frequently Asked Questions
Where can I buy Zojirushi BB-HAC10 replacement parts?
You can find the most popular Zojirushi BB-HAC10 replacement parts, like the kneading blades, on Amazon. If you cannot find it here, you can always look on Zojirushi.com
Related reading: Zojirushi BB-HAC10 Home Bakery Bread Maker Review
Conclusion
I have to give it to Zojirushi for making such an incredible bread machine that makes perfect slices of any sort of bread including sourdough with a wide range of preset baking options. The machine is small and convenient and barely makes any sound when operating.
It shows exactly what it is doing, and the control panel seems very impressive if you ask me. It has undoubtedly made a lot of users happy with a perfect slice of bread. It is a slice that is at least one pound in weight with just the texture you wanted it to be.
I hope this Zojirushi BB HAC10 review has helped you to make a decision. See the Zojirushi BBHAC10 price!