All Types of Vacuum Cleaner You Need to Know About
Cleaning carpets, floors, and other nooks and crannies can be quick and very easy in a home. It can also be tedious and tiresome, depending on the tool you are using for the activity.
To enjoy a seamless sweeping experience, you will need the right vacuum model for the specific job. That said, one cannot go testing all the vacuum models in the market. Luckily for you, we have done this guide to the best vacuum cleaners available in the market today.
This guide will help cut off the confusion created in a buyer's mind from the marketing language used by manufacturers of both small, medium, and big vac models.
It brings you a summary of what to expect when choosing different vacuum types on the market, such as the stick, cylinder, upright, or robotic vacuum cleaners.
Let's start off with one of the most versatile dust busters.
Car & Handheld Vacs

Handheld and car vacuum cleaners are designed to clean small spaces such as a car's interior or any other tight places. To be able to do a thorough cleaning, a handheld vacuum needs to have enough suction power.
Handheld vacuums use modern charging technology that enables most of them to save up to 50% of energy. A good example, the Black & Decker vacuum effectively cleans fur, dirt, animal fur, and other light-weight waste. Here are other reasons why you will love the handheld bagless vac cleaners.
Related reading: Best Car Vacuum Cleaner Reviews
Pros
Has a long battery life of over one year and guarantees excellent performance.
Has a rotatable nozzle which makes it ideal for different applications
Makes cyclonic actions which make cleaning and emptying of dirt canister easy and quick
It's lightweight and can be used even by children.
Many have a 1-2 year warranty.
It can either be corded or cordless.
Can safely and effectively clean a car's interior
Cons
It is too small and low-powered for extensive heavy-duty work.
Effective sweeping of dirty surfaces may require several passes.
It is not effective for spills.
Robotic Vacuum
If you are searching for a tool that will help meet your cleaning needs while saving you a lot of time, robotic vacuum cleaners are the best pick for you. This type of vac can effectively clean floors, and smooth and hard surfaces independently.
Robotic vacuums operate on a built-in program and can be controlled via the internet.
Pros
Operate independently, thus saving you time
Effectively clean all surfaces.
Value for money – while you can get the Ecovas Deebot N79S Robot Vacuum Cleaner for $250-300, the iRobot Roomba 690 Robot Vacuum will set you back for $400-$600. This helps you realize value for your money because the tool will only operate following the command prompts.
High agility to pilot through the area that needs cleaning smoothly
Easy control through the internet, Wi-Fi, and voice settings
It runs quietly
Non-interruptive easy-to-empty dustbin
Cons
Cannot clean hard to reach areas
Brushes need regular changing.
Does not offer deep cleaning
Inappropriate for shaggy carpeted floors
Canister Vacuum Cleaners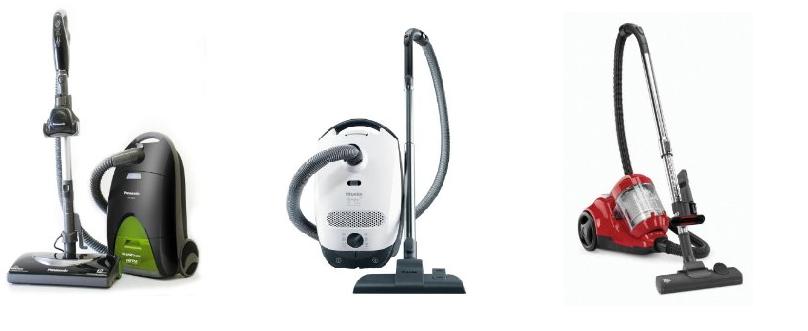 Canister vacuum cleaners have a strong suction power that allows quick and easy elimination of dirt. They are solidly built and compact.
The design of a canister vacuum allows for easy movement, making them the most ideal for large space cleaning needs. They are easy to move around, and thus sweeping different rooms is quick and easy.
People often want to know which is the best vacuum cleaner to clean under the bed – this is a type of vacuum for easy access under your furniture.
The extension wand allows you to maneuver around comfortably and under furniture and clean placed harder to reach like drapes and ceilings.
Another main advantage of canister vacuums is that they are mainly fitted with huge dust bags. These bags can hold in lots of debris and dust without affecting the efficacy of the tools.
Pros
They are fitted with a cleaning system that effectively suctions dirt, hair, or unwanted lint.
They have adjustable speed settings.
Fitted with an effective clean filter and an average size dust bag
Cleans up all mess quickly and easily
Canisters are easy to use, and this makes them user-friendly.
Many operate quietly
Cons
They are relatively pricey. For instance, Miele Pure Suction Canister Vacuums sell for $300 or more.
Emptying of the dust bags is messy.
Many are bulky in size.
Upright Vaccums
Upright vacuum cleaners are great for many cleaning uses. They come in a robust design that efficiently whisks away both dirt and dust from all types of surfaces.
The penetrative design leaves both smooth and deep surfaces clean and fresh. Many upright vacs have rotating cleaning bars that clean dirt and dust in a whisk.
Pros
Allows powerful cleaning of even the hard-to-reach areas
Easy to use, maneuver, and move around
High-capacity dust bags that are easy to empty
Continuous work with zero interruptions
Ideal for heavy-duty cleaning – large areas, huge carpets, and hardwood floors
Some models have adjustable brush settings. This can be set to match the cleaning purpose, such as stiff bar brushes for hard floors.
Cons
Many upright canisters are a bit expensive for the average user. The Shark Navigator Professional upright goes for around 150 dollars while the Shark Rotator Professional upright corded bagless model goes for $200 and above)
Some upright vacuums cannot effectively clean laminate floors.
Some models are heavy to move around.
Stick Vacs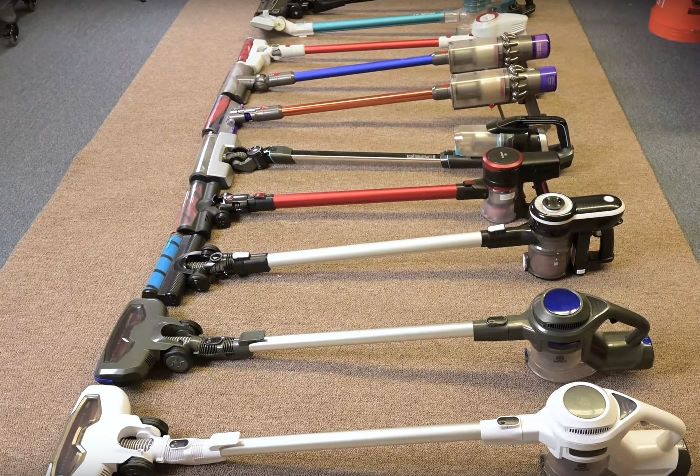 A good stick vacuum cleaner effectively cleans all dirt and dust from the living space. They work well on smooth floors, carpets, and on all crevices.
Many stick vacuums come with an inbuilt battery which can last for about half an hour after full-capacity charging. Stick vacuums can be converted into handheld vacuums by detaching the stick tool.
Pros
Excellent performance
Long-life rechargeable battery
Provide effective sweeping of floors
Easy maneuvering
Wide and effective brushes
Convertible into a handheld vacuum cleaner
Long service life
Can pick both tiny and large debris
Cons
Some Stick vacuums are expensive.
Many are relatively noisy.
Small capacity dust bag
Steam Mops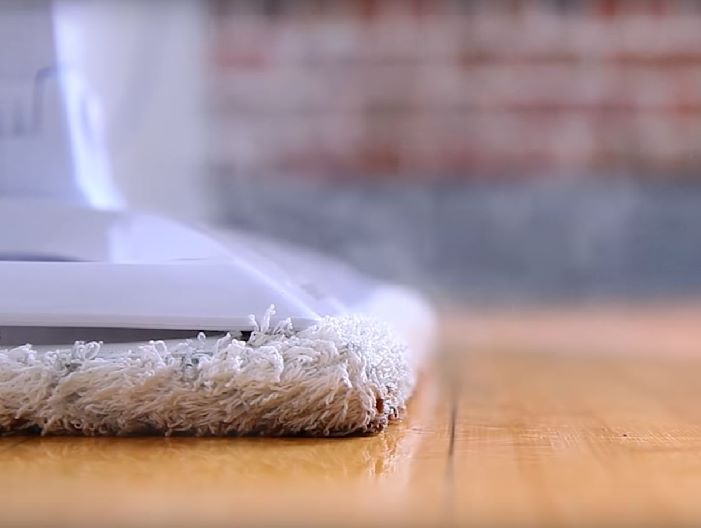 Steam mops are efficient cleaners that work better than ordinary wet mops. They are designed to clean sealed stones or glazed tiles. Some steam mop models are specially designed for cleaning the space between tiles.
Many floor steamers are lightweight and easy to move around. They are small and portable and thus can be easily stored in small and medium living spaces. The steam mops use washable and replaceable pads and covers.
These are perfect tools for cleaning areas that need constant disinfection, like kitchens and bathrooms.
Related reading: Best Steam Mop Reviews
Pros
The hot steam kills a majority of the bacteria found on the floor; provides superior cleaning.
It has a scrubber that helps clean up messy surfaces
It has adjustable digital steam release settings
Leaves no residue
Creates fresh smell
Relatively inexpensive (generally in the 50-150 dollar range)
Very straightforward to operate
Have a sleek and comfortable design that makes them portable and easy to move around
Replaceable mops are durable and washable.
Easy to maintain since you only need to replace the cleaner pads
Cons
Causes damage to carpets and non-glassed floors
Cleaning is much slower.
If it comes in contact with the skin, the steam can cause damage.
Conclusion
You will realize that most of these vacuum cleaners come in different designs. Many have sleek designs and appealing colors. Always remember that it is not the looks that matter the most.
A tool that meets your home-keeping needs is of primary importance. Remember, heavy-duty cleaning needs heavy-duty tools. This will save you time and money.
Get a vacuum cleaner today that is convenient and one that will leave your space sparkling clean.