Best Steam Cleaner For Tile Floors And Grout 2023- Steam Mop Buying Guide & Review
A house is needed to be kept clean for a healthy lifestyle. It is a critical factor for me if you ask me. Cleanliness is a big part of the household chores, and the surface that we come in contact with the most is the floor. Hence, we must keep it as clean and dry as possible.
You can vacuum, or you can mop it or just steam the floor. It will vary depending on the type and quantity of dirt and stains that cover your floors. In the case of vacuuming, all you can get out of it is all the dry dirt and chunks of hair or solid waste at best.
To deal with stains and spills, there is a floor mop. Then again, if the stains are tough to remove and you don't want to use chemicals to remove them, you could just steam them away with the best steam mop.
Here is my selection of the best steam cleaner for tile floors and grout.
Best Steam Cleaner For Tile Floors And Grout
One of the main problems you might face in cleaning tile floors is the deposition of dirt in the grout. Just in case you don't know what grout is, it is the white lining of sand placed in between tiles to stabilize and fix the tiles in place.
Tile floors often have to be cleaned with a brush and rough chemicals. Some prefer to replace the grout to avoid problematic rubbing and cleaning. Thus, I suggest cleaners like the one reviewed below for overcoming such problems.
1. Bissell PowerFresh LiftOFF 1544A
Bissell is a brand name that focuses on satisfying the needs of its customers, who have a top priority to clean their houses. They created the Bissell PowerFresh LiftOFF 1544A, the best steam cleaner for tile floors and grout, in my opinion.
This steam mop has a selection of extensions that can clean above the floor surfaces. It comes with 13 attachments.
The cleaning result is pretty good, according to my research. I found that the tool does indeed provide a pleasant cleaning experience. It rarely makes any chugging sounds unless the water tank is empty.
The floor cleaner comes with a bunch of benefits to choose from. In addition to eliminating 99.9% of germs, it helps you with more than just the floor. The manufacturer has added extensions that help to clean grout, sinks, windows, counters, etc.
The model 1544A tile steamer is equipped with Easy ScrubberTM to remove pet stains easily. You can quickly eliminate odors with scented discs. Last but not least, you can scrub away your house with just water.
After thorough research and using the product myself, my recommendation would be to buy this great tool. According to some users, it is a bit heavy, but it is easily maneuverable and does its job well. Then again, it does not work really well if the gunk is very deep inside.
The tile floor steamer does its usual work perfectly. It reaches a wide range of surfaces and is powerful. If you ask me about cons, I would say, other than being a bit heavy and it took some time to know your way with the tool, it is an excellent choice to make.
I am looking into other models of top-rated steam mops for tile floors. More to come!
2. Shark Genius Steam Pocket Mop System S5003D
Shark is a trustworthy brand that provides you with many house cleaning tools starting from vacuums to steam cleaners. The Shark Genius Steam Pocket Mop System S5003D is a handheld steamer that cleans travertine floors with great care.
Travertine floors are made of a stone that is usually porous and can trap a lot of dirt. It is set in place with sands and does have grout. The pores typically accumulate a lot of grime in them. Thus, they need mops like these, according to my experience:
The quality of this steamer is not much of an issue. Still, there have been reports from the users that the product does make a slight hissing sound, and some specimens have even been seen to make clunking noises, which is not good news.
It easily cleans and sanitizes hard surfaces. You can also be free from the cringing that comes from having to touch a cleaning mop pad since it has a touch-free detaching mechanism. It has a controllable steam supply system to clean your travertine floors with care.
I have found a varied range of opinions about this cleaning tool. It is mainly equipped with many features like easy maneuverability, legit cleaning, two-sided surfaces that are large. They have an equal share of complaints of this being large and heavy.
The pros are that it works just as it promises. It does its work just fine. It has a long power cord that helps cover large spaces. You will find this product to be a bit larger than usual with a triangular mop head.
This turns out to be a con for some people since being large adds to the weight. Other than that, the mop does make some sound for some.
Related reading: Pros And Cons Of Bagged vs Bagless Canister Vacuums
3. Smart Living Steam Mop Plus
The Smart Living Steam Mop Plus is solely designed to give you a good experience while cleaning your textured tile floors. It is a handheld device that uses distilled water on floors and even mats to kill germs and effectively clean them.
The steam mop might be up to the mark in a lot of cases. Still, I have researched thoroughly and concluded that this product has a pretty good share of complaints regarding the sound.
It cleans very well with just distilled water, and users have said it is easy to operate. It can sanitize ceramic, vinyl, and laminated wooden floors as well as textured tile.
Simply put, if you are a fancy person, you are probably prone to liking a textured porcelain tile. They have a range of textures, starting from merely being uneven to a fabric-ish feel.
Textured tiles are more likely to trap dirt in them. For such surfaces, I probably have found a good steamer.
Users have had a splendid view of the product. I have been told a hefty sum of times that this does the work it promises and is pretty convenient.
The pros are that it can clean thoroughly, and the mops are washable without much problem. On the other hand, the cons lay with only the noises in some of the pieces and some rare complaints.
4. Bissell PowerFresh Steam Mop
The product is of a brand named Bissell that has a pretty good name for their line of cleaning products. Bissell PowerFresh Steam Mop is not any less of an exception. It is handheld, steam-using, and most importantly, cleans a wide range of surfaces.
The unit barely makes any abnormal sounds. You could buy this one if that is something that would mainly please you.
The Bissell unit obstructs germ buildup through its antimicrobial microfiber pads. It also has a convenient water refilling system equipped with an ergonomic design for a more comfortable hold.
PowerFresh mop cleans a hefty sum of textured and wooden surfaces. You can be assured that the germs are killed with its high-temperature cleaning mechanism.
The reviews I got after much digging was that, yes, this is the mop you should be buying if you want a product with multi-purpose features.
If you are a person who has an interest in the best steam mops that can clean almost any and every surface, you do need to select your steamer with high accuracy. Well, I already have one in mind.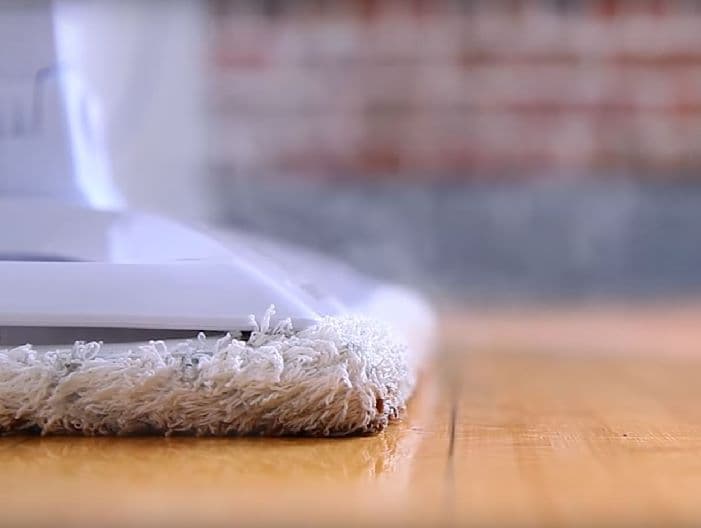 Features To Look For
Here is a quick analysis of the most important features you should consider in the best floor steamer for tile floors.
Handheld or Rolling
If you plan on buying a steam mop, you can easily choose from the category of handheld or rolling style steamers.
The handheld ones are like the Bissell Powerfresh Model 1940. It has a stick-like form factor that can be handheld.
On the other hand, there are other ones like the Pure Clean XL Rolling Steam Cleaner. It has a pipe-like extension that emits steam which you need to hold with your hand, and the reservoir rests on wheels. Hence the name rolling steamer arises.
Vacuum Function
Some floor steamers for homes offer one of the best features that you could ask for. Some of the best of these are the ones that come with an integrated vacuum cleaner mode.
Well, you might have seen reviews regarding recommendations that clearly state that, no matter what, you should just not use the steam cleaner to clean up dry dirt or pet hair. That hassle can now be solved by just buying the steamer with an integrated vacuum cleaning feature.
Corded or Cordless
Steam mops are rarely cordless. The steam is created by a heater that is powered by an electricity supply.
Among the various preferences, some of the users I have observed prefer not to be bound by wires. Thus for them, the manufacturers from Bissell yet again have brought a cordless model, entirely powered by a built-in battery.
It is a handheld steamer that can relieve you from the hassle you have always wanted to remove the power cord. Then again, you should always keep in mind that cordless means a limited time of usage.
Variable Steam Controls
If you are a person who barely wants to care about the risks of using a floor steamer on different surfaces of your house but still cannot completely get rid of the idea of incurring damage to your sweet home, steam mops with steam level control would be your best pick.
The variable steam control feature allows you to control the steam flow through the mop jet so that you don't end up steaming surfaces that might get damaged by heat.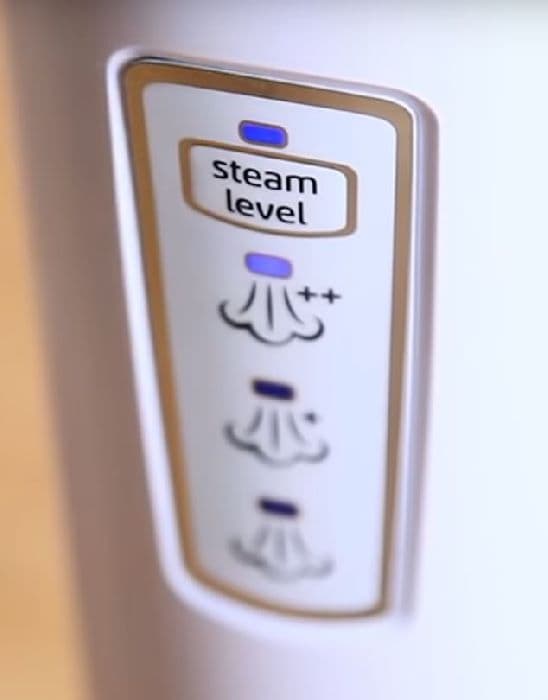 Frequently Asked Questions
How does a steam mop work?
The floor steamer uses scorching hot steam and does the job of disinfecting your floor tiles, hardwood floors, laminated floors, or floor mats all at the same time. This is usually costlier than a regular floor mop without a heating mechanism.
If you have a steam cleaner, you will notice the built-in water tank (distilled water is preferred). The water is heated to steam and then through a jet line is transferred to the microfiber pads of your mop. This helps the microfiber pads trap the heat and moisture for easy stain removal.
When should a steam mop not be used?
You need to keep in mind that steam mops are a fantastic cleaning tool as long as it is used according to instruction and care. You should never plug in the mop unless you have prepared it for use. Carefully fill the reservoir, get ready for moping and only then start your work.
Another piece of advice is to not use it on unsealed surfaces or surfaces that have not been mentioned by the manufacturer. Last but not least, keep in mind that a mop is used to deep clean and not a substitute for a vacuum.
Can you steam clean travertine floors?
Yes, it is perfectly safe to use a floor steamer to clean travertine floors. Steamers use less water, so travertine will not be soaked in water, and it will be dry faster.
Related reading: All Types of Vacuum Cleaner You Need to Know About
Conclusion
Floor steamer is a convenient tool that was only available for industrial uses and in professional capacities. Nowadays, any home can possess the best steam cleaner, which is a relief for many who would love the deep cleaning and refreshment it can provide.
The steamers mentioned above were the best of each kind I came across in my research to help you narrow down which would be best for your household.
Related Articles