Best Steam Mop For Travertine Floors 2023 – Review & Buying Guide
Travertine floors are a beautiful addition to any home, including the kitchen, but they can be a challenge to clean due to their porous nature.
Traditional cleaning methods may not be effective, and harsh chemicals can cause damage to the stone.
That's why many homeowners turn to steam mops as a safe and effective way to clean their travertine floors. However, not all steam mops are created equal, and choosing the best steam mop for travertine floors can be a daunting task.
In this article, I'll explore some of the top steam mops on the market that works well on travertine floors. You can make an informed decision and keep your floors looking their best. You will learn why I have chosen Bissell 1940A PowerFresh Steam Mop as a budget option and McCulloch MC1385 for cleaning large travertine spaces.
3 levels of steam based on your cleaning needs
16 ounce water tank
comes with a washable soft mop and scrubby mop pads, and Spring Breeze fragrance discs
variable steam control
64 ounce water tank
comes with 23 accessories including floor mop, mop pads, nylon brushes, brass brush, angled nozzle, scrub pad, scraper, squeegee, and more.
Best Steam Mops For Travertine Floors
These steam mops not only work great on travertine floors but they will also clean tile floors and deal with grout.
1. Bissell 1940A PowerFresh Steam Mop (Editors Choice)
The Bissell 1940A PowerFresh Steam Mop is an easy-to-use and lightweight steam mop that heats up quickly and provides excellent cleaning results.
The design is made of plastic to keep it light, and it comes with a small reservoir instead of a bucket. Assembly is easy, but there is no on/off switch. Instead, it just plugs in, and blue light blinks to indicate when it is ready to use. You can choose from light, medium, or heavy steaming power, with two mop head options – gentle and scrubby.
The Bissell PowerFresh Steam Mop provides great results on wood floors and kitchen floors, with the scrubby mop and heavy steam settings effectively removing dirt and grime. It is also effective under cabinets where traditional mops struggle to clean. It saves time and effort, with a one-hour mopping task reduced to just 25 minutes. The steam feature eliminates the need for additional cleaning solutions, which also saves money.
The only drawback is that it may not remove all the dirt build-up, particularly in high-traffic areas. However, the Bissell steam mop prevents the need for frequent hand and knee scrubbing, with the length of time before manual cleaning being the only real question.
The Bissell PowerFresh Steam Mop is an excellent purchase, with many positive reviews and videos available to watch. It is easy to use and provides great cleaning results, making it a worthwhile investment for anyone looking to save time and effort in their cleaning routine.
2. McCulloch MC1385 Deluxe Canister Steam Cleaner (Universal)
If you're looking for a powerful and versatile steam cleaner that's perfect for cleaning travertine floors, the McCulloch MC1385 Deluxe Canister Steam Cleaner might just be what you need!
One of the standout features of this steam cleaner is that it allows you to deep clean without using any harsh chemicals. The hot, pressured steam is powerful enough to eliminate even the toughest grease, grime, and stains from a wide range of surfaces, including ceramic tile, grout, granite, sealed wood flooring, and laminate. And, of course, travertine floors!
With a heat-up time of under 12 minutes, you won't have to wait long to get started, and the 64-ounce water tank provides up to 120 minutes of continuous steam. The on-demand variable steam control and optional steam lock also make it easy to blast away dirt and grime as needed.
The MC1385 comes equipped with 23 versatile accessories, including a floor mop, mop pads, nylon brushes, brass brush, angled nozzle, scrub pad, scraper, squeegee, and more. You can even conveniently store these accessories on-board or in the included storage bag.
Another great feature is the extra-long 18-foot power cord and 10-foot steam hose, which provide added maneuverability and reach for those hard-to-get-to places. And with 4 bar (58 PSI) pressure, the hot steam blasts away dirt, grease, and grime, making it perfect for cleaning travertine floors.
Whether you need to clean outdoor furniture and grills, engines and interiors, boats, RVs, or motorcycles, this steam cleaner has got you covered. It's also great for cleaning most flooring, including wood, tile, and laminate.
So, if you want a steam cleaner that's powerful, versatile, and perfect for cleaning travertine floors, the McCulloch MC1385 Deluxe Canister Steam Cleaner is definitely worth considering!
3. Bissell PowerFresh LiftOFF 1544A
Bissell is a brand name that focuses on satisfying the needs of its customers, who have a top priority to clean their houses. They created the Bissell PowerFresh LiftOFF 1544A, the best steam cleaner for tile floors and grout, in my opinion.
This steam mop has a selection of extensions that can clean above the floor surfaces. It comes with 13 attachments.
The cleaning result is pretty good, according to my research. I found that the tool does indeed provide a pleasant cleaning experience. It rarely makes any chugging sounds unless the water tank is empty.
The floor cleaner comes with a bunch of benefits to choose from. In addition to eliminating 99.9% of germs, it helps you with more than just the floor. The manufacturer has added extensions that help to clean grout, sinks, windows, counters, etc.
The model 1544A tile steamer is equipped with Easy ScrubberTM to remove pet stains easily. You can quickly eliminate odors with scented discs. Last but not least, you can scrub away your house with just water.
After thorough research and using the product myself, my recommendation would be to buy this great tool. According to some users, it is a bit heavy, but it is easily maneuverable and does its job well. Then again, it does not work really well if the gunk is very deep inside.
The tile floor steamer does its usual work perfectly. It reaches a wide range of surfaces and is powerful. If you ask me about cons, I would say, other than being a bit heavy and it takes some time to know your way with the tool, it is an excellent choice to make.
4. Shark Genius Steam Pocket Mop System S5003D
Shark is a trustworthy brand that provides you with many house cleaning tools starting from vacuums to steam cleaners. The Shark Genius Steam Pocket Mop System S5003D is a handheld steamer that cleans travertine floors with great care.
Travertine floors are made of stone that is usually porous and can trap a lot of dirt. The pores typically accumulate a lot of grime in them. Thus, they need mops like these, according to my experience.
It easily cleans and sanitizes hard surfaces. You can also be free from the cringing that comes from having to touch a cleaning mop pad since it has a touch-free detaching mechanism. It has a controllable steam supply system to clean your travertine floors with care.
The Shark Genius Steam Pocket Mop System S5003D offers many features, such as easy maneuverability, effective cleaning, and large two-sided surfaces.
While its large size and weight may be a drawback for some users, I have found that its performance more than makes up for any inconvenience.
The 22 feet long power cord is especially useful for cleaning large spaces, and the Dirt Grip Pads provide an ultra-wide cleaning zone.
During operation, the steamer may produce a slight hissing or clunking noise, which could be a concern for some. Nevertheless, I have found that the noise level is tolerable and does not detract from the product's overall effectiveness.
Related reading: Pros And Cons Of Bagged vs Bagless Canister Vacuums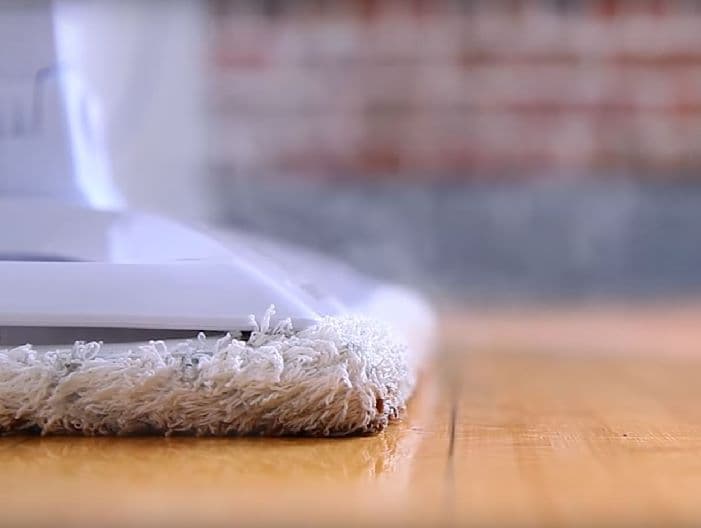 Travertine Steam Mop Buying Guide
Here is a quick rundown of the most important features you should consider in the best floor steamer for travertine.
Adjustable Steam Settings
Travertine is a delicate stone that can easily be damaged by high heat or excessive moisture. A steam mop with adjustable steam settings allows you to control the amount of steam you use, which is critical to avoid damaging your travertine floors. By using a lower steam setting, you can clean your floors effectively without risking damage to the surface.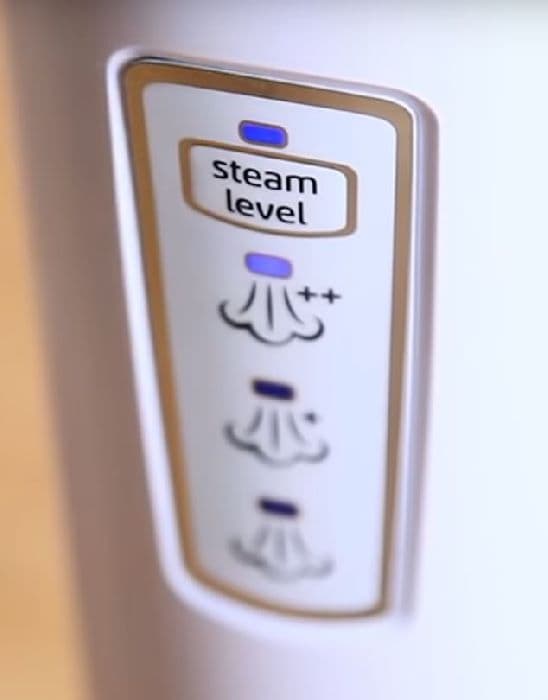 Soft mop pads
Travertine is a relatively soft stone that can easily scratch or chip, particularly if it's exposed to abrasive materials or hard scrubbing. Soft mop pads help to avoid any potential damage to the surface of your travertine floors by being gentle on the surface while still effectively cleaning it. They are also usually machine washable, which makes them easy to clean and reuse.
Large water tank
Travertine floors can be quite large, and you don't want to have to stop in the middle of cleaning to refill your water tank. A steam mop with a large water tank can hold more water, allowing you to clean larger areas before needing to refill. A larger water tank also makes the cleaning process more efficient, since you don't have to stop and start as frequently.
Removable water tank
As an alternative to a large water tank, a removable water tank can also make it easier to refill your steam mop without having to carry the entire mop to the sink.
Long power cord
A long power cord allows you to move around your space more easily, without having to unplug and plug in your steam mop frequently.
Fast heating time
Travertine floors require gentle cleaning, and the longer your steam mop takes to heat up, the longer the hot steam will be in contact with your floors, potentially causing damage. A steam mop with a fast heating time allows you to start cleaning quickly and safely, reducing the risk of any potential damage to your travertine floors. Additionally, a fast heating time can make your cleaning process more efficient by allowing you to start cleaning right away.
Handheld or Rolling
If you plan on buying a steam mop, you can easily choose from the category of handheld or rolling style steamers.
The handheld ones are like the Bissell Powerfresh Model 1940. It has a stick-like form factor that can be handheld.
On the other hand, there are other ones like the McCulloch MC1385 that resemble a regular canister vacuum. It has a hose that emits steam which you need to hold in your hand, and the large reservoir sits on wheels. Hence the name rolling steamer arises.
Corded or Cordless
Cordless steam mops like Tineco Floor ONE S5 Smart Cordless Wet Dry Vacuum Cleaner and Mop operate on rechargeable batteries and offer greater mobility and flexibility compared to corded steam mops. However, it's important to note that cordless steam mops may have a shorter run time due to battery limitations, and they may not be as powerful as corded steam mops. Additionally, they may take longer to heat up and may not have as many features as their corded counterparts.
Vacuum Function
Have you come across steam mop reviews that advise against using the steamer to clean up dry dirt or pet hair? Well, you can now put those worries to rest by opting for a steam mop that comes equipped with an integrated vacuum cleaning function, such as the Bissell 2747A PowerFresh Vac & Steam All-in-One Vacuum and Steam Mop. With this feature, you can effectively clean up dry dirt and pet hair without any hassle.
Frequently Asked Questions
Can you steam-clean travertine floors?
Yes, it is perfectly safe to use a floor steamer to clean travertine floors. Steamers use less water, so travertine will not be soaked in water, and it will dry faster.
Will these travertine floor steam cleaners also clean tile and grout?
Yes, a steam mop that is suited for cleaning travertine floors can also be used to clean tile and grout. In fact, many steam mops come with attachments and accessories specifically designed for cleaning tile and grout. However, it's important to note that the effectiveness of a steam mop on tile and grout may depend on the level of dirt and grime buildup. For heavily soiled areas, you may need to use additional cleaning methods or solutions in conjunction with the steam mop to achieve the desired results.
How does a steam mop work?
The floor steamer uses scorching hot steam and does the job of disinfecting your floor tiles, hardwood floors, laminated floors, or floor mats all at the same time. This is usually costlier than a regular floor mop without a heating mechanism.
If you have a steam mop, you will notice the built-in water tank (distilled water is preferred). The water is heated to steam and then through a jet line is transferred to the microfiber pads of your mop. This helps the microfiber pads trap the heat and moisture for easy stain removal.
Normally you should use distilled water but there are a few cleaning solutions you can use that will make your floor smell nice.
When should a steam mop not be used?
You need to keep in mind that steam mops are fantastic cleaning tool as long as it is used according to instruction and care. You should never plug in the mop unless you have prepared it for use. Carefully fill the reservoir, get ready for moping, and only then start your work.
Another piece of advice is to not use it on unsealed surfaces or surfaces that have not been mentioned by the manufacturer. Last but not least, keep in mind that a mop is used to deep clean and is not a substitute for a vacuum. There are several types of vacuum cleaners you can choose from reviewed in my blog post.
Conclusion
Keeping your travertine floors clean and looking their best is essential for maintaining the beauty of your home.
While traditional cleaning methods can be time-consuming and ineffective, using a steam mop designed for travertine floors can make the task easier and more efficient.
In this article, I've discussed some of the top steam mops on the market that are specifically designed for use on travertine floors, including those in the kitchen. The Bissell 1940A PowerFresh Steam Mop is an affordable model that does wonders with travertine, but McCulloch MC1385 is a powerful universal steamer that will work for hours without needing a refill.
By choosing the best steam mop for travertine floors, you can effectively clean your floors without damaging the stone or using harsh chemicals. With the right steam mop in hand, you can enjoy a beautifully clean travertine floor that adds to the overall aesthetic of your home.
Related Articles