What Is The 100% Solid Ceramic Cookware?
Do you know what a 100% ceramic cookware set is? You may have heard about solid ceramic kitchenware but have no idea what solid ones are. These are also known as classic, 100%, or pure ceramic pots and pans. They refer to kitchen cooking utensils manufactured from sand, minerals, and clay.
The pots and pans are molded using the materials mentioned to form desired shapes. They are then allowed to dry. The next process is firing the clay inside a kiln. It then becomes a bisque which is the ceramic itself but without any decorations.
At this point, the ceramic is complete. However, some steps are usually added to decorate and glaze them. This will give the pots a beautiful look they normally have.
The pots go through the glazing process, where they are decorated, and the decorative layer is sealed on the pans. After that, the ceramic cookware is subjected to firing again in a kiln and they are ready for use.
There is the perception that these cooking utensils break easily since they are made of clay. This is not true. The firing process they go through makes them hard and durable.
Pros and cons of solid ceramic cookware
Here are the benefits and drawbacks attached to using pure ceramic cookware.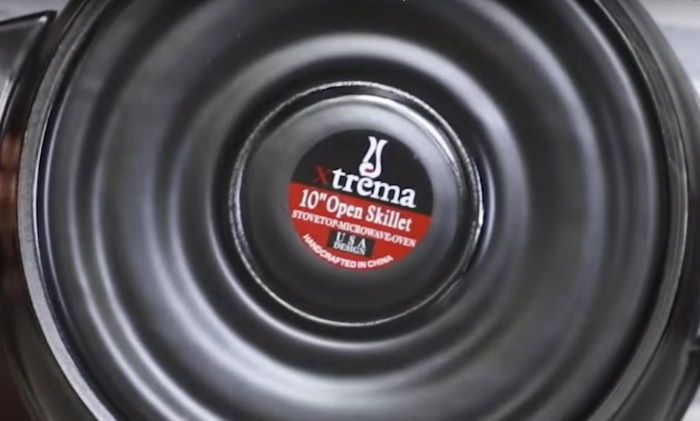 Great at retaining heat
100 percent ceramic cookware retains heat better than the traditional kitchenware. Even when you switch off your cooktop, your food will still remain warm for a long time. This cookware also provides better heat distribution.
Microwave and oven safe
You can use your solid ceramic cooking utensils in the microwave without damaging them. They also do well in the oven because of their ability to withstand extremely high temperatures of about 2000°F, while other types of cookware can only take 450°F of heat.
These are possible because of the materials used to manufacture them. If you are looking for a quality ceramic cookware set, you should try them.
Eco-friendly
Natural clay is used to build these pots and pans. Therefore, no toxic chemicals are released into the environment compared to ceramic-coated non-stick cookware.
The process of firing and drying the clay takes the most amount of energy which is way less compared to the energy used when metals are used to make cookware.
Also, clay is completely recyclable.
No seasoning
100% ceramic cookware does not require seasoning.
It is safe
The fact that no chemicals are used to make the pans means that none will get into your food. Another thing is that the clay used to make them is thoroughly fired and tested. In the end, the clay is not harmful even when it comes into contact with food.
It is expensive
The one thing that hinders some people from buying 100% ceramic cookware is its cost. These cooking utensils are more expensive than others like aluminum, cast iron or stainless steel. The good news is that you can use them for your entire life provided you take good care of them.
It takes longer to heat up
Ceramics is not a great conductor of heat. When it is used purely without adding metals, it takes longer to heat up.
100% Ceramic Cookware Brands
There are companies that are committed to producing pure ceramic kitchenware. Here are two of them. Both Xtrema and Mercola solid ceramic cookware are manufactured by Ceramcor.
Xtrema Ceramic Cookware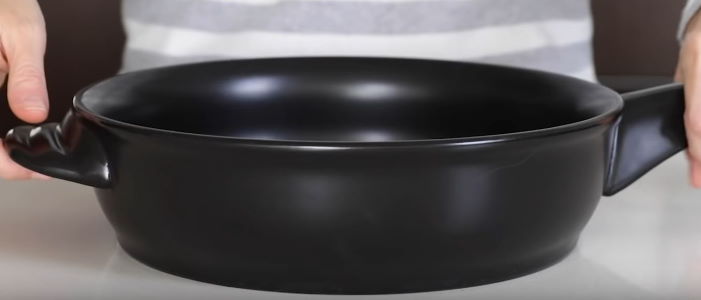 The manufacturers of Xtrema were aiming for a healthy alternative to traditional cookware.
Xtrema lacks synthetic ceramic nonstick coating. Therefore, you need to use oil when cooking with them. The manufacturers recommend cooking on low heat to prevent the pots from developing cracks.
Xtrema ceramic frying pans are extremely easy to clean. The manufacturer says you can clean it the same way you do with metal. This cookware doesn't need delicate cleaning. You can use the cleaners of your choice.
Steel wool, soft sponges, hard sponges, and baking soda can be used in cleaning. After all, there's no cooking surface that will be scratched off.
This brand uses natural materials (clay) to manufacture its pans. Therefore, they contain no chemicals and are safe for use.
Xtrema pots and pans do not get scratches because they don't have any artificial ceramic coating. That means nothing, no material will come off.
Xtrema kitchenware takes longer to absorb heat compared to other cookware.
It is very versatile in that you can use it on the microwave, oven, grill, and your cooktop.
Mercola Ceramic Cookware
Mercola Healthy Bakeware has been discontinued.
Mercola pots and pans are manufactured from water and 100 percent inorganic natural minerals. Thus, there is zero chance of toxic chemicals being absorbed into your food.
These sets are not only beautiful but are also functional. You can prepare a variety of dishes such as vegetables, meat, and soup on these pans.
Mercola 100 ceramic cookware sets allow even cooking of meals because they distribute heat uniformly.
Mercola pans are resistant to scratch. You should use utensils made of silicone, wood, or nylon and take a time to learn to cook with the ceramic cookware.
The pots are versatile. You can use them on broilers, fridge, cooktops, and grills. They are particularly great for stir-frying foods because the food will not spill on your cooktop.
Mercola pots and pans are eco-friendly. It is not made of PFOA or any harmful materials that may be present in modern ceramic coated pans. The materials used are friendly to the environment.
Conclusion
You can now differentiate between 100 percent ceramic, coated, and other types of cookware. The name comes from the fact that no other materials apart from ceramic are used in manufacturing.
This has its advantages, such as being safe or healthy since no harmful or toxic chemicals are used in the manufacturing process.
These pots and pans are easy to clean because of the absence of coatings that may come off.
Some users love these pots' ability to retain heat longer than the typical ones.
The pots and pans don't conduct heat faster and that may be a disadvantage to those who want to prepare their meals as fast as possible. They require slow cooking. the results are healthy, evenly cooked meals.
Some people are also skeptical because cookware sets are costly. Other users feel it is a worthy investment and so the cost is justified.