Best Bacon Press Review – Round | Square | Pig Shaped Cast Iron Grill Presses From Norpo & Bellemain Review & Buying Guide 2023
It is easy for bacon to curl when it's cooking. It then becomes challenging for the bacon to cook uniformly, which is not what you want.
That is why the cast iron bacon press was invented. This is simply a weight that ensures the bacon does not curl and instead comes out flat. The best bacon press is usually heavy and flat, and these qualities help it to do its job.
With the bacon press, you'll spend less time cooking your bacon and, therefore, save fuel too.
Using the bacon flattener doesn't require a lot of effort. You just place it on the bacon strips, grilled sandwiches, or ham while cooking, and the castiron bacon press will do its job.
Satisfy the big bacon fan in you by buying yourself a good bacon press that will cook your bacon evenly.
Make perfectly cooked slices of bacon for your sandwiches and burgers.

Traditionally, cooks have used cast-iron presses to keep the bacon in its original shape.
Norpro follows that tradition by making iron cooking tools and bacon and grill presses that can be used not only for pork but also for various dishes.
What is the difference between a grill press, a hamburger press and a bacon press?
A grill press, hamburger press, and bacon press all serve distinct purposes in the culinary world, each designed to enhance specific cooking techniques:
Grill Press: A grill press is a versatile, flat, weighted tool used to apply pressure on foods while they cook on a grill or stovetop. It helps to maintain even contact between the food and the cooking surface, ensuring even cooking and well-defined grill marks. Grill presses can be used with various ingredients, such as steaks, sandwiches, and vegetables.
Hamburger Press: A hamburger press is specifically designed for shaping ground meat, such as beef or turkey, into uniform and perfectly round patties. This press allows for consistent size, thickness, and shape, ensuring even cooking and an appealing presentation. By using a hamburger press, you can achieve restaurant-quality burgers at home.
Bacon Press: A bacon press, as the name suggests, is designed to be used when cooking bacon. It is a flat, weighted tool used to apply pressure on bacon strips as they cook, ensuring even cooking and preventing them from curling or shrinking. The result is uniformly flat, crispy bacon slices. While bacon presses are primarily used for bacon, they can also be used for other thin cuts of meat or even pressed sandwiches.
In summary, a grill press is a versatile tool for various foods, while a hamburger press is specifically for shaping burger patties, and a bacon press is designed for cooking bacon and other thin cuts of meat.
Norpro Round Bacon Press
This Norpro 8.75 Inch Cast Iron Round Bacon Press With Wood Handle fits your 12" skillet perfectly so you can easily place your meat there and then press it flat, so it cooks evenly.
An additional advantage of having this tool is that you do not get burns anymore from the splatters of fat from the bacon because the handle (always stays cool!) is at a safe 3-inch distance from the pan.
The round bacon press kitchen utensil will also act as your shield against nasty splatters.
The instructions are included in the box, so be sure to read how you should oil and heat this utensil before your first use.
The diameter of this large bacon press is 8.75 inches.
Dimensions – 8.75″ x 8.75″ x 3.25" / 22cm x 22cm x 8cm
Norpro Pig Shaped Bacon Press
Complete your kitchen collection with this cooking tool. It is made of cast iron that flattens your bacon for even cooking.
When you are cooking bacon, you always notice that it curls every which way, so you turn it every few minutes.
Now, all you have to do is use this Norpro Pig Press, and the bacon will stay flat on the pan.
It comes in a novelty design that is very fun to own. Not only is it useful for pressing bacon, but it can also be used for cooking grilled sandwiches and quesadillas.
Dimensions – 8.25″ x 5″ x 3" / 21cm x 13cm x 7.5cm
Norpro Square Bacon Press
You will quickly notice that this is not exactly a square bacon press. The square press will have all sides of equal length. I tried to find an affordable square press, but this is the closest thing you can get without paying a premium. If you want to pay double or triple the price for the square unit, please leave a comment below, and I will add one to this review.
Back to our Norpro bacon press.
If you are looking for a press you can use in the pan and on the grill, Norpro offers you several choices, such as this vintage rectangular Norpro Grill Bacon Press.
It comes in a rectangular design that will comfortably fit with your grill. It has a wooden handle that your gloved hand can hold onto.
This kitchen tool should be washed by hand in soapy water.
If you want your meat crispy and not overcooked, the cooking tool will definitely do the job in half the time it takes when cooking it in the conventional method.
The item measures 6.75″ x 4″ x 3.25" / 17cm x 10cm x 8cm.
Bellemain Cast Iron Grill Presses
Bellemain Grill Press, forged from heavy-duty cast iron, shouts durability. With looks that would entice anyone, the Bellemain press gets everyone talking.
The wooden handle functions as felt, preventing the heat from conducting to the hands which hold it.
This cooking press works for making burgers, steak, bacon, or anything else that can be cooked on the grill.
The press ensures even heat distribution throughout the bottom surface, preventing any sort of hot spots. This feature helps make the food tastier and seals in the flavors so that everyone enjoys every bite.
Norpro Bacon Press with Grill Pan
Capable of transforming any cooking pan into a grill, the Norpro Bacon Press can be used for indoor and outdoor cooking.
The most lucrative feature of this press is its minute distribution of heat evenly through the surface with no hot spots or warping.
It accommodates most pans and can also be used as a grill press and steak weight.
A slightly elevated ridge helps omit excessive oil/fat from the ingredients. Wooden handles act as felt to suppress heat conduction. The body made from cast iron is light, weighing only 3.65 pounds. The product is pre-seasoned and always ready for use, and to top it off, instructions and procedures (recipes) are added.
Related reading: Cuisinart SG-3 Stainless Steel Rechargeable Salt and Pepper Mill Review
Castiron Press Uses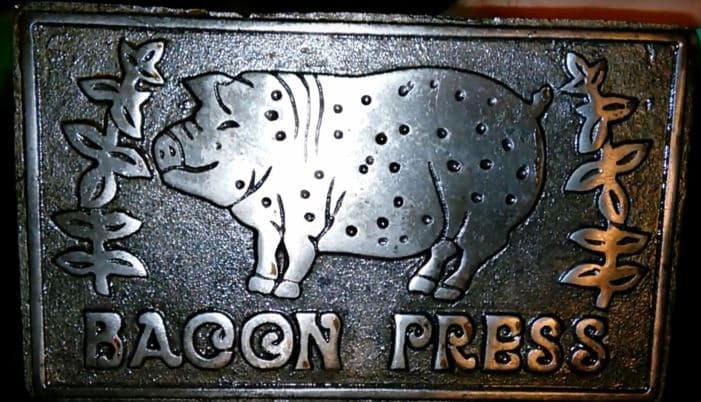 The bacon iron is a favorite in many households because it has several uses. Here are some of them.
Flattening bacon: You can use a cast iron food press to make your bacon, sandwiches, French toast, and hamburger patties flat simply by pressing on these treats. You'll notice that your bacon and other food will look more presentable.
To make a Panini from your sandwich: If you don't want a plain sammich, you can use a cast iron Panini press to get a delicious Panini. All you need to do is first put the bacon press in the skillet to warm it up a bit.
After that, put your sandwich in the pan and then put the bacon weight on. Only remove it when the sandwich becomes golden brown.
To prepare tortillas: A cast iron baking press can also be used to make tortillas. This will save you from buying a tortilla press and crowding your kitchen with too many appliances. However, you need to make sure that your bacon flattener has a flat bottom because this is the kind that is also great for tortillas.
After pressing down on the dough with your press, put it in a skillet to prepare your tortillas.
To help foods cook evenly: cooking weight ensures that your boneless meats, hamburger patties, bacon, or any other food cook uniformly.
To remove unwanted or excess fat from food: Some people do not like too much fat. You can use a skillet press. Just press it on and tilt your skillet to drain the fat that is being released.
To make crispy bacon and hash brown patties: When you press down the harsh brown cast iron press on your bacon and brown patties, they will come out crisp.
To cook meat faster on the outdoor grill: the bacon iron press will come in handy when you want to prepare for your outdoor barbecue within a shorter amount of time. Make sure to preheat the skillet press. Start cooking the meat and then put the weight on the food.
The two sides of the meat will cook simultaneously, therefore, saving you time.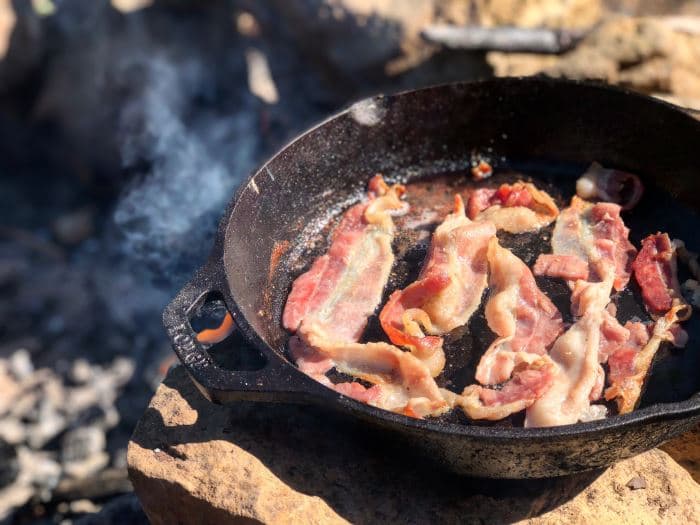 Grill Press Features to Consider
Here are the 8 features that will guide you in buying the best skillet press.
Material
Different materials are used to make bacon, and examples include glass, aluminum, and cast iron. One of the praises that the bacon press receives from its users is that the bacon doesn't stick to the bacon iron.
The fact that the press is made of glass means that you can watch how the bacon is cooking underneath it.
The most common complaint about it is that the handle comes off or becomes loose. This happens because the screws become extremely hot and therefore melt the threads.
When using an aluminum cooking press, frying steak, bacon, and burgers become easy and enjoyable.
Cast iron cooking weight has the perfect weight to provide you with perfectly cooked food. The weight enables the bacon to become flat and to cook evenly. It also makes the food crispy without curling.
There are some with wooden handles and others with handles made of cast iron. A bacon flattener with a cast iron handle gets hot and can burn your hands when you touch it instead of the one with the wooden handle.
Shape
Bacon weights come in various shapes that you can choose from. For example, there are rectangular, round, and novelty ones. A novelty bacon flattener is shaped like a pig.
If you love to use frying pans for cooking, then the round bacon weight will suit you well. If you prefer preparing your food on a griddle, then the round one is perfect for you.
Related reading: Riedel Wine Glasses Review – Ouverture And Vinum Glassware Compared
Size
The size of your pan (for preparing bacon) usually determines the size of the flat iron bacon press you should buy.
It is essential to get a bacon flattener that will fit inside the skillet you use:
Glass – usually 8-10 inches (20-25 cm) with a thickness of 1/5 of the inch (1/2 cm)
Metal – a length of 10 inches (20cm) long and a width of 4 inches (10cm).
Always check the item description for the utensil dimensions to avoid a situation when you buy an oversized bacon press that does not fit in your skillet.
Weight
Metal skillet presses have different weights. Some are heavier than others. For example, cast iron presses typically weigh around 2 ½ pounds.
Handle
Various castiron bacon press has handles made of different materials. For example, some handles are wooden, and others are made of metallic coil.
The handles are designed not to heat up. However, the ones made of metal coils do get hot after cooking for a long time.
Flat or Ridged Bottom
Most people love the flat-bottom skillet press because cleaning it is easier than the ridged bottom kind since the latter has various decorations on the bottom. The ridget bottom will create beautiful grill marks.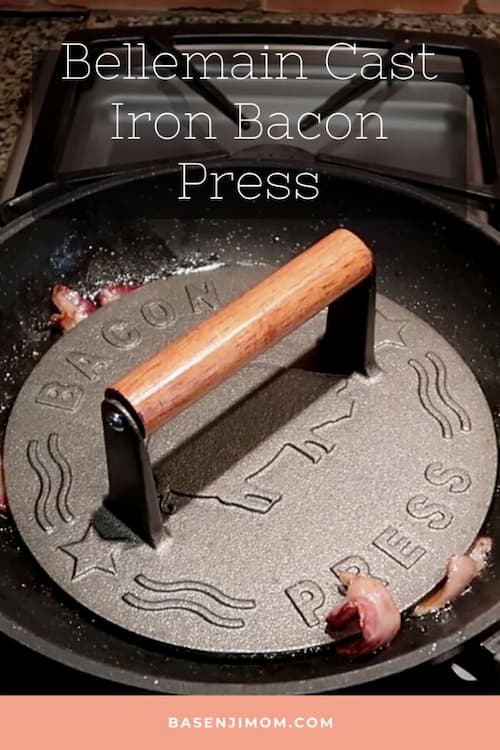 Tips on Seasoning and Cleaning
Remember to season the utensil before you use it since it is made of iron. You can also preheat it to speed up your cooking.
Brush some oil on your frying pan and grease the press as well. After that, preheat the utensil on low fire for 20 minutes.
The iron used for manufacturing these presses retains heat for a while. That is why using a cooking press can also cut down your cooking time.
After washing, make sure to add a coating of oil, so it doesn't rust.
Frequently Asked Questions
How to use a bacon press?
Put your bacon strips on a plate. Subject your skillet to low heat.
Allow your bacon weight to heat up by putting it in your skillet for about one minute.
Take the press off the pan and replace it with bacon strips. Let them cook until you see the fat starting to release, then flip them over.
Put your press on the bacon strips. Leave it for around 30-60 seconds, turn the bacon over, and press back on for another 30-60 seconds.
Remove the press and let the bacon continue cooking until they are ready. They will come out flat and evenly cooked.
Read more: How To Use A Bacon Press?
How to maintain a cast iron bacon press?
Castiron needs some seasoning on it. Therefore, the first thing to remember is never to put your castiron bacon press in the dishwasher because it will remove the seasoning.
Clean the utensil using warm soapy water and kosher salt if there is any buildup you would like to get rid of. Avoid using scouring pads and detergents.
Wipe it with a piece of cloth or paper towels to remove excess water, which usually causes rusting. You can then put the bacon press on low heat to make sure all the moisture evaporates.
Store it somewhere dry and remove the lid. This will avoid rusting.
How to season a flat iron bacon press?
Although you can buy a pre-seasoned cast iron press, I suggest cleaning and re-season before the first use.
Coat the press with vegetable oil, then put it on a pan. Heat up the pan for about 20 minutes. Note that medium heat is most suitable for this.
Remove the weight and wipe away the remaining oil.
How to remove rust from the bacon press?
If your iron bacon press has some rust, make a mixture of water and white vinegar in equal proportions. Soak the iron in the solution and leave it for a few hours (I suggest at least 6 hours), then get it out.
Use an abrasive scrubber to remove the rust. Make sure you scrub the rust gently.
Once you've removed all the rust, you need to season your cooking weight again.
Does food cook faster with bacon press?
Yes, the food cooks faster when you use the bacon press. You will spend less time cooking bacon when using a bacon flattener because the food cooks faster.
Can I use a bacon press for cooking any other food apart from bacon?
Yes, the press can be used for many different dishes. Cast iron press can be used to flatten various foods, such as hamburger patties, boneless meat, French toast, cheese, quesadillas, and grilled sandwiches. Oh, and I almost forgot hash browns.
Can you wash the castiron bacon press in the dishwasher?
No, you should not wash the cast iron press in the dishwasher. Just like the cast iron cookware, the bacon press cast iron type should be hand washed using soap and water. A dishwasher will damage it. Usually, it is sufficient to rinse it.
How often should I season my bacon flattener?
That depends on how often you use your bacon press. The manufacturers of cast iron skillet presses recommend that first season it when you buy it and every now and then.
Conclusion
A cast-iron bacon press is a beautiful addition to your kitchen. What you need to know are the various features to look for when shopping for one. This will ensure that you get a bacon flattener that makes your life easier and better. You need to make sure to get the size that will fit inside the pan you use for cooking bacon and other delicacies.
You should also ensure that you get one with a handle that is easy to use. We don't want you burning your fingers in the kitchen. Also, it is advisable to find a bacon press that you can easily clean.
Will all these, you will enjoy flat, crispy, and evenly cooked bacon and countless other tasty foods.