Riedel Wine Glasses Review – Ouverture And Vinum Glassware Compared
Casual and fine dining requires the proper glassware, and Riedel wine glasses should be the ones you should get. When you drink with friends on any random night or a special occasion, you need to have glasses ready when you have your bottle of red or white wine ready.
When you want to enjoy a glass of good wine, this would probably be the glassware you'll end up using. They are made for about any kind of wine.
This is the correct glassware for you if you love to spend quiet times alone swirling some red wine while thinking, or you spend lots of your time having your friends at your place and emptying a bottle of champagne while catching up.
Vinum Ouverture Wine Glasses
Get 8 pack of Riedel Ouverture Magnum Glasses for Red Wine here!
Enjoy your red wine comfortably when you have the right glass in your hand.
These Ouverture glasses are incredibly designed so that you get to enjoy full-bodied red wines.
Comfortable stem for excellent handling
Elongated bowl and generous sizing
Dishwasher safe
Machine-made and lead-free
Set includes 8pcs of 18 5/8 ounces glasses
Vinum Chablis/Chardonnay
Get this 6-piece chardonnay glass set!
The elegance of these glasses is not offset by their price.
These are beautifully made and conform to the widespread belief that the content of the glass should determine its shape.
Designed for medium-bodied white wines
Perfect for Chardonnay, Semillon, and Chablis
Wash by hand
With polished rim
Set of 8 12-3/8 ounce Vinum series Chablis Chardonnay Glasses
Vinum Bordeaux
These glasses for Bordeaux are designed for full-bodied reds such as Bordeaux, Cabernet Franc, Cabernet Sauvignon, Merlot, Rioja Tempranillo.
The form of glass directs the wine to the area of your palate that perceives the sweetness, so you get to enjoy your drink to its fullest.
Made from 24% lead crystal
Holds 21 1/2 ounces
Should be washed by hand
Machine-made glasses
An 8-pc Vinum series Bordeaux Glass set
Riedel Glassware Reviews From Users
The timeless quality of wine glass is something that can never be overlooked or underrated.
That also applies to Riedel glassware, as it is the best example of its kind found anywhere in the world.
Related reading: Cast Iron Bacon Press Review
The crystallized design and the gleaming aspect make the glassware genuinely shine, despite the frequent complaints regarding their price.
While it is true that money could be better spent on the drinks instead of the drinking accessories, the fact remains that a good glass can enhance the experience of a tasty beverage.
Hence, Riedel glasses fulfill their roles as good glassware.
Right Glass For The Perfect Moment
If you are looking forward to enjoying a glass of wine before you go to bed, then you have to buy the best glassware for that!
Choosing the proper glassware can have loads of effects on how fully you will enjoy your drink. The shape and thickness of the glass give different impressions, as scientifically proven.
Riedel is one of the most well-known glassware brands, with numerous designs and models that can be a bit overwhelming to choose from.
When you have the appropriate glassware for your drink in hand, you will surely enjoy sipping and swirling your drink. With Riedel glasses, you can even load them to the dishwasher later and not worry about if these will face or lose their brilliance.
These are premium glasses that are made available to you. If you want to get your own set, you can check them out on Amazon and chose your glassware!
Riedel Ouverture vs Vinum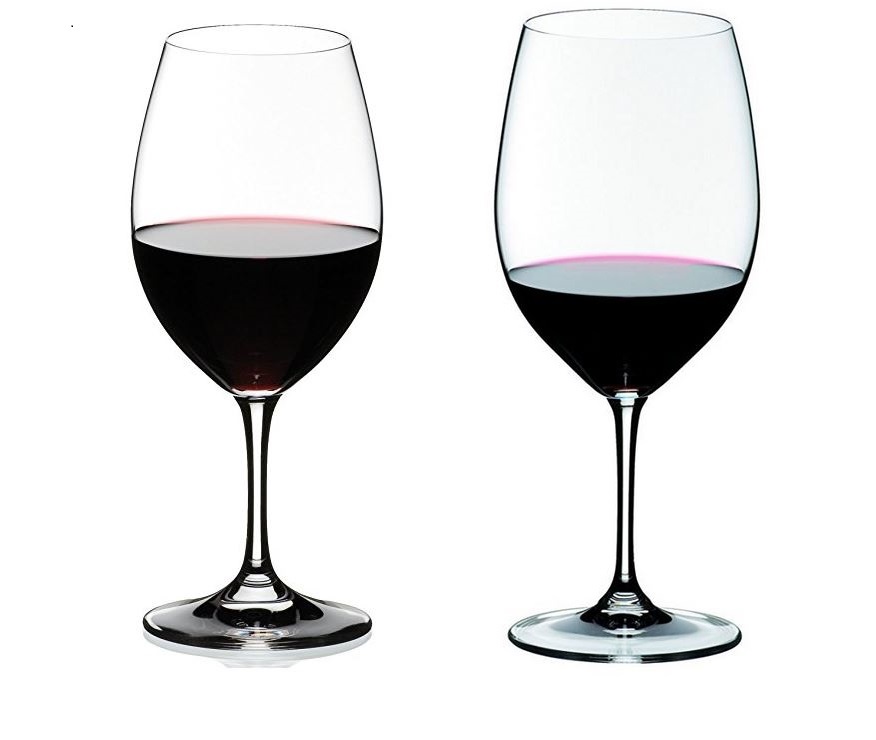 The Riedel Vinum Series is among the most popular of all available models. This particular one is machine-made. However, still more than 24% leaded crystal. Although this one is mostly for regular use at home, the finish is good enough to be set at a dinner table as well.
This line holds an entire 16 different designs, so you can choose whichever suits your taste the best. Nothing beats this Vinum line that is subtle yet made of high-quality materials for basic and everyday use glasses. Riedel also has two takeoffs of the Vinum series: the Riedel "O" stemless set and the other the Wine Series.
The popular Riedel Vinum glass sets are:
The most affordable out of Riedel's lines is the traditional, otherwise known as the Riedel Ouverture Series. Being so unique, it only has four different designs or varieties. The Ouverture line is also known as the beginner's line and is best suited for large conventions. Weddings, wine classes, wine tastings, or just gatherings at home where you want to experience wine at its best.
A must-have for every beginner in the wine world who is having difficulty choosing. If you want to get the best out of your wine on a small budget, then the Ouverture line is exactly what you should go for. Made without any lead and in machines, every glass in this line has the classic Riedel look and is the definition of pure beauty.
The popular Riedel Overture glasses are:
Riedel Veritas vs Vinum
Ah, Riedel Veritas and Vinum, two popular lines of Riedel wine glasses. While both are excellent choices for wine lovers, there are some differences between the two.
Firstly, let's talk about the design. The Riedel Veritas glasses have a sleek, modern look with thinner, more delicate stems, while the Vinum glasses have a more classic, traditional appearance with thicker stems. The Veritas glasses are also slightly larger and have a wider bowl than the Vinum glasses, which can affect the taste and aroma of the wine.
In terms of the materials used, both lines are made from Riedel's signature lead-free crystal, which offers excellent clarity and brilliance. The Veritas glasses are crafted using a unique molding process that creates a thinner, more lightweight glass, while the Vinum glasses are machine-blown and therefore slightly thicker and more durable.
When it comes to wine pairing, both lines offer a variety of glasses specifically designed for different varietals. However, the Veritas line has a wider range of glasses, including some newer shapes that are specifically designed for lesser-known varietals like Syrah and Zinfandel.
In my personal experience, I find that the Veritas glasses offer a slightly more refined drinking experience, with a delicate and nuanced feel that really lets the wine shine. However, if you're looking for something more traditional and sturdy, the Vinum glasses are an excellent choice.
Ultimately, the choice between Veritas and Vinum comes down to personal preference and the specific varietals of wine you enjoy. Both lines offer exceptional quality and craftsmanship and will enhance your wine-drinking experience in their own unique ways.
The popular Riedel Veritas glass sets are:
Riedel Product Ranges
Wine, whiskey, and beer glass product ranges:
Sommeliers
Grape
Vinum
Vinum XL
Vinum Extreme
Vitis
Tyrol
Ouverture
Veritas
H2O
Swirl
Vivant
Related reading: Best Soap Dispensers For Kitchen Sink
Conclusion
Riedel wine glasses are a great choice for any wine enthusiast looking to experience their favorite wines to the fullest.
With a variety of styles and sizes, there is a perfect glass for any type of wine. The shatter-proof and stemless glasses also make them a great choice for outdoor and everyday use.
From the casual wine drinker to the serious connoisseur, Riedel wine glasses are sure to become a staple in any wine-loving household.
Related Articles