Oxo Good Grips 10 Piece POP Container Set Review | OXO Food Storage Containers Reviewed
When you get the OXO Good Grips 10 Piece POP Container Set, you will have OXO containers that work with lots of different products like baking goods, cereals, crackers, nuts, spices, and flour.
You can even put a loaf of bread in the most enormous container to keep it fresh for a much longer time.
OXO Good Grips 10-Piece Airtight Food Storage POP Container Value Set With 10 LabelsCHECK CURRENT PRICE
There are 10 BPA-free plastic storage containers in this Oxo 10-piece Pop container set, and they are best used for:
2 pcs – 0.4 quart – spices, dried chilies, and bouillon
2 pcs – 0.6 quart – tea bags, candy, and sugar cubes
2 pcs – 1.1 quart – a standard 1-pound box of brown sugar or nuts
1 pcs – 2.2 quart – spaghetti, linguini and lasagna noodles
1 pcs – 2.8 quart – cookies and crackers
1 pcs – 2.7 quart – ideal for rice, pasta, and breadsticks
1 pcs – 4.4 quart – a 5-pound bag of flour or sugar
The narrower containers are not big enough to maneuver a 1-cup scoop. Keep that in mind.
The best ones for sugar and flour will be square ones.
You can use the small ones for snacks like dried fruit, and pretzels or for freezing small portions of berries. Thanks to rounded corners, it is incredible how easily you can pour products out.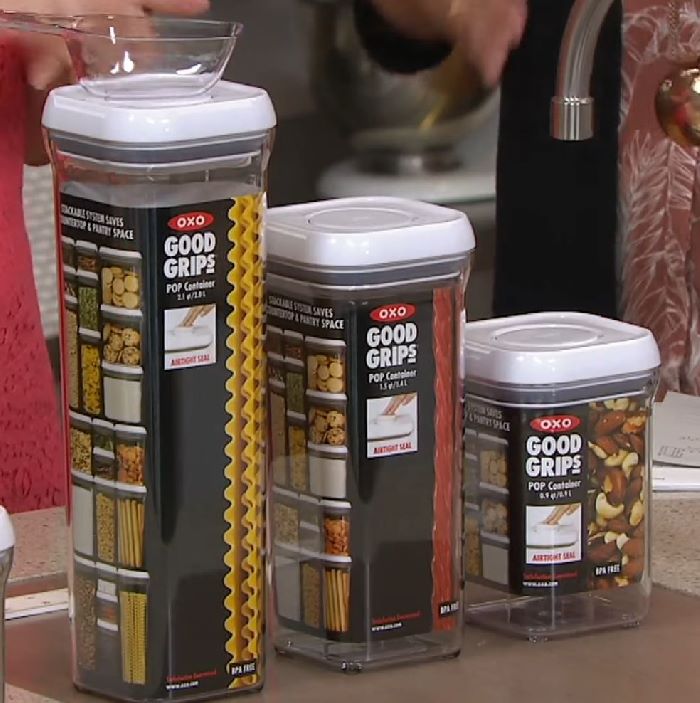 Make Your Shelves Look Bigger
With Oxo Tupperware set, you can use your limited shelf space more efficiently – the stackable square and rectangular shapes of these kitchen utensils maximize space efficiency.
You can have a good-looking, nicely organized pantry, and you can easily see which products require replenishment.
Handle Oxo Storage Containers With Care
Good Grips Oxo Pop storage containers are not recommended for use in the microwave. You should not microwave any plastic – BPA free on not.
You have to remember that they are not made of glass or any other durable material. It's high-impact plastic but is still just plastic.
That being said, handle the Oxo Good Grips containers with care and keep them out of reach of your children. A single drop on the hard floor could end the life of the container.
These containers are made of BPA free plastic. They are safe for storing products, but you still should not use them in the microwave.
Oxo POP Containers Sizes and Uses
Now you can keep the freshness in and the bugs out.
How is it possible? Easy. The Good Grips POP containers are airtight. That is how they keep dry foods fresh for so long.
The secret behind air-tightness is the unique Oxo POP push-button mechanism that creates an airtight seal with just one touch.
Just push the button, and the container is sealed. Push again, and the push-button pops up, and you can use it as a handle to lift off the lid. That is a unique design.
#1 Small Square 1.1-Quart Storage Container
These are small square Oxo storage containers, perfect for small amounts of products.
Suitable for a pound of sugar or a pack of candies.
You can put in the candies and place them on your countertop for the kids.
These are airtight to ensure foods' freshness.
Capacity: 0.9 quarts /  1 liter
Measures: coming soon.
#2 4.4-Quart Storage Containers
Larger vessels are perfect for a 5-pound bag of flour or sugar and other dry goods.
The push-button mechanism is a great feature.
The button is also a handle.
Keep your pantry organized with this square box.
Capacity: 4 quarts / 1 gallon / 4.4 liters
Measures 6-1/4 by 6-1/4 by 10-1/2 inches.
#3 Rectangle 0.6-Qt  Container
This is the smallest rectangular box.
You can also put sugar cubes, tea bags, and other smaller stuff.  Also perfect for candy.
Capacity: 0.6 quarts /  0.55 liters
Measures: coming soon.
#4 Rectangle 1-1/2-Quart Container
Here's another small rectangular box.
Suitable for a pound of coffee beans, licorice, or granola.
This is a space-efficient container. Made of clear plastic for you to see the contents easily.
Capacity: 1.5 quarts /  1.65 liters
Measures: coming soon.
#5 Rectangle 2.8-Qt Container
This is a tall rectangular box.
Well suited for your uncooked pasta or breadsticks and rice.
With the unique push-button mechanism.
Airtight and secure.
Capacity: 2.5 quarts /  2.75 liters
Measures: 6-1/4 by 4-1/4 by 10-1/2 inches
#6 Rectangle 3-2/5-Quart Container
The largest piece in the Oxo tupperware set.
Perfect for storing lasagna, cereals as well as other dry ingredients.
The pop-up button can be used as a handle.
Capacity: 3.4 quarts /  3.75 liters
Measures: coming soon.
Looking For A Good Deal?
Sometimes this Oxo 10 piece container set is on sale in stores like Target and Bed Bath and Beyond, but I suggest checking out the price on Amazon.com first!
Other Oxo Food Containers
Did you know that now you can get Xox Pop containers with stainless steel lids?
Meet the OXO SteeL 10-Piece Airtight POP Food Storage Container Set!
OXO SteeL 10-Piece Airtight POP Food Storage Container Set,SilverCHECK CURRENT PRICE
You may also be interested in:
Steel POP Boxed
Round POP Canisters
Cookie Jars Cereal
Dispensers
Frequently Asked Questions
Are OXO Pop Containers Dishwasher Safe?
Oxo Pop Containers are NOT dishwasher safe, and you should NOT try to wash them in the dishwasher.
Handwashing is recommended, but you will not need to wash them often. Pop containers work best for dry goods, not for leftovers, so there is no need to clean them.
In general, OXO storage containers are easy to clean because the lids come apart for thorough cleaning.
The silicone gasket that keeps the container airtight is the only component that can be washed in a dishwasher.
See the Oxo POP Containers cleaning instructions for more information.
How to take apart Oxo lid?
Here is a quick video that shows how to take apart the POP lid.
How to clean Oxo containers?
Coming soon!
Are Oxo products BPA free?
According to the manufacturer's claims, the Oxo Pop containers are BPA-free.
Related Articles