Best Automatic Kitchen Sink Soap Dispensers And Manual Dish Soap Pumps Review (Updated Dec 2022)
Can you figure out multiple ways of improving such a simple thing as a lather pump? A simple plastic disposable pump bottle? Not an easy task, isn't it?
But some creative designers have discovered many ways to improve best kitchen sink soap dispenser.
It seems there is. Of course, you can save some money and buy old-style push-button operated dispensers. Then you have to push a button to squeeze the substance out of the container.
Or you can get a new modern automatic dispenser. Then you have to put your hands under the nozzle, and the gadget will automatically dispense the dish washing liquid or sanitizer.
Best Touchless Dish Soap Dispensers For Kitchen Sink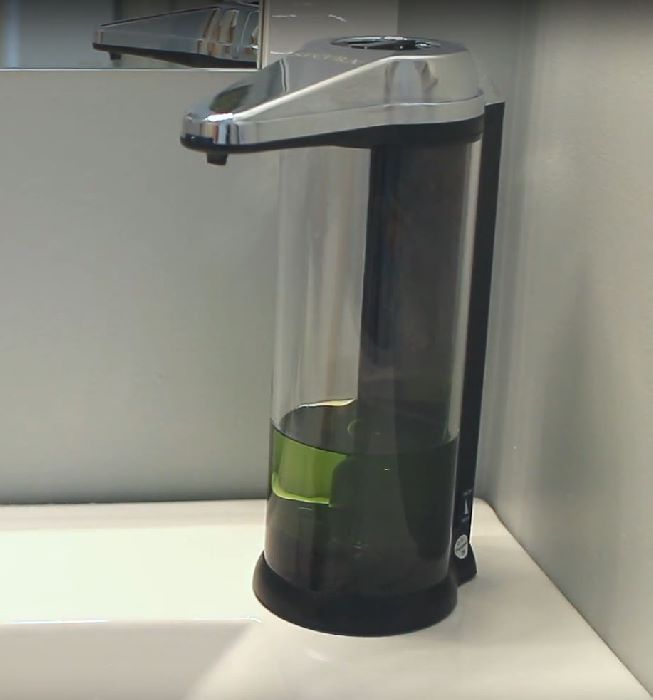 The liquid motion dispenser from Harvest Trading Group is one of the choices that can be taken into account within this kitchen utensil category. Designed with a top that can be easily flipped, making it convenient for users to do a refill once the need for such arises.
Another option that is also worth looking at is the Emerson hands-free container. Although this has a built-in sensor, you will also have the opportunity to use it manually as it comes with a manual dispensing button as well.
The Ideaworks JB6084 is a common choice for many. One of the things that caused a high level of satisfaction for many users is the stainless steel design, which makes it excellent when it comes to durability. To add, it also comes with an easy to clean design, making it effortless to maintain the product in its best possible condition even after a prolonged period of use.
Ideaworks JB6084 Touch Free Soap DispenserCheck Price
The different models within this group are known for their mess-free operations and the highest level of convenience that it offers to its users.
Also, these pumps also come in compact designs, making them excellent when it comes to portability.
Related reading: Best Kitchen Scales For Meal Prep
Simplehuman Automatic Soap Dispensers
The Simplehuman products have been commended in many customer reports because of their efficient design. For instance, the different models have been integrated with the high-efficiency pump.
Because of this, you can anticipate that the forward flow is optimized while there is a reduction in the backward flow, resulting in dispensing the substance more consistently.
Another useful feature worth highlighting about their dispensers is the incorporation of the no-drip valve in the product. It has a silicon valve spring that makes sure no amount will go to waste.
It seals the entire opening of the dispenser once the right amount has been given out.
Having LED light in their pumps is also a good thing. It will provide you with a notification when it is about time to have the unit recharged or when the unit is activated. In some models, the LED light serves as a timer to show its users how many seconds are left in having the cleanser dispensed.
For best results, you should also consider trying the detergent that is manufactured by Simplehuman. This brand is known for its cleaning efficiency, which is good to keep your hand sanitizer all the time.
Besides, another good reason on why their product is good is the fact that it is hypoallergenic, making it possible to avoid any adverse reactions related t its use.

Is an automatic kitchen sink soap dispenser worth it?
Yes, an automatic kitchen sink soap dispenser can be worth it. It can make it easier to keep your kitchen sink clean and free of soap residue, as well as save time and hassle when it comes to refilling the soap. It can also help reduce the amount of soap you use since it dispenses a pre-measured amount each time.
Manual Pump Dispensers For Lotion and Dish Soap

When looking for a quality cleanser bottle for your kitchen sink beside your kitchen faucet, Cuisipro is a common choice for many people. This product is known for its efficiency, mainly because of being able to transform liquid cleanser into foam once it has been dispensed from the unit. As a result, users will be able to enjoy a reduction of the use of detergent by as much a 75%.
The Progressive International acrylic container ris another viable alternative of this type. It is lauded because of its durability, primarily because of the materials used in its production.
It is made of acrylic, stainless steel, and Santoprene.
The OXO Big Button soap dispenser can also prove to be a good choice. It can keep as much as 14 ounces of cleanser, lotion, and other liquids that need to be placed inside a compact container.
OXO Good Grips Big Button Soap DispenserCheck Price
It has a generously-sized opening at the top, making it easy to refill when needed. It also comes with a stable base.
When choosing the best within this product category, it is essential to ensure that the product is designed intelligently.
It will assure you that it will not be too much effort on your part to push the pump before the liquid is finally dispensed.
Related reading: Riedel Wine Glasses Review – Ouverture And Vinum Glassware Compared
Conclusion
Finding the best automatic or manual kitchen sink soap dispenser can be difficult. With the help of this review, you should now have a better idea of which type you should choose.
Whether you are looking for an automatic or manual dispenser, both types have their own unique benefits and can make cleaning up quicker and easier. It is important to consider all the features and compare different models before making your final decision.
Related Articles