Best Food Scale For Meal Prep |Top Rated Kitchen Scales Review (Updated Dec 2022)
For those who spend a lot of time preparing food and have a passion for cooking, certain essentials should always be present. One good example would be getting the best food scale for meal prep, which will help someone ensure that everything has been measured perfectly.
With the use of an accurate kitchen scale, you no longer have to make a wild guess whenever you measure ingredients for what you are cooking. You can be sure that every component is in precise measurement, making it possible to bring out the best of the chef inside of you.
In the remaining parts of this article, you will be provided with insights regarding the different kinds of best food scales for meal prep that should be taken into account. With the differences in the brand, price, and features, among other factors, it is essential to first evaluate all possible options before making a final decision.

Types of Kitchen Scales
Before you start shopping for the new kitchen food scale, you have to decide about the type of scale that will best fit your needs.
Digital Scales
One of the best things about using the best digital pocket scales is that, as the name implies, it is digital.
Therefore, it is not just easy for you to see the exact measurement. Still, it will also be possible to have a more accurate measurement reading.
Another good thing that has been liked by many people who have already used digital scales is the fact that it is convenient.
The portability of this kitchen utensil makes it possible to be transferred from one place to the other, depending on where you prefer the weighing to be done.
Also, this kind of food scale makes it possible for you to get rid of power cords and scratches because of the material at which it is built. There are also models of top-rated food scales equipped with an expansion tray for weighing more ingredients.
Mechanical Kitchen Scales
The mechanical scale will be perfect for those people who are concerned about the environment. This is mainly because this utensil does not require electricity or a battery to function, making it environmentally friendly.
The stainless steel bowl that comes along with the mechanical kitchen scale is also a beautiful accent. The bowl is not just sturdy, but it also makes it possible to hold a large number of fruits and vegetables, or whatever it is that you will be measuring.
The sizeable clock-style display of this kind of tool also proved to be beneficial for many users. It does not make sure of accurate measurements, but it also ensures that the digits are readable.
Top 7 Best Food Scales For Meal Prep
Here is a quick list of top-rated kitchen scale models.
#1 EatSmart Precision Pro ESKS-01
EatSmart ESKS-01 Precision Pro Digital Kitchen Scale, SilverCheck Price
The models manufactured by EatSmart are known for not just being pleasing regarding their aesthetics but also about the quality of their functioning. Many users have regarded how EatSmart Precision Pro Digital Kitchen Scale is a very reliable companion in the cooking process.
Also, this kitchen scale will allow you to do more than just weighing. It will let you measure the nutritional value of these foods, such as calories and fats, among other contents that can be accurately read by this equipment.
Equipped with the EatSmart Nutrition Facts Calculator, this unit will be a good choice for those who do not merely want to cook but those who want to prepare healthy foods. This will help you stay fit and healthy.
#2 Weighmax Ultra Slim Stainless Steel Kitchen Scale
Weighmax Ultra Slim Stainless Steel Kitchen Scale 11-Pound with X-Large LCD Display, Batteries IncludedCheck Price
Imagine you want to turn your kitchen into a sophisticated space. In that case, the Ultra-Slim Stainless Steel Kitchen Scale from Weighmax will be an excellent choice. With its aesthetics, you will surely be able to amaze everyone who will sport this item on your counter.
Many of the people who have tried the Weighmax products have also lauded how some of its models are very light and portable. That makes Weighmax scales an excellent choice for measuring not just in the kitchen but also in other locations inside the house or in the garden.
Weighmax has also been regarded as a good choice because one of its models is equipped with a small bowl that can be detached. This is perfect even for measuring herbs. The size of the bowl makes it easy to carry and can also be fitted inside your bag.
#3 Oxo Good Grips Stainless Steel Food Scale
OXO Good Grips Stainless Steel Food Scale with Pull-Out Display, 11-PoundCheck Price
The efficient design of the kitchen scales that are produced by Oxo makes it one of the favorites in the market. Aside from its design, its products have also been lauded because they are user-friendly, making them suitable for those who have just discovered the joy of cooking.
The pull-out display is also a helpful feature. Even if you put a large plate or bowl on the scale platform, with all the ingredients that need to be measured inside, you can be assured that you can still clearly see the weight because of the pull-out display.
Many users have noted that this product is very intuitive, making it extremely easy to use. In fact, many did not even need to read the manual before they started using the scale. That's how easy it can be used.
#4 Escali Primo P115C
Escali Primo P115C Precision Kitchen Food Scale for Baking and Cooking, Lightweight and Durable Design, LCD Digital Display, Lifetime ltd. Warranty, ChromeCheck Price
The Primo digital scale is among the units being produced by Escali. It is prominent in the market because of its compact size and straightforward design, without the complicated set of features offered by other manufacturers.
Another good thing about the Primo product line is that they are available in a variety of playful colors. Choose one that will complement the theme of your kitchen. This is perfect for those looking for a functional and colorful scale.
Even if the Escali gadgets are not as cheap as the models from other manufacturers, it is still a common choice for many people, primarily because of its ability to give them the best worth of their money through its reliability and accuracy.
#5 American Weigh Scales LB-3000
American Weigh Scales LB-3000 Digital Precision Weight Scale with Removable Bowl, 3000 x 0.1 GCheck Price
Even if some of their food scales are offered at a low price, it does not necessarily mean that it is inferior regarding quality. One of their models has a low cost, yet, apart from an excellent look, it has been chosen by many because of its accurate measurements.
Also, many people admit that they have chosen this brand because of its highly functional design. It is sleek and thin, making it a perfect addition to your utensils collection. With its size, it is also straightforward to store.
If you don't want to mess up upon measuring, American Weigh makes a kitchen tool (model LB-3000) with a bowl that can fit in all that needs to be measured. Also, if you prefer to weigh on the platform instead, the container can be easily detached.
#6 Cuisinart KS-55
Cuisinart KS-55 Weight Mate Digital Kitchen ScaleCheck Price
The food scales that are produced by Cuisinart are popular because of their ability to provide a simple and efficient operation to the users. Even despite the high quality of its scales, users can be assured that its use will be a piece of cake.
The black and stainless steel design of the kitchen scales from Cuisinart is also a good thing. It is a standard feature among various pieces of kitchen equipment from Cuisinart. If you have other Cuisinart products in the kitchen, this will surely complement all you already have.
Whether you are looking for a digital scale used at home, laboratory, or business, Cuisinart will be a good brand of choice. It will be able to deliver excellent weight performance, and most importantly, one that is accurate.
#7 Soehnle 65105
Soehnle 65105, Style Digital Kitchen Scale, SilverCheck Price
For those who are looking for not just a food scale but also an accent piece, the Soehnle Digital Scale 65105 would be an affordable choice. It has an extravagant design that is finished with brushed matte silver and has a glass platform.
While most of the gadgets offer a conversion feature, such as from gram to ounce, the button used to convert the measurement can be found under the scale in many models. With Soehnle, it will be easier to switch because the conversion button can be easily located on the front.
If elegance is one of your priorities in choosing a food scale, there is no need to look for any other model than those manufactured by Soehnle. It will undoubtedly prove to be an excellent addition to your growing family of sophisticated-looking kitchen accessories.
#8 Ozeri Touch
Ozeri Touch Professional Digital Kitchen Scale (12 lbs Edition), Tempered Glass in Elegant BlackCheck Price
Aside from having oversized buttons that make it easy to see the controls of the weighing scale, another good thing about the meal prep scale from Ozeri is that it has a shut-off feature that shuts the machine down after three minutes, making it possible to save battery life.
The Touch Professional Digital Scale from Ozeri (see Ozeri Touch II Professional Digital Scale review below) is among the choices that you will surely not regret. It looks like one of those revolutionary tablet computers. It is made of a tempered glass surface and touch-sensitive buttons, making it one of the most sophisticated-looking kitchen scales on the market.
Many of the people who have been using food scales from Ozeri have noted that this brand has proven to be a formidable choice because of precision, ease of use, weight capacity, simplicity, ease of cleaning, and durability, and other things.
Related reading: OXO Good Grips 10-Piece POP Food Storage Container Set Review
Ozeri Touch II Professional Digital Scale
If you are shopping for a kitchen scale that is not only precise and functional but also looks great, the Ozeri Touch Ultra Thin Digital Kitchen Food Scale is a perfect choice.
Every time you need to weigh your cooking ingredients or anything else, this little gadget will be a great tool that will help you out.
Features of Best Food Scale For Meal Prep
Compact Size
iPhone size scale? Not really. LOL. With its advanced design, the Ozeri cooking scale is an ultra-thin gadget similar in thickness to an iPhone.
You can bring it with you to your cooking school by merely putting it in your purse. Its size is half of a regular sheet of paper, so it can comfortably fit into your bag without getting in the way.
Weight Range From 0.1 Oz Up To 12Lbs
The flat platform is equally durable. It is made of tempered glass with a black under-covering. This adds to the aesthetic value of the unit.
Also, it can weigh in increments from 1/10 oz up to 12lbs. It can display its measurement in ounces, grams, pounds, and kilograms for your convenience.
Since the platform is flat, you can practically weigh in different shapes of cooking vessels on it.
Large LCD Screen
There is an LCD screen where the weight readout is shown, and it is relatively large for easy reading.
Using four GFX sensors, you are assured of a sound reading and accurate measurements.
Touch Sensitive Buttons
The buttons are touch-sensitive so that you can hover it, and there are no bulging buttons that could get in the way.
There is also the critical Tare function to determine your ingredients' net weight.
Modern Design
Ozeri is a quality food prep scale that offers portability and convenience to you and your cooking. The contemporary design is a great plus if you have an ultra-modern-style kitchen.
The tempered glass platform is easy to clean, and the accessory is easy to store. So, if you are looking for a gadget that sports precision and sleek design, Ozeri Ultra Thin Digital Food Scale has it.
Available Colors
Black
Lime Green
Red Engine
Teal Blue
White
User Reviews
This cooking tool is built to be the best digital kitchen scale, and customers have hailed it as just that.
The most compliments it has received are its size, which is compact, and it can be fitted just about anywhere in a tight kitchen space. Its shape is thin and attractive and provides no hassle when being handled quickly.
The glass covering it is hard yet easy to be cleaned, so it does not face any issues in hygiene maintenance.
The reading on the screen is quite large, so it can be read without hassles from a distance which saves time while managing a lot of ingredients at once. Just one sheet of glass as the surface means food will not get stuck in between.
The only notable downfall the Ozari unit could garner is its lack of consistency. It has been reported to give different readings depending on the part of the plate upon which the food is kept.
Nonetheless, Ozari is a well-trusted company, which goes more for the Ozari digital scale, which has left its other competitors miles behind in terms of effectiveness and usability.
Essential Meal Prep Scale Features
How do I find the best kitchen scales? Many criteria play a role when buying a kitchen scale. If you want to find the best kitchen scale, you should keep the purpose in mind. After all, the best kitchen scale is ideally suited to you and your needs.
I have compiled a list of criteria that you should check when buying a kitchen scale.
Material
Some digital kitchen scales are equipped with a stainless steel surface or are entirely made from stainless steel. These models usually sport a high-quality look and feel. Besides, stainless steel is less susceptible to rust. Some kitchen scales have a glass surface. This is often a safety glass. Many cheaper digital kitchen scales are made of plastic. Analog kitchen scales are made of plastic or steel.
Precision
The fine graduation shows how accurately the kitchen scales can measure your products. Analog kitchen scales often have fine graduation of 20 grams. It means that the scale measures and displays the weight in 20-gram increments. Some models are even less accurate and have a division of 50 grams.
Digital kitchen scales measure the weight more precisely. The fine graduation of these models is often 1 gram, but you can find even more precise models with a fine division of 0.1 gram. You should keep in mind that an extremely accurate kitchen scale is usually associated with a higher purchase price.
Maximum Capacity
The maximum capacity describes the capacity of the kitchen scale. Many kitchen scales can carry up to 10 pounds. This is usually sufficient if you only want to use the kitchen scale for cooking and baking.
If you want to weigh mainly light foods, you may want to use kitchen scales with an even lower capacity. For many, a kitchen scale with a capacity of 5 pounds is sufficient.
Minimum Load
The minimum load capacity indicates the minimum weight the kitchen scale reacts to. Most scales can not measure the weight below 5 grams. If you need to weigh oils or spices, you will have to find a model that can weigh 1 gram of matter.
Ergonomics
First, you should check the size. Analog models are usually bulky. If your kitchen space is limited, a compact digital scale is an obvious choice. On the other hand, you should make sure that the surface is large enough to accommodate the size of your larger bowls and dishes.
If you are considering a digital kitchen scale, you should check the LCD display. It should be large enough and equipped with a backlight.
Functions
Many digital models have several extra features. These usually include an automatic switch-off function, the so-called tare function, a battery level indicator, and a conversion function.
Analog kitchen scales often have only basic functions, and sometimes also a tare function.
Stability
An analog kitchen scale is usually stable due to the higher weight. They are large and usually made of steel. The digital models are usually less robust. If it has non-slip feet so that they are quite stable.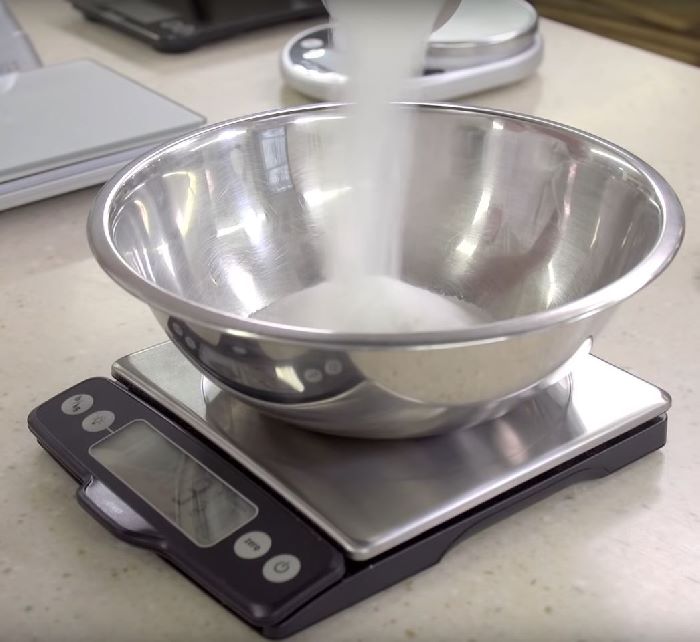 Design
The majority of digital kitchen scales have a simple design and are available in white, grey, anthracite, or black.
Weighing Bowl
Many models are equipped with a bowl. It makes the scale practical, but you should make sure the chosen scale bowl is large enough for your needs. If the bowl is removable, you can clean it much more easily, sometimes even wash it in the dishwasher.
Power Supply
You should check if your chosen model needs an external power supply if you are considering buying the digital kitchen scale. Most of the digital models are battery-operated. There are also models with external power supply units. Often they can be operated both with batteries and alternatively with mains power. The environmentally friendly modes are equipped with solar cells, so neither batteries nor a mains adapter is required.
Related reading: Best Soap Dispensers For Kitchen Sink
Conclusion
Meal prepping is a great way to save time and money while still eating healthy.
With the right food scale, you can accurately measure your ingredients and make sure you're getting the most out of your meal prep. The best food scale for meal prep is accurate, easy-to-use, and affordable.
With a quality food scale, you'll be able to ensure that your meal is exactly the way you want it and that you're getting the most out of your ingredients.
Related Articles