Best Cutting Boards Review – Teak | Maple | Walnut Chopping Blocks Reviewed (Updated Jan 2023)
If you want to be well prepared for chopping your products, you should keep reading my best cutting board review and learn about different types of boards and materials used.
It is hard to answer the question 'which is the best cutting board in the world?' because there are so many chopping blocks to choose from, but wood is the best if you care about your knives and your chopping arm.
Wood absorbs the shock of the impact, does prolong knife-edge & sharpness. And timber seems to kill bacteria naturally.
You will love these chopping blocks! These utensils make food preparation a lot easier and work well for various food-prep tasks, whether chopping meat, slicing and dicing fruits and vegetables, or mincing fresh herbs.
Bamboo Cutting Boards
Enjoy a sense of preparedness in the kitchen with these bamboo blocks. These kitchen utensils are distinctively attractive and super strong.
Bamboo boards are ideal as they are 16-percent harder than maple, less prone to knife markings over time, absorb little moisture, and have natural antibacterial properties. Easy to maintain, the bamboo blocks require simple washing with warm water.
Greener Chef Extra Large Organic Bamboo Cutting Board
Greener Chef Extra Large Bamboo Cutting Board – Lifetime Replacement Cutting Boards for Kitchen – 18 x 12.5 Inch – Organic Wood Butcher Block and Wooden Carving Board for Meat and Chopping VegetablesCheck Price
Greener Chef is a brand that makes kitchen accessories out of natural materials, and the Greener Chef Bamboo chopping board is one of them.
This new crack prevention design comes with a lifetime warranty so that customers can purchase without any worry or second thought. It promises not to crack, splinter, or separate.
This block is FDA-approved. It features a drip trough that can catch leaking juices from fruits, vegetables, or proteins. Simultaneously, the corners are blunt, so you do not have to worry about hurting yourself. It is an all-natural bamboo product, and no toxic chemicals were used in manufacturing.
It also promises to keep your knives sharp, and the size is a one-size-fits-all where you can dice onions or chicken or salad leaves.
Customers who have bought this have loved that their knives have not lost sharpness, but they recommend using a walnut oil spray.
Related reading: How To Clean Bamboo Cutting Board?
End Grain Chopping Boards
The end grain board features a large surface for chopping, slicing, and serving, offering durability, toughness, and beauty.
End grain construction gives added strength and is a robust kitchen tool for any task. These tackle all chopping and slicing requirements without slipping and will not dull knives.
Because it is such an excellent addition to your kitchen, you will love these chopping blocks.
Please scroll down to read a quick review of the popular end-grain board from Ironwood. Another brand gaining popularity quickly is Larch Wood cutting board manufacturer. Their hand-made products like Larch Wood Canada End Grain Medium Cutting Board, are well regarded by professionals and home cooks.
Ironwood Gourmet Acacia End Grain Cutting Board 28218
Ironwood Gourmet 28218 Square Charleston End Grain Chef's Board , Acacia WoodCheck Price
The Ironwood Gourmet Acacia End Grain Chopping Board #28218 is one of the most popular ones by Ironwood Gourmet. This product is made from the best acacia wood, which is very durable and hard-wearing.
This butcher block has 14x14x1.25 inch dimensions, which is not so big to be troublesome, small enough to move around, yet just the right size to prepare your ingredients.
The acacia wood used to make the block is natural and has a very distinct and unique pattern, making this product stand out from all other regular boring cutting blocks.
This is an all-in-one prep and serving board made of cost-effective material and lasts for a very long time. Buyers only have good things to say about this butcher's block, and all you have to do is oil it properly to maintain the texture and finish.
John Boos Cutting Blocks
Add a handsome yet highly functional tool to your kitchen arsenal with these John Boos butcher blocks.
These are a great alternative to plastic, easier on knives, and won't harbor bacteria. Kitchen prep is made comfortable. Sturdy and substantial, these finely crafted butcher blocks are built to endure all of your mincing and dicing needs.
John Boos RA03 Maple Wood Edge Grain Reversible Cutting Board
John Boos Block RA03 Maple Wood Edge Grain Reversible Cutting Board, 24 Inches x 18 Inches x 2.25 InchesCheck Price
This reversible maple wood butcher block is excellent for your kitchen preparation. It offers a lot of area at 24 x 18 x 2-1/4 inches so that you can do your cutting and preparations in peace.
The board features two flat surfaces with rounded edges to reduce hazard and harm and has a hard maple edge grain construction.
Overall it is FDA approved, so buyers will not have to worry about this being toxic or harmful in any way. The ends of the block provide handgrips, and it weighs only 27.5 pounds, so carrying it around is not going to be a problem.
Buyers are more than pleased with the purchase. They have said that regular washing with soapy water or vinegar for further sanitation is required to keep it looking and working like a new one.
Epicurean Chopping Boards
Epicurean cutting blocks are a practical and distinctive improvement from poly, glass, and wood boards. All Epicurean blocks are designed to fit in the dishwasher, be easy to clean, and not harbor bacteria.
Chopping board from Epicurean will not dull your knives because the surface will score slightly, which protects your knife's edge. These resist staining, offering maintenance-free convenience, no need for oil or bleach.
Epicurean Kitchen Series Cutting Board
Epicurean 001-151101 Kitchen Series Cutting Board, 14.5 by 11.25-Inch, Natural, Inch InchCheck Price
The cutting surface of this butcher block is made from natural wood fiber that has been collected from managed forests. The boards are dishwasher safe, so you can either throw them in or clean them by hand.
They are also heat resistant up to 350°F or 176°C, so they can occasionally be used as a trivet without leaving marks. However, they are not microwave or stove resistant and should never be used to cook, but only to prepare.
One of the reasons this product has stood out for buyers is its lack of maintenance. Unlike wooden blocks, these do not require oiling or sanding, and the texture does not change with use.
Some people might have concerns about the material being toxic or harmful. Still, this board has been certified by the National Sanitary Foundation, so we can rest assured there is no compromise in quality.
Teak Cutting Boards
Teak wood cutting boards are having their moment in the culinary world. Traditionally teak wood has been used in making boats for its water-resistant properties, which makes it great for butcher blocks. It also retains natural oils after processing, unlike cherry or maple.
Teak chopping blocks are very durable and water-resistant; they also have a lot of tensile strength. As for visuals, teak has a gorgeous brown color that is orange tinted with gold hues; the grains are sharp and uniform, altogether creating a very visually pleasing chopping block for your kitchen that functions just as well.
Teakhaus Teak Cutting Board Review
Teakhaus Wooden Cutting Board – Large Wooden Rectangle Carving Board With Hand Grip (24 x 18 x 1.5 Inch) – Sustainably Sourced by TeakhausCheck Price
The Teakhaus Teak Cutting Board is one of the many products by Teakhaus that buyers love for its raw features. This item is a rectangle-edged grain chopping block and is valued for its longevity and durability and has the dimensions 24x18x1.5 inches, and weighs only 14 lbs.
These characteristics and the fact that it has a handgrip make it suitable for moving around and carrying without hassle. The wood for these boards is sourced from sustainably managed plantations. This block is a part of the series "The Last Cutting Board You'll Ever Need."
The cutting board is handy when preparing large amounts of vegetables and fruits for dehydrating.
The chopping block needs little to no maintenance because of its water-resistive properties, something not every butcher block offers. It is also the reason customers love it. Just washing it with soapy water is enough and very occasional oiling to retain its shape, sharpness, and texture.
Proteak Cutting Board Review
Coming soon!
Black Walnut Cutting Boards
Chopping blocks come in many shapes, sizes, and, most important, materials. Black walnut has long been used in making chopping boards for its beautiful finish and color. A black walnut butcher's block is a hardwood which means they are safe for the food.
They are also not as porous as other wood but not hard enough to dull your knives. To keep it for a long time, all you need to do is oil it, and the finish will remain as it is. These dark wooden pieces are also great for food presentation, not just preparation.
Large Walnut Wood Cutting Board by Virginia Boys Kitchens
Large Walnut Wood Cutting Board by Virginia Boys Kitchens – 17×11 American Hardwood Chopping and Carving Countertop Block with Juice Drip GrooveCheck Price
The board can double as a piece of décor with rich chocolate hues. The wood sourced for these boards is done so responsibly. This makes them very long-lasting and hard-wearing.
The surface of this board is not very porous, but it is not too hard on the knives either. The chopping board also carries a juice groove to lessen the mess of the preparation. These are unique in the sense that they are unseasoned during purchase, so you can season it as you like with oil or wax, and only those will be coming into contact with the food you put on it.
Customers who have bought this have mostly done so as a gift for their family. They love to showcase cheese platters and bread on it besides using it as a butcher's block and see it as an investment since they last so long.
Cutting Board Sizes
Small – 12″ and below, for example 6″ x 8″, or 12″ x 9″
Medium – 12″-16″, for example 16″ x 10″
Large – 16″-20″, for example 20″ x 14″ or 20″ x 15″ or 18″ x 14″
Extra Large – 20″ and up, for example 30″ x 23″ or 24″ x 18″
Teak vs Maple vs Bamboo Cutting Board – Which Is The Best?
The jury is still out there. I have used one of these cutting boards and want to share your experience. Please leave a comment below.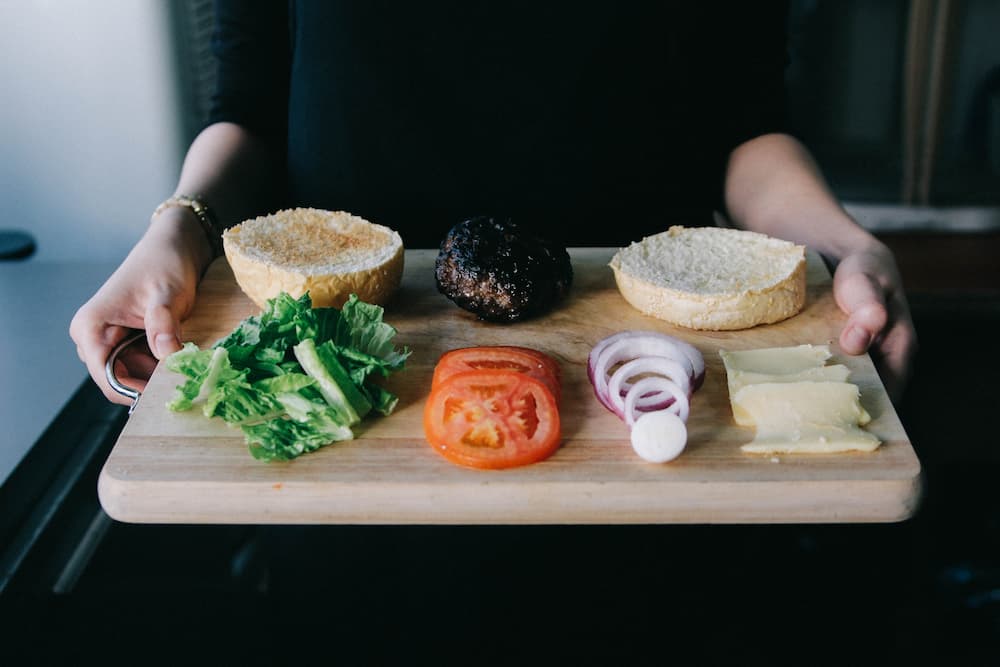 Chopping Board Oil
Lastly, make sure to season it periodically with FDA-approved mineral oil. Oiling your chopping block will keep it from bending or cracking and preserve your knife blade edges and the chopping board itself.
Protect and moisturize your utensils with chopping board oils. These penetrate deeply into the wood grains, leaving a silky wax barrier and lock moisture in.
Used regularly, these will replenish the moisture lost from repeated washing, keeping your butcher blocks and utensils from drying, bleaching, and cracking.
These oils meet FDA requirements for food contact surfaces and are safe for all food preparation surfaces. These are tasteless and will never go rancid.
There is a trick that will save you some cash. You can use the food-grade mineral oil on your cutting board. It is essentially the same substance without marketing.
 

View this post on Instagram

 
Conclusion
I hope my best cutting boards review was valuable and helped you to make the right purchasing decision!
Related Articles