Best Blender For Crushing Ice Cubes and Chopping Frozen Fruit
In my review, I will try to answer the question – What Is The Best Blender For Ice Cubes And Chopping Frozen Fruit?
If you like your drinks cold, you might want to invest in a suitable unit suited for crushing ice cubes and frozen fruit so that you can readily enjoy a refreshing slushie.
However, before investing in such an appliance, you must keep a few things in mind.
Your best option is either the high-performance countertop model or the more heavy-duty personal blender to handle frozen ingredients. These blenders tend to be more robust and more durable. Their blades can handle the wear and tear from crushing frozen ingredients.
Best Blender For Crushing Ice Cubes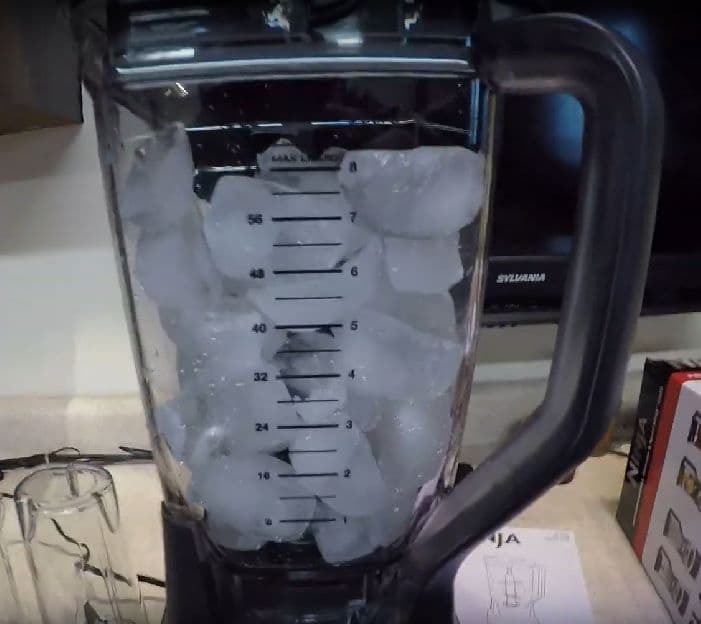 What is important?
To assess the power of your blender, you need to keep in mind the power or wattage of its motor. The act of chopping ice requires a lot of torque, which a 600-watt or above motor can produce—the more powerful the appliance, the better results you'll have at crushing ice. Always keep the tool at the highest speed mode while processing ice or other frozen ingredients.
The blade design is also essential in this regard. Your best option is sharp, durable blades specifically designed to handle the impact of frozen fruits and ice.
We should also be careful with regard to the blending jar material and design. Thinner pitchers made of polycarbonate may crack easily from the impact of the crushing ice. That is why you might want to go for jars made of copolyester, polycarbonate, or impact-resistant glass.
Ninja Professional Blender BL610
Ninja Professional 72oz Countertop Blender with 1000-Watt Base and Total Crushing Technology for Smoothies, Ice and Frozen Fruit (BL610), BlackCheck Price
One of our favorite go-to models for heavy-duty ice crushing is the Ninja Professional Blender (BL610). I really like the sleek, minimalist design of the device and the simplified controls that make life easier in general.
One of the Ninja Professional's best features is its motor power of 1000 watts. The motor is amazingly powerful and able to produce a steady torque. This outstanding performance is further enhanced by the Ninja Total Crushing technology.
When put to the test, it completely crushed hard-frozen fruits and ice within a couple of seconds. Moreover, it is also great for making thick smoothies, creamy frozen drinks, slushies, and other drinks in large batches.
We also love the fact that the company has made the jar pretty much shatterproof. Not only is the jar BPA safe, but it is also dishwasher safe as well. Hence there is no risk of sudden cracking in the middle of the operation and a huge mess.
Overall, we highly recommend the Ninja BL610 model if you are fond of icy cold drinks, smoothies, and slushies. Keeping the necessary features in mind, you can purchase a type of blender that can handle all the heavy-duty ice-crushing and smoothie-making in your household.
Do you need the blender for making smoothies? No, it is optional and makes the process more convenient. I have described several ways how to make blenderless smoothies in my best food processor review.
Conclusion
If you're looking for an appliance that can help you make delicious smoothies and other frozen treats, a blender like Ninja Professional Blender BL610, that's made to crush ice cubes and chop frozen fruit, is a great choice.
With the Ninja BL610  you'll be able to easily make various drinks and snacks. Whether you need a blender for crushing ice cubes or chopping frozen fruit, you'll have to search hard to find an alternative to Ninja that fits your budget and needs. Well,
Related Articles