Guide To Most Popular Types Of Kitchen Blenders- Immersion | Countertop | Personal | Single Serve
When you are looking for the best blender type, you should realize that there are many different types of blenders available in the market for specialized uses.
These include personal or single-serving, high-performance, immersion, and countertop blenders.
Let's begin with a quick review of different types of appliances.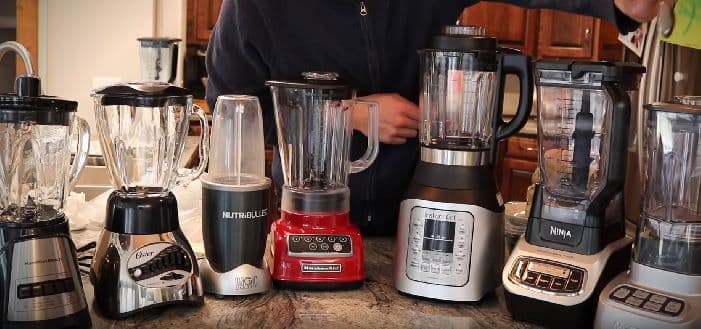 Immersion Or Hand Blenders
According to my research, hand blenders (also called immersion blenders) are highly recommended products by the customers as they can be used anytime without any trouble.
They often have a two-speed option and a detachable shaft, and moreover, it has a cord. It can be used for blending, chopping vegetables and fruit, and even making cocktails.
It is effortless to use and, more importantly- easy to clean. Although it is not as powerful as is required to grind all the ices, it is an excellent steal if the price range is also considered.
Although the product is much loved, there also had been a few complaints regarding it. According to my research, there can be heard a high-note shrill when the blender functions.
Another drawback – the blades are smaller in this edition. Having longer blades allows the work to be completed faster and also causes less friction and heat.
Coming back from all the negatives, it cannot be denied that this is a product that is very easy to use as it is handy and can be taken apart and then put back together whenever needed. This blender also has a mighty motor, which compensates for most of the cons.
Popular Brands
When shopping for these handy and easy-to-use blenders, one of the most popular brands in this product category is Cuisinart. Equipped with a motor with 200-watts of power, you can depend on the functionality of these tools, regardless of your needs. Their products are also seen to be excellent by many users because they are light and have an ergonomic design for a comfortable grip and use.
Juiceman is another brand that can be considered when you are on the lookout for a hand tool. Their HB0001S used to be one of the most popular models within the product category because of its 550-watt motor. Aside from the variable speed settings, it also has a power boost feature for extreme blending needs.
Another choice is the Waring immersion blender. According to many customer reviews published online, a great feature of this unit is having a contoured grip, which makes it easy to handle. The stainless steel blade has also been commended because of its power and durability, extending the appliance's functional life.
You also can not go wrong with kitchen tools from Mueller, KitchenAid, Cuisinart, Koios, Ovente, Braun, Chefman, and Philips.
Countertop Blenders
If we made a list of frequently used household essentials, one of the top pieces of equipment to be found in the kitchen would be the countertop blender. After researching this variety of blenders, I discovered that we usually use this type of appliance to mix, combine and emulsify different elements.
The top allows the air to be tight and the substances to be secure. It easily saves the flaccid blends from being outspread all over the place. People love using blenders for making breakfast smoothies and even juices like cabbage juice any time they want. However, most of the time, these blenders leave the pulp behind, so the juices and smoothies have a pulpy taste to them – well, that's healthy right? One more added benefit is that these blenders have the "pulse" option to step up your speed blending game.
This blender can be used to deal with frozen substances like ice and frozen fruit.
In the negatives, these blenders make a lot of noise and are not always durable. However, if you want one that will not make a lot of noise and last longer, you may want to spend some more money and get a good quality blender. Trust me, you will never look back.
Popular Brands
If you are looking for a product within this category, you will be confronted with several brands that can be considered. Regardless of the chosen brand, you should ensure that it has undergone a careful evaluation to be provided with an assurance that you will end up with a decision you will not regret making.
The good thing about countertop blenders is that they are easy to use. You just leave it on the top of a flat surface, enter the desired function, and have to wait for a short time before the output can be finally made. It also serves as a decorative item in the kitchen, especially if you opt for an aesthetically pleasing model.
When looking for countertop models, you should look for the product's capacity and make sure that it is enough for your needs to prevent blending several times. Besides, you also have to make sure that the pitchers are durable and that the blades are powerful to deliver the required performance.
The most popular brands also include Vitamix, Hamilton Beach, Oster, Black & Decker, Aicok, KitchenAid, AmazonBasics, Cosori, Magic Bullet, and Cuisinart.
If you consider getting the countertop blender, I suggest checking out my Vitamix 5200 and Vitamix 5300 review.
Features
Jar Size – 4- 8 cups
Power – in HP
Jar type – single wall or double wall thermal control
Preset Programs – Ice Crush, Icy Drinks, Smoothie, and others
Variable speeds – up to 5 speeds plus Pulse
Uses
Coming soon!
Personal or Single Serving Blenders
Single serving blenders are recommended if you want one that can be used for your own purposes. Choosing this type will allow you to save a lot since you should only make what is suitable for your consumption. Use it if you live alone or if you always make a blended drink for your own.
Because these appliances are designed for personal use, it is an excellent choice to have limited space in the kitchen or anywhere you plan to use this product. It has a compact size. In fact, many people decide to bring it with them during their travels and use it in the hotel to prepare their favorite drinks, such as smoothies and shakes.
The designs of the models within this group are also commendable. For instance, there are some at which the blending jar also already serves as the drinking cup. Because of such, after blending your drink, you can drink it right away by just taking it off from the blending unit.
Good appliances of this type are made by Ninja, Hamilton Beach, Oster, and Magic Bullet.
Blender Price Levels
I am working on reviews of best blenders in different price ranges – under 100, 200, and 300 dollars:
Best Blender Under $50
Best Blender Under $100
Best Blender Under $200
Best Blender Under $300
Best Blender Under $500
Best Blender Under $1000
I will link to these reviews as soon as I will publish them.
Blenders For Different Purposes
Here is a list of purposes blenders can be used for.
Conclusion
The type of blender that you will choose depends on the tasks that your appliance will have to accomplish.
Related Articles