Margaritaville Margarita Maker Review – Margaritaville Blender DM1900 & DM1000 Frozen Concoction Maker
If you are wondering about how to make a good bar grade drink or a margarita at home, get the Margaritaville Blender DM1900. The Margaritaville Key West Frozen Concoction Maker is for those occasions when you just want a glass of margarita or a simple drink for that good chilled taste.
Well, I didn't dig for long after I found the Margaritaville Margarita Maker. It seemed like one of those quirky products that are usually manufactured by new startups.
You will love the extra large container for ice a.k.a. the ice reservoir. It can stack up almost enough ice to prepare 3 jars of margarita.
You might want it even more after you see how nicely it shaves ice cubes, making the best homemade margaritas. It even has different styles to blend your margarita to perfection.
Check out the multitude of features the maker comes with. You will be far from disappointed!
Margaritaville Margarita Maker Features
Do you know anybody who does not love a cold drink on a hot day?
I bet you can not do that. Well, frozen drinks are very refreshing especially margaritas and daiquiris.
These are made wonderful by a great concoction maker that mixes the right amount of ice with your other ingredients.
Why would you settle for a runny margarita when the Margaritaville DM1900 margarita machine/blender can do a better job?
No More Runny Margaritas
The Margaritaville Key West DM1900 Concoction Maker has an ice chamber so it can automatically adjust the amount of ice needed for your mixture.
The Margaritaville margarita machine shaves the ice instead of breaking them apart which is something even the best types of blenders can not do. This is the primary reason why margaritas made from this appliance are smooth and not lumpy.
The ice chamber is connected to a reservoir where water is directed when the ice in the chamber melts. This way, the water does not mix with the drink.
The frozen drink maker comes up with consistent mixtures. You can make 2-3 servings at a time.
Your frozen drinks will never be the same again with DM1900 margarita machine.
It is somewhat big so it probably won't fit under a hanging cabinet. It would also be too bulky to prop up on a shelf.
The footprint is pretty stable so even if it is working and the machine is churning, it doesn't move from where it stands.
The spout is drip free so you don't waste your precious frozen drinks due to spill.
You can easily have a good grip on the handle as well so you get to pour it steadily without putting your hands in an awkward position.
The controls are all laid out in the front for easy access.
Stylish design with Key Lime accent coloring, maritime markings, and shark fin indicator lights
Sturdy glass blending jar with stainless steel accent trim, and durable powder-coated housing,
Shaves ice and mixes up to 36 ounces
Automatically mixes the right proportion of ice and other ingredients
Improve the consistency of mix using manual controls
Easy cleaning
The glass of the jar is thick so you do not worry about breaking it. Accessories included with the DM 1900 are a shot glass and a salt rimmerIce Processing Cycle
The ice put inside the ice reservoir can be processed in various ways. You can choose from the options of either shaving or blending or can even opt for both at the same time.
The processing cycle is entirely automated. Just set the amount of drinks you want the ice made for. The Margaritaville DM 1900 will do the rest.
The automatic mode is named the Automatic Shave 'n Blend cycle. As the name suggests, your ice is both blended and shaved, served with the perfect margarita.
The manual blend-only cycle blends the ice, serving differently made margarita drinks. The Shave Only cycle, when set in the unit, will give you ice shavings on top of your perfect margarita drink.
Powerful and Sturdy
The frozen concoction maker is truly powerful. It is powered by 450 watts of electric power and packs in at least half a pitcher of ice to a max of ice for 3 pitchers.
Surprisingly, it requires a rather small space for the size and performance it delivers. You can expect the Margaritaville DM1900 Frozen Concoction Maker to house a space of about 9 x 14 x 19 inches. The reservoir makes 36 ounces of juice per blend for a chilled drink in your parties.
It has a friendly pouring function that helps you easily pour from 1 to 3 glasses of margaritas. This prevents your drink from spilling. You can even change the ingredients to play and experiment with your drinks.
XL Ice Reservoir
The XL Ice reservoir is a special unit that sits on top of the machine. It can bag in enough ice to make a smooth batch of 3 jars full of margaritas. The reservoir is made of thick glass.
The ice hopper is what slowly feeds the ice to the blade situated below. You will know the hopper is working when you see the cubes vanish into shavings. Be careful though while placing the ice reservoir firmly on top of the maker.
The ice is shaved or blended right below the reservoir. An ice reservoir lid prevents the maker from spilling icy water or ice cubes. By the way, the ice reservoir is dishwasher safe, making your cleaning task an easy job.
Margaritaville Blender DM1900 vs DM1000
The comparison of the new DM1900 and older Margaritaville DM 1000 models are coming soon!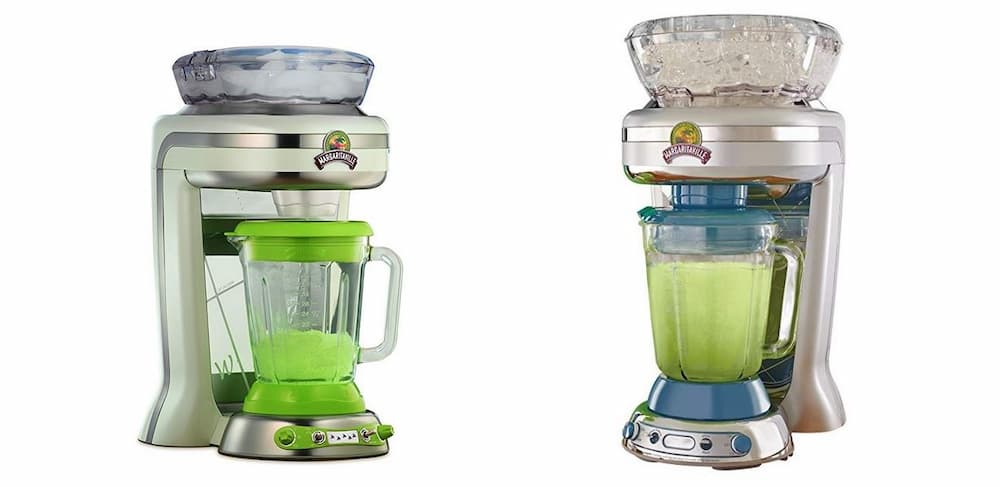 Customer Reviews
In my opinion, the drinks are really refreshing and easy to create but some people may not be able to make a real good margarita from this frozen concoction maker. Then again, you need to keep in mind that the concoction maker has a fair share of workload. The trick is to keep in mind that the amount of food you put inside the jar needs enough ice or liquids to make the blending smoother.
People are very happy with this machine or appliance's ease of operation. You can easily clean them up.
I even found that there is a carrying bag for this machine for ease of transportation. Hence, the machine can be easily disintegrated into individual parts. Not only that, you can also put the whole margarita maker part by part into a dishwasher and clean it up in no time.
A lot of people have even tried making their own signature shakes and smoothies. Use fruits and ice cream scoops along with juices or ice cubes to make your own fine glass of chilled drink.
Also, you have to love the way it is designed; a classy and compact look with a sprinkle of sophistication.
A drawback is that the ice crunching and shaving mechanism is a bit flawed as the lids keep coming off or the blades eventually stop working.
To learn more about customers' opinions, click here to read reviews on Amazon.com!
Pros and Cons
The drinks are very satisfying, given that they are made perfectly. You may even end up comparing them to the drinks that are offered in different hotels on vacations.
It has a huge reservoir for ice storage. It can store up to ice for a decent serving of 2-3 jars.
Also, it is portable (the maker comes with an additional carrier). You can buy it under the name of Margaritaville Frozen Concoction maker Travel Bag.
In addition to looking great, The Margaritaville Blender DM1900 is very easy to operate. It has three different styles of ice processing, two being manual.
You can even manually design and blend your own drinks. Add an array of fruits and juices to get a perfect smoothie or a glass of frozen shakes.
However, the blades may suddenly stop working. The ice cubes sort of stick inside the blades and jam the whole machine. The only way to fix it is by poking around the rotating blades to remove ice.
Also, sometimes, the lid of the ice reservoir comes off. This may make the operation very messy.
On the other hand, the appliance can be easily disintegrated. It is dishwasher safe, making cleaning an easy task.
How to clean Margaritaville?
Cleaning up this big brute is easy. It is dishwasher friendly so you can just put it in and then put it out. After putting it in the dishwasher, make sure to let the glass cool down before you use it or the ice will melt easily and you will have runny drinks. It is also better if you handwash the lid so that the color does not fade away fast.
For step-by-step cleaning instructions, check out my guide on How To Clean Margaritaville Machine.
Conclusion
Is the Margaritaville the best blender for frozen margaritas?
Regardless of a few technical problems, no one can deny the good quality margaritas you will be able to make. And, there is always that 1-year warranty. All you need to do is make sure the proportions of the solid and liquid are equal before you start blending a batch.
Personally, I would love to hear your experience with the Margaritaville Key West Frozen Concoction Maker. Try it out and let your friends know about this appliance too if you end up loving it.
If your family or friends are having a night over at your house, you can easily prepare drinks for several people with your concoction maker. It does a better consistent job of making 2-3 drinks than a single one. You can prepare for a party with margaritas like those sold in the restaurants.
If your children have pool parties, you can also make some alcohol-free daiquiris and pina-coladas for them using the Margaritaville blender. They will surely have a great time drinking their smoothies with their friends and buddies. Just make sure you've got loads of ice in stock!
This is also useful if you wanna try making your own frozen drinks. You can use your creativity to come up with ideas, and your concoction maker will come up with smooth drinks.
I'm sure everyone will talk about how great the drinks will be, and your Margaritaville DM 1900 Frozen Concoction Maker will be the envy of many.
Related Articles