Vitamix 5300 Review | Vita Mix 5300 Blender Reviews And Comparisons
In a world of culinary wonders, one must always draw the line between eating food and making food.
As far as the latter is concerned, modern technology has grown by leaps and bounds to provide us with the best appliances to prepare delicious meals as easy as possible. Vitamix 5300 is an example of such a blessing from science. It has reshaped how blended materials can be formed.
Please keep reading my Vitamix 5300 review to learn how it stands alone at the top of the competition.
Vitamix 5300 Features
These are the features of the Vitamix blender 5300.
Space-Saving
Vitamix 5300 is made to be an under-cabinet model. It has been deemed the successor of 5200, which means its features are improved compared to the older model.
At 15 pounds and 17 inches in length, this blender causes no problem with mobility.
Powerful
The Vitamix 5300 high-performance blender has 2.3 horsepower of crushing strength yet allows a very flexible control for the user.
It has powerful blades that can slice through the pulp effortlessly and make desserts and butter with an included tamper. Special corner protections prevent blades from cutting up unnecessary parts or causing accidental injuries.
Vitamix 5300 is pretty self-sufficient, as it requires less cleaning maintenance. Just pour in warm water with a dash of dish soap and blend it for about a minute. It is enough to clean it after extended use.
Universal
This device can mash, slicing, grinding, churning, crushing ice, and even heating specified food when appropriately used. Vitamix 5300 is more than a regular blender. It is a way of life.
The container can accommodate 64 ounces of products and is closed with a handle-attached lid that shuts the structure tight.
Its smooth operation lets it work with fruits, cream, soups, shakes, etc., with no compromise in the quality and the mixed ingredients. This is a blender that emphasizes flavor and promotes healthy drinking.
Variable Speed Control
The blender has 10-speed variable controls, which you can adjust and are easy to control. You can do this before you start using it or in the middle of the blending process. Therefore, you can achieve an increasingly smooth texture of the food you are blending.
Anyone can operate the Vitamix 5300 because of its user-friendly and straightforward speed control. Also, it is not prone to breaking because it does not have LED screens.
Pulse Feature
This Vitamix appliance comes with a pulse button that other series do not have. The controller operates at any speed and can give you a smooth drink regardless of whether you put in large, tough foods such as meat or vegetables.
You will end up with a highly smooth drink or vegetable soup even if you don't add any liquid to soften the food.
If you are looking to prepare snow cones or crush some ice, this appliance will come in handy. It effortlessly prepares the best and smoothest drink.

Low-profile 64-Ounce Container
If you have a large family or frequently have visitors, you will benefit from the Vitamix 5300 blender because it has a large container. This allows you to blend vast quantities of food at once.
You can also prepare more smoothies.
The container has a low-profile design which enables it to fit under the kitchen cabinet or in the cupboards, which is a plus since storing big blenders can be challenging.
Hardened Stainless-Steel Blades
The stainless steel used to manufacture the cutting blades on this blender is the same quality as those used to make aircraft. Therefore, they are tough and can chop the toughest ingredients you can think of.
That is why you will always get a quality and consistent mixture regardless of the ingredients you put in it.
With the laser-cut blades, you can enjoy perfectly blended foods and drinks for a long time.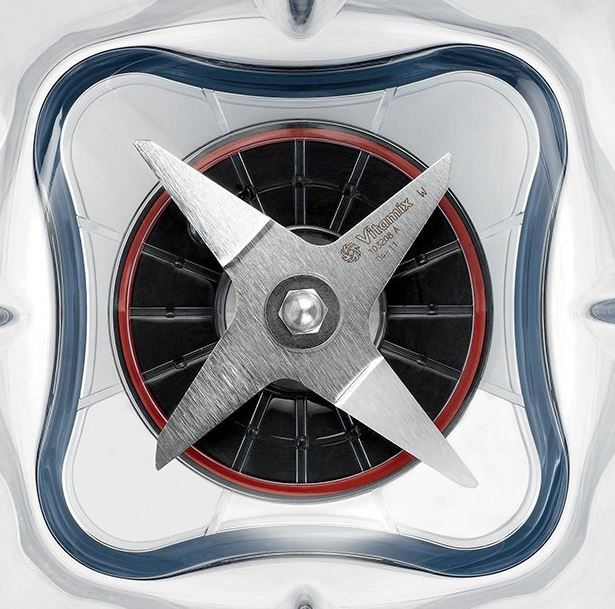 Self-Cleaning
Vitamix 5300 is easier to clean than many other blenders.
Cleaning is one of the things you don't have to worry about when using the Vitamix 5300 because it does the job itself.
What you need to have with you is some warm water and dish soap. Put these two in the blender, switch it on the 2.2 HP motor, and give it about 30 to 60 seconds so it can carry out the cleaning.
Another plus that is associated with cleaning this blender is that you don't have to disassemble it. Also, you don't need to clean it with dish soap or detergent all the time.
Other times, you can simply rinse it with hot or warm water, and it will still be clean.
7-Year Full Warranty
The appliance comes with a full warranty for 7 years. You don't have to worry about the blender getting damaged within the first few months and therefore losing your money.
First of all, the 5300 blender is built to last many years, so you won't have to keep running back to the shop.
Just in case it gets damaged, you can use your warranty for an entire seven years.
Box Contents
Vitamix 5300 blender comes with these parts and accessories:
Classic Vitamix Motor Base
64-ounce Low-Profile container
Getting Started Plus recipe book
Low-Profile Vitamix Tamper
Vitamix 5300 Specs
Platform: C-Series
Dimensions: 17.25 x 8.75 x 7.25 in
Weight: 11.95 lbs
Blades: Laser-cut, stainless-steel hammermill and cutting blades measuring 4-in diameter to ensure a consistent blend every time
Container – 64 oz low profile
Motor Power: 2.2 horsepower motor / 11.5 Amps
Design Features: Radial cooling fan and thermal protection system
Warranty: 7 year warranty
Vitamix 5300 Reviews From Users
Users simply love Vitamix 5300.
Those who have also used the VitaMix 5200 have pointed out how the lack of a standby mode and a faster grinding experience has led to an overall better design on the 5300's part.
There are users who stated this blender's quietness to be an essential factor. The lack of preset programs makes the experience void of complication. Even for new owners, the appliance is easy to use.
Recipe recommendations are important when using this product since only specific ingredients will produce the best results. Even if the low profile container is not large enough, the capacity is still sufficient for a refreshing, healthy glass of fruit juice.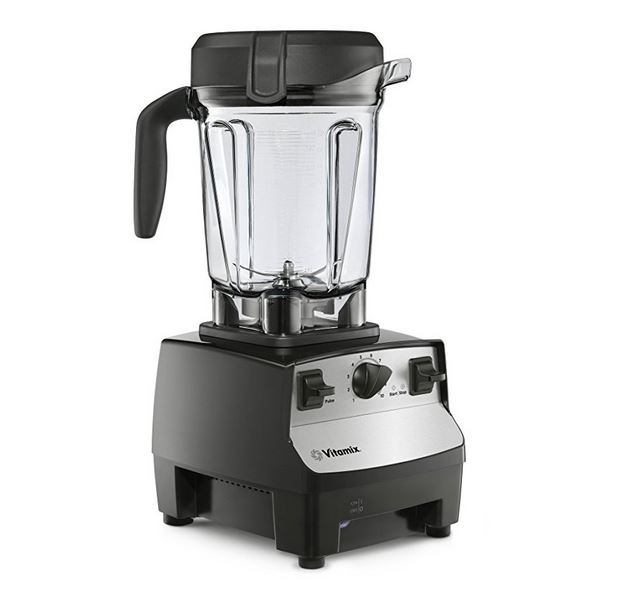 Vitamix 5300 Pros and Cons
Advantages
The guide that comes with the purchase of Vitamix 5300 is quite helpful. It offers essential cookbook recipes and methods in which the yummiest food can be made using the blender.
When the actual product is concerned, the sky is the limit. Vitamix 5300 is the kind of item that invokes creativity. Since it can be used to create a variety of food using various ingredients, an experienced chef with such a machine would be unstoppable. Since it is one of the best blender models fitting under a kitchen cabinet, it can be used in very accessible places in the kitchen with no compromising space for other items.
Moreover, this is a manual control blender, so the user can always control the powerful motor by setting the adjustments and speed dial. With just three simple buttons, this is easier done than said!
It is durable
This kitchen appliance is designed to last. It is made of quality materials which makes it reliable. Since it has a warranty of five years, then you can be sure that it will serve you longer than that.
For years, those who had had it say they use it several times daily, and it still performs the way it did when it was new.
It is easy to use
We all do not want to complicate our lives, and the manufacturers of this appliance understand that. That is why they designed it in a way that is simple to operate.
You need to add ingredients in the blender jar and put the jar on the blender base, then switch on the device.
It is versatile
With the Vitamix 5300, you don't need a million other appliances because it performs various roles. You can use it to make hot soups, frozen desserts, juices, and smoothies.
Affordable
With this blender, you can get the refurbished model, which is as good as new but less costly.
This comes in handy if you don't have much money to spare, are a student, or are just looking for a good bargain.
Easy to store
One of the hurdles I often go through with large appliances, including blenders is finding a place to store them, especially if they are big.
The Vitamix 5300 solves that problem with its low-profile design. You can keep it on the kitchen counter under a cabinet.
It makes smooth mixtures
What continues to surprise people is how this blender always makes a smooth mixture even when you blend tough ingredients.
Your seeds, fiber, nuts, and tough vegetables will disappear in the blender, and you will be left with a smooth drink.
Disadvantages
There are no actual cons concerning Vitamix 5300.
It is loud
While it is not my experience, a few other users have complained that the blender makes too much noise when operating. They say that its noise dampening design is not that great.
It may leave behind chunky unblended pieces
According to some users, sometimes the appliance does not blend all ingredients. The manufacturers of this blender specify that it is made to blend medium to large batches. Therefore, if you put in small batches of food, it may not give you the same results.
Minor problems
Some users have discovered that purchasing a wet blade container (32 oz) works well for blending small batches of food.
There have been reports from users of not being able to blend the carrots.
Also, some complained that the leftover residue is not satisfying enough and causes a problem with the price range. However, these kinds of comments are rare among the seas of positive responses this blender has gotten.
So virtually, there is nothing to worry about when you get this blender.
Vitamix 5300 Comparisons
I am comparing the Vitamix 5300 and other Vitamix models. Stay tuned!
Vitamix 5300 vs 7500
They are very similar blenders bundled with the same type of wide bottom low profile wet 64 oz containers. The output of both blenders is 2.2 horsepower.
The Vitamix 7500 is a newer model that belongs to the more up-to-date G-Series. One of the selling points of the G Series is a 40% quieter operation. You will also get a cookbook and DVD with this appliance and the 7-year warranty (vs 5-year warranty of refurbished 5300 model).
Which one should you get? Check the prices of both models and decide. When I was writing this update, the price difference was sufficient to choose the older Vitamix 5300.
Vitamix 5300 vs 750 Pro
Vitamix Professional Series 750 also is the newer G-Series model. In short, I can describe Vitamix 750 as the Vitamix 7500 with 5 additional pre-programmed settings – smoothies, purees, hot soups, frozen desserts, and automated self-cleaning.
Vitamix 5300 vs Ascent A2500
Coming soon!
Vitamix 5300 vs Ascent A3500
Coming soon!
Other Vitamix 5300 vs comparisons
Please comment below if you want me to compare:
Vitamix 5300 vs VM0197 Explorian
Vitamix 5300 vs Venturist V1200
Vitamix 5300 vs Ascent A3300
Vitamix 5300 vs Ascent A2300
Vitamix 5300 vs E310 Explorian
Vitamix 5300 vs E520
Vitamix 5300 vs Ninja
Vitamix 5300 vs E320
Vitamix 5300 vs Blendjet 2
Frequently Asked Questions
What is the difference between Vitamix 5300 and 7500?
How many watts is the Vitamix 5300?
The Vitamix 5300 is 1640 Watts.
How loud is Vitamix 5300?
Vitamix blenders are pretty loud. The 5300 works as loud as other C-series blenders.
What series is the Vitamix 5300
The Vitamix 5300 is C-Series.
Conclusion
If you have always admired the Vitamix blender series but do not have enough money to buy them, you can consider the refurbished Vitamix 5300. This appliance is a good investment because it works perfectly and is more affordable than the new ones.
If you are looking for the best new Vitamix 5300 price, I suggest you check out local stores like BestBuy and Costco. Many reviewers claim that Vitamix 5300 Costco price was among the most competitive offers at the moment if buying the blender. Then, of course, you have to check out what deal Amazon has to offer.
Vitamix 5300 versatility endears it to many families because it enables you to enjoy a variety of foods.
Anyone can use this blender with its simple controls. Cleaning it is also a breeze, and therefore, you can get a perfectly smooth smoothie, juice, or soup with less effort.
I hope that my Vitamix 5300 blender review has helped you to decide if this is the blender you are looking for.
Related Articles