Best Cookery Schools In The UK (Updated Jan 2023)
Here is my list of the UK's best cookery schools in 2023.
What is a Good Cookery Class?
What to expect from a good cookery class:
Learn to cook fresh and healthy dishes from start to finish
Learn how to safely use a chefs knife and kitchen appliances
You will do all the cooking, closely guided and instructed by the master chef
Throughout there's instruction on techniques, tips, and lots of Q & A
Sometimes you will get a booklet of recipes and guidance after the class
Be prepared that you will have to eat everything you have cooked – come hungry!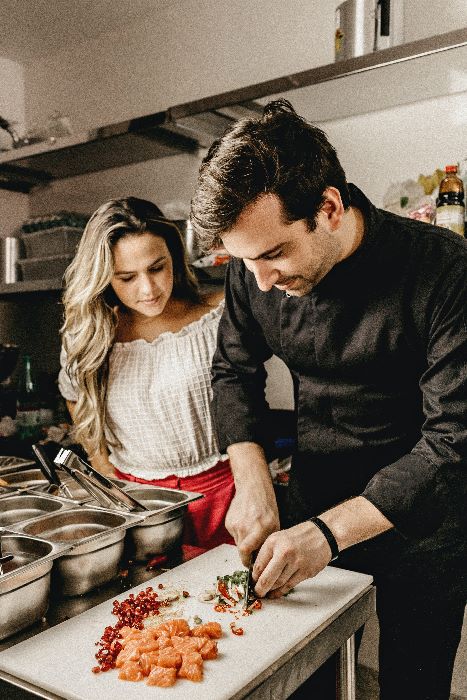 Richard Hughes Cookery School
Richard Hughes Cookery School is previously known as
Macarons And More Cookery School
is one of the most popular cookery schools in Norwich.
When you learn to cook at the Richard Hughes Cookery School, you're learning from the best: they received first place in the first-ever British Cookery School Awards.
Related reading: How To Slice Hard Boiled Eggs?
Their hands-on, friendly, energetic, and information-packed courses wowed the judges, who applauded them for the wide range of courses they provide for home cooks of all ages and skills.
Their students keep coming back for more because they cook together, learn together, laugh together, and are enthusiastic about sharing their love of food with everyone.
Waitrose Cookery School
Spend a day with them at one of their London Cookery Schools, where you can master classic methods like pasta making and knife skills, as well as tap into current trends like pan-Asian cooking.
Their 2-hour early evening lessons are ideal for a pleasant night out with a bottle of wine.
Learn how to make better bread, improve your pasta, or get inspired by their chefs with unusual meals to serve to your family and friends. They also provide entertaining lessons for children.
Ashburton Cookery School
Their team of skilled chefs teaches inspiring cuisine courses at the Ashburton Cookery School, one of the UK's finest cookery schools.
They will teach you to cook with inspiration, passion, and delight, with over 40 culinary classes to select from, tailored for beginners as well as expert home cooks. They have a cuisine course for you if you wish to take your cooking talents to the next level.
They have a course for you whether you are a novice, a passionate home cook, or want to pursue a career as a chef.
Their luxury lodging option at Ashburton Court is available to Cookery School clients and their guests.
Jamie Oliver Cookery School
The Jamie Oliver Cookery School has something for everyone, whether you're a total beginner or a seasoned chef.
Their cooking classes are meant to be instructive and hands-on while being relaxed enough for you to enjoy yourself while learning.
At the end of the lesson, you'll have plenty of opportunities to practice your culinary talents and relax while enjoying the fruits of your labor with a wonderful dinner at the chef's table (or in the comfort of your own home).
Every time you schedule a session, you're helping to support one of our community programs, which teach basic culinary skills to people who need it most.
Leiths Cookery School
They at Leiths believe in the value of having good culinary abilities.
Learn in professional-style kitchens with top-of-the-line equipment, like Magimix blenders and state-of-the-art Gaggenau ovens.
There will be no chef yelling at the class throughout our diploma course; instead, you will follow an individual study plan.
Related reading: What Dessert Goes With Chili?
You will be delighted, challenged, and supported whether you learn from Atul Kochhar's knowledge or Angela Malik's exuberant passion.
They are recognized for being the best, and our alumni are in high-ranking positions all around the food business.
More coming soon!