Best Turbo Convection Oven Reviews 2023 & Buying Guide | Guide To Halogen Infrared Countertop Ovens
Are you looking for a way to cook food and keep it moist on the inside and brown and crispy on the outside while staying away from excessive use of fats or oils?
Then you should consider getting one of the best turbo infrared oven models of 2023 I have reviewed in this article! The oven of this type uses a combination of a convection fan and infrared heater to cook food quickly and evenly.
Designed to produce succulent meats, poultry, and fish, prepare most meals up to 50% faster than a conventional oven.
Infrared Halogen Turbo Convection Oven?
First, let's clarify the terminology.
You may have stumbled upon my blog post searching for the best infrared oven or best halogen oven or the best turbo oven or even the best turbo convection oven. You may now be pondering if this is the appropriate article to answer your inquiry.
To assuage your doubts, the answer is in the affirmative. These terms, including the best infrared halogen turbo convection oven, all refer to the same device. It is an oven that has:
a fan that circulates the hot air, thus turbo or convection (convection ovens usually are the box shaped ones)
a halogen bulb to generate infrared heat
The result? These infrared convection ovens outperform conventional ovens in terms of speed and energy efficiency.
No need to waste time defrosting or preheating, as these ovens can cook frozen meat to perfection while using substantially less electricity. And the best part? Your leftovers will taste as delicious as the day you made them. Get ready to fall in love with the way these ovens cook!
Let's now take a closer look at my top five picks for the best infrared ovens.
What about all the doppelgangers?
When you're shopping for halogen ovens, you'll see that a lot of them look alike. That's because many of them are made by the same manufacturer, but sold under different brands.
All these ovens have the same specs: a 1200W heating element, temperature settings from 149° to 482° F, and a cooking time of up to 60 minutes.
The only difference between the models is bowl size, the accessories that come with them, and a price.
Here are a few of the doppelgangers:
5 Best Infrared Turbo Oven Reviews
#1 NutriChef Halogen Oven Air-Fryer / Infrared Convection Cooker (Popular)
The NutriChef Halogen Oven Air-Fryer / Infrared Convection Cooker is the infrared convection cooker of the future.
This 13-quart (12 liters) cooker shaped like a kettle on top of a huge bowl is perfectly built to heat healthy food to make it healthier. The controls are located at the top of the infrared convection oven in the form of dials, which can be rotated to adjust the timer and the temperature.
The cooking pot is made of glass, which gives a transparent look at the food being warmed inside. This pot is easy to clean and cuts down on maintenance issues. A wire rack is present to boil and steam. This oven has been known to cook many different kinds of products without any issues and is incredibly proficient in preparing TV dinners.
The appliance has a certain appeal to its design and is made to last for a long time. Not only is it suitable for cooking or heating, but it is also an excellent partner for baking as well.
Underestimating the Nutrichef Oven would be a mistake since it is capable of much more than the other ovens in the market.
Specifications
High Powered Heating Element: 1200 Watt
Cooking Bowl Capacity: 13+ Quarts
Temperature Settings: 149° – 482° Degrees Fahrenheit
Max Cook Time Setting: 60 Minutes
Pros
Affordable price
Cooks quickly
Easy to clean solid glass base and glass top
Available in white or black
Cons
The dome requires cleaning after each use to avoid grease buildup
Not large enough to cook for more than three people
#2 Classic Cuisine Halogen Tabletop Oven
If you are looking for the perfect cooking companion with a cooking speed comparable to the microwave and with a cooking mechanism akin to the oven, the Classic Cuisine infrared convection countertop oven will prove to be an option that you will not regret making.
It may not be as cheap as Ambiano Turbo Convection Oven, but you will be happy you have paid a bit more for tried and tested quality. It will also be the perfect choice for health-conscious people who want to cook foods that will help them maintain good health.
This oven is well suited for low-fat cooking, which will allow you to get rid of excess fat that will do nothing good for your body. If you are looking for convenience, this will also prove to be an excellent choice. Secura ovens can be washed with the use of a dishwasher, making it effortless to clean.
The infrared convection oven also comes with a self-cleaning function that helps in being able to maintain its high cooking quality and prolong its lifetime.
If there is another thing worth commenting on this countertop infrared oven, it would be the fact that it is easy to use. You merely need to select the required temperature and cooking time. After that, you can leave all the work on the oven and wait for the unit to cook your food perfectly.
Specifications
High Powered Heating Element: 1200 Watt
Cooking Bowl Capacity: 12 Quarts
Temperature Settings: 149° – 482° Degrees Fahrenheit
Max Cook Time Setting: 60 Minutes
Pros
Easy to use
Heats up quickly
Base made of glass
12-quart capacity can be extended to 17 quarts
Cons
Large and bulky
Baking takes time to learn
#3 NuWave Oven Pro (Highly Rated)
With this Nuwave halogen oven, you can cook a wide variety of dishes at the convenience of your home.
Aside from using infrared heat, it can also utilize the power of convection and conduction heat for your various cooking needs. Compared to traditional ovens, the NuWave Elite Dome Oven is superior when it comes to reducing energy consumption as it uses 85% less energy.
Regarding cooking time, it is also commendable because it can allow you to cook quicker. Many of its users have also liked the convenience of this infrared cooker. For instance, its many parts are dishwasher-safe, making it easy to clean. Also, with the NuWave oven, there is no more need to defrost and pre-heat, as it will do all of the functions required directly.
In numerous Nuwave infrared cooker reviews, people often prize its lightweight design that can be attributed to the materials that were used. Because of that, you will not have any problem even if you need to move the appliance to a different location. Pros
Unique sheath heater technology
High 1500 Watt power
Lightweight design
Advanced digital controls
Cons
Higher price
Not great for baking
What is the difference between Nuwave Pro Plus and Elite?
Coming soon.
What is the difference between Nuwave Pro and Pro Plus?
Coming soon!
#4 Big Boss Oil-less Air Fryer 9065 (Large Capacity)
The patented process by which the infrared halogen ovens from Big Boss can cook has been a frequent reason for the highest level of satisfaction of its users.
The process of cooking in the Boss cooker has been lauded because of its ability to maintain flavor and texture while the food is perfectly cooked. The reason why people often use this infrared convection oven is its multi-functionality.
It can be used as an oven and will also be functional in reheating leftover foods, grilling, roasting, broiling, and baking, among other things. You can do all this with just one gadget. With 1,300 watts of power, despite their compact size, the infrared ovens from this manufacturer are powerful enough to handle a wide variety of needs.
Regardless of what you need to prepare, these ovens will undoubtedly prove to be significantly helpful in achieving the results that you expect.
While some people have noted that the Boss cooker requires some time to practice, after a short period of its use, you will learn about its different features and functions. By that time, you will find it easier to use the oven.
Pros
Large 16-quart glass bowl
Recipe book with over 50 easy and delicious recipes included
Multiple color options including Blue, Copper, Red, Graphite, and others
Great customer service
Cons
Learning curve – takes time to learn how to use to get the best results
It takes a lot of space
#5 Fagor 12 Quart Halogen Tabletop Oven
Fagor oven has a capacity of 12 quarts, just as its name implies. Its halogen cooking technology adds a level of sophistication to the exterior design and enhances the internal heating capabilities.
This appliance can perform tender heating to prepare food with excellent quality. It can do direct broiling and cook your meal instead of heating your kitchen. The two layers of racks can be stacked on top of the other and allow simultaneous cooking at each layer.
This unit comes with instructions, recipes, and a lid support rack to complement the main compartment. This oven is void of any flames or fumes, as the countertop grilling shapes the food to be deliciously edible. Other than meat and rice, the Fagor halogen cooker can prepare vegetables via steaming and other food by frying.
Best of all, this product is relatively light (about 20 pounds), so you can take it with you on your long journeys. You can use it in camps, boats, small kitchens, and dormitories without any hassle.
The transparent glass pot shows the process of food cooking, which is an excellent way to kill time. It takes little space to fit, so it is perfect to use in tight rooms.
Fagor halogen tabletop oven has satisfied lots of customers since its release and has proved its worth brilliantly. One does not have to worry about the state of their dinner and lunch with the Fagor 12 quart cooker in the house!
Pros
Cooks meat like a dream
Reasonably priced for the quality
Cons
Disassembling the lid is required for proper cleanup
3-legged wire rack flips over easily
Infrared Convection Oven Buying Guide

By now, we know that infrared convection ovens save our time, are energy efficient, and are designed for multitasking, much different from a microwave oven.
Compared to other conventional ovens, an infrared convection oven also consists of various counters of multiple cooking benefits, but the heat transfer is much more uniform and targeted.
The market is brimming with endless alternatives of infrared convection ovens, and it can get overwhelming for you to make the right decision when shopping for one.
Before you do, make sure to know how and infrared convection works, what determinants to consider, and if such an oven would suit your needs.
Before buying a high-quality infrared convection oven, there are a few aspects that you may want to keep in mind. For you, the functionality and ease of use will be profoundly dependent on the following:
Size & Capacity
Depending on the size of the family you have, the size of the infrared convection oven is one of the most vital factors that you may want to map out before making a purchase.
If you plan to cook family dinners and larger-sized meals, an optimum capacity for an infrared convection oven is 12 quarts. Multiple oven models can be expanded in capacity to 17 quarts with the help of an extender ring.
Infrared turbo ovens also come in smaller sizes and fit if you want something to save up space on your counter. Although 12- or 17-quart glass round ovens are bigger, look for a compact and lightweight design so that they can be carried around anywhere if needed. Not only does a condensed design save your counter space, but it can also be stored more efficiently.
Controls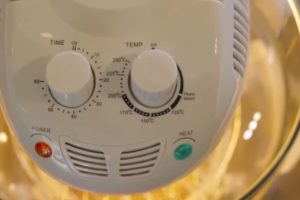 One of the most suitable forms of control when it comes to infrared-based glass ovens is the dial control knobs or digital screen display controls.
One standard option is the dual dialing operation, which allows you to simply set the temperature and fix the time without any additional hassle. Make sure the infrared oven you decide on has a transparent glass window, so you can easily check the progress of your delicious dish.
Some premium ovens are designed with self-automated control settings to regulate very high temperatures. Such products are also convenient for defrosting a frozen meal with the auto shut down option when the job is done.
Ones with digital controls are a breeze to use and look comparatively more modern and appealing. With a single touch, you can set the exact times and temperature for the meal, whether it's baking, roasting, or defrosting. If you want features that allow you to clean the oven without stress, consider the products that have wash cycle control.
Adding a small amount of water and liquid soap before turning on the wash cycle automatically cleans the interiors of the oven quite thoroughly, that too with minimum work from your side.
Functions
An excellent infrared convection oven will be rich in functions.
Keep in mind that your investment should have great value for the price. Consequently, look for an oven that has baking, roasting, and grilling functions. Moreover, most infrared oven also permits you to broil your protein by increasing the heat and placing the food on the top shelf.
If you cook in various methods, you might want to go for infrared ovens that have a slow cooker and deep fry facilities, with both higher colds and lower temperatures. If you want to dehydrate your food, opt for a model that has integrated dehydration functions. In addition to that, all ovens with infrared technology allow oil-free cooking, along with defrosting options.
The more functions your infrared convection oven is equipped with, the more versatile it will be. While using an infrared oven, if the higher temperatures are something you have concerns about, you may want to consider investing in a product with better safety and protection.
Auto regulating heat features makes sure that the oven does not become unsafely hot. Few have openings on the edges to allow smoke to pass off, and others have built-in anti-smoke functionality.
It is also imperative that the outer edges are well insulated so you can open the glass lip and take out the food without feeling the heat on your fingers.
Power
A standard oven has a power rating of 2000 watts to 5000 watts. On the other hand, an infrared convection oven, with its halogen light technology, uses 1200 to 1300 watts on average.
Whether it is a grill, microwave oven, or conventional ovens, the infrared round ovens are at least 40% more efficient in saving energy.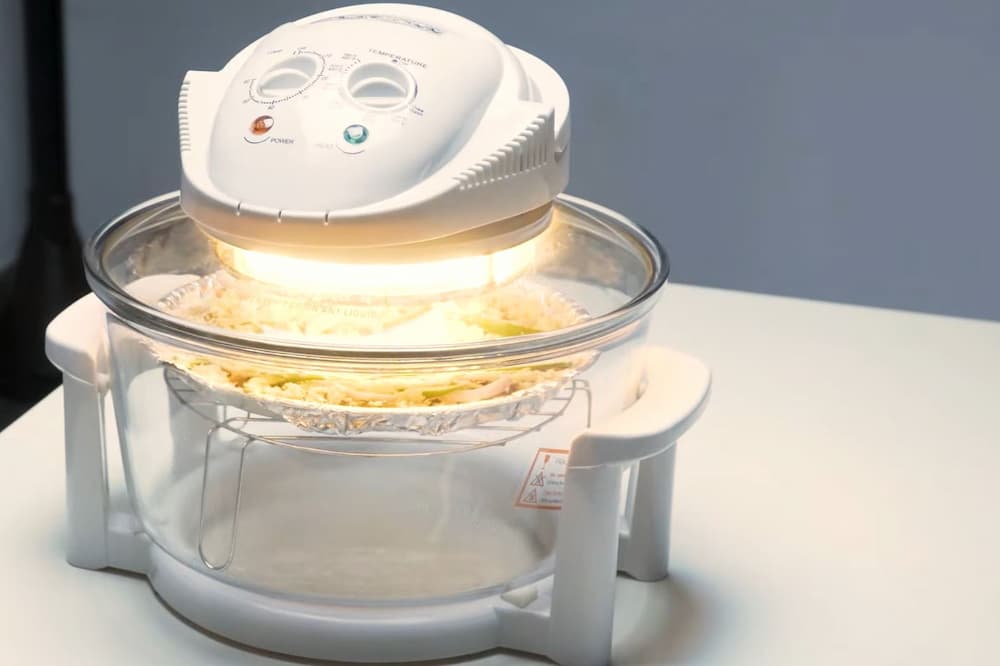 Frequently Asked Questions
How Does Infrared Cooking Work?
An infrared convection oven uses a halogen light source as a means of heating the appliance uniformly. Such a heat source transfers energy waves to the surface of the food, which causes the surface particles of the food to vibrate and heat itself. This heat then gets carried inside of the food, just making an infrared oven ideal for fast cooking and heating.
These infrared convection ovens work with a patented trio of cooking methods:
Conduction to apply heat directly to food,
Convection to circulate the heat around the food, and
Infrared radiant heat penetrates the food to cook from the inside out, leaving food moist and flavorful.
The tri-fold infrared cooking process enables the oven to use different cooking methods without preheating or defrosting. Also, these ovens save you cooking time and energy compared to conventional cookers.
The last time most of us studied heat transfer was back in school. I'm sure the word convection rings a bell. Well, that is precisely how the infrared cooker works. Convection is when the heat is transferred onto another surface without any physical contact with it. Infrared waves can carry a lot of energy. This energy passes through the food, heating it. While some say it is not as efficient as grilling or direct conduction, it is much quicker since the food heats itself instead of being heated up using another object.
A standard way to compare this is with the sun, which can burn our skin from millions of miles away even though the temperature involved is not that high. When infrared hits, it initially heats the food on the surface, much like our skin by the sun. The molecules on the surface start vibrating at high speeds once they receive this energy. It causes friction between the particles, resulting in a lot of heat. As the surface molecules start gaining high temperatures, it slowly starts to move inside, thoroughly cooking the meal right to its core.
Some infrared convection countertop oven models can create convection heating, which can help heat the meal even faster.
Is It Safe To Cook With an Infrared Convection Oven?
Infrared cookers' wave sources scare some people and make them wonder about infrared cookers health hazards.
One common misconception among buyers who are willing to spend on an infrared convection oven is that the infrared energy waves are harmful to our health. Many assume that such radiation can be linked to dangerous diseases like cancer and should not be used. While radioactive waves can cause alterations to the human body and cells, infrared technology is not the same.
This technology involved heating or cooking in the same way as any other conventional cooking appliance. Hence, it is safe for you to cook your food in an infrared convection oven. IR waves are part of the electromagnetic spectrum, the same spectrum that also holds microwaves, X-rays, gamma rays, and more. Excess exposure to gamma rays or X-rays is known to cause cancer, but that is due to their frequencies and wavelengths.
On the other hand, infrared waves have very different frequencies and wavelengths that are not known to cause such drastic changes in our DNA or cancer. Almost every form of cooking uses infrared energy somehow, like burning charcoal which emits high volumes of infrared. Or turbo convection broilers and barbeque grills that heat meals using infrared. In that respect, cooking in an infrared cooker uses the same physics principles as cooking on a charcoal grill or BBQ.
Still, you should take some precautions when using an infrared cooker, such as making sure the hinges are properly sealed and not loose and making sure children are not around because it can produce high heat at times.
Overall Efficiency
Infrared convection ovens have earned their goodwill when it comes to being the most efficient appliance. The high temperature which is transferred from energy waves is quickly absorbed by any food that goes in, all that while operating at much lower energy. With the combination of infrared heating to a standard convection oven, you can save up to 40% more power.
Cooking Benefits
One of the greatest benefits of a convection oven with infrared technology is uniform heating and equalized temperature on all sides of the food. This is greatly helped by the integrated fan that prevents overheating or burning your food, whether you place it on the top rack, middle, or bottom.
The temperature in the infrared oven is variable, but few are equipped with auto-adjusting temperature features. If you are someone who counts your calories and is careful about the grease in your food, an infrared convection oven would be a lifesaver.
One of the major selling points of an infrared convection oven is its ability to cook food without using any oil or other traditional fats.
Infrared Oven vs Microwave
How is infrared cooking different from microwave cooking?
The method an infrared cooker uses is pretty similar to that of a microwave. They both make use of wave energy to heat food. One of the critical differences between the two methods is that infrared cookers heat the food from the outside in, while microwave ovens do it the other way around, inside out.
Most infrared cookers have a timer and heat dial. Some newer models contain a fan that helps create a convection current. On the other hand, microwave and toaster ovens have buttons that are used to set the time. They are compatible with paper products and microwave-safe plastics, and regular cleaning is not necessary. Countertop infrared convection oven requires cleaning after every use unless you are using specialized pans.
Concerning cooking time, a microwave takes less time on average than an infrared cooker. And regarding taste, bread cooks nicely in the infrared oven but becomes rubbery in a microwave oven.
Infrared vs Halogen Oven
Infrared is the physical principle of cooking. Halogen is the type of heat source – the halogen bulb that emits infrared waves. Some infrared countertop ovens use other types of heat sources – coil heaters or, in the case of Nuwave ovens, sheath heaters.
Turbo Oven vs Convection Oven
The terms 'turbo' and 'convection' in relation to the oven mean the same thing. Turbo and convection ovens have a built-in fan that circulates the heat around the food and helps it cook faster and more evenly.
Other Oven Types
I am now writing the FAQ about related similar oven types – turbo ovens, convection ovens, air-fryers, and steam ovens.
What About The PowerAirFryer Plus?
Power Air Fryer oven is one of the cookers promoted in TV infomercials. It works similarly to the models discussed above and features a convection fan. I quickly browsed the user reviews online, and I was not impressed. While the fryer looks good on paper with its seven cooking modes and other bells and whistles, it may not function so well in real life. Many users are claiming that the convection fan fails after a couple of months of use.
Maybe I will write a dedicated review of this model, but at this moment, I suggest choosing one of the tried and tested models mentioned above.
Conclusion
An infrared convection oven is versatile, energy-saving, and less time-consuming.
Infrared technology is just right for you if you wish to save time and wrap up a dinner meal with much less energy consumption. Additionally, if fitness is your concern and you want to cook meals with no oil or no fats, such ovens are what you must spend on. Besides, an infrared convection oven is a great space-saving device thanks to its compact and portable design.
If you are a traveler with an RV or caravan or just own a small-sized living space, this lightweight oven will fit into any corner of the counter. It is also perfect if you wish to travel on a boat and yacht or go out to camp with friends for a few days.