Best Insulated Lunch Bag You Can Buy In 2022 | Insulated Lunch Bags Reviews
A woman's standards for style and functionality extend to everything she uses, including lunch bags.
Yes, you may have been used to just putting them in a paper bag and throwing the bag away afterward.
Now, there are different styles of designer lunch totes for women that look really fashionable.
You can even get a Guess lunch bag, and people will not believe it's your insulated lunch bag because it looks like a stylish purse.
Sachi, Built NY, and Koko Sadie came up with several designs that you will surely love.
Check out these totes and consider becoming environment-friendly.
Choose insulated lunch bag that is reusable and chic!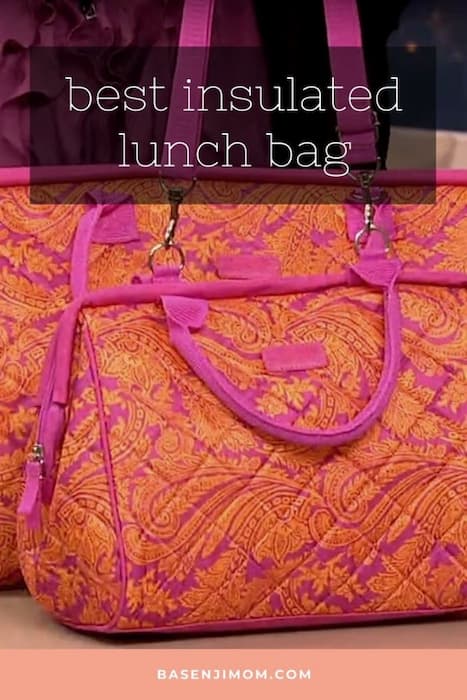 Sachi
Sachi Fashion insulated lunch bags are easy to clean totes that can accommodate your lunch as well as your snacks.
The insulated interior keeps food at the right temperature. Let people guess whether it is an insulated bag or a purse.
Nobody would suspect that this is a lunch tote because it looks more like a purse.
If you are mulling over what to get your mother, wife, or female coworker this Christmas, let her have this Sachi lunch bag.
She'll be enjoying her lunch at work in this well-insulated bag that has a drawstring enclosure to keep out dust and rain.
With two side pockets, she can stash in additional tea bags or other foodstuffs.
It has a variety of chic designs that makes it look like a purse
The interior is insulated for keeping food warm or cold
Put it in the fridge by folding down the handles
There are 2 side pockets and a drawstring enclosure
Sachi bags are easy to clean – Just wipe with a damp cloth
Fold-down handles allow you to put it in the fridge
Save money and eat healthily. Take your lunch with you in these Sachi Fashion Insulated Lunch bags that keep your food warm or cold. It is also effortless to clean. You can now bring your food to work in these fashionable bags.
Built
Built Gourmet Getaway
Take your own food with you to work without looking like you're going to school.
The Built Gourmet Getaway bags are great neoprene totes that keep your food warm or cold. After a hearty lunch, you can easily fold it and put it in your purse.
Cleaning is a snap – just toss it in the washer!
Bring your homemade food in this big tote bag, which measures 13-1/2 by 13-1/2 by 7 inches (WxHxD)
It has a zippered closure and a soft handle for comfortable carrying;
Rolls flat for easy storage.
It keeps food well-insulated up to 4hrs depending on external temperatures
Uses no vinyl or PVC – It is made of neoprene, a lightweight material used in wetsuits.
Keeps your food warm or cold for up to 4 hours depending on outside temperatures
Cleaning is by machine wash cold, drip dry.
Built NY French Bull Gourmet Getaway
The Built NY French Bull Getaway Lunch Bag is the perfect Christmas gift for women on the go.
It accommodates your lunch box as well as a fruit and a snack.
It comes in different colors so you can choose which one best suits your personality. It is also available in Nolita Stripes, Multi Dots, and Shadow Flower designs.
Women have an eye for design, so this insulated bag is a great choice this Christmas.
Built Spicy Relish
Do you want to take snacks with you? The Built Extra Relish lunch totes have enough space inside so that you can take with you your lunches and some healthy finger foods.
These bags are well-insulated and made of lightweight material. They come in different styles, so you will have a wide array of choices to suit your preferences.
Carry a big meal and a few snacks with you in this Built Extra Relish Lunch Totes.
With dimensions 13 by 11 by 6 inches (WxHxD), it provides plenty of space for a lot of food.
There is an interior pocket where you may put your utensils and a removable shoulder strap.
Made of lightweight neoprene, the same material used in wetsuits allows the bag to be rolled flat for convenient storage.
To help you carry your heavy lunch, there is a removable shoulder strap
Keeps your food well-insulated for up to 4 hours
The Built NY bags are all stain resistant; clean, machine wash them cold, and drip dry.
This is a fashionably different bag for bringing food to the office. It is very spacious and has shoulder straps for hands-free carrying. She can easily fit in her lunch and some snacks. Thanks to the neoprene material that allows flexibility. It is also straightforward to wash since she can just toss it in the washer.
Koko Sadie
It really saves money when you bring along homemade food instead of dining out every day.
The use of reusable bags instead of disposable paper bags also helps the environment. So, the Koko Sadie Lunch bags offer you many benefits. They are beautiful too.
Insulated and reusable bag; keeps food and drinks cold or hot
Prepare your own healthy foods and bring them with you to work so you can maintain your fit body
For a modern woman-on-the-go, the elegant appeal of this bag will be a fashion statement
There is a drawstring and fold-over snap closure
Made of 100% nylon, just wipe the bag inside and out
There is a mesh pocket inside where a bottle of beverage can be securely held against spills.
This classy Koko Sadie lunch bag has lots of space to spare, so get her this great insulated bag, and surely she'll be delighted. This is also perfect for your limited budget!
The Perfect Christmas Gift For Elegant Lady
These insulated bags are not only very durable but are also easy to clean. So, if you want to get someone something extraordinary this Christmas, these bags should be at the top of your list.
They are designed for chic women who want a functional bag for bringing their food to the workplace without ruining their outfits. Designer lunch totes like these will really make her smile and enjoy her snacks each and every day.
Women love to have everything well-coordinated.
These classy designer lunch bags will go with their outfits nicely while containing their healthy lunches.
Indeed, they would love to bring along one of these bags to work, and it is up to you which of these you would give away this Christmas.