Best Lunch Boxes For Kids You Can Buy In 2022
Why are shoppers continuously on the lookout for the best lunch boxes for kids in 2022?
Kids and adults alike bring their homemade food to school or the workplace. When packing food, it's not enough to simply have a container. You need to consider other factors such as convenience, size, and even style.
There are different types of lunch containers on the market today, but not all are ideal for everyone. Stainless steel lunch boxes are great for dry food. In contrast, insulated food containers can hold different types of food that you can conveniently carry around with you.
If you're looking for the best lunch boxes for kids or even for yourself, you've come to the right page. Read below to find out which stylish and functional food containers suit you.
Related reading: Koko Lunch Bags And Totes For Women
Insulated Lunch Boxes And Bags For Children
If you will be carrying more than one container with you, it would definitely be a good idea to invest in one of the best-insulated food box brands today.
Many people tend to pack their meal and soup, a drink, and perhaps another snack for the afternoon.
Innovation over the years has made the latest insulated food containers more durable and more effective in keeping the food cool.
Despite their seemingly small size, any insulated food boxes actually have room for up to three containers without making them look bulky.
When it comes to cleaning, many food bags and totes are machine washable. To keep it in good condition, use gentle soap and a gentle cycle and allow it to air dry.
Rubbermaid LunchBlox Containers
When it comes to durability, you won't go wrong with the Rubbermaid Lunch Bloxes. These Rubbermaid containers provide you with options – or perhaps buy it as a set and get to use for various purposes. Rubbermaid Entrée Kit keeps food separate – say the salad from the dessert. Why bring just one meal when you can have a complete one?
Also included in the Rubbermaid Lunch Blox Series is their Sandwich Kit. As its name suggests, you can pack sandwiches or other bread. It also comes with two small containers where you can put sauce or a small serving of salad.
Now that you have these different containers, it would only make sense to put them in a bag. Black Etch is an insulated food bag that has been designed specifically for this Rubbermaid food container line. It features Blue Ice blocks to ensure the food is cold. Besides being durable, its design is sleek, making it perfect for professionals.
Star Wars Lunch Bags
Star Wars fans will definitely be interested in Star Wars lunch boxes. You can choose from designs such as R2D2 or Darth Vader. Not only are Star Wars sandwich boxes well-designed, but these also come with high-quality insulation to keep the food fresh until it's time to eat.
Cleaning it is easy – simply wipe it with a clean, damp cloth. Star Wars sandwich boxes are intended for kids aged 5 and up. And of course, it's also a great food box for grown-ups who are into Star Wars!
When shopping for your kid's lunch box, think about what suits your lifestyle and what types of food you usually bring for lunch. Which one of the best food boxes would you get?
Bento Food Containers
Are you a fan of Bento boxes? If so, you may want to take a look at these Bento food containers. There are two types of Bento food containers – some have compartments within a single container, while some have separate boxes.
Kids love Bento boxes as they can eat more than one type of food for lunch. If you think of getting them a dinner box from Bento with separate compartments, just make sure they will go home without losing one.
These boxes come in different colors, making them even more appealing to kids. However, it will always be a popular choice for people of all ages.
Stainless Steel Food Containers From LunchBots
The best stainless steel lunch boxes are the best choices for packing dry food such as sandwiches, burritos, or other on-the-go snacks. Its convenient size allows it to fit into bags without a hassle, and its lid is easy to open, making it ideal for kids.
But will it be easy to clean? Most of the best stainless steel food container boxes today are dishwasher safe, which means you don't have to spend a lot of time cleaning the food boxes and getting them ready for the next day.
The taste of your packed snacks won't linger, so you will not have to worry about smelling your food from yesterday.
Though stainless, some brands have painted lids to make them more colorful and appealing, particularly to kids. Overall, the best stainless steel food boxes are great for average-sized meals, dry food, and easy to clean and secure.
Stay-Fit EZ Heat and EZ Freeze Containers
Are you on the go? The Stay-Fit EZ Lunch Boxes may be what you're looking for. The EZ Stay-Fit food containers have containers designed for salads, soups, or complete meals. Its Lunch2Go container has a 3-way tray and also a compartment for utensils. It comes with a fork and knife, making it even more convenient.
Stay-Fit Soup/Meal container makes bringing soup to your work easier. It is secure and has a great design. Simply loosen the lid and place it in the microwave to reheat the soup. Remove the screw at the top of the foldable spoon.
If you want a handy food container, Stay-Fit is a good option.
Hello Kitty Insulated Lunch Bags For Kids
Both kids and grown-ups love Hello Kitty. It is no wonder then why a lot of people look for the Hello Kitty lunch bags.
Hello Kitty boxes and bags are made by Thermos are very cute, and girls are sure to love them.
It has room for a sandwich, thermos, and an extra snack.
BUILT NY Munchler Insulated Lunch Bags
Kids will love to bring their lunches if they have a fun bag to put them in.
How about character bags that kids will surely love, such as the BUILT NY Munchler Lunch Bag?
Once your kid sees how adorable these animal lunch totes are, he/she will definitely love to have one.
Your kid will need not be reminded to bring his lunch daily. The Munchler lunch bag for kids will be so delightful that he will never forget to pack his lunch into his animal lunch bag.
The Munchler bags come in different animal characters to suit your kid's preference and personality.
There are four animal designs to choose from – Meadow, Lefty, Boo, and Benny. They'll be your kids' lunch companions and friends.
Meadow the Bunny
The BUILT NY Meadow Munchler bag is a green bunny, the color of fresh grass growing on a meadow. If your child loves rabbits and bunnies, let Meadow keep her lunch.
This bag can insulate food for up to 4 hours, so your child will have warm or cold food by the time the lunch bell rings.
This bag also has an extended ear, just like a real bunny. And this is also used as the handle of this cute container.
Lefty the Man's Best Friend
Lefty is a spotted dog insulated bag that will always remind your kid of his beloved dog at home. He will indeed feel good having another "canine" close by.
If he has a great love for canines, Lefty is the best pick from the BuiltNY Munchler line. Another dog-themed bag your kid will love is the Skip Hop Zoo Pack Little Kid Backpack Dog.
Let your kid feel like he's an honest and loyal best friend who is just nearby by giving him this insulated bag by BUILT NY.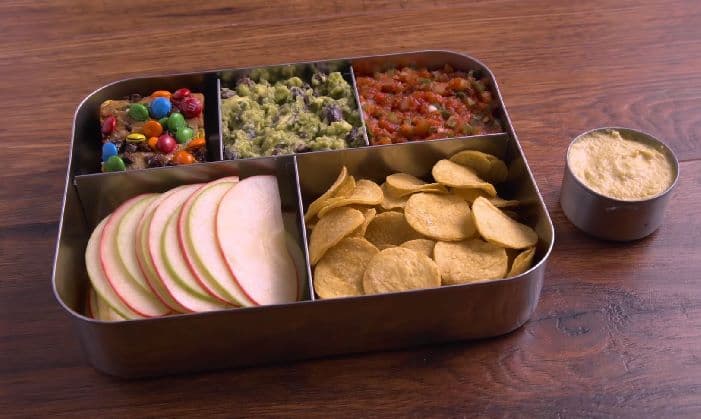 Boo the Panda Bear
For timid kids, Boo would definitely fit in with their personality. Pandas are always viewed as friendly and kind animals.
In the same way, the Munchler Lunch bag is a friendly insulated bag for kids. These items are free from lead that can cause harm to your children.
Children will totally love to bring their lunch in one of these smart bags.
Benny the Tiger
This Munchler food bag comes in color yellow with a tiger print. Kids from 4 to 14 years old will go nuts over this lunch container.
Just like the other designs from the BuiltNY Munchler line, Benny will be a great lunch companion for your little kid.
Maybe, if you get your kiddo a Benny insulated lunch bag, he can carry along his snacks with him anywhere.
Read more: Best Insulated Lunch Bag You Can Buy
Funky Safe Food Bags
The Munchler bags are made from polypropylene plastic that is certified to be lead-safe. The bags have little handles made for kids' little hands.
The designs are derived from the designs of Stephen Savage, an award-winning children's book illustrator.
Placemat and Bag in One!
All these bags unzip completely to become placemats. This is an advantage since children can be a little messy when they eat.
So with the BUILT NY Munchler food containers, you are secure that your children are eating their lunch and leaving their places clean.
By unzipping completely, they can easily store the bag flat into their knapsacks once they've eaten their lunch.
Aside from the Munchler food containers, the Skip Hop Zoo Owl Lunchies Bag and Skip Hop Zoo Pack, Little Kid Backpack Dog are a few animal-themed insulated bags that kids will find adorable.
Besides being cute, these bags and boxes are also designed with high-quality insulation to ensure that your kids' healthy meal is fresh. It is safe for kids aged 5 and up.