Jura Impressa S9 Classic One-Touch Automatic Coffee Maker And Espresso Machine Review
Jura Impressa S9 Automatic Coffee Center allows you to make your perfect cup of espresso, cappuccino, or latte in less than 60 seconds with a simple push of a button. It is one of the fastest and most versatile machines of its kind in the market today.
The Jura S9 Classic espresso machine can make various types of beverages as well as an unlimited amount of hot-frothed and steamed milk for cappuccinos and lattes.
It features two stainless steel-lined thermoblock heating systems with a 96-ounce capacity, a traditional frother, and its own automatic froth Xpress Plus system.
You can make sure that the Jura Capresso S9 is a complete hot beverage center because it also offers a separate hot water spout for tea, a separate ground coffee funnel as well as a stainless steel warming tray.
The S9 is well suited for use at the home, office, and small restaurant. It is not an espresso machine for beginners.
Jura Impressa S9 coffee maker has been discontinued. Check out these currently available models here!
Jura Impressa S9 Classic vs Avantgarde
When I started researching this product, I got confused. Various sources mention visually different models – silver Avantgarde and black Classic.
It was easy to figure out that these are different iterations of the same model. When the silver S9 was launched in the early 2000s, it was the latest appliance model in their lineup. They named it Jura S9 Avantgarde.
Then a couple of years ago, it was replaced by an updated black model, and it was renamed S9 Classic.
Jura S9 Features
Decalcifying will not be a problem as S9's 96-ounce container is removable and has a Clearyl water care system.
Chilled milk can be heated, siphoned, frothed, and dispensed cup after cup because of Impressa's built-in Xpress Plus system.
For lattes, the setting can be tweaked so that the appliance can produce hot steamed milk minus the foam.
Built-In Steel Grinder
You will drink your preferred type of brew as it comes with a commercial solid steel conical burr grinder with 6 fineness settings.
This One-Touch Espresso machine also allows you to tweak settings such as temperature, strength, and cup size while brewing. It comes with 4 one-touch individually programmed beverage buttons that each come with unique rotary dials.
One-Touch Cappuccino
This feature allows you to prepare a cup of cappuccino, coffee, latte macchiato other hot drinks with the help of a single button.
All you have to do is press the button and wait for the results while you are free to do something else. The machine will do all the work for you, and you do not even have to move your cup. Come back and receive a fully prepared nice cup of joe.
Bean Monitoring
If you have ever experienced a lack of been juice in the morning because your grinders were empty, this feature will end it for you.
The Active Bean Monitoring feature helps to check levels of coffee beans in the container at all times, so you know when to refill it, and so you do not get a shock first thing in the morning when you are running late.
Adjustable Spout
Not all cups are of the same size, and different types of beverages also require different mugs. The adjustable coffee spout feature eliminates any issues arising from that.
The spout height can be adjusted from around 3 inches to 6 inches so that many different sized mugs can work with this machine. This also makes it very versatile and easy to use when you do not have too many same-sized cups around.
Graphic Display
You'll likely be completely lost when you first receive your device. The graphic display helps one to see the next steps in the process clearly.
Instructions such as the "fill the water tank," "press rinse," and "empty tray" help one see and understand clearly and makes the experience a whole lot easier and faster.
3 Temperature Settings
Not everyone loves their espresso hot. Some like it lukewarm, and some cold. One temperature setting can be bothersome for anyone who prefers all three or has a big family with different preferences.
The S9 comes with three water temperature settings of Low, Normal and High, so you can receive your perfect cup at your preferred temperature and have the option of changing it up as well if you decide to change your mind.
Energy Saving
While some electric devices waste a lot of energy, some appliances can be more efficient and energy-saving.
It comes with multiple levels of Energy Save Modes, so one can choose the one they want at particular times and save energy while enjoying their beverage. This feature makes this machine wonderful for times like right now.
Self Cleaning Programs
While some find it hard to use machines, others find it hard to keep them clean and hygienic. The Jura Capresso Impressa S9 comes with prompts and automatic rinsing features.
Users can clean this manually if they wish to. When they are running short on time, they can simply opt for the very convenient automatic cleaning to clean themselves while in use.
Specifications
Jura Standards
Variable brewing unit 5 – 16 g
Grinder Aroma+ grinder
Thermoblock heating system 2
Filter cartridge CLEARYL White
Programming Features
Programmable and individually adjustable amount of water Yes
Programmable and individually adjustable coffee strength (Levels) 5
Programmable brewing temperature (Levels) 2
Programmable temperature of hot water (Levels) 3
Programmable switch-off time Yes
Capacities
Height-adjustable coffee spout 2.6 – 5.8 inches
Water tank capacity 90.3 oz
Bean container holding capacity 9.9 oz
Coffee grounds container (max. servings) 16
Dimensions
Weight 26.2 lbs
Width 13.6 inches
Height 13.8 inches
Depth 15.4 inches
User Reviews
Jura is a trusted name in the line of anything related to coffee. So it does not come as a surprise when customers warmly receive the newest release of their product line.
People who have used Jura Capresso S9 have said that they love how the coffee machine is easy to use and can produce a brew based on their preferences.
Thanks to its low noise construction, customers can ensure that the S9 will not be making noise while brewing their cup of joe.
Comparing the price of the coffee sold in trendy restaurants, homemade java using this machine is much cheaper and is of the same quality.
The controls are easy to understand. Even newbie baristas with minimal knowledge of coffee will enjoy making classic drinks using it.
The features do not also need enhanced editing, as most of the levels are pre-adjusted to make an optimum cup of java. Its self-rinse method basically means it cleans itself, and extensive knowledge of its own status lets it make the user aware of the need for manual rinsing.
It can calculate the levels of the materials it can use and add in many factors to make each drink unique in its way.
Just like every complicated piece of machinery, the S9 requires regular cleaning and maintenance. Failing to do that can cause durability issues, especially maintenance has been neglected for a long time.
Take care of your espresso machine, and the Impressa S9 Classic will let you enjoy all benefits of the best espresso maker money can buy.
Pros and Cons
The Jura-Capresso is reputed to make coffee as soothing as anything bought at a café. The frothXpress feature makes it a very straightforward process. There is also a manual setting that allows you to froth your coffee yourself just the way you like it. It enables you to control the amounts of every ingredient.
It has a unique automation system that oversees the milk temperature, pressure amongst other things. These affect the taste of the coffee. It is self-cleaning and self-monitored. A screen displays helpful alerts to notify you when needed.
It can be a tad bit costly, especially for people who cannot spot the difference between high-quality coffee and regular coffee. If you are meticulous about the taste, then opt for this machine. Also, in my research, I found that it is a sensitive machine, and the display can sometimes act faultily.
The Jura Impressa S9 Avantgarde is a straightforward machine to use. It can make coffees, lattes, espressos, and more. You can program it to make drinks of your choice. According to my research, the temperature controls are better than other coffee machines.
It only requires one press, then it will make your coffee for you. It has an auto-rinse feature. Also, the coffee grinder proves to be very efficient. One minor issue is that there is no button for making Americanos, which might be inconvenient for some.
Jura S9 vs XS90
If you are trying to figure out the differences between Jura Impressa XS90 and S9, I have done my research for you. The Jura XS90 is the commercial version of the S9 for users who need around 50 cups per day.
Here is the comparison table.
| | S9 | XS90 |
| --- | --- | --- |
| Recommended maximum daily output | | 60 |
| Water tank capacity | 90.3 oz | 190.7 oz |
| Coffee grounds container (servings) | 16 | 40 |
| Capacity of bean container | 9.9 oz | 9.2 oz (extendable to 25.7 oz) |
| Weight | 26.2 lb | 30.4 lb |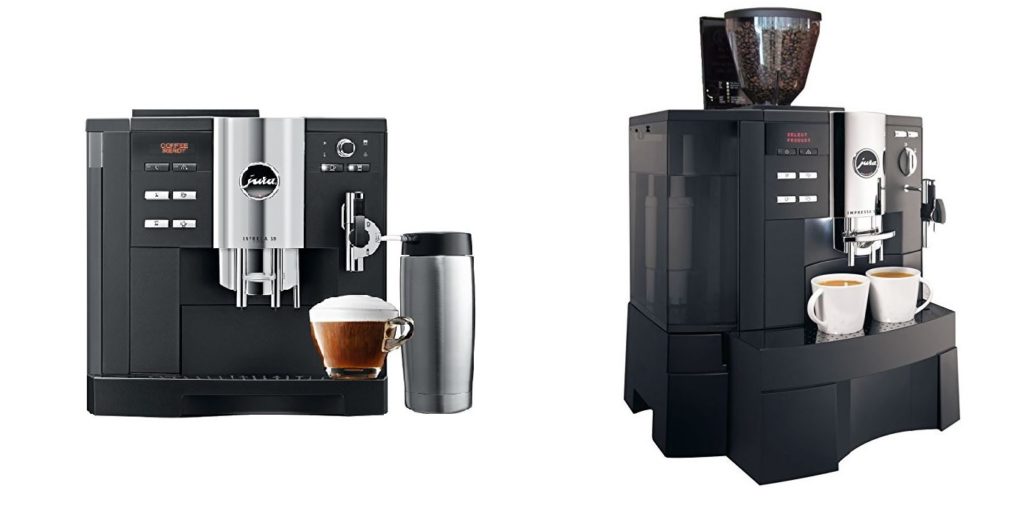 I am working on the comparison of Jura S9 vs C9 vs F8.
Box Contents
You will find these items in the package*:
machine,
cleaning tablets,
water filter,
instructional DVD,
water hardness testing strip,
grinder tool,
instructional video cassette,
reorder forms for tabs and filter
*The included accessories are subject to change.
Frequently Asked Questions
Is Jura Impressa S9 discontinued?
Yes, the Jura Impressa S9 coffee maker is discontinued.
What are Jura Impressa S9 alternatives?
Here are a few alternatives to Jura S9 Impressa for you to consider.
Jura Impressa S9 coffee maker has been discontinued. Check out these currently available models!
Conclusion
For all the coffee enthusiasts out there, these machines are two fine choices to consider. While the Jura Impressa S9 Avantgarde is on the pricier side, it has some fantastic features. These will allow you to get the coffee just according to your liking, with the correct amount of froth, sugar, and heat.
It only requires one push to get your desired form of coffee. You can even adjust the temperature and grind the coffee beans. It is excellent for those who want a more streamlined experience. Keeping all these factors in mind, you will make your best choice!
Related Articles