Nutrichef Vertical Multi-Function Rotisserie Oven AZPKRT97 Review
While it may be true that eating outside is more convenient, nothing beats satisfaction from a home-cooked meal. If you are into cooking, one of the things that will surely be important for you is having the suitable types of equipment that will be needed to prepare the foods you want to eat.
There are different kinds of foods that can be prepared in the comfort of your own home. One of them would be rotisserie-cooked chicken. If this is what you want to cook at home, you must ensure that you have Nutrichef Rotisserie to help you prepare a perfect dish.
This product is very portable, and you can even bring it with you if you decide to go on a picnic or any other out-of-town trip, given that there is a source of power.
With Nutrichef, you no longer have to worry about the things you will need for rotisserie as it has the essentials you will be looking for.
Nutrichef AZPKRT97 Upgraded Multi-Function Vertical Countertop Rotisserie OvenCheck Price
3 Essential Features of a Rotisserie Set
Complete Set – Aside from the main equipment needed for rotisserie cooking, it is also essential to buy a product that already includes all other required utensils, such as the tray and knives.
Good Appearance – If you love to cook and prepare foods, it is apparent that you would want to fill your kitchen not only with functional appliances but those which also have an aesthetic value. In fact, they can help make cooking a more fun activity.
Durability – No one would want to buy kitchen equipment that does not last long. It will be nothing but a waste of money and can cause frustration. With this, make sure to buy a rotisserie set that can withstand the test of time.
Nutrichef AZPKRT97 Rotisserie Reviews
One of the Nutrichef Rotisserie features that makes it a good option is that it is upright or vertical. Most of the rotisseries and toaster ovens in the market are in a horizontal position, making them consume a lot of space in the kitchen, unlike this product which will surely not eat much of your space.
As there is no electronic touchpad control or LCD screen, operating this equipment will surely be a lot less complicated. Additionally, it also has a steel housing that makes the product durable and classic-looking.
You also no longer have to buy additional accessories and appliances when you buy this product. It comes with the other things you will need, such as a skewer set, tray, and basket.
You will find all of the essentials in rotisseries within one package, making it worth the investment. It even comes with a recipe book to help you prepare more foods and improve your cooking.
The auto shut-off function of this product makes it even a more attractive item to purchase. You no longer have to worry about over-roasted chicken. You can be sure that your food will be prepared perfectly and roasted evenly.
If you are looking for a healthier alternative type of oven to the foods which you traditionally prepare, this product is a piece of essential kitchen equipment as it will allow you to cook something in which the unwanted fats are already removed, yet the flavor and the juice remain.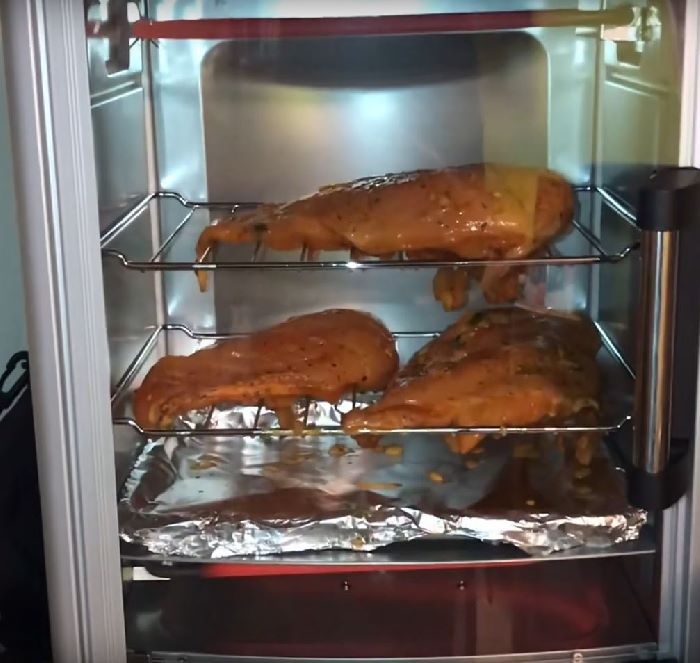 Nutrichef AZPKRT97 Specifications
Heating Element Power: 1500 Watt
Max. Time Setting: Up to 60 mins
Max. Temperature Setting: Up to 464°F (240℃)
Capacity: 24+ Quarts
Power: 110V
Unit Dimensions (L x W x H): 13.4" x 12.2" x 18.9"
Nutrichef Rotisserie Oven Customer Reviews
One of the things that have been commonly applauded by the customers who bought this item is that it has a light which, when turned on, can allow you to monitor the progress of cooking. Customers also praised that it already includes the essential accessories which will be needed in a rotisserie.
Users have also been happy with the functionality of this product. In addition, it is also straightforward to operate. Aside from simplicity in operations, it is also simple to clean and maintain, especially with a drip tray.
Perhaps the best thing about this product is that it allows users to have equipment that will enable them to cook and eat healthy foods without leaving their homes. To roast their food, you no longer have to deal with smoke and unwanted odors.
Some users note that even this unit appears functional and can be used easily. The outcome is not as satisfactory as expected, such as being dry. Also, the chicken is not marinated constantly, unlike in the case of horizontal rotisserie.
What's In The Box
The Nutrichef Rotisserie comes with a stain-resistant & easy-to-clean kebab skewer rack, bake pan, and grill racks.
Conclusion
Overall, the Nutrichef Vertical Multi-Function Rotisserie Oven AZPKRT97 is an excellent choice for cooking delicious and healthy meals at home.
It is easy to use, cooks quickly and evenly, and is packed with features to ensure your food is perfectly cooked. The easy controls and timer make it easy to keep track of the cooking process and adjust settings accordingly.  The vertical design also makes it easy to store and takes up very little counter space.
With its great features, affordable price, and reliable performance, this oven is definitely worth considering when looking for a rotisserie oven.