Best Expensive Toaster Oven Review & Buying Guide [Updated 2023]
If you shop for the top-rated and bestselling toaster oven, you should keep reading my best toaster oven reviews. You will learn about the best and top-rated toasting ovens and find out where to get the steepest discounts and best deals.
These days prices of this type of oven are decreasing so quickly. There are not many reasons to continue using the regular toaster. Just save a bit more money and get a more advanced cooking tool!
Best High-End Toaster Ovens
Are you ready to spend more than $200 or even $500 for the top-of-the-line oven?
There are times when you are genuinely grateful for a toaster oven. Let's say you want to reheat a small meal. It is not economical to heat up your full-size oven for that. The toaster oven does this and ensures you don't pay extremely high utility bills.
The traditional oven will take up too much space in your small kitchen, making your area appear squeezed. A toaster oven is smaller in size and can be placed on different sections of the kitchen, saving you space.
Manufacturers always try to provide better versions of their products. That is why we now have various high-end toaster ovens that can perform multiple functions. You can get one that can broil, toast, roast, steam, air fry, reheat, and slow cook, among others. Some can perform as many as 13 functions.
Today, most people put more thought into the toaster oven they buy to enjoy the various features and benefits. These are some of the high-end ones you can consider.
Features of Expensive Toaster Ovens
Roomy interior – 1 cubic foot or more
Multiple heating elements located above and below the food
Electronic display
Multiple speed convection fan
More than a dozen pre-programmed settings including Toast, Bagel, Broil, Bake, Roast, Warm, Pizza, Proof, Airfry, Reheat, Cookies, Slow Cook, and Dehydrate.
Yes, the dehydrator toaster oven now is the reality with the new Breville BOV900BSS.
#1 BALMUDA KO1M-KG Steam Toaster Oven
BALMUDA The Toaster K01M-KGCHECK CURRENT PRICE
The Balmuda KO1M-KG steam toaster oven is from Japan. It is among Japan's Domestic genuine products, and that's why it is highly recommended. It is black in color. It fits nicely in your kitchen and dining room.
The Balmuda has a timer that you can set from 1 to 10 minutes of 1 to 15 minutes.
The KO1M-KG Steam Toaster Oven comes with additional items, including a Japanese guidebook, a manual to guide you in using the appliance, and 5 cups. Note that the manual is also in Japanese.
Cooking is easier since the appliance has five toasting modes, French bread, classic, toast, croissant, and cheese toast. These will give you delicious meals.
The Balmuda KO1M-KG has a spectacular toaster. When using it, it gives you the best texture and fragrance. Since you can control the temperature and use its steam technology, you will end up with a freshly baked and moist toast that resembles the one that has just been baked out of a kiln.
The KO1M-KG comes with steam technology. The moment you start using it, the cabinet becomes full of steam. A thin layer of moisture settles on the surface of the bread.
Moisture heats up quicker than gas, which is why you may notice that the upper part of the bread is slightly burned. Moisture and butter are kept intact, and the process of baking then begins.
Balmuda oven has excellent temperature control. It is designed with 3 different temperature zones to provide the best condition for the toast you prepare.
There is a temperature that turns water to steam and allows your bread to be moist. Another temperature setting is suitable for warming the inside part of the bread. The third temperature helps to give bread its color and make the outer part crispy. The result is the best taste of bread.
The KO1M-KG Steam Toaster has a smart and classic design. The theme used in its design is a modern classic. It will add beauty to your kitchen.
Many users report that buying the Balmuda toaster oven is one of the best purchases they have made in their lives.
The toaster has simple controls, and that's why some people buy it for their elderly family members.
Some users have expressed their disappointment with the fact that the instruction manual is in Japanese. They said they would have loved to have one in English so they could understand it. However, some people said they received translated instructions from their distributors and were therefore happy about it.
#2 Tovala Gen 2 Smart Steam Oven
Tovala Gen 2 Smart Steam Large Countertop WiFi OvenCHECK CURRENT PRICE
The Tovala Gen 2 is a steam oven that uses an app and is considered to have a 'brain.' This is because it operates as a professional chef. This appliance can be placed on a countertop.
It can be connected to Wi-Fi and then paired with the Tovala mobile app to enable you to enjoy its unique cooking features.
The Tovala is a small, black steam oven. It has a variety of cooking modes such as baking, toasting, steaming, reheating, and broiling. Steam, bake and broil your leftovers to end up with perfectly reheated meals.
You can control the Tovala Gen 2 smart steam oven (particularly the baking, steaming, and broiling options) from your smartphone. Your phone acts as a remote to ensure you get the perfect results.
The Tovala app comes in handy if you are a busy person or just want to save time. It comes with a library of recipes that you can automate. Therefore, you don't have to start guessing or going online looking for recipes and timings.
This means that you don't have to spend time doing meal prep. Therefore, cleaning up is also easy. There are recipes for breakfast, lunch, dinner, and also for kids.
The Tovala Gen 2 can expertly prepare store-bought food. The only thing you need to do is scan the food's barcode and then press the start button.
It is easy to prepare Tovala meals with this appliance because it has a smart oven that understands how perfectly each meal should be prepared. After scanning the Tovala meal barcode, the steam oven is ready to start its magic.
There are professional chefs who prep and deliver Tovala meals every week. If you don't want to prepare a home-cooked meal from the start, you can have your Tovala food delivered, and then you just scan it and let it cook.
The appliance comes with a measuring cup, a crumb tray, an oven rack, a manual for operating it, recipe cards, a sheet tray, drain pipe, steamer cover, and a hot pad.
Some people find it challenging to prepare meals in the oven without the internet. The appliance works with Wi-Fi, and so this has hindered some people from using it.
#3 Wolf Gourmet WGCO100S
Wolf Gourmet Elite Digital Countertop Convection Toaster Oven WGCO170SRCHECK CURRENT PRICE
The Wolf Gourmet is a red oven that is usually placed at the countertop. This oven makes cooking a joy because of all the features it has. An example is a spring-loaded door that makes it easier to open and prevents heat from escaping from the kitchen appliance. It is made out of stainless steel.
This appliance gives you the freedom to prepare a variety of foods because it has 6 cooking modes. You can do some warming, toasting, broiling, proofing, roasting, and baking. You also get perfect results for every meal you prepare.
The Gourmet enables you to prepare both snack foods and a complete home-cooked meal. You can bake biscuits in it or cook salmon or an entire chicken.
The Wolf Gourmet WGCO100S is designed with an integrated temperature probe. It is located on the LCD display, and you can easily set it with one hand. This allows you to set the internal temperatures you want for preparing your meat. Your food will come out perfect, and you don't even have to open the oven door to keep checking on it.
It comes with three rack positions, so you are not restricted to using only one particular setup.
The interior part of the Wolf Gourmet oven is non-stick. Thus, no food gets stuck in it. The crumb tray can be removed and placed back in the oven. These two features make it easy to clean the appliance.
The Gourmet WGCO100S has advanced convection, which comes with advantages. It means that heated air is circulated faster inside the appliance. Also, there are no hot spots in the appliance because the Gourmet oven has 5 heating elements. Therefore, food cooks more quickly, baking is uniform, and you get fantastic caramelization. You will actually realize that your cooking time has been shortened by about 25%. Advanced convection comes in handy when baking or roasting food.
It comes with a 5-year warranty. This means that you don't have to worry about losing your money because you'll use it for a long time.
Some users feel that the Wolf Gourmet takes a long time to prepare toast. They reported that it is faster when using the rest of the cooking modes but takes time when it comes to toasting. Others did not mind the 7 minutes it takes to prepare toast because it always comes out perfectly.
Other users said the Gourmet oven is perfect but only wished it had an interior light.
Some people mentioned that the appliance beeps so much. It does that when you turn it on, off, and when your food has reached the desired temperature. However, others did not mind the beeps.
#4 Breville BOV900BSS The Smart Oven Air
Breville BOV900BSS the Smart Oven Air Fryer Pro Countertop Convection Oven,CHECK CURRENT PRICE
Breville BOV900BSS is one of the latest additions to the brand's toaster oven lineup. It has been named as the best toaster oven Consumer Reports has ever tested. That looks like a convincing testimonial.
While it shares multiple features with the Breville BOV650XL model and Breville BMO870, Air Fry and Dehydrate modes are new features. If you are shopping for a toaster oven and also for a food dehydrator, it is a good idea to do some math and consider buying one appliance instead.
If you are looking for an oven that you can use on your kitchen countertop to roast meals for large groups of people, then the smart oven Breville BOV900BSSUSC will serve you well.
This appliance will make your French fries crispy just the way you like them. It is faster and saves you about 30% of the time you would have spent if you used the regular oven.
The Breville has super convection technology. It has a regular and super convection fan, which gives you more control when preparing meals.
It also makes it possible for a lot of hot air to circulate the food, making the meal cook faster and more evenly. If you want to roast, air fry, or dehydrate foods, then it will do that excellently.
The smart oven has precision cooking and element iQ. This means that you'll get the perfect cooking results since the appliance has both iQ-6 and the technology that helps sense and control PID temperature, courtesy of Breville.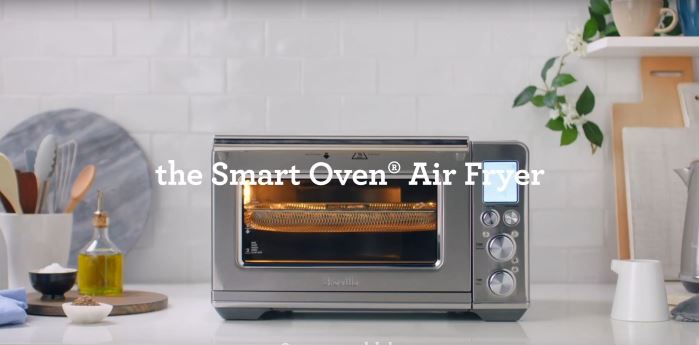 During cooking, it can determine which part requires more power, which is below and above the meal being prepared. It then takes energy to those places and enables your food to cook well.
When you purchase the Breville BOV900BSSUSC, you don't have to buy a dehydrator or an air fryer because it performs these functions. It allows you to dehydrate about 4 trays of food. You can also prepare your French fries in it, and they will come out great.
This appliance has an LCD Display. This makes it easy to control its intelligent functions because you can clearly see them written on the screen. For example, there is toast, reheat, warm, slow cook, and bagel.
It has a total of 13 functions which would be difficult to control without an LCD Display. When you are done cooking, the oven light goes off. You can also choose to switch it off by pressing a button.
The interior of the oven is large, which gives you more space to prepare more food. For example, it can fit 9 slices of bread and muffin trays with 12 cups. You can even cook a 14lb turkey in it.
It has 8 different positions for putting in the rack. Therefore, you can cook various meals and choose the height that will give you perfect results for each meal.
Some users reported that their Breville Smart Oven stopped working after a few months of purchasing it, and they didn't know why. The users took them back since the product has a 2-year warranty.
Other people said that the glass shattered during the cooking process. These users insisted they maintain the preset setting recommended.
Despite these reports, this is one of the best toaster oven air fryer dehydrator combo models available at the moment.
#5 Breville Smart Oven / Plus / Pro
Have you been looking for an oven that can complement your kitchen? Or a stylish oven for a gift?
Well, Breville Smart Ovens will be perfect for you. As a gift idea, it will be magnificent, and the receiver will genuinely love it. As a kitchen appliance, for sure you will love it.
Breville BOV800XL vs BOV810BSS vs BOV845 Ovens
There are 3 similar models available:
Breville Smart Oven BOV800XL
Breville Smart Oven Plus BOV810BSS
Breville Smart Oven Pro BOV845
There are few differences – only the number of functions and available colors.
What Breville BOV800XL Smart Toaster Oven can do?
Breville Smart Oven is an oven toaster that can also be used as a conventional oven. You can bake, broil, and toast using this product. It is easy to use and makes perfect outcomes, especially if you follow the right recipes and instructions.
Breville BOV800XL has a modern and elegant style to match your beautiful kitchen. It is an 1800- watt convection toaster oven with a 4/5- cubic foot non-stick interior for an easier, hassle-free clean-up. It is also incorporated with Element IQ technology which allows smarter control over the heat.
Choose from 9 pre-set functions
Have 9 pre-set functions to choose from; Toast, Bagel, Roast, Broil, Pizza, Cookies, Reheat, or Warm. Each comes with its own pre-programmed temperature and cooking time to get rid of the guessing and allow you to relax while cooking.
If you don't have a big range oven and you love to bake and broil, and you're also looking for a toaster oven, Breville BOV800XL is just the thing for you. You can make pizza, cookies, biscuits, and bagels using just this oven. It is less bulky and space-saving, perfect for small kitchens and countertops.
Breville BOV800XL is more than just an oven
Breville BOV800XL, the Smart Oven 1800-Watt Convection Toaster Oven with Element IQ, is very much advanced in every way. It may be function, capacity, ease of use, and cleaning. The design is excellent, and the quality is great as well.
Included accessories
The set includes an auto-eject wire rack, removable crumb tray, pizza pan, baking pan, and a broil rack!
Breville BOV800XL Oven has a user-friendly control panel, LCD screen for easy monitoring and offers 3 rack positions.
If these toaster ovens are too expensive for your budget, please take a look at my best budget toaster oven review.
Top Toaster Oven Features Explained
With the diverse number of features being offered by brands today, it's easy to get uncomfortable when you come by some features that aren't very self-explanatory. This article gives potential buyers a decent outlook towards the toaster ovens, helpful enough to make a well-thought-out decision.
And so, this part of my article offers a guide to some features that people need to know more about before getting their hands on a toaster oven. These features may not be in your favor in all cases. So I strongly suggest going over these and debating reasonably on which feature suits your needs and which does not.
Rotisserie Cooking
A basic but important feature in a toaster oven is rotisserie cooking. This feature facilitates the proper rotation of the plate on which food items are kept on. But often brings in more trouble than you asked for in an oven.
It assists in even cooking food items due to the rotational feature. But a very frequently noticed aspect of it is this feature is primarily available in larger-sized ovens like Nutrichef Rotisserie oven. And hence if you're short in space, that'll be a problem for you.
Other than the space-consuming aspect to it, the rotisserie cooking feature includes a very tough-to-clean plate. Customers have noticeably pointed out the trouble they have to face to clean that plate.
Adjustable Rack Positions
Ovens heat food items by evenly distributing heat from all possible sides of the chamber. And it is no rocket science knowledge that the appropriate heat distribution is not the same for all types of food items. And that is where the significance of oven rack positions comes in. This feature facilitates better-cooked food items and helps to avoid uneven cooking.
The absence of this feature is a huge drawback that I personally would not want in my oven. Without adjustable oven rack positions, the oven limits the diverse categories of food items that can be cooked in it.
The oven chamber is engineered as such that most of the heat gets stored in the upper area. So, if you want your food to be crunchy, you can put the item in the upper rack of the toaster oven. And for decent heating of food, I'd suggest the lower plate to put the food item on. It is essential to know which food needs to be in which rack position.
Pizza Cooking Option
I believe I speak for many potential toaster oven buyers when I express our evergreen love for pizza. The mouth-watering combination of meat, cheese, jalapenos, onions, pizza sauce, etc., laid out on a perfectly done crust is not easy math. So when you're looking at your choices for toaster ovens, I strongly suggest keeping an eye out for them.
However, if your desire for pizzas is not as severe as ours, you could probably skip this feature.
Convection Fan
The convection oven feature is undoubtedly a must-have, at least in my opinion. So in our typical ovens, the heat supply runs from bottom to top, and hence, the bottom part gets more heated than the upper part. This uneven supply of heat results in prolonging cooking time, which obviously none of us wants.
What the convection fan does is: distribute the internal heat more evenly and promote faster cooking. Not only does it make the cooking process faster, but it also cooks the food more evenly than ever. This feature gives you access to cooking various food items, that too within less time.
I would also like to point out that not all food items do well with this convection fan feature. The user's manual will help you out to distinguish those food items. So whenever you don't need the feature, you can just turn it off.
I hope these features will give you a better insight into how you want your toaster oven to be. Keep in mind that you don't really need all features ovens can offer. It's crucial to choose the desired features based on how you want to use your oven.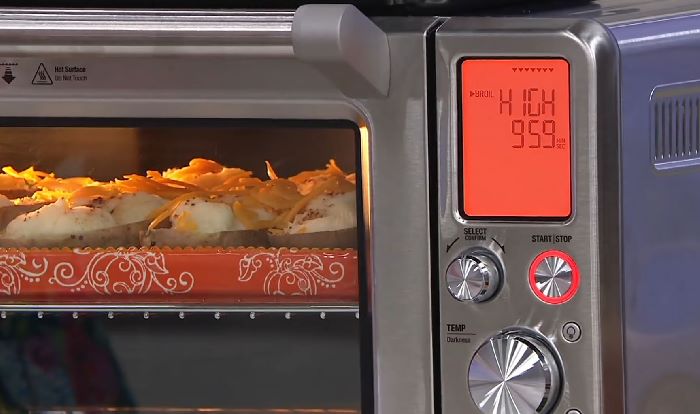 Interior and exterior dimensions
Cheap entry-level ovens can handle only two slices of bread. Not a significant increase in efficiency in comparison to your old appliance.
Check out larger ovens – they can do 4 or even 6 slices. Sounds just about right to me. If you are into cooking a homemade pizza, get an oven large enough for 9-or 12-inch frozen pizzas.
Easy To Use Controls
There are simple ovens with only 3 controls – timer, temperature setting, and cooking functions. These are great for making toast and reheating leftovers and can be operated even by kids and elderly people. If you are planning to do some baking, you need to look for something more advanced.
Security Features
The first thing I would look for is the automatic shutoff feature. Another great to have feature is the auto-eject rack. It will help you avoid burning your fingers when you need to remove hot food from the oven.
Ergonomic Features
My must-haves are the front-access crumb tray which can be completely removed from the oven. Have you tried cleaning non-removable try? I have. That's not something I am looking forward to doing again.
Frequently Asked Questions About The Toaster Ovens
What is a Toaster Oven?
People usually throw around the term toaster oven, and you may wonder what it is. This is simply a smaller version of the conventional one.
It is small and electric and made up of a front door which is usually opened manually. The interior part contains a wire rack and a baking pan where you place your food. The pan is removable.
It can brown foods, but a microwave can't. It also takes up less space on the countertop compared to a microwave oven.  It also makes foods crispy, which is something the microwave can't do.
It takes up less space and uses more electricity than the regular oven. The toaster is more functional.
Just like the name suggests, this appliance is mainly used for making toast bread. However, it does much more than that. You can use it to make bread and desserts such as cakes, pie, muffins, cookies, and potatoes and cook fresh foods.
If you have a big one, you can cook an entire chicken in it. This kitchen appliance is best for reheating meals and snacks such as French fries and cooking frozen foods. The regular one is majorly used for toasting.
The interior space is smaller than that of an air fryer. It uses heat to cook food, while an air fryer uses hot air that circulates fast inside the appliance. An air fryer is smaller than a toaster oven.
You can read more about the mini models here – the Best Small Toaster Oven review.
Toaster Ovens vs Toasters – What Are The Differences?
Regular toasters and long slot toaster models are excellent in doing one and only one thing – toasting slices of bread. It is a very specialized tool.
This appliance can help you to accomplish a lot more different tasks. Starting from roasting nuts, seeds, and garlic or melting cheese on your sandwich. Thinking about baking?  It can even bake some fresh cookies and cook a pizza!
In addition to that, the toasting oven can be a perfect replacement for the microwave oven. Some people say that microwaves are harmful and can destroy products. Here comes the alternative – a toaster oven.
Where Can You Find Gourmet Toasting Oven Recipes?
More often than not, it is not enough that you have a high-quality oven toaster. It is also critical to know how it can be used properly and, more importantly, what can be done with such. It is not enough to just use it to toast bread, as many other functions can prove beneficial.
To maximize the use of your oven toaster, it will be good to have one of the recipe books available in the market at reasonable prices. With these, you will be confronted with limitless ideas of what to create using the toasting oven.
We are still working on our fav recipes list. Got any great recipes? Please leave a comment!
Do toaster ovens have the same cooking times as regular ovens?
The toaster oven takes a shorter time to cook compared to a regular oven. A toaster is smaller, which makes it absorb heat faster, and it has a better ability to maintain heat. That is why it is quicker to cook with it.
What do I do to take good care of my toaster oven?
The appliance's features determine how you should take care of it to enable it to stay in good condition. For example, some have non-stick interiors, which means that food will not get stuck in them.
It also means that you should not use abrasive cleaners with this kind of oven to prevent the protective layer from peeling. Mild soap and water are enough to clean it.
What are the signs that the food is ready?
A toaster oven has a cycle it goes through during cooking, and once the process is over, your food will be ready. Some toasters have a timer that goes off when food is prepared. You may hear a bell or a buzz when that happens.
Others come with specific settings for different kinds of foods or snacks. After cooking for a given time and temperature, it will just go off.
If you go for the advanced models, you will realize they are designed with heat sensors. Their job is to determine how long a particular cycle should last. The appliance will stop cooking after that period.
What is the best microwave and toaster oven stand?
This cart with locking wheels has a lot of positive reviews.
Whitmor Supreme Microwave Cart with Locking Wheels – Chrome with Food Safe Cutting BoardCheck Price
How long to preheat the toaster oven?
It depends on the oven's wattage and selected temperature. It may take only 5 minutes for the 1800-Watt BOV800XL to reach the working temperature. If you have a less powerful model, aim for 10-15 minutes.
When was the toaster oven invented?
The first toaster oven was developed in 1909 by the Pacific Electric Heating Company and sold under the Hotpoint brand.
What to place under a toaster oven to protect the countertop?
The toaster oven is designed in a way that makes it virtually impossible to ignite anything outside it.
But if it makes you more comfortable when putting your toaster oven on wood countertop, you can put any of these items under the oven for additional safety and discoloration prevention:
steel baking sheet
glass cutting board
ceramic tile
What is the best toaster oven for seniors?
Coming soon!
What is the best large capacity convection toaster oven?
Coming soon!
Conclusion
In conclusion, when it comes to finding the best expensive toaster oven, it all boils down to personal preference.
While some might prefer a traditional toaster oven, others may opt for a more modern model. Ultimately, the most important factor is ensuring that the toaster oven you choose is the right size and has the features you need.
With the right knowledge, you can find the perfect toaster oven that meets your needs and fits within your budget.