Breville BMO870BSS Review – The Combi Wave™ 3 in 1 Oven Preview
In my Breville BMO870BSS Review (preview, actually) I will lay out what I have found about the new Breville oven – The Combi Wave™ 3 in 1.
The Breville BMO870BSS combines 3 oven types in one appliance – air fryer, convection oven and microwave.
The brushed stainless steel oven features tried and tested Element iQ system that provides power where and when it is needed for perfect results.
This oven is not yet available for purchase on Amazon, but I found it in BestBuy, and it is also available on Breville.com
If you need Breville oven right now, here are the models available on Amazon.
Breville Combi Wave 3 in 1 Features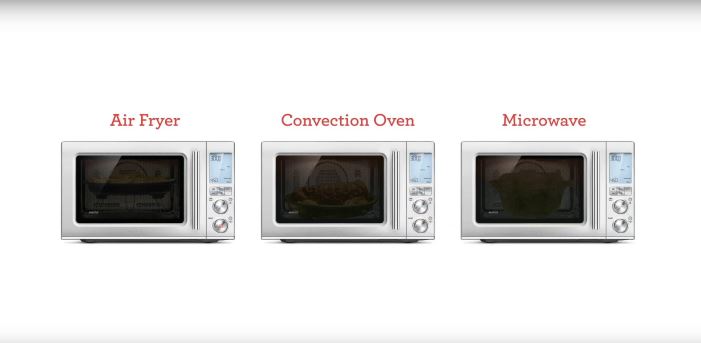 Five Cooking Modes
The oven offers multiple cooking modes:
Convection oven
Microwave oven
Airfry
Fast Combi – cooks by combining convection oven, grill and microwave functions to get the results as fast as possible
From Frozen – cooks perfect meal from frozen ingredients
Food Menu – select the food from the list (see image below), and your Breville oven will do the rest
19 Presets
The Breville BMO870 has 19 smart presets built in. Some of the presets are Smart Cook, Smart Reheat and Smart Defrost.
If you have read my guides about cooking frozen pizza in toaster oven and reheating cinnamon rolls, you know it is possible if you know how to do it. The smart mode presets makes your job so much easier.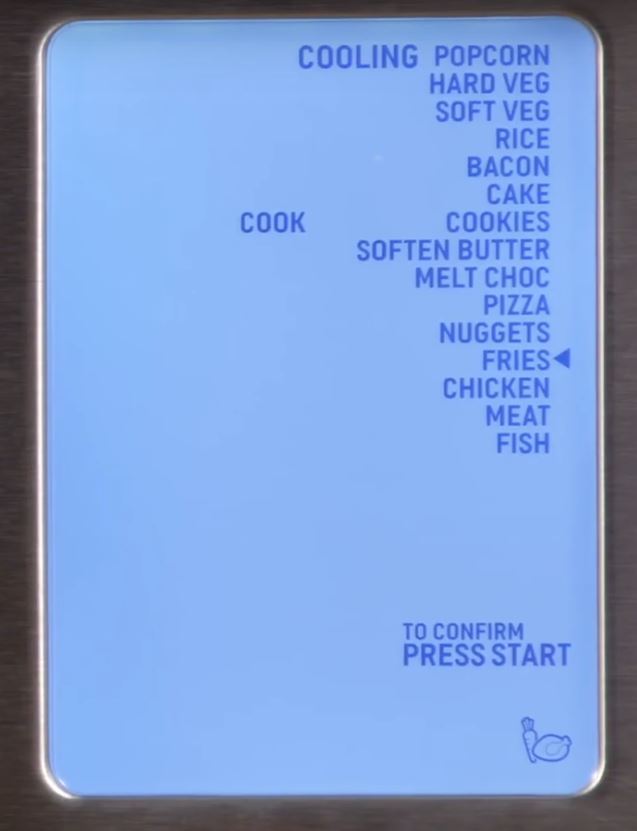 Quiet Operation
The oven beeps less and works quiter. It also features soft close door that is 8-% quieter than the previous model BMO735.
Shortcuts
When you open the door, you can access a number of shortcuts to commonly used tasks like popping popcorn, softening butter, melting chocolate, and more.
Dials and Buttons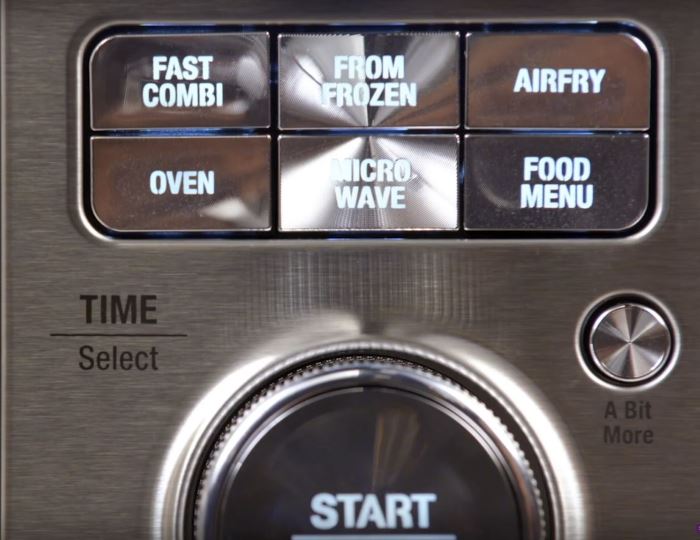 6 Function buttons:

FAST COMBI
FROM FROZEN
AIRFRY
OVEN
MICROWAVE
FOOD MENU

A BIT MORE™ button – press the button if the cooking is finished and you want to add finishing touches
Instant +30/START button & TIME/Select dial – each press adds 30 second cooking time at full power
ADJUST dial & STOP/CLEAR button – turn dial to adjust the power level, weight & quantity that corresponds with the food type selected. Press once to pause without cancelling the program. Press twice (or more if necessary) to clear the display.
TURNTABLE OFF button – Press once to stop the turntable from rotating during cooking, and press it again to reactivate the turntable.
Shortcuts panel:

Sound – this button allows you to choose between the new or the traditional sound suite when using the microwave oven
Mute – this button mutes the sound of the microwave
Units – switches between grams and ounces, and from Fahrenheit (°F) to Celsius (°C)
Child Lock – locks the interface of the oven
Keep Warm – lets you keep the food at 160°F/70°C, from 5 minutes to 2 hours
Favorite – saves your most used and favorite cook, reheat or defrost setting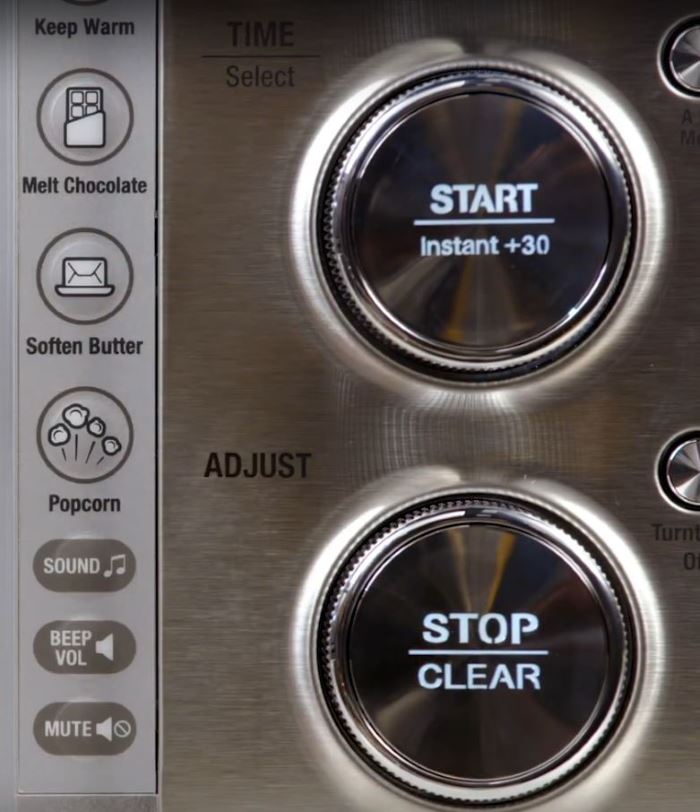 Specifications
Wattage

Microwave – 1200 W
Convection – 1400 W
Grill – 1100 W

Quartz heating elements – 2 on top / 2 below
3 rack positions
Settings – Smart Cook, Smart Defrost, Smart Reheat, Fast Combi, Cook From Frozen, Air Fry, Oven, Microwave, Grill, A Bit More™, Child Lock,+30 Instant Start, Turntable Off, Shortcuts Panel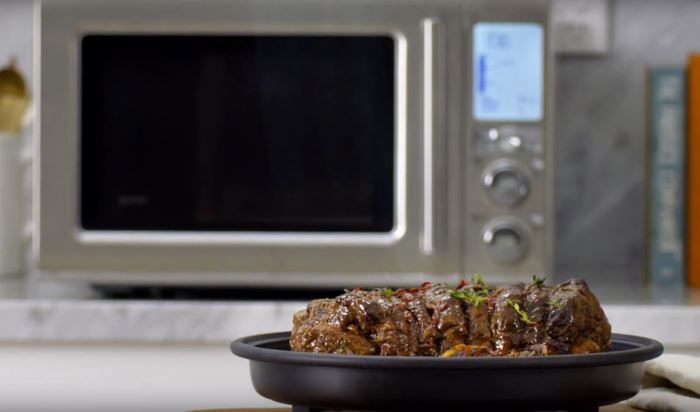 Dimensions
Exterior – 20-2/5in x 20-1/5in x 12-1/2in
Interior – ND
Net Weight – 25.6 lb / 11.6kg
Oven Capacity 1.1 cu.ft / 32L
Box Contents
Oven
Combi Crisp pan
Pan legs
more to come!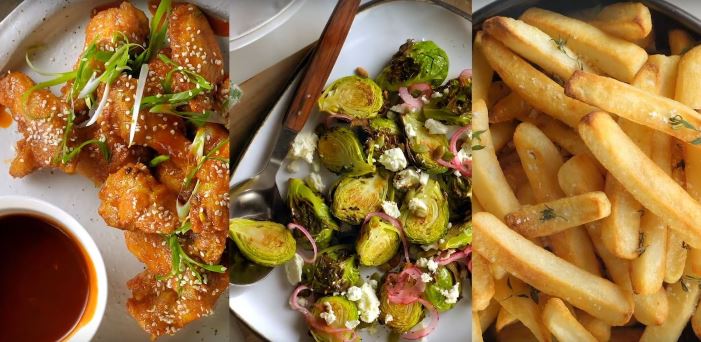 Customer Reviews
Coming soon!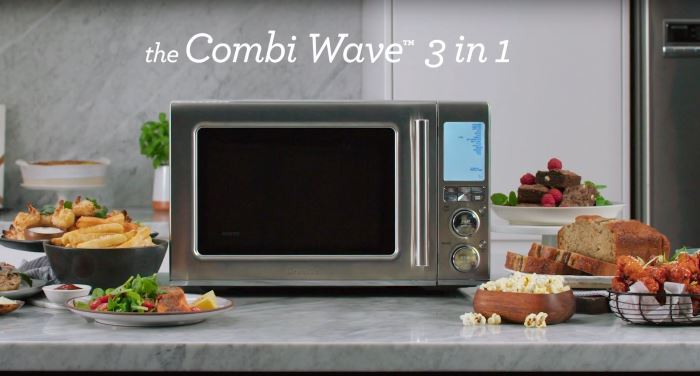 Comparisons
Breville BMO870BSS vs BOV650XL
Here I will compare this oven with Breville BOV650XL.
Breville BMO870BSS Videos
See the Combi Wave™ 3 in 1 in action – Product Demonstration
Say hello to the Breville BMO870BSS Combi Wave™ 3 in 1 – Air Fryer, Convection Oven & Microwave
The Combi Wave™ 3 in 1 – A new world of power and versatility with Air Fryer, Oven & Microwave
Conclusion
It is still too early to say but it looks like the Breville BMO870BSS is one of the best toaster oven models you can get in 2019 retail season!
Related Oven Articles