Guide To 11 Types of Toaster Ovens – The Most Popular Toasting Oven Types Reviewed
In my quick guide to the most popular types of toaster ovens, I will walk you thru the 11 most popular types of toaster ovens and show you an example of each oven type.
Mini Toaster Oven – Zojirushi ET-WMC22
In my blog post, I will quickly review the most popular and best toaster oven types and show you examples of the best-rated models in each category.
You will not find Zojirushi in Amazon's best-selling toaster oven lists. This manufacturer is better known for its coffee mugs, rice cookers, and bread makers.
Still, many potential buyers come to my blog searching for the Zojirushi toaster oven review.
The Zojirushi is smaller than the regular ovens for toasting. It fits two slices of bread as opposed to the standard ones that fit 4. You can make a 7-7/8" pizza in it. The regular one fits a 9" pizza and above.
If you have a small family, then this will work well for you. It is also perfect for single people living alone. This is because of its small size.
The Zojirushi oven's mesh rack minimizes the appearance of grill marks on meals. It also reduces the food that falls between the grills. When using it to prepare mochi, you will notice less dripping in the baking process.
Mini Toaster Oven and Toaster – Hamilton Beach 22708
The Hamilton Beach Toastation 22708 has similar features to the standard ovens for toasting. However, it is also different in some ways. For example, it is smaller. It has two spaces for two slices of bread, while the regular one can accommodate four pieces.
Also, the Hamilton takes up two slices of 16-inches long pizza, while the regular ones are big enough for a 9" Pizza. Therefore, if you are looking for something smaller than the Beach 22708 will work for you.
The Hamilton 22708 does the job of two appliances. It is both a toaster and a mini oven. It thus takes up less space compared to if you had two of those appliances on your kitchen counter.
Related Reading: Best Small Toaster Oven Reviews
Toaster Oven and Long Slot Toaster – Hamilton Beach 31156
Hamilton Beach 31156 is a 2-in-1 appliance, and that multifunctionality separates it from the standard toaster ovens. With the Beach 31156, you have both a toaster and an oven. This means your appliances take up less counter space.
The 31156 allows you to cook a variety of foods in it because of the fact that it is a 2-in-1. Therefore, you can bake your foods, broil them, and toast them. Hamilton 31156 comes with a 60-minute timer. The best part is that it automatically shuts itself off when the timer goes off.
The slot can accommodate two slices of what you are toasting, such as bread. These slots are long and very wide, which means that you can prepare larger pieces of bread in the kitchen appliance. It comes with a baking pan, and the crumb tray can quickly be taken out, cleaned, and put back in.
Related Reading: Best Long Slot Toaster Reviews
Convection Toaster Oven – Cuisinart TOB-60N1
The Cuisinart TOB-60N1 stands out from the regular ones because it not only performs the role of the standard oven but also does convection functions.
Users of the TOB report that being able to bake in it is one thing they enjoy about this appliance. Thus, you don't need to buy a separate convection oven.
The food cooks at a lower temperature and at a faster speed when using the convection mode. This is because hot air circulates around the food at high speed.
This circulation prevents the formation of hot spots where some parts of the appliance do not get enough heat. When there are no hotspots, food gets baked evenly.
TOB-60N1 can accurately control the shade of the toast you make. Therefore, you don't have to worry about the toast becoming too dark.
I have also reviewed the older convection oven model from this brand – Cuisinart TOB-195.
Extra Wide Toaster Oven – BLACK+DECKER TO3250XSB
This kitchen appliance has a very wide interior, just like the name suggests. You can put in a 9" x 13" pan together with the handles. This is the size of a regular pan.
It fits a 12-inch pizza, and when it comes to bread, it can take 8 slices. The size of the interior is about 16.5 x 12.5 x 9.5".
The majority of oven pans can fit into the Black+Decker TO3250XSB. You don't need to buy pans for it. Even the handles fit inside it means that you can transfer food from it to the table for serving.
The pans you use for baking or broiling can also be easily placed in the Black+Decker. The process of putting food in it and removing it becomes simple. The toasting rack also glides in and out smoothly.
Breakfast Station / Breakfast Maker – Nostalgia BSET300RETRORED
The Nostalgia BSET300RETRORED is what you need to prepare breakfast for your family. It comprises of 3 appliances. It is a toaster oven, a coffee maker, and a griddle.
The griddle is non-stick and large in size. Therefore, you can prepare a sizeable amount of eggs or other breakfast treats.
You can prepare 4 cups of coffee on the machine in one round. The toaster fits 4 slices of bread. For pizza, it can take the 7" one. It also has a timer that automatically shuts off after 30 minutes.
The Nostalgia breakfast maker performs several functions. It toasts, bakes, and helps in reheating leftovers of meals like cornbread.
If you are making breakfast for your family, you only need this one appliance. When you are done with cooking, you simply remove the oven tray and the griddle and clean them.
Rotisserie Toaster Oven – Cuisinart TOB-200N
One of the reasons families love having the Cuisinart TOB-200N in their kitchens is because it is also a rotisserie. Thus, you can do a lot of roasting and barbecuing in it. This is something that the regular ones do not have.
You can cook a 4-pound chicken in it. The inside part of it can take up to 6 slices of bread. Your 12" pizza also fits comfortably in it.
It is made of brushed stainless steel, which means you can place it on any countertop in your kitchen. You and your family members can do a lot of cooking on the Rotisserie Toaster Oven – Cuisinart TOB-200N and improve your cooking skills at home.
If you roast meat a lot and love barbecues, this equipment will help you do that while taking up a smaller space than the regular grill.
If you are looking for more ways to save countertop space, you should check out Nutrichef Vertical Multi-Function Rotisserie Oven.
Microwave and Toaster Oven Combo – Cuisinart CMW-200
The Cuisinart CMW-200 is a combination of two appliances which are a microwave and a toaster oven. This makes it able to perform different functions such as baking, grilling, defrosting, warming food, and convection roasting.
You can easily switch from one function to another, which makes it easy and enjoyable to use. It has both single and combination settings.
When defrosting food on it, you can choose to do it based on time or weight. You can do it with or without the microwave when roasting or baking.
You have so much freedom on how to make your meals and several functions to play around with. Cuisinart CMW-200 comes with a manual on how to use it and also a recipe book. When you have these two, you cannot fail to know what to do.
Air Fryer Toaster Oven – Cuisinart TOA-60
The Cuisinart TOA-60 is a toaster that also has an air fryer in it. This makes it stand out from the regular ones. You can perform various functions with it because it's a 2-in-1. It fits a 12" pizza or 6 slices of bread.
A 4-pound chicken is comfortably roasted in the TOA-60. Its timer goes off after 60 minutes. You can prepare meals on the air fryer with little or no cooking oil. This is it if you are looking for healthy ways to prepare your meals.
Fish, chicken wings, and chips will come out golden brown and crispy when you air fry them on the Cuisinart TOA-60.
You can put this Cuisinart appliance on your kitchen countertop so you will never have to put your air fryer away.
Cuisinart TOA-60 comes in handy when you want to broil, warm, bake or toast food.
Steam Toaster Oven – Cuisinart CSO-300N
With the Cuisinart CS0-300N, you have an ordinary and a steam oven. This appliance is meant to be used on the countertop. The steam heat can go on continuously for about 120 minutes.
The beauty of steam is that you will spend 40% less time cooking. You can use steam for cooking fish, rice, or vegetables. The steam function can be used on its own or with other oven functions such as broiling, roasting, or baking.
Your roasted food will come out brown on the exterior and moist and delicious on the interior. This appliance has superior technology for proofing bread. After proofing, you can then bake the bread, and the process is faster, and the bread comes out better.
A 4.5 lb chicken fits into CS0-300N. Your 12" pizza goes in it perfectly.
Under Cabinet Toaster Oven – BLACK+DECKER Spacemaker TROS1000D
NOTE: It seems that this model has been discontinued. I will replace it with the current model as soon as I find one.
Regular ovens for toasting are usually used on the countertops. The BLACK+DECKER Spacemaker TROS1000D is installed under the cabinet. This is one of the reasons some users prefer it because it saves them space on the countertop.
It is essential to mention that not every toaster oven can be used under the counter because of its heat.
When you have it under the cabinet, you'll have more room on the kitchen countertop for other appliances or tasks that you can perform.
It is mounted under the cabinet saves you time because you won't have to keep moving it from one place to another. It is typically used for toasting, baking cakes and pies, or keeping food warm.
It comes with simple instructions on how to install it.
3-in-1 Combo Oven – Breville BMO870BSS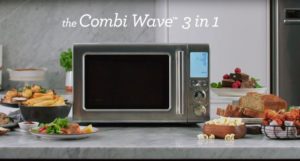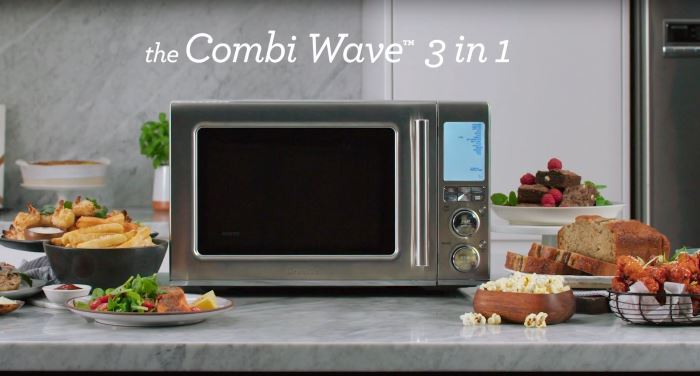 Above I mentioned the toaster oven + microwave oven and toaster oven + air fryer combos. If you need even more functionality, there are 3 in 1 ovens where you also get an air fryer function in addition to the mentioned combo.
Here is my Breville BMO870BSS review.
Conclusion
I hope my toaster oven types review has shed some light on different options available for you in the market.
Related Articles