5 Best Long Slot Toaster Review – Top Rated 4 Slice Models Reviews
Researching before buying is a must since the toaster market is much more diversified at present. In this article, I'll be reviewing five toasters to find out which is the best long slot toaster in 2023.
Who doesn't love to try out artisan bread that varies based on ingredients, shape, and sizes? But the one thing standing between you and finely toasted bread is a toaster that can't accommodate different sizes.
Here are the 4 Slice Long Slot Toasters with high-tech toasting and many options. The high-tech toaster offers enough slot space for four regular-sized pieces of bread. Various types of other shapes and sized slices of bread are also welcome.
These toasters are similar to previous generation toasters in terms of essential functions. But, the effect has been modernized to fulfill the demands of today's generation.
Additionally, these four-slice long-slot toaster models offer cool body feature, single slice feature, retractable cord, dishwater-proof crumb disposable tray, re-heat mode, defrost mode, and even bagel mode. These fancy features help make the toasting process easy, fun, and time-efficient.
Most of the toasters on the market of this type are moderate in size and lightweight. They do a great job blending in with the kitchen setup. Moving on, let's go over long slot toaster reviews and find out why the Breville BTA830XL Die-Cast 4-Slice Long Slot Smart Toaster is my choice.
So what is a long slice toaster?
A toast for breakfast! Is that what you always have for your family?
Do you start your day with buttered toast, toasted bagels, wheat bread, or hot buns with your cup of coffee?
Then, I bet you deserve a great toaster that lets you get the right brown without burning.
To make your choice easier, I will explain the differences between the types of toasters you will find on the shelves of stores:
regular vs 2-slice vs 4-slice
regular toasters vs long slot vs wide slot

I will review these most popular and best rated models:
Breville BTA830XL
Oster TSSTTR6330-NP
Hamilton Beach 24810
Kenmore Elite 76774
Elite Cuisine ECT-4829
There are also two new toasters, the Cuisinart "The Bakery" Dual Long Slot Artisan Bread Toaster CPT-2400 (Cuisinart CPT-2400) and HoLife four Slice Long Slot Toaster, that are rising in popularity. I am planning to include them in the update of this guide later this year.
I will also try to find the best long slot toaster under $50 if your budget is limited.
Below you can see a selection of the 5 best long-slot toasters you should check out.
| Model | Slices | Wattage | Body |
| --- | --- | --- | --- |
| Breville BTA830XL | 4 | 1600W | Cool-touch brushed die-cast metal |
| Oster TSSTTR6330-NP | 4 | 1500W | Stainless Steel |
| Hamilton Beach 24810 | 4 | 800W | Stainless Steel and plastic |
| Kenmore Elite 76774 | 4 | 1600W | Stainless Steel |
| Elite Cuisine ECT-4829 | 4 | 1300W | Plastic |
Top 5 Best Long Slot Toaster Models
Let's begin with looking at one of the best-rated models of this type – the Breville BTA830 XL Smart toaster.
1. Breville BTA830XL 4 Slice Long Slice Toaster (Editor's Choice)
This modern-looking Breville BTA830XL Die-Cast 4-Slice Long Slot Smart Toaster has won many hearts with its clean and sleek outlook. The availability of many settings leads to having full control over your toasts. This is a perfect option for those who want a particular shade of browning that they did not control until now.
The outlook almost always sets in with other kitchen appliances. The dimensions are somewhat 7" W x 15.75" L x 7.75" H, weighing around 8 pounds. The size and weight matter while keeping various practical factors in sight.
This digital and modern fancy toaster functions in far simpler ways than others. The 2 slots are long enough to fit in 2 long slices or 4 medium slices. This makes the Breville 4 slice toaster BTA830XL the best toaster for artisan bread.
Multiple options have been highlighted with LED backlight buttons. Even the controller has a sliding lever that regulates the browning level.
The settings set as buttons are:
Toast/Cancel – basic on/off switch
A bit more – increases toasting duration if pressed on during or after toasting
Bagel button – alters the heating so that only the middle inside part gets heat
Frozen – adds more toasting time in the beginning to defrost the products
Lift and Look – this feature lets you get a sneak peek at your item by lifting it shortly.
Different pieces of bread need different levels of time and heat. For example, rye bread needs more time and heat than sweet ones like raisin bread. The food items are held on using a pair of grill-like holders to avoid uneven heating.
There is a plug storing space in the toaster to avoid unwanted incidences. The tray system below the bread slot makes it easy to clean the breadcrumbs. However, the trays are not dishwater-proof.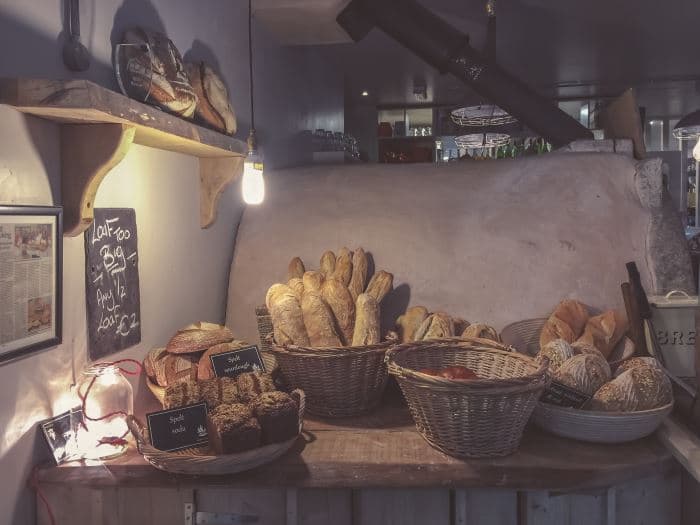 Pros
The body is made of a single mold for added strength
Control over the volume of the alarm sound
The desired level of browning is easily achievable
Food holders ensure even heating of food
Allotted cord space for the 36-inch cord
Basic yet variable buttons make the operation simple
Size and weight is convenient for moving it when needed
Cons
The Crumb tray is not dishwater-proof
The outer body of the unit can get hot
The single slice feature is missing
Very expensive – you can buy several affordable toaster ovens for the price of this toaster (but a great steal if bought from a sale)
What is the difference between Breville BTA830XL vs BTA820XL?
These two toasters share the same functions, but they have different size slots. The BTA820XL is a regular 2-slice toaster, while the BTA830XL has long slots that can take 4 slices in total.
What is the difference between Breville BTA830XL vs BTA630XL vs BTA730XL?
The cheaper Breville BTA630XL has a bit lower heater wattage and is made from heat-resistant plastic. It also lacks adjustable volume alert control. The BTA730XL has alert volume control and stainless steel body which is not cool touch.
2. Oster TSSTTR6330-NP Long Slot Toaster
The Oster TSSTTR6330-NP Stainless Steel Long Slot 4-Slice Toaster is for those who miss the traditional toaster's outlook yet desire a more practical one. Here, the classic look and features have been merged with modern technology.
The toaster's weight and size are perfectly reasonable. The toaster stands at 6.5 x 16 x 7.5 inches and weighs a mere 4.77 pounds. This makes the task of keeping it inside a simple feat.
An exciting feature is that it has auto-adjusting bread guides, making the slice fit into the slot's size. All the functions and buttons are on one side. So, it becomes more convenient for one to use.
These toasters have four buttons – toast, bagel, warm, and defrost. The Warm mode will only heat up your bread, not toast it. The Defrost option passes extra heat to the slice before starting to toast it.
If you're a bagel-lover, I'd suggest you avoid this toaster. It toasts both sides of the bagel, and the results are not pleasing. You just have to push the bagel button.
It's safe to say whether to buy this or not is a controversial question regarding practical reasoning. It even has dish-washable crumb trays. But it would have helped if the cord were longer and retractable.
I would say that the only obvious plus point this toaster has is the warming option. All the other good factors present are also available in its peers.
Also, the most minimal amount of toasting time can cover the task the warming option is there to do. This is a good toaster but not practical enough.
Pros
Classic outlook gives the buyers reliance
The practical size and weight for daily use
One-year warranty
The Browning level of toast can be controlled
The Crumb tray is removable and dish-washable
One-sided control placement
Cons
Doesn't alert when toasting is done
Sometimes heats both sides of a bagel even in the Bagel mode
No retractable electric cord
Too short electrical cable
3. Hamilton Beach 24810 4-Slice Long Toaster
This Hamilton Beach 24810 4-Slice Long Slot Keep Warm Toaster is an accommodating appliance with extra-long and extra-wide toaster slots. Your days of cramming your favorite bakery item in your toaster are long gone. It has a body of stainless steel and buttons illuminated for better sight.
The dimensions are somewhat 15.8 x 7.5 x 7.8, weighing around 6 pounds. It makes the toaster slim and easy enough to carry add-on features. There is a dial to choose how long you want your bread to be toasted.
The slots are convenient enough for each to hold 2 regular-sized slices or an extra-large slice. The cool-wall feature prevents the exterior from heating up.
There is a storage area for wrapping and tucking the cord into. It also has separate buttons for toasting bagels for just one side.
Another distinct feature would be its Keep Warm technology. It's easy to forget that the toaster is on and thus end up with cold toasts. With this technology, your toast will be kept warm for an extra 3 minutes after toasting.
Yet, there have been many reports of uneven toasting and even burning. Apparently, the cool-wall feature traps too much heat inside the toaster. Also, the alert sound in the toaster cannot be turned off. In general, this is a pretty good model from the brand you may know about because of its blenders and food processors.
Pros
Provides multiple toasting options
Dish-washable crumb tray
Storage area for tucking the cord wire
The cool-wall feature prevents accidental burns or scalds
Keeps your toast warm for extra 3 minutes
Convenient slot space for any slice size
Suitable size and weight
Option for lifting the bread higher so that you can take it out easily
The dial on the toaster (time-based) controls the browning level
Cons
Cases of uneven toasting and even burning
Gets too hot inside
Alert sound cannot be turned off
4. Elite Cuisine ECT-4829 Long Slot Cool Touch Toaster
The Elite Cuisine ECT-4829 Long Slot Cool Touch Toaster is a practical and dependable choice for your kitchen. It offers settings like Defrost, Reheat, Cancel, and even indicator lights. It has a dimension of 15.5 x 6.5 x 7.2 inches and weighs only one pound.
The long slice toaster can toast a wide variety of your favorite slices of bread. The list goes from longer, rectangular bread slices to even fancy loaves. With the extra wide slots, you can toast thick Texas Toast, English Muffins, Waffles, and many more.
The neat and simple design of this toaster is impressive. It has a simple dial with which one can control the browning level of the toasts.
Sadly, there have been many reports that, when toasting is done, the toaster pops the toasts so hard that they often fly up and away from the toaster. That is a real deal-breaker if you ask me.
Pros
Cool and modern outlook
The dial allows you to choose your browning level.
The Crumb tray is removable.
Cons
Crazy removal function
No Bagel mode
5. Kenmore Elite 76774 4 Slice Long Slot Toaster
This fancy-looking Kenmore Elite 76774 4-Slices Auto-Lift Toaster with long slots has taken toasting technology to the peak of automation. It is perfect for many of us who are prone to busy mornings yet would very much appreciate a finely done toast.
This model of Kenmore Elite has dimensions of 5.2 x 18.5 x 17.5 and weighs 5.5 pounds. Its slim outlook facilitates fitting it sideways in kitchen spaces, saving us from the hassle.
The advanced toasting technology sure makes toasting a fun sport in the morning. The digital controls provide absolute precision and consistency. But, for people who don't do very well with digital settings, this toaster may seem complicated at times.
The toaster has slots wide and long enough for all sizes of bread loaves. And if the pieces are smaller than the slots, there is a self-adjusting bread guide feature.
It grips the bread before toasting and ensures even toasting. The exterior body is made from stainless steel, which is the most appropriate material for heating appliances. Also, it has a cooling feature to avoid external heating.
The toaster has 9 different settings for customized heat. The digital display surrounded by labeled buttons is all on one side, so using it is reasonably straightforward.
The digital display shows the countdown in numbers. This feature is super-practical and efficient.
Contrary to many toasters, this one has a single slice feature. After toasting, the one-touch auto lift feature makes the slice pop up for easy removal.
The warranty card comes with complex conditions, which is very disappointing. And one might even find it too techy to use. Though, you can surely get a grip on the procedure in some time.
One serious problem that showed up in many cases is that it takes more than usual to toast. That is a big turn off for time-conscious and busy people.
Pros
Stylish design and advanced technology
Slots are wide and long
9 different settings
Digital display showing the countdown of time
The one-touch auto lift lever system
Single slice feature
Self-adjusting bread guides
Retractable cord
Cons
Some may find it too techy
Very slow toasting
Not a very reliable warranty certificate
6. Haier TST240SS Toaster
The Haier TST240SS 4 Slice Long Slot Digital Toaster is an excellent toaster for keeping your bread hot and well-toasted every day.
Other than that, you can toast breads together because the slot is long and wide to enable you to put in several slices and heat them all at once.
This saves your time and keeps your buns hot and fresh.
Features
Functionality To The Max
This bread toaster has many great features compared to conventional ones.
When you have to make several batches of bread toasts in your old toaster, you do not have such hassle. You can toast four large slices at one time. That way, you can serve more bread fresh out of the toaster for your large family.
Let's be honest – this cutie does its job, but we can not expect its features to match the characteristics of the best small toaster oven.
Lift Extension
If you plan on putting in small pieces of bread, of course, your first dilemma would be how to pull them out once they're done.
We don't want you to get burned, so you must know that this appliance has a lift extension that allows you to pull out those hot small pieces of bread without getting burned. For your safety, you can also use a pair of tongs.
Warming Rack
If you want to keep your bread hot while the water you're cooking or doing something else, you can put it on the warming rack.
With this integrated rack, you can place your slices on top of the toaster to keep them warm. See, there are many ways and functions that this Haier TST240SS serves you.
Wide Slots
To accommodate different shapes and sizes of bread for the varying preferences of your family, the slots are wider and longer. You can place bagels, rye bread, or buns in there. Then set the dial and wait for the toaster to finish.
LED Lights
What makes this toaster more endearing is the array of blue LED lights. They let you know how much time is left before it's done. Children find this really fascinating and can be a form of entertainment for them.
Crumb Tray For Easy Cleaning
There is a removable crumb tray to get rid of the morsels that get left behind. You can quickly clean up after you started toasting.
The cord can be stored to keep your counter looking uncluttered and clean. It comes in a shiny grey finish to complement your other modern appliances in your kitchen.
This is the perfect toaster for your family, and that is why Haier TST240SS Digital Toaster deserves a place in your kitchen.
Long Slot Toaster Buying Guide
A toaster is a very basic kitchen appliance for many families as it makes breakfast fun and easy to go. But, buying a toaster is not an easy task. It often gets complicated due to the many different models available on the market.
Yet, you'll always find the same four settings in the best long toaster. They are defrosting, reheating, warming, and canceling.
The feature that allows us to control the browning level of our toast is also critical. The tech features and how they help is something you need to know before setting off to buy your toaster.
I would like to highlight some features that you might consider in the best 4 slice toaster.
2 vs 4 Slices Toaster Slots
2 Slice Long or Non-Long toasters have one thing in common. It is the lack of ability to accept variable bread sizes. The 4 Slice Long Slot Toaster provides enough space for different types and sizes of bread. It facilitates the users with high tech settings.
Each and every feature of these toasters explain how toasting is supposed to be like. 2 Slice Long Slots or Non-Long toasters can only accommodate 2 slices of bread at once. But, with a family of four members, it becomes very time-consuming.
With a 4-Slice Long-Slot toaster, you can efficiently serve a batch of 4 toasts. Now, everyone can start to eat while the second batch is being made.
Materials
The material used in an appliance tells you a lot about its quality. I would strongly suggest toasters made of aluminum or stainless steel. If you see the words 'stainless steel toaster' in the product name, it is highly likely a quality appliance.
However, plastic can also be considered. But plastic appliances come in various colors and may not always go with your kitchen's setup.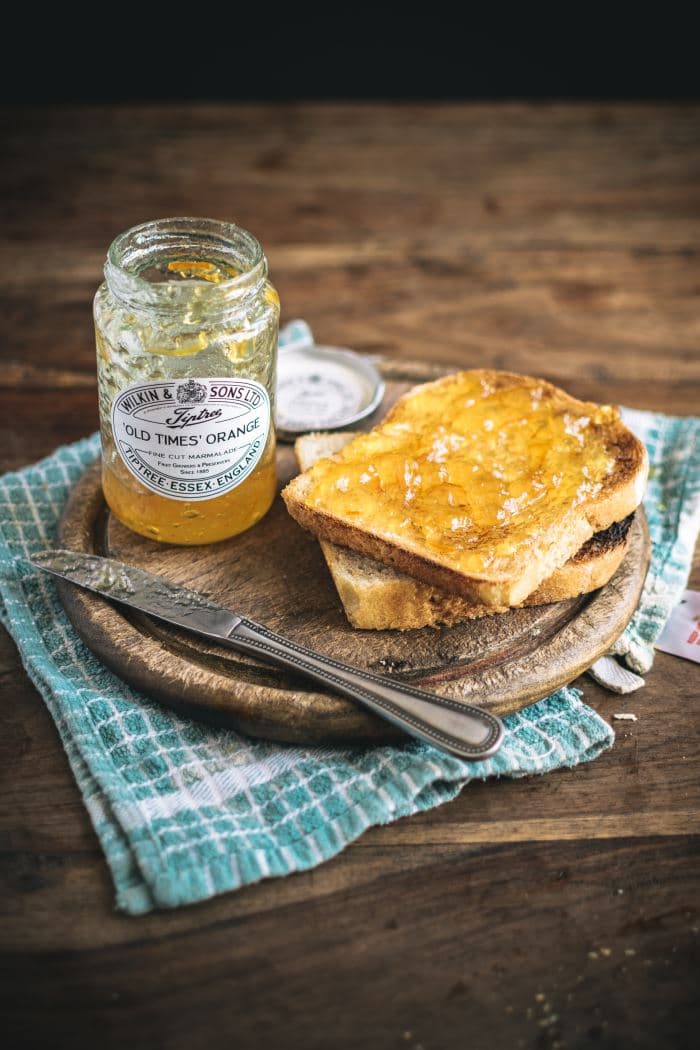 Top Bread Warming Rack
Don't we all fancy out-of-the-world finely toasted bread? But what do you do to make sure it isn't turning cold for the 2-3 minutes delay you're making?
A warming rack is a perfect thing in such cases. You can just use it to put the toast over the toaster, and VOILA!
Multi Toasting Features
Even though we use both slots most of the time, this option is a great one for different eaters.
It's great to have the option of using a single slot when needed, not to mention a tremendous energy-saving factor for all of us.
Wide and Long Toasting Slots
With so many bread options around us, none of us really like to stick to the classic ones. But, this variation in bread comes with different ingredients and sizes as well.
Some are wide some are long. But the wide and long slots of the best 4 slice long-slot toaster can toast any baked item (even bagels). Some also have a separate option for heating bagels on the inner side.
But then there is small and lean bread too. In this case, the auto-adjusting guide helps to stay in position and not sink in too deep.
Just set your bread in the slot and stop worrying about the size and uneven toasting. The toasting dial will help you achieve the exact shade of brown you want your toast to be.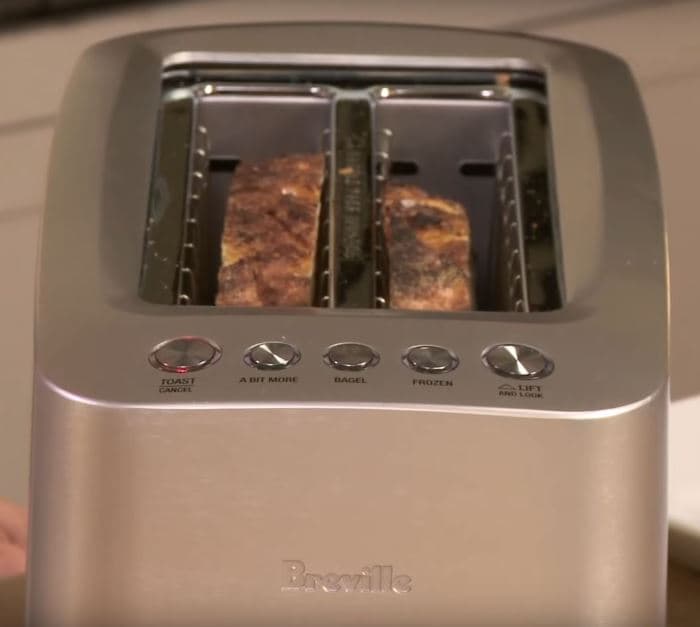 LED Indicators
These toasters are often found to have LED indicators and illuminated buttons. I must say, they add up to the toaster's techy outlook.
They serve as excellent reminders about the timing as well. These illuminations often fascinate children and generate their will to learn to operate it as well.
Crumb Tray for Easy Cleaning
While applying heat to bread, many crumbs fall below and get stuck. You would have to perform feats to clean the bits from your toaster.
But, the modern toasters come with a removable tray underneath. You can quickly get rid of the crumbs by pulling out the tray and washing it. Over time, you'll realize how much faster the cleaning process becomes due to this design.
But do make sure your toaster's tray is dishwater-proof. The dishwater factor isn't a must-have but seems like a significant advantage to have.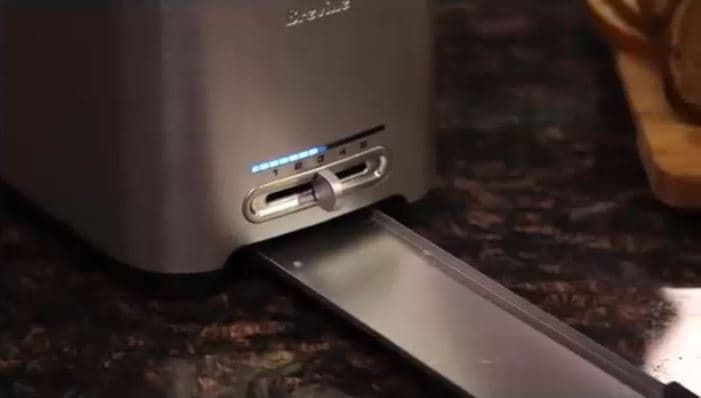 Toasting Modes
Keep Warm Mode
This mode will prove to be helpful for you in case you forget to take out the toasts right away after toasting. If set as on during or after toasting, it adds 2 to 3 more minutes of subtle heat supply to the toast.
Mind you, it does not keep toasting; it merely keeps the toasts warm for you using an ample amount of heat.
Frozen Mode
This function adds some acute heat to the frosted bread before starting to toast it. That way, the frozen cold slice doesn't become a soggy, unevenly made toast. This function is more commonly known as the 'defrost mode.'
This feature falls as a time-saving factor. At least, I would like to think so because we all have wasted enough time keeping the bread out to defrost before toasting it. Now the slices just come out of the fridge and into the toasters.
Bagel Mode
Bagels are different from bread and not only in the aspect of shape and ingredients. They also have another way of being toasted.
Sliced right in the middle, bagels are supposed to be toasted on one side only, i.e., the inner part. With bagel mode turned on, the toaster provides heat from the inner side of the slot only. This mode adds heat to the middle parts without burning the outer side of the bagel.
Easy Removal Function
Long gone are the days of trying to pry your toasts out of that generic toaster using steel utensils. Such a task wasn't only bothersome but also very harmful to the toaster's internal parts. The 4 Slice Long Slot toasters have Lift Extension and Toast Boost functions, lifting toast higher for easy removal (look for 'high lift lever' feature).
Some of the toasters have automated toast lifts that pop up once toasting is complete. And some have a button or lever that has to be manually pressed.
With the previous system, there was always a chance of scalding your hands. But to make sure you don't get hurt, you should still use a pair of tongs to remove your hot toasts from the toaster. Try to use stainless steel or silicone utensils.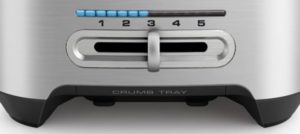 Cool-Touch Body
This feature will help you to place the toaster whenever needed, even on wooden tables and countertops. You can even carry it immediately after the slots are still hot without burning your hands.
Cord Storage
The cords are often the center of all the hassle during the repositioning of the toaster. The material used for the wire is something to look out for.
Electric accidents happen in the kitchen more frequently than you think. Recently, most of them come with extra space below the toaster for storing the cord.
But, I personally prefer the retractable cords. They reduce half the trouble of storing the wire in that small storage. It comes in a stainless steel finish to blend in with your kitchen setup.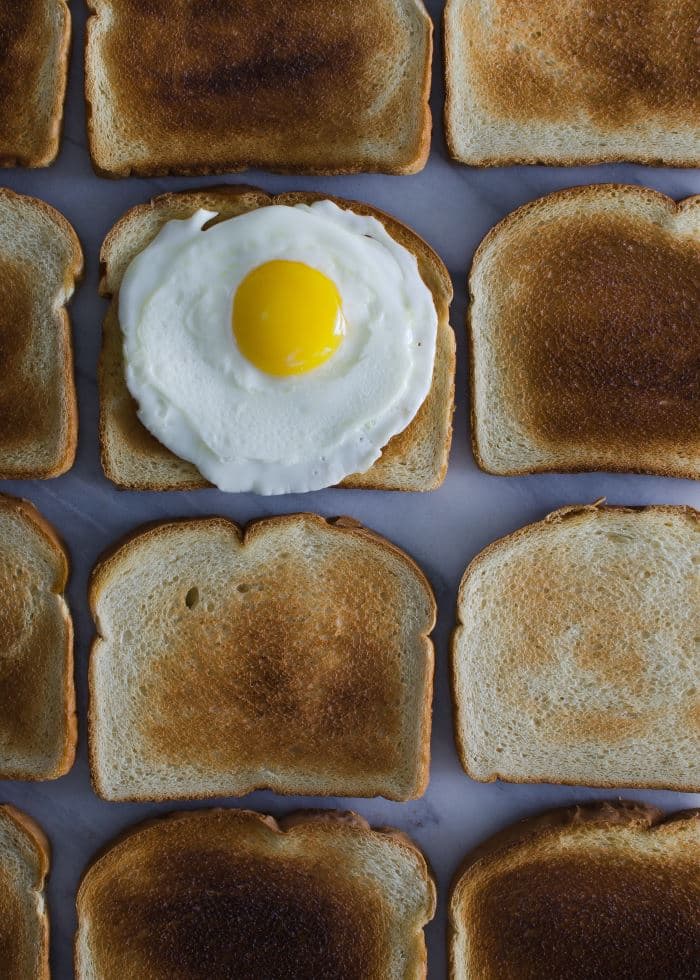 Frequently Asked Questions
What about KitchenAid KMT4116CU? Is it a good toaster?
KitchenAid KMT4116CU is another decent toaster with extra-wide slots, seven shade settings, and Bagel, Defrost, Reheat, and Keep Warm modes. I plan to review it and add a few more chapters to this blog post to expand it to the top 10 best long toaster reviews.
Conclusion
I am confident that after reading my review, you should not need to read other long-slice toaster comparisons to make your purchase decision.
The long toaster may not be necessary for everyone. Still, it's undoubtedly the perfect type for these two pools of people: who love artisan bread items and who are in a rush in the morning. After going through these very popular 4-Slice Long Slot Toasters, I've concluded that Breville BTA830XL is the best one of the lot.
Each brand of toaster has some drawbacks. But the Breville toaster has the perfect combination of compulsory and optional features if you need a toaster for long bread.
This toaster can toast a wide variety of your favorite bread. The large toasting slot can accommodate longer, rectangular slices. It features customized browning dial settings and can even defrost or cancel an order.
The design is simplistic and modern, completely cool to the touch. Even though it may seem so compact it would fit in any kitchen, it can fit in as many as 4 slices of toast simultaneously. Therefore, as per my research, I find the Breville BTA830XL to be the best long slot toaster with 4 slice capacity.