Cuisinart TOB-195 Review – 6-Slice Exact Heat Convection Toaster Oven Broiler
A modern piece of art from Cuisinart, the Cuisinart TOB195 Toaster Oven made of stainless steel and durable tempered glass. This is a beautifully built kitchen gadget that will complement your modern kitchen design.
In my Cuisinart TOB-195 review I will describe my findings of this versatile and powerful kitchen appliance.
This appliance is an attractive addition to your kitchen countertop. The sophisticated, elegant look of this gadget will undoubtedly please you. As for the performance, Cuisinart TOB-195 does well too.
This oven also provides many convenient features, such a joy to use. You feel safe and comfortable using this appliance. I look forward to enjoying it for many years to come.
The price of this unit slightly exceeds the price of the average oven, but I believe it is worth every penny and is among the best toaster oven models.
Cuisinart TOB-195 Exact Heat Toasting Oven always ready to serve!
Has Cuisinart TOB-195 been discontinued?
Yes, the Cuisinart TOB195 has been discontinued by the manufacturer.
Please consider getting one of these alternatives.


You can also check out reviews of currently available models:
Cuisinart TOB-195 Features
Just set it on the right and desired cooking setting you want. The electronic control features will give you the precise and desired outcome you want.
The appliance has a digitized temperature setting which will help you so you don't have to guess. It also has an alarm that will let you know that the cooking temperature is always right. This is indeed easy to use and operate an appliance that will provide you with just what you needed.
It has electronic easy touchpad controls for smooth operation and usage. It also has a shade control feature with a heat sensor that maintains an accurate temperature.
The stainless steel housing with brushed chrome accents gives it a professional, elegant design.
Large Inner Capacity
This particular oven boasts an extra-large capacity, its broiler being 0.6 cubic feet in volume, and able to fit 6 slices. Due to this large size, the Cuisinart Exact Heat oven can hold a 12-inch pizza with ease.
It does not take up a lot of room in your kitchen, yet it is a decent-sized appliance. The capacity is ideal for everyday cooking and has convenient features for cooking side dishes and desserts.
Multiple Modes
Multiple cooking functions such as broiling, toasting, convection, baking/pizza, etc. give you a versatile cooking experience. The unit has built-in defrost, bagel, and reheat buttons to make life easier.
This is a multifunction toaster oven where you can bake and warm up pizza, cookies, and bagels. You can also broil and roast using this appliance. The model offers four versatile cooking options – toast, bake, broil, and convection.
To make the best use of the convection option, experience users suggest using a temperature 25 degrees lower than what is specified in the recipe for optimum results. The convection bake ensures quick heating of food.
Heat Sensor
The TOB-195 also has a heat sensor along with shade control, helping to maintain the temperature in a precise manner. This ensures consistent toasting and helps to cook food in a smooth way throughout. It is one of the only ovens that can go up to a good 500-degrees.
Auto Shut-Off Timer
Another feature worth mentioning is the auto shut off the system after four hours, which saves energy, electric bills and ensures general safety to prevent accidents. The top rack of the oven comes with a stop feature so that it cannot be pulled out of the appliance while it is still hot.
Touchpad Controls
The TOB195's touchpad houses all the electronic controls including the timers and clock. This comes in handy, particularly for taller customers, for whom it is hard to see what they are doing if an oven has front facing buttons.

Easy Cleanup
This kitchen appliance is easy to clean with its non-stick walls and removable crumb tray. The interior of the oven has a nonstick coating, making it very easy to clean after cooking.
The cooking accessories such as the broiler and rack are built sturdily, and they can be cleaned easily as well. All of these accessories happen to be dishwasher safe.
Cuisinart TOB 195 Toaster Oven Specifications
Dimensions
The Interior is spacious measuring  12 x 12 x 5 inches. It can hold up to 6 slices of toast.
Box Contents
Oven
Broiling Pan
Baking pan / Drip tray
Crumb tray
Cord storage
Cuisinart TOB-195 Compared With Similar Toaster Oven
Cuisinart TOB 195 vs Breville BOV800XL
Often discussed alongside the Cuisinart TOB 195 Exact Heat toaster oven broiler, Breville BOV800XL Smart Oven is a powerful toaster oven with 1800 watts power. The toasting and baking options are aided by its built-in technology, Element IQ. Like the TOB195, it also has a broad array of cooking options and has high capacity.
However, there are some noticeable differences between the two. First of all, the Cuisinart's crumb tray can only be accessed from the rear, whereas the Breville oven's crumb tray is located in the front and can be slid out.
Moreover, the Breville model is entirely built of stainless steel, and the TOB195 is not. A common complaint about the TOB is that the region behind the door handle tends to get overheated, a problem not seen in the Breville BOV.
Users have also found the Breville oven's controls more user-friendly and easier to figure out than the counterpart.

Cuisinart TOB 195 vs TOB-135N
The Cuisinart TOB-135N is another toaster oven from this brand that customers love. Compared to the TOB-195, this particular oven has a more traditional look, with the controls affixed to the side of the door.
The TOB-195 has gone entirely digital with a digital touch interface. However, TOB-135N's controls are not entirely digital. It still has a dial to control and program-specific functions. Many consider the controls of the TOB-135N more user-friendly due to this.
Additionally, the TOB-135N has a blue backlit LED display that makes it easier to see the controls. Both come with top and bottom heating options, along with the bagel option that ensures a crispy top and a soft bottom.
In terms of performance, the models are evenly matched and can roast, grill and bake really well. Due to the more traditional design, the TOB-135 has the advantage of familiarity that many users love.

Cuisinart TOB 195 vs TOB-155 vs TOB-260N1
Feature
TOB-195
TOB-135N
TOB-155
TOB-260N1
Wattage
1500W
1800W
1500W
1800W
Capacity
0.60 CFT
0.60 CFT
0.60 CFT
0.95 CFT
Toast Slices
6
6
6
9
Pizza Size
12"
12"
12"
13"
Convection
Yes
Yes
Yes, 2 modes
Cooking Functions
Pizza/bake, broil, toast, and convection; bagel, reheat, and defrost buttons
Toast, Bagel, Warm, Bake, Broil, Reheat, Defrost, Convection Bake, Convection Broil
Pizza/Bake, Broil, Toast
Toast, Bagel, Waffle, Keep Warm, Bake, Broil, Roast, Pizza, Leftovers, Sandwich, Dual Cook, +30s, Convection Cooking Settings, Defrost
Digital Controls
Yes
Yes
Yes
Yes
Oven Light
No
No
No
Yes
Warranty
Limited 3 Year
Limited 3 Year
Limited 3 Year
Limited 3 Year
Accessories Included
Broiling Pan,
Baking pan / Drip tray, Crumb tray
Cord storage
Oven Rack, Baking/Drip Pan, Broil Rack, Crumb Tray, Recipe Booklet
Broiler pan and baking pan/drip tray, Recipe book
2 Oven Racks, Baking/Drip Pan, Broiling Pan, 13" Pizza Stone, Crumb Tray, Recipe Booklet
Availability
Stock may run out soon
Available
Stock may run out soon
Available
User Reviews
Cuisinart TOB195 is an all-in-one device that is capable of heating, broiling, toasting, and defrosting. That, too, in various styles and methods.
Lots of people have bought it due to its appealing, professional look, and it is perfection, with the combination of its size, its effectiveness, and its unique functions. It has remained a popular choice when it comes to convection ovens. A small oven that does not require too much power or space is a concept that is loved by all. The walls of the device do not stick and are overall better in hygiene control.
I have read several oven review posts to conclude that the Cuisinart toaster oven TOB195 seems to have a less-than-optimally designed handle, which gets heated quickly when the unit is in action. This has been considered to be a design flaw by many reviewers. On the other hand, such a problem can be fixed by careful management and a timed schedule of the cooked food. It can even perform on its own if need be, which is a huge plus.
For everyday use, weekend family bonding, or even dinner parties, this appliance is ready to serve you and provide consistent results.
During my research about the Cuisinart TOB195 Toaster Oven, I found that customers love electronic touchpad controls.
The idea for the control pad is well thought out and extremely convenient. Users love the reheat and defrost settings. And the LCD screen, which displays all the necessary information you need to cook.
Buyers were satisfied with this unit due to its ability to toast evenly. Every slice is toasted perfectly, and the darkness settings are great for your liking.
Many customers have been using their ovens for reheating leftover meals and desserts. The oven can fit up to 6 slices of bread and toast them evenly at the same time. Users were able to cook frozen foods in the oven, something they have described to have never been able to do in old units.
Users have described this appliance as a "mini-oven." You can fit a whole 12-inch baking pan and even a whole chicken.
The difference in taste when using Cuisinart's toaster oven compared to a microwave has been described as "noncomparable."
Buyers feel the crumb tray is an excellent addition to the toaster oven. The tray is easy to remove and easy to clean. The adjustable rack slides out to make tray placement and removal more comfortable.
Users feel that, due to its dimensions, the oven takes up little to no space in the kitchen. The toaster's steel panels ensure that nothing sticks to it, making it grease-free.
During my research, I have found that customers have frequently bought a toaster oven liner to go along with the toaster. The Chef's Planet 401 Nonstick Toaster Oven Liner has been the preferred liner that is available for a very affordable price.
Cuisinart TOB 195 Pros and Cons
Pros
Lower Electricity Bills
The Cuisinart TOB 195 Toaster Oven runs on 110 Volts.  The oven performs equally as a large kitchen oven, but you save energy and don't heat up yourself and the kitchen.
Durability
This Toaster Oven can last up to 10 years. After 5 years of usage, there is a good chance that the oven will still be in great shape with nothing missing.
Keeping the unit clean is essential, but that's not a problem since the toaster ovens usually are is very easy to clean. The tray has no problem coming out, and because of its stainless steel, both tray and racks are very easy to clean.
Compact Size
This oven takes up little to no space in your kitchen, so you can easily find space for the appliance even in a small kitchen. It has the options to toast, bagel, reheat and defrost, perfect for leftovers and frozen foods.
Multiple Modes
The oven also has settings for Pizza, Bake, and Broil. New to the Cuisinart toaster oven is the setting "Convection Bake." This setting uses fans that circulate within the oven cavity. This allows food to cook 25% faster at a 25% lower temperature.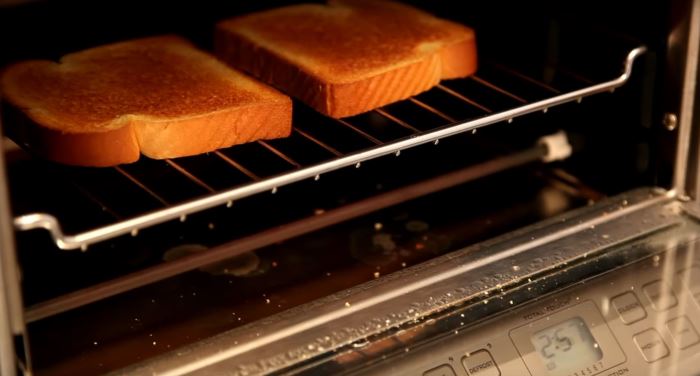 Cons
Hot door
While cooking, the toaster's door and front handle can get very hot. Be careful how you open the door, make sure to use an oven glove just in case.
Convection fan issue
After a few years of usage, the convection bake fan can get noisy. Cleaning the fan can be problematic since you have to destroy the plastic housing to get to the fan.
Conclusion
The Cuisinart TOB-195 toaster oven has its pros and cons.
Compared to other toaster ovens, the setting for Convection Bake is a significant advantage in most books. The fact that this oven can fit 6 slices of bread while most can fit 4 is also something to note.
Get the Cuisinart TOB195 now and experience for yourself the magnificent performance and excellent-tasting cooking you'll only get from Cuisinart!
Related Articles