Most Popular And Best Rated Food Processor Brands
The food processor is one of the most important and versatile kitchen appliances. It can help in chopping, shredding, blending, mixing, and pureeing ingredients, making it an invaluable tool in any cook's arsenal.
With all the different brands and models of food processors on the market, it can be difficult to know which one is the best.
In this blog post, I will look at ten of the most popular food processor brands and their features. We'll discuss the pros and cons of each brand and help you find the perfect food processor for your needs.
Top 10 Most Popular Foor Processor Brands
If you are wondering what the top ten most popular food processor brands are, here is a list:
Cuisinart
KitchenAid
Hamilton Beach
Oster
Ninja
Breville
Magimix
Braun
Russell Hobbs
Bosch
Now let's take a look at each of these brands and their models.
Cuisinart Food Processors
Cuisinart has long been recognized as one of the most prominent names in the market for innovative and highly functional kitchen equipment. The demand for product processing tools is no exception. They have various models in this product category that will not surely disappoint its users.
With the processors from Cuisinart, you can decide to go cheap or go for their elite models. If you have the money, the elite models will undoubtedly be a good choice. They are best known not only for their outstanding performance but also for an extensive list of features.
The wide mouth feed tube incorporated in the design of various kitchen processors from Cuisinart will undoubtedly be beneficial. There is no need to cut large fruits and vegetables into smaller pieces before having them processed.
Cuisinart DLC-10S Pro Classic
Cuisinart Pro Custom DLC-8SBC/8SBCY
Cuisinart DLC-2009MRY
Cuisinart FP-14DC Elite Collection
KitchenAid Food Processors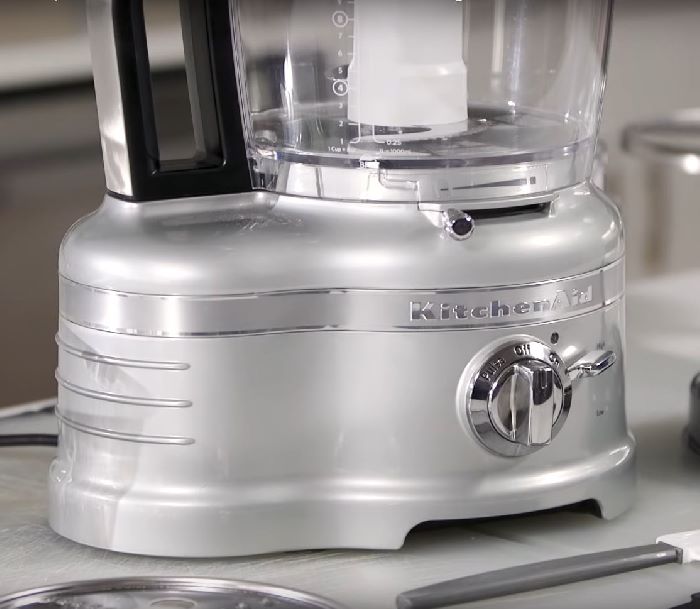 ExactSlice is one of the technologies incorporated in the kitchen tools manufactured by KitchenAid. With this feature, there is no more need to worry about how the products will be chopped. Whether you want it thick or thin, this machine will always do the job right for you.
Besides, the presence of a slicing disk is also a good thing. You just need to select Slicing Thickness Control, and you can expect the right slice without turning the machine off or removing the cover. More so, it ensures precision in the slicing capability of their processors.
Many users have commended its ability to deliver superior and precise performance. They have liked the fact that it can be used to prepare many different meals and dishes, such as coleslaw and hummus. Many have also noted that it is straightforward to clean and maintain, making it last longer.
KitchenAid KFC3511TG
Kitchen Aid KFP1466CU
Hamilton Beach Food Processors
There are many cheap models of processors that are coming from Hamilton Beach. Nonetheless, despite the price, it offers quick and precise performance. It has motor and parts that are guaranteed to perform highly, although not as commendable as models from higher-end brands.
Many of the people who have used kitchen appliances from Hamilton have noted that it is also effortless to use aside from its fast speed. This is perhaps one of the advantages of the models from the lower end of the market – they are less complicated to use and operate.
Furthermore, its users have also lauded that it has a quick pulse, allowing him to liquefy onions, as one customer has noted. However, it is essential to note that this kitchen appliance will perform at its best at small loads.
Hamilton Beach 70730 Bowl Scraper
Hamilton Beach 70740
Hamilton Beach 70575
Hamilton Beach 70725A
Here is a short review of one of the best inexpensive food processor models.
The Hamilton Beach 70725A food processor has got some unique features. First of all, it is huge in size, so one can use a lot of liquid at once instead of having to do it in batches. The built-in pour sprout helps to take care of the mess usually caused by using liquid with such devices.
Users love that this is super easy to assemble, which can be tricky for many models. You have to snap it on, no twisting, and no locking. With this, one can shred, slice and chop all in one, speeding up the preparation time.
One of the best parts is that customers can get really long-time usage out of this food processor. It has a great motor that can run for long hours, and there is no better alternative at this price point.
Black & Decker Food Processors
The customers who have bought kitchen processors from Black & Decker have ranked price as the most essential benefit of buying such a product from this manufacturer. Many of them have expressed the willingness to accept their limitations in terms of performance, just because it is very affordable.
Some of the features praised in many reviews about its kitchen tools include a safety interlock system. This suction cup is heavy-duty and is safe for dishwashing.
The interior of the processors from Black & Decker, although sleek, is sturdy. Besides, it is also equipped with more than enough power to process different fruits and vegetables, making it very easy for you to prepare whatever food you want.
Black & Decker FP1600B
Black & Decker FP2500B PowerPro Wide-Mouth
Black & Decker FP2620S
Philips Food Processors
Philips is a traditional brand better known in Europe. Have you heard about their innovative Philips HomeCooker concept?
Conclusion
Many food processor brands are available on the market, each offering unique benefits and features. When shopping for a food processor, it is important to consider the size, power and features that best suit your needs.
My favorite food processor brands include KitchenAid, Cuisinart, Hamilton Beach, and Breville, all of which offer quality products at various price points. With the right food processor, you can easily prepare your favorite meals with ease and convenience.