KitchenAid KFP750 12-Cup Food Processor Review
For your entire kitchen processing needs, there is the KitchenAid KFP750 Food Processor that helps you out in making your family's dinners the best.
This kitchen appliance would answer all your product chopping and shredding needs. If you are looking for the best inexpensive food processor that does it all, then this KitchenAid 700-Watt unit is what you should get.
It is made of durable materials that are sure to last for a long time. The blade does not get dull quickly, and if you get yours refurbished after a long time of use, it will be as good as new.
The KitchenAid KFP750 has been discontinued.
To see available models please click here to see best-selling food processors on Amazon!
Kitchen Aid KFP750 Features
Powerful Motor
The powerful 700-watt motor of the Kitchenaid KFP 750 plus the sharp multi-purpose blade will get the job done. You can do your slicing, dicing, chopping and puree with this.
You will find that your meal preparation time is reduced so that you can prepare your dishes even if you have little time on your hands with the help of this great piece of equipment.
Spill-Proof Housing
The sealed housing of the KitchenAid food processor KFP750 accounts for its silent operation. No more noise when working in the kitchen so you may play some background music if you like.
Simplicity and Functionality
If you are always bothered with buttons, this one has only 3 buttons. There are On and Off buttons and the Pulse control so that even with a light touch you can quickly get the equipment to work.
The functionality of this processor is coupled with a stylish design that won't clash with your modern cookroom décor. It is also effortless to clean and maintain, so you need not worry about tidying up. From making delicate pie crusts to coarsely chopped nuts, this is the one you should get if you are looking for the best inexpensive food processor.
Specifications
Motor power – 700 Watts
Work bowl capacity – 12 cups / 2.8 liters
Mini bowl capacity – 4 cups
Dimensions

Depth 10 1/2 in.
Height 15 1/8 in.
Width 8 1/4 in.

Weight 15.5 lbs
Warranty 12 months for new units, 6 months for Factory Reconditioned units
KitchenAid KFP750 vs KFP760 vs KFP1333 vs KFP1133
KFP750 was quiet, spill-proof, and has bundled 12-cup and 4-cup bowls. It is discontinued, but for a long period of time shoppers had a chance to order factory-reconditioned units.
KFP760 (also discontinued) has bundled 13-cup and 10-cup work bowls. mixed reviews about cleaning the rubberized seal between the lid and work bowl and the holes in the slicing disc.
KFP1333 (and again discontinued) was the next-generation 11-cup model. People are not too happy about the cleaning the rubber seal between the lid and bowl of this model.
KFP1133 finally is a model you can get now. It is an 11-cup model that comes with 2 cups for additional versatility – you get 3 cup and 11 cup chopping bowls.
User Reviews
KitchenAid Artisan KFP750 is the kitchen processor of anyone's dreams, made by one of the best food processor brands.
Complete with a variety of cutting and shaping tools, the motor of this processor is sturdy and can grind up products to desirable amounts of pulp without any hassle.
Unlike most other food processors, this model is quiet when it works and does not cause excessive spilling. This keeps a peaceful environment as well as eliminating cleaning problems.
One significant disadvantage of the Kitchen Aid KFP 750 is its large size. The stature makes it unfit to be placed in tight workplaces and to be kept in compressed cabinet spaces.
The KFP 750 food processor does redeem itself from its cons by including an array of useful accessories that would make life in the cooking room easier. The features are easy to control, even for first-time users.
It can do its job in a specific bulk, and the large size helps it process bigger chunks of produce.
Box Contents
The standard accessories are included with the Kitchenaide KPF750 so that you don't have to look for other compatible ones in the market.
Two bowls

small 4-cup mini bowl with a mini blade that you can use when you are working with smaller servings
the main 12-cup bowl with cover with tall feed tube and matching food pusher

Three slicing discs – there are 2 slicing discs, a 2-mm, and a 4-mm as well as a 4-mm shredding disc for various slicing, chopping and shredding tasks
Two blades

stainless steel multipurpose blade
dough blade

Storage case for accessories
Instruction and recipe guide
Not to mention the spatula that makes your work easier since you already have all you need with this processor.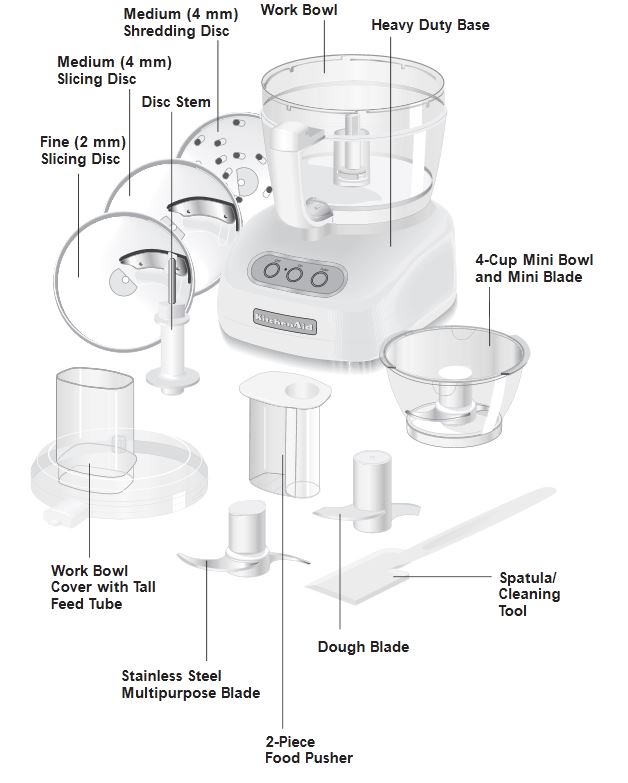 KFP750 Accessories
Usually, you should be able to order these accessories from the manufacturer's website or Amazon. This model is discontinued, so there is a chance mentioned suppliers do not carry it anymore.
You may also want to check eBay and Craigslist and consider getting used items.
Blades and Discs
12-cup Multipurpose Blade KFP72BL*
12-cup Dough Blade KFP72DB*
Mini Blade (for Mini Bowl) KFP7MBL*
2 mm (Thin) Slicing Disc KFP7SL2*
2 mm (Thin) Shredding Disc KFP7SH2
4 mm (Med) Slicing Disc KFP7SL4*
4 mm (Med) Shredding Disc KFP7SH4*
6 mm (Thick) Slicing Disc KFP7SL6
6 mm (Thick) Shredding Disc KFP7SH6
Julienne Disc KFP7JU
French Fry Cutting Disc KFP7FF
Parmesan/Ice Grating Disc KFP7PI
5 Disc Set KFP7DS containing
•6 mm slicing
•6 mm shredding
•French fry
•Julienne
•Parmesan/Ice grating
Bowls and Covers
Work Bowl Covers:
– with Standard Tall Feed Tube KFP7WC*
– with Ultra Wide Mouth™ Feed Tube KFP7WWC
12-cup Work Bowl KFP72WB*
Mini Bowl with Storage Lid KFP7MB*
Chef's Bowl KFP72CB
Other Accessories
12-cup Egg Whip KFP72EW
Citrus Press KFP7CP
Juice Extractor KFP7JE
2-Piece Food Pusher for Standard Tall Feed Tube KFP7DP*
2-Piece Food Pusher for Ultra Wide Mouth™ Feed Tube KFP7WP
Spatula/Cleaning Tool KFP7SP*
Chef's Accessory Case KFP7SC*
Accessories marked with an asterisk* are included with the unit.
Related reading: Best Food Processor For Meat Reviews
Frequently Asked Questions
How to remove the Kitchenaid KFP750 bowl handle from the bowl?
You should not remove the handle because it is molded together with the bowl and should not be disassembled.
Can I take the handle apart on the Kitchenaid KFP750?
No, the Kitchenaid KFP750 handle is not designed to be taken apart. If you ask these questions, something has probably gotten inside the handle. The only viable solution is to soak the bowl and handle it overnight in hot soapy water with a splash of bleach.
Alternatives
It looks like online stores have sold out the stock, so you have to consider getting another model.
Please click here to see best-selling food processors on Amazon!
According to sellers, when people learn that this model is not available, they choose one of these models in 10 to 14 range:
Cuisinart DFP-14BCNY
Hamilton Beach 70730
Cuisinart DLC-10SY
Hamilton Beach 70725A
Related Articles