Best Food Processor For Meat Grinding 2023 Reviews and Buying Guide
If you're into cooking, then you know that ground meat is a must for dishes like burgers, meatloaf, and meatballs. But, who wants to do all that manual work when you can have a handy dandy food processor to do it for you?
That's why I am here to help you find the best food processor for meat grinding. I've done the research and found some top-notch options that are powerful, efficient, and will make your cooking life so much easier.
Whether you're a seasoned cook or just starting out, this article will give you the inside scoop on what to look for when choosing the best food processor for meat grinding. Let's get started!
450-watt power pod
48 oz. (6 cups) pitcher for frozen blending and smoothies
40 oz. (5 cups) bowl for food processing and meal preparation
16 oz. (2 cups) chopper bowl for even chopping
4-blade and 6-blade set
power – 400w
8 cup glass bowl
5 cup stainless steel bowl
2 blade sets
power – 600W
7-cup work bowl
chopping/mixing/dough blade
stainless steel medium shredding disc
medium slicing disc (4mm)
Best Food Processor For Meat
Chopping meat is a tricky task for any food processor. If you grind meat regularly I suggest considering getting either a manual meat grinder or an entry-level electric grinder. You can not go wrong with a meat grinder which is a specialized tool designed to do just one thing perfectly.
Using a food processor to grind meat is often hit or miss – sometimes it works, sometimes it does not because there are many variables like meat type and texture that also depends on the temperature.
If you still have not changed your mind, I have selected the 5 best food processors for grinding meat.
1. Ninja Master Prep QB1004 Food Processor and Blender (Versatile)
The Ninja Master Prep Food Processor and Blender QB1004 is the ultimate blender and food processor combo. Weighing around 1 pound this food processor is very compact and user-friendly.
The lightweight factor makes it easy to be moved around. It comes with 3 containers and each has a stacked blade set to work with. One is for high magnitude crushing and chopping, the other for fine blending, and one for processing food.
Also, there is a one-touch power control button. The parts of the food processor are dishwasher safe. The 450-watt power pod suits well enough for any magnitude of the job. There are three-speed levels to choose from.
The product is compact and lightweight. Basically, it takes up less space than traditional food processors that do the same job.
It includes storage space and a recipe book with 40 recipes. The versatile nature of the Ninja Master Prep Qb1004 is what provides both the classic outlook and user-friendly attributes.
Other Users' Feedback
The food processor is very lightweight and user-friendly. You will be delighted that you don't have to drag it out like other heavy-duty food processors.
It comes with three different blades for three different methods of food preparation. The assembly procedure is straightforward and less time-consuming.
The power pod (with a 450-watt motor) is on the top of the container and is very light. Once the processing is over, one can just remove the power pod with the lid.
Power pods are generally a weighty base below the container. That makes the removal of the container and taking the food out very messy in most cases. But, this particular processor has been engineered differently, making food processing easier.
The three different blades assigned for various tasks are an excellent help for the users. However, the blades are very sharp, and you need to be careful with them.
Once the blade has done its job, it is best to immerse it in a container filled with water. That way, the food particles stuck to it will become easily removable during washing.
If you are not a pod-pressing enthusiast, this blender might not be for you. This food processor cannot be left to function by itself. You'll have to press the pod over it to control the pressure inside the container.
It works great with many different products. But, if you are making dough, things have a 100% chance of getting hard to clean.
The dough gets stuck in between the blades and in the base of the container. So, be careful not to hurt yourself while force-cleaning the sharp blades.
Pros and Cons
Pros
450-watt power pod situated above the container
Three different types of blades
User-friendly functions
Easy to clean
Versatile nature
Light-weight and takes less space
Dishwasher safe
Sharp blades and high-power motor
Cons
Needs hand pressure on the power button while processing food
The dough gets badly stuck in the blades, so you may want to choose one of these best food processors for dough instead
#2 Syvio Food Processor (Affordable)
Syvio food processor is a versatile kitchen essential that has been designed with chopping meat in min and will help you prepare delicious meals for your family and friends.
With its 8-cup glass bowl and 5-cup stainless steel bowl, you can chop, blend, puree, mix, and mince a variety of ingredients to get the perfect texture every time.
The unique and sharp stainless steel two level blades, powered by a 400W motor, allow you to crush, mince, and puree with precision and ease, saving you time in the kitchen.
The user-friendly design of the Syvio food processor makes it easy to use. You can choose between low and high speeds, depending on the contents you are processing or the volume of food. The anti-slip rubber mat keeps the unit stable, and the glass bowl is dishwasher safe for easy cleaning.
The motor comes with a unique interface that locks the blades in place before use, and the safety switches stop the motor from grinding if you release the button.
When you buy the Syvio food processor, you get an 8-cup glass bowl, a 5-cup stainless steel bowl, and two blade sets. Whether you are an experienced cook or just starting out, the Syvio food processor is a must-have in your kitchen.
You will love the two levels of blades in the Syvio food processor. Be aware that the blades are very sharp, making it easy to turn vegetables and meat into tiny bits. You'll appreciate the two different speeds, with the lower speed creating slightly larger pieces, and the higher speed producing finer pieces. The easy-to-use and easy-to-clean design of the Syvio food processor make the user's life much easier.
The Syvio food processor is a good choice if you are looking for a solid affordable food processor that is not too complicated to use and that could make ground meat. The unit is solid but be prepared that the step of assembling the blades can take some time to figure out because the instructions for assembling the blades were not clear. The blade sets are not dishwasher safe and only hand wash is recommended.
Pros and Cons
Pros:
Versatile with two different bowl sizes (8 cup glass and 5 cup stainless steel).
Time-saving with sharp and precise blades (two different blade sets).
User-friendly design with two speeds.
Safety features with motor lock and thermal protection device.
Cons:
Difficult to assemble the blade set with unclear instructions.
Not to be run for more than 30 seconds straight.
May require hand-washing due to unclear instructions on dishwasher safety.
3. Ninja BN601 Professional Plus Food Processor (Powerful and Versatile)
The Ninja BN601 Professional Plus Food Processor is a top-of-the-line kitchen appliance that is perfect for anyone who loves cooking and preparing meals at home. With its powerful 1000-peak-watt motor, this food processor can easily process the toughest ingredients, including meats for grinding.
The 9-cup processing bowl delivers consistent results whether you're chopping a small batch or an entire bowlful of ingredients. The blades are also specifically designed to provide restaurant-worthy results, with precise chopping and slicing.
One of the best features of this food processor is its versatility. It comes with 4 Auto-iQ intelligent preset programs that make food prep easier with 3 speeds – low, high, and pulse. You can chop veggies, shred cheese, and make smooth sauces and quick pizza or cookie dough all at the touch of a button.
The powerful dough mixer also has the torque to fold in ingredients quickly and evenly, making up to 2 lbs. of dough in as little as 30 seconds. Plus, the included 20-recipe Inspiration Guide is a great resource for trying new recipes and creating delicious meals for any occasion.
Cleanup is also a breeze with this food processor. All parts are BPA-free and dishwasher safe. For quick cleaning, I suggest simply pulsing some warm water and a couple of small drops of dish soap to quickly clean the bowl and blades. If you are looking for a versatile food processor that chops meat well, I believe this food processor to be a must-have in my kitchen.
The blades work really well and are easy to clean, and the 9-cup capacity is perfect for family size cooking.  Overall, I highly recommend the Ninja BN601 Professional Plus Food Processor for anyone who loves to cook and wants a reliable and powerful appliance for their kitchen.
Pros:
Powerful 1000-peak-watt motor can handle meat with ease
Large 9-cup capacity bowl can handle big batches of ingredients
Four versatile functions and preset programs make food prep easier
Dedicated blades and discs deliver precise, restaurant-worthy results
A dough mixer has the torque to quickly and evenly fold in ingredients
Cons:
The machine is not quiet
The large size of the machine may take up a lot of counter or storage space
The machine may be relatively expensive compared to other food processors on the market.
4. Cuisinart DLC-10SY 7-Cup Pro Classic Food Processor (Reliable)
Cuisinart DLC-10SY Pro Classic 7-Cup Food Processor, WhiteCHECK CURRENT PRICE
The Cuisinart DLC-10SY 7-cup food processor is a multi-tasker, slicing, spreading, chopping, kneading, emulsifying, and creating puree techniques. It has a large feed tube and an extra-large work bowl.
For chopping and mixing, use a double blade. While shredding, use a medium disc.
Although the motor is rated 600 watts, the food processor does not create any annoying extra noise. It is very heavy, making it easy to grind a ton of food at once, and it is effortless to clean, unlike most food processors.
Another great thing about this product is that its parts can be bought separately if one were to become damaged, lost or broken, which is very unlikely for most other food processor models.
This machine is known to work great and fluently for decades by users, and they rarely require replacement. For under a hundred dollars, this machine proves to be very efficient and suited for heavy-duty usage.
Meat Chopping Food Processor Buying Guide
What are people looking for in a kitchen processor for grinding meat?
Chopping meat is a tricky task for any food processor, and it might be a good idea to invest in the best meat grinder for home use.
I did research online on what people want to see on their product chopper. Here's what I found.
People expect their appliances to last more than ten years, even 20 to 30 years.
The processor has to be versatile – powerful enough to make a dough, chop the ice, and be accurate enough to slice vegetables into paper-thin slices.
There is always a dilemma – powerful or quiet? Better it be both.
People don't like to run recipes in multiple batches, so the big bowl is a must.
The kitchen tool should be easy to disassemble and clean.
A storage box for accessories is a must-have, as nobody likes to rummage through the kitchen drawer trying to find that one blade.
Motor Power
The motor power is one of the most important features to consider when selecting a food processor for grinding meat. A powerful motor is essential to ensure that the meat is ground quickly and efficiently, without overheating the machine. A motor with less power will strain to process the meat, causing it to take longer to grind and potentially overheating the machine, which can damage it. A more powerful motor also provides greater control over the consistency of the ground meat, allowing you to adjust the speed and power to achieve the desired texture.
When doing lots of cooking, you need to remember that the more powerful motor, the finer the blend, and the finer the mincing.
The ones with lesser motor power usually come at a lower price. An interlock safety system is not typically necessary in these. But the performance is compromised. When shopping for a model that can grind meat, 450-watt motor is a minimum for food processors that will grind meat with ease.
Bowl Capacity
The size of the food processor's bowl is also an important consideration. A larger bowl allows you to process larger quantities of meat, reducing the need to work in batches and saving time in the kitchen. It also helps prevent overheating by allowing the motor to run at a more consistent speed, as it is not strained by smaller batches.
However, larger bowls can be more difficult to clean, so consider your needs carefully when selecting the right bowl capacity for your food processor.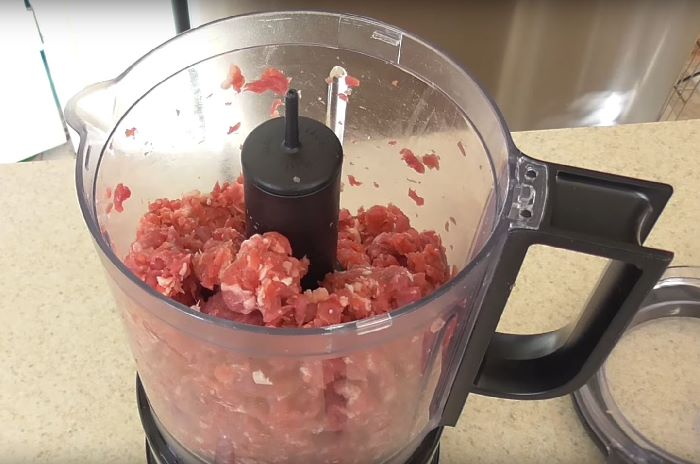 The processors with 3-5 cup bowls have smaller footprint and, thus, a good fit if you have limited kitchen space. The Syvio food processor (one of the best inexpensive food processor models I have seen) is a brilliant example of this.
While small units are easy to assemble and easy to use, they usually lag in different sorts of food processing purposes. The model mentioned above has no slicing and shredding blade. Thus, if you are looking for one that saves on kitchen space and is enough to process everyday foods, a 3-cup food processor will do.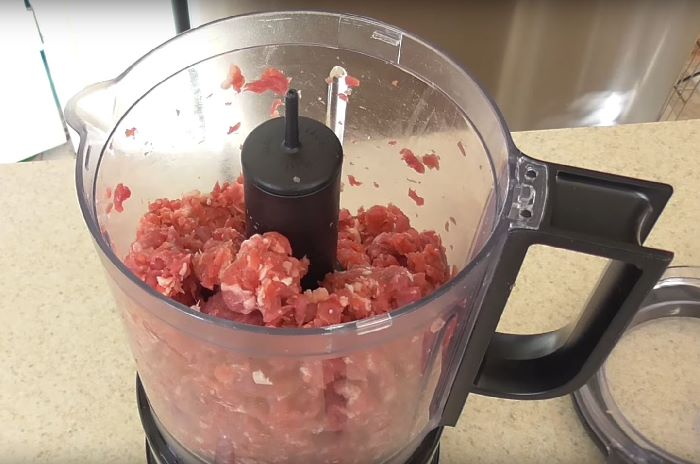 Processing Speed
The processing speed of the food processor is also critical feature to consider in the case of doing various tasks. Mincing meat takes a certain processing speed, while grinding requires another.
A higher processing speed allows you to grind meat quickly and efficiently, while a slower speed may cause the motor to overheat or produce uneven results. Look for a model with multiple speed settings, so you can adjust the speed to achieve the desired consistency.
The majority of models reviewed are two-speed food processors with high, low and pulse speeds.
Multiple speed models like Hamilton Beach have three speeds to choose from. Usually, the lowest speed is suitable for soft food processing like shredding and mincing cheese, grinding dough. In contrast, the harder ones like potatoes and carrots require higher speeds.
The pulse speed option helps process the food with pauses for better grinding and other complex processes for advanced cooking.
Attachments and Blades
The blades are the heart of the food processor and must be durable and sharp to grind meat effectively. Stainless steel blades are the most common and durable option, and they are typically designed with multiple edges or ridges to ensure that the meat is ground consistently. Look for a model with strong blades that are designed specifically for demanding tasks, as general-purpose blades may not be up to the task.
Versatility
Versatility is also an important consideration when selecting a food processor for grinding meat. Look for a model that offers versatility without sacrificing performance, so you can use it for a variety of tasks in addition to grinding meat.
There are versatile food processor and blender sets like Ninja Master Prep. This is a literal ninja in your kitchen that does all sorts of work for you, including grinding meat. Although the price point is higher than most, users say it is worth the investment for it does multiple jobs in one, and pretty much all of those features function well.
Then there are one trick ponies like Syvio that can only chop.
Versatile food processors come with multiple blades. While none of the reviewed models comes with slicing discs like an egg whip, a julienne disc, a French Fry disc, a dough blade, a citrus juicer, and a non-citrus juicer, several have different types of blades.
We have been used to cheaper and compact ones usually coming with fewer blades and attachments but this is not true anymore. Even the cheap Syvio processor has 2 blades.
Ease of Cleanup
Finally, ease of cleanup is an essential consideration when selecting a food processor for grinding meat. Look for a model with a dishwasher-safe bowl and blades, as well as a design that is easy to disassemble and clean. This ensures that you can clean the food processor quickly and easily after use, preventing cross-contamination and ensuring that your equipment is ready to use when you need it.
Warranty
Food processors are usually expected to last long since they are pretty pricey. Thus, they come with a warranty. This, too, fluctuates with the price.
Usually, the cheaper priced models come with 12 month warranty period. On the other hand, the expensive ones usually come with an extended warranty of 5-10 years for motors and a 2-3 year warranty for the whole appliance.
Conclusion
Choosing the right food processor for your needs depends on your specific requirements. If you're someone who frequently grinds meat, then it's important to select a food processor that is specifically designed for this task or opt for meat grinder. Fortunately, there are several great options available on the market that can help you with this.
On the other hand, if you're looking for a versatile food processor that can handle a variety of tasks, then the Ninja Master Prep QB1004 Food Processor and Blender is a great option to consider. This model is designed to chop, mince, blend, and puree, making it a great all-in-one appliance for any kitchen.
If you don't need a food processor for grinding meat and are only interested in chopping and mincing, then the Syvio food processor is a good choice. This model is simple and straightforward, and it can effectively chop and mince a variety of ingredients with ease.
Ultimately, the best food processor for you will depend on your individual needs and preferences. By considering the features and benefits of each model, you can make an informed decision and choose a food processor that will help you prepare meals more efficiently and effectively.
Related Articles