Best Food Processor For Dough Kneading And Making Bread Dough 2023
Luckily for all of us now, there are even food processors that are the absolute best in the market but still fall under the more reasonable price limit.
In this review, I will try to reveal the models that are among the best food processor with dough blade.
Those who cook understand the importance of the right products that are easy to use and cover all functions you need. Unfortunately, they do not come that cheap, especially since many people choose to buy the priciest one for all the additional features it comes with.
However, if given the correct information about each of the products, you can make up your mind yourself if you need the add-ons and which ones you need and which you can do without.
Best Food Processor For Making Bread Dough
Now let's take a look at my shortlist of food processors equipped with dough blades that can be used to make bread dough.
Related reading: Best Rated Food Processor Brands
#1 Cuisinart FP-11GM
A food processor with a work bowl capacity of 11 cups, the Cuisinart FP-11GM runs on a motor power of 550 watts. Although it has been designed to support the cooking for vast groups of people, the product itself is not that humongous, just large enough to run effectively. The size of the food processor is its price: not the cheapest one in the bunch but not that expensive either!
Attachments include an adjustable slicing disc and a reversible shredder, along with the primary function of chopping down dry food ingredients. The advantage of using this reversible shredder is that you can choose either a coarse or a fine quality shredding.
There are 2-speed levels along with pulse, allowing you to try out a wider range of recipes since different types of ingredients require different speed levels to be adequately processed. The pulse button is rubberized, so it can be cleaned along with the product and its removable parts.
However, a reported disadvantage is that the center post of the product cannot be removed, so you may have to take extra care while cleaning it since it is attached to the motor, which, unfortunately, is not waterproof.
This model is available in Gunmetal (FP-11GM pictured on the left) and Silver (FP-11SV) finish.
#2 KitchenAid KFP1133CU
Like other food processors, the KitchenAid KFP1133CU has a work bowl capacity of 11 cups and two-speed levels plus the traditional pulse to control it. But what makes it unique from other processors is its ability to multitask, courtesy of its multipurpose blade.
The product is solid and sturdy, a bit on the larger side but well-balanced enough. The color options are surprisingly sophisticated for a food processor, especially a vivid red, popular sell.
The motor runs quietly despite the food processor's intricate structure, which also offers a slicer that can be adjusted at five different settings for the level of thickness. Now you can enjoy the smooth thinness of a slice of chess right inside your home. No need to go to the deli!
The adjustable slicing disc and the reversible shredding disc, along with the additional work bowls, allow you to try out various types of recipes; in the case of pie pastries, you can try handling ingredients for more than one or two recipes at the same time.
A slight drawback to the state-of-the-art design is that since the processor has too many nooks and corners, it is easy for food crumbs to get inside, taking more time for you to clean it.
You can choose between 4 available colors:
KFP1133ER Empire Red (in the picture)
KFP1133CU Contour Silver
KFP1133OB Onyx Black
KFP1133WH White
#3 Cuisinart FP-12DCN
The Cuisinart FP-12DCN supports 12 cups rather than the traditional 11 cups setting. It has an additional small bowl for mixing herbs and sprouts to handle up to a maximum of 4 cups. Even the motor's power is more than what is usually expected from a food processor; 1000 watts is the ultimate maximum when it comes to power.
This food processor comes with a motor warranty of 10 years and a limited warranty of 3 years.
The arrangement of the bowls is the best thing about the Cuisinart FP-12DCN, especially when you are in the middle of cooking for a huge party of people. You can use the small bowls to make condiments while using the bigger ones to prepare ingredients for the main meals, all at the same time.
The blades come in two sizes, and you can leave them lying in the bowl as you pour into it. Moreover, this food processor is not the kind that topples off that easily. This is an advantage if you would prefer to let the machine operate on its own while you take care of other meals. It saves time and energy.
However, there is a difficulty with the lid, which needs to be pushed in two places to ensure the bowl is secured.
3 color options are available:
FP-12BCN Brushed Chrome
FP-12DCN Die Cast (in the picture)
FP-12N White
#4 Breville BFP660SIL
With its parts made of stainless steel, the Breville BFP660SIL is considered to be a great investment. Its multiple speed settings for ease of use and non-slip feet to reduce hazards are only some of its many great features.
The bowl does not have a hole, so food does not spill during transfer, and there are three different food chute sizes so you can get any food to fit perfectly.
The blade is situated at the very bottom, which is not the case for many food processors. This feature makes it easy when you have to grind or powder in small quantities.
It also has thoughtful gestures built into it, like a hole in the plug for a comfortable grip and to make it easy to unplug. The cord storage is also helpful for those who end up messing it up after it lies around here and thereafter uses.
#5 Cuisinart Elite Collection® 2.0 FP-14DCN
One Sunday morning, I was standing at my kitchen counter and figuring out what to make for breakfast for my family.
I looked at my 30-year-old Cuisin Art kitchen processor, and…I noticed that its plastic bowl has cracked…
That's terrible news, but they say that bad news often comes with good news. We are going to have a new food processor!
That is how I got the Cuisinart FP-14DCN Elite 2.0!
Why Cuisinart FP-14DCN?
Initially, I decided to buy two new food processors – a 14 cup unit and one smaller bowl unit. But then I found the FP14DCN model, and I quickly realized that it is all I need.
The first thing I loved about this machine is the three bowls – 14 cups bowl will make you forget how to split your recipes into two or three batches.
It is essential for me as I am often cooking large servings of cookies and pizzas.
And there are also 11 cup and 4.5 cup bowls for smaller tasks, so no more washing bowls in between cooking. There is more – the bowls nest, so they do not require extra space.
That's important because I can't find a place to hide 3 bowls in my 10'x10' box kitchen.
Thanks to the manufacturer for including the storage box for blades and slicing discs – that's an excellent idea.
I kept old processor blades in the cupboard drawer and painfully sliced my finger several times while hunting for the missing blade.
Now you can store everything in one place, and the box is small enough to keep it on the counter.
I was excited to learn that there is an adjustable slicing blade – you can adjust it from 1mm to 6mm. I love to make cucumber my salad with paper-thin cucumber slices!
Many users of this appliance say that it is powerful (1000 watts!) but very quiet. Now you can use your kitchen tool while your kids are sleeping!
This appliance is easy to clean – just spray it with some soapy water and give it a quick brush with a bristled scrub brush. Rinse and repeat if necessary.
There is something you won't find on many other processors – this kitchen appliance comes with a 10-year warranty on the motor! 10 years?! Wow! That's quality!
Cuisinart FP-14DC vs Cuisinart FP-14DCN – What Is The Difference?
Cuisinart FP-14DCN Elite 2.0 is the new version of this food chopper.
I am working on the updates for this review that will discuss the differences between old and new model,
FP14DC Features
1000-watt power
3 work bowls included – 14-cup, 4-1/2-cup, and 11-cup work bowls
Included blades – adjustable slicing disc (1 to 6mm), shredding disc (fine/medium), dough blade, and large and small chopping/mixing blades
Modes controlled by touchpad – normal, dough, and pulse
SealTight™ Advantage System for safety – lid seals the bowl and locks blades
20-Year Motor Warranty
3-Year Limited Warranty
Made of BPA free plastic
Available in white, black, and die-cast finish
What Do You Get With Cuisinart Food Processor FP-14DC?
I have to admit that Cuisinart FP14DCN is not cheap, but look at what you get for this price!
There are three bowls included, so you can say that it's three food processors for the price of one.
You will also get an adjustable slicing disk and a two-sided shredding disk, so no need to spend extra money on extra discs.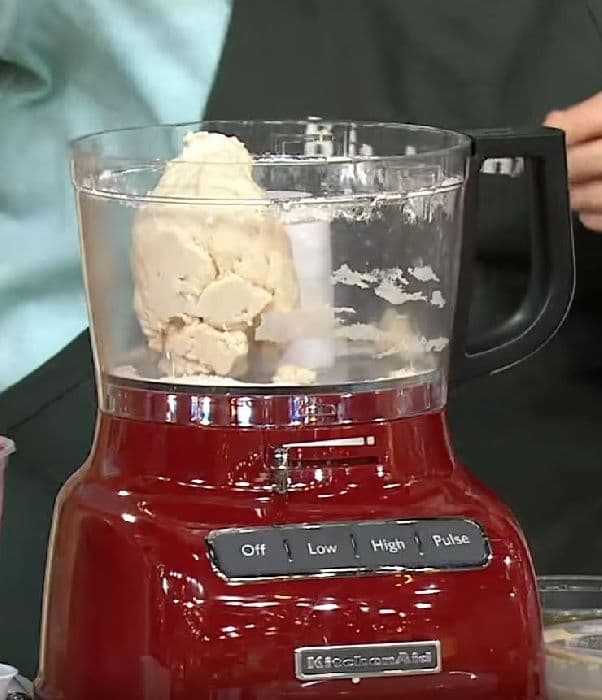 Key Features
Work Bowl Capacity
The work bowl capacity gives you an idea of the number of ingredients the processor is capable of holding. A medium-sized one may have a capacity of 7-9 cups, while a full-sized one may even hold up to 11-12 cups of dry ingredients.
It is always advisable to go for the best food processor with a higher capacity than you may think you need. That way, the same processor can be used to cook for a broader range of people.
Power
A high-powered food processor will be more efficient, smoothly chop down ingredients, and run for long periods of time. An ideal power range for the motor of such machines is 550 to 1000 watts. The more you see yourself using your food processor, the higher should be your required motor power.
Processing Speeds
The machine's speed is critical; the higher the number, the faster the food processor's rate can work.
Food processors under the $200 price range usually have at least 2 speeds along with pulse. Still, some even come with variable speed controls that adjust the speed according to your needs.
Attachments and Blades
Food processors contain at least three blades, each used for such functions as shredding, slicing, and grating. Some even come with up to nine or ten blades.
Other attachments may be a dough blade for kneading ingredients for bread and a whisk to create cream and egg whites. Each product has its own set of accessories, some even supporting multiple bowls.
Warranty
If you wish to buy the best inexpensive food processor, expect to receive a motor warranty used for five-ten years and a limited warranty for the entire unit for up to three years. A good warranty speaks for the company's reputation and the product's durability.
Related reading: Best Meat Grinder For Home Use – Manual | Electric | Professional Grinders
Conclusion
In conclusion, the best food processor for making bread dough is the one that meets your specific needs. It should have a powerful motor, large capacity, sharp blades, and variable speed settings. It should also have safety features such as non-slip feet and an automatic shut-off.
You can make perfect bread dough quickly and easily with the right food processor.
Related Articles