Best Cheap Food Processor Reviews 2023 | Inexpensive & Affordable Food Processors Reviewed
A food processor is a daily necessity that we all know. But it is not until having one in our kitchen and using it regularly that we fully understand its importance.
They come in a variety of shapes, sizes, and prices. If you are looking for the best cheap food processor, you have found the right guide. I will also mention the best inexpensive and affordable food processors.
While the right one can make your kitchen routines a whole lot easier, the wrong can turn you against food processors for the rest of your lives.
Features like the cup size and what it means, the number of blades and accessories it comes with, its speed, and the motor power make a food processor.
It is important to note that these models also fall into the category of mini food processor models.
Inexpensive & Affordable Food Processor Comparison Table
Here is a quick comparison of the 5 affordable food processor models reviewed in this article.
| | Bowl Capacity, cups | Motor Power, Watts | Speeds |
| --- | --- | --- | --- |
| Hamilton Beach 70725A | 12 | 450 | 2+pulse |
| Hamilton Beach 70730 | 10 | 450 | 2+pulse |
| Hamilton Beach 70740 | 8 | 450 | 2+pulse |
| BLACK+DECKER FP1600B | 8 | 450 | 1+pulse |
| Hamilton Beach 72850 | 3 | 350 | 1 |
Best Cheap Food Processor Reviews
The list below is a detailed showdown I compiled when searching for the best cheap food processor. While all these food processors are very affordable, some are cheaper than others based on their features and size. It all boils down to what you are looking for in a food processor and what purpose you want to purchase.
Hopefully, this list will help you choose the right one for your needs, so you do not have to go back to the market over and over again. Instead of racking your brain for which food processor to buy, list your needs and pick one from our list.
#1 Hamilton Beach 70725A (Large Bowl)
This Hamilton Beach 70725A Stack & Snap is a 12-cup kitchen processor with a 450-watt motor, two speeds with a pulse, a reversible slicing and shredding disc, and a chopping blade. It is significant because, unlike most models like these, this does not require spinning to lock, but one only has to snap it in to secure it. The grating plate and blades have a storage space to tuck them away into after use, and so has the cord. The suction cup is very sturdy and does not slip on wet counters either.
Customers who have bought this love can use one machine to create a whole range of dishes. From chopping up and grating vegetables quickly to mixing the dough, this machine can prepare faster than most. Customers also love that the slices are very even and delicate, pleasing to the eyes, and pretty.
I have also found that the motor it comes with is potent, for it can work in turns repeatedly without losing speed. After dropping food items like potatoes into the feed tube and grating them, one does not need to wait for long for the next batch. All you have to do is pull out the pusher and repeat, and you shall get similar results.
✔ Pros
The assembly is a definite advantage of this model, for it can be set in minutes without too much hassle. The snap-on mechanism has also made it easier to understand and work it. Because it is easy to assemble, cleaning it is no trouble either.
It comes with a spout which makes pouring very easy and spill-free, unlike most such models.
The blade in this rests on a spindle, which is easy to remove.
There is no hole in the cup, which is a common occurrence in a lot of models. This makes working with it more convenient and less messy.
× Cons
The cord is pretty short, much like all new electric devices. But this makes it a bit troublesome because it makes it less mobile and one has to keep it close to the outlet.
The safety tube collects water during washing. Since it cannot be dissembled, the water does not evaporate too fast either.
#2 BLACK+DECKER FP1600B (Best Rated)
The BLACK+DECKER 8-Cup Food Processor FP1600B is a kitchen processor that can hold up to 8 cups and uses 450W power to run. It has one speed plus pulse, a shredder disc, and a chopping blade. The chopping blade is thoroughly sharp and precise.
The two blades together make chopping super easy. One can also slice and grate with this. The size is excellent for those who like to move around a lot, and the motor is mighty as well for such a small appliance.
One user has been using this food processor for four whole years and is not disappointed for it is still running just like new. This user loves that it has a safety lock.
The processor will not turn on unless adequately locked and sealed, which is excellent for safety purposes. He also loves how sharp the blades are, which makes chopping the products more straightforward and faster.
Another user has said that they have been using it for an entire 9 months. Over that period, they have experimented with several things, but the blades are still going strong. This appliance has served this user well, from making smoothies to crushing ice and blending stuff into a puree.
He suggests keeping the portions correct and not overfilling. That way, the machine will last for a long time without damaging itself.
Pros
This is compact in size, which makes it easy to fit on every small counter. It is also very lightweight, so it is easy to carry around, even with one hand.
It is effortless to put together and disassemble as well. Any amateur can put this together. Professional help is not required.
It comes with suction feet to keep it from moving during use, which would be very common for lightweight kitchen appliances.
It is straightforward to use and clean and super sturdy as well.
Cons
The size is too small for a large family. One will have to prepare in batches to cook for more than two people. Also, it does tolerate well being filled up entirely. If you choose to do so, it will most likely spill over.
#3 Hamilton Beach 72850 (Small)
The Hamilton Beach 72850 Mini Food Processor is a 3-cup kitchen tool that uses the power of 350 Watts. It has one speed and one chopping blade.
The chopping blades of this food processor can be used to finely mince and chop ingredients and even beat eggs and break down breadcrumbs. For fine chopping, hold it down for a long time, and a coarse chop one just has to push it down a few times.
One user said they were skeptical of this mini food processor at first for its size, but after use, it has realized its potential. All one needs to do is give some quick presses to receive the perfect results. It might be small, but it was totally worth it to this customer.
I have read testimonials on Amazon.com saying that this is the best small kitchen processor they have ever used. Other mini processors they have come across usually tend to break easily, especially during assembly. Still, this one has not and has been serving well.
People say that they wash the appliance components in the dishwasher (except the base), and it comes nice and clean. Many people love that it is so flexible and versatile and easy to move around for a food mill.
They say there is no doubt the 72850 is a good inexpensive food processor.
Pros
The motor on this little appliance is very powerful. Although it is small, most people assume it will not have lots of power, but it does.
It is straightforward to put together and to dissemble as well. Perfect for at-home kitchen work that does not require a lot of utensils and putting together.
Cleaning is a breeze with the 72850 model. It can be thrown into the dishwasher except for the base for a perfect clean. Suitable for people who do not have the time to hand-clean the whole thing.
Cons
It is very noisy for a small food processor.
It can end up pureeing the product instead of chopping if held down for too long. So, testing this out first before making an official batch is recommended.
Related reading: Jamie Oliver Philips HomeCooker With Cutting Tower Review
#4 Hamilton Beach 70730 (Powerful)
This Hamilton Beach 70730 Food Processor & Vegetable Chopper has a 10 cup capacity and comes with a 450 Watt motor. It has two speeds with a pulse mode, and a reversible slicer and shredding disc. It also comes with a chopping blade and bowl scraper.
The bowl scraper is an infrequent yet super helpful feature that helps one get leftover food out. Especially in the case of mashed or sticky food and ingredients, this bowl scraper is a lifesaver.
The motor, too, is very tight and robust. It can deal with lots of dry and hard ingredients without dulling itself or the food. Ingredients like dry chicken or crab meat can very quickly be diced, sliced, or processed in any other way without worrying about the motor.
The instructions in the manual and the control options are elementary, making it most useful. Unlike many food processors that come with a ton of tricky directions and control options, this device is elementary to learn to use.
One user who has gone through numerous other food processors before finally trying out the 70730 is happy to have made the right decision after so long. He loves that it provides top-notch quality at an average price. He finds it easy to clean and likes that the motor is quiet. The scraper comes out when he wants it to, and he loves how versatile it is.
Another user has said that it is very sturdy regardless of being made with plastic. It is not made for industrial use, so this much weight is okay for him. He also finds it very easy to clean.
✔ Pros
The scraper is undoubtedly a feature loved by all users and is hands down an advantage. It gets those little bits of greasy food and leftovers which would have otherwise ended up in the sink. It reduces product wastage as well.
It has a safety feature: it will not turn on unless it is locked in properly. Accidents have occurred from people not locking their processors properly before starting, which shall not happen with this one.
Cons
This food processor has stopped working after a few months of use for many people, so proper checking before the warranty runs out is very important before purchase.
#5 Hamilton Beach 70740 (Versatile)
Hamilton Beach 70740 is an 8-Cup Food Processor that runs on 450 W power and uses two speeds with a pulse. It comes with a reversible slicing and shredding disc and also a separate chopping blade. The chopping blade does a great job of chopping things to bits in a minimal amount of time, that too very precisely and finely.
The shredding disc also is very efficient and smooth. It is straightforward to clean and to set up as well. The work bowl capacity is lower than most at 8 cups, but this is still very big for a regular family. The motor is potent and works super quick.
Things like puree can be made very quickly because this does not leave a chunky or gritty puree but the smoothest form one can hope for.
I have found a comment from a user who had bought this unit solely for making nut butter is super impressed. The task typically took around ten to fifteen minutes to take less than five minutes on this machine. That too, without distressing it or heating it up.
It performs similarly to a very high-end model for the price, and the purchaser loves that he bought this for butter.
Another customer bought this for pie-making purposes and is super impressed with the quality. The user's only complaint is that he should have bought this sooner because making pies on this is much easier than doing it all by hand.
Another win for the awesome food processor brand.
✔ Pros
The work bowl capacity is enormous. Even though it states 8 cups, it is enough for almost 10 people in one go.
Because of the simple mechanism of this appliance, it is straightforward to disassemble and clean and then reassemble. It does not create a mess and can be done quickly by anyone. Professionals are not required.
It is pretty simple to set up and use. This does not come with many useless instructions or different complex tools for professionals. This is just moderate enough to use every day without hassle.
Cons
Because this food processor is made of plastic, it can give off the feel of a cheap and light food processor, which some more expensive and heavier ones do not.
Because there are only two speeds, it can get very noisy, especially while chopping greens.
#6 KitchenAid KFC3516 3.5-Cup Mini Food Processor
Features and Benefits
This small food processor measures around 10 x 7 inches and weighs 3.27 pounds. It has proven to take less space and effort to operate. Indeed, this is an excellent option for regular food processor users.
It provides so many options to choose from, namely chop, mix and puree. This processor has specific control options, making food processing easier.
The materials put into use here are plastic and stainless steel. The base of the processor is rubber-padded and will not slip off the counter that easily.
This model is available in 18 different colors. Hence, you can get one without worrying about your kitchen's outlook. You can choose the color that coordinates with the interior the most.
There are two speeds of food chopping. There is also a one-year limited warranty, which, if you ask me, is a decent assurance for an appliance.
The parts of the KitchenAid KFC3516 are dishwasher-friendly. The volume of the cup is small. This might turn out to be an issue if you are preparing food for more people than usual.
As opposed to a bigger food chopper, this mini food processor has only two settings: chop and puree. And so whether you need this sophisticated food processor depends on your requirements.
Users' Opinions
After thoroughly researching the users' reviews, I came up with this. The assembly process of the KitchenAid KFC3516 food processor is considered very impressive.
The food processor is easy to use and even easier to clean. The parts are dishwasher-friendly. The blades do a great and precise job of thrashing through food items. Many found this to be a fantastic nut butter maker (definitely trying this soon).
This food processor is a godsend for cooks in smaller kitchens. The cord can be neatly stored below the processor.
The lid is made of plastic, like some other parts of this processor. This feature opens a whole new door of vulnerabilities for the appliance.
Many have reported broken plastic lids over time that they have had to get changed. The second most voiced problem is that the cuplike body is hard to detach from the lower part.
Pros and Cons
Pros
Perfect size for small space kitchen/ countertops
Easily assembled body parts
Precise control and speed settings
Countertop friendly foot
Convenient to clean and dishwasher-safe
Long power cord (30 inches) with storage below the body
BPA free bowl
Medium noise range
Cons
Contains Perfluoro Octanoic acid (PFOA)
A plastic lid that breaks easily
Not for heavy usage
The processing cup needs strong force to be detached from the lower part
Best Cheap Food Processors Buying Guide
Let's look at the essential features of a good cheap food processor in this price range.
Bowl Capacity
The work bowl capacity determines the number of products and ingredients that can be put in at once into the appliance. The average work bowl size is 8 cups or 12 cups. The 12 cup bowl is suitable for large families, while the 8 cup is best for mini food chopper models.
The more the capacity, the more expensive the appliance is likely to get. Those who want to make bigger batches at once should opt for an 8 cup or 12 cups since these are more frequently found in more expensive models.
Power
The power of the motor is used to drive the blades, which cut, slice and blend. The more power a motor has, the more efficiently the food processor will do its job. Lesser power motors do a terrible job rotating the blades, which eventually end up damaging them.
The best quality larger food processors have at least 450 Watts, but more affordable smaller models have a lesser power of 350 W. However, if it is a smaller model, then 350 Watts is also good enough. The larger capacity bowl models with 350W motors are most likely to get damaged soon.
Working Speed
The higher the number of speeds an appliance has, the more versatile it is, and the more control the user has over it. More than one speed usually means a high and a low speed for different requirements and ingredients. Pulse helps to process the food along with its speed of it.
Most expensive models have the two speeds plus pulse feature, making them very versatile and comfortable to work with. The cheaper models do not always have two speeds, but most have one. Some of them have a pulse feature, but most do not.
Attachments and Blades
One will find a reversible disc where one side shreds and one side slices in most bigger and more expensive food processors. This is to maximize usage in a small space and is a great feature a well. The S-Chopping blade is a standard feature in all food processors, regardless of size, shape, and price.
Small and cheap food processor models do not have a reversible disc but a one-sided one with either a shredder disc or a chopping disc. Some more expensive and larger models have a bowl scraper as well, which is a great plus.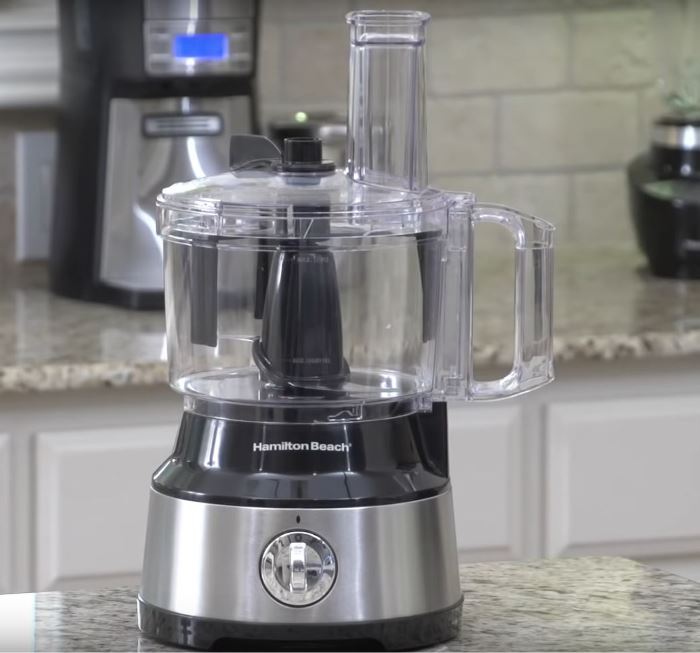 Frequently Asked Questions
I am looking for a food processor with a glass bowl. Which one should I choose?
None of the reviewed food processors have a glass bowl. Actually, I was able to find only one food processor with a glass bowl on Amazon – the small 4 cup BLACK+DECKER EHC3002B. All other models have BPA-free bowls.
How Much Are 14 Cups?
Did I mention that fourteen cups is a lot of stuff?
14 cups of shredded vegetables or fruit
12 cups of chopped or cooked pureed veggies or fruit
12 cups prepared pureed fruit or vegetables
10 cups of thin liquid, e.g., soup
7 cups nuts for home-made nut butter
6 cups of flour or 4 cups whole wheat for bread dough
Dough for 8 dozen average size chocolate chip cookies
9-inch cheesecake recipes
8-inch cake layers
2 pounds of chopped or pureed meat or fish
What is the best food processor with a spiralizer?
Coming soon!
Conclusion
Purchasing any kitchen appliance can be a challenge in 2023, given the immense amount of options. And a quality food chopper is no different.
This is why from our own opinions to customers' views to all the pros and cons of each product, we have it all here so we can reduce one less headache by providing you with all your affordable options.
If you are looking to buy one for yourself or a loved one, do not hesitate to pick any inexpensive and affordable food processors reviewed above. You will not be disappointed.