Rachael Ray Cookware Review | Rachael Ray Stainless Steel & Hard Anodized Nonstick Pots And Pans Sets
If you have a passion for cooking or you need great kitchenware for your daily food preparation, you have to read my Rachael Ray cookware reviews to learn why these utensils are great for your kitchen.
Not only do they cook your food uniformly, but they also look great on your rack. These are beautiful pieces of kitchenware that you will surely love.
The manufacturers labored to combine quality materials for durability and functionality with style.


Great food will become extra special when it is cooked with quality kitchenware. Leave out the taste of chipped Teflon and opt for non-stick pans that do not get scratched easily.
Rachel Ray kitchen utensils are made of hard-anodized aluminum that evenly cooks food. These are also very easy to clean. You can get a Stainless Steel option as well.
Look forward to cooking with your Rachel Ray enamelware and get your kitchenware now!
Rachael Ray Cookware Types
These are the types of cookware you can get from Rachael Ray:
Rachael Ray stainless steel cookware
Rachael Ray cast iron cookware
Rachael Ray hard anodized aluminum cookware
Rachael Ray porcelain enamel aluminum cookware
Rachael Ray Hard Anodized Cookware
Rachael Ray 87375 10-Piece Hard-Anodized Aluminum Cookware Set
Rachael Ray 10-Piece Hard Anodized Aluminum Cookware Set, Orange (87375)Check Price
If you are a starting chef or a housewife who loves to cook, you might want extra pieces of the best cookware set aside from the basic ones.
This orange 10-Piece Anodized Set is composed of ten pieces of quality enamelware for great food.
Aside from two saucepans (1 ½ qt and 3 qt), a stockpot (6 quarts), a sauté (3 quarts), and a skillet (8-inch), it has another 10-inch French skillet.
Stop worrying about chipping the Teflon. These pots and pans have a non-stick interior finish for easy cleaning and food release.
The hard-anodized aluminum resists scratches and also distributes the heat evenly for uniform food preparation and reheating.
The 10-piece unit is available with Orange handles (P/N 87375), and Marine Blue handles (P/N 87650).
Hard Anodized 14-Piece Nonstick Orange Cookware Set #8700
Rachael Ray Hard Anodized Nonstick 14-Piece Cookware Set, OrangeCheck Price
The love for cooking extends to a passion for quality utensils, and that is precisely what the Orange 14-Piece Nonstick Kitchenware Set offers. When your family has a gathering, or it's the holidays again, and you would be cooking in bulk, this 14-piece set is perfect for such occasions.
There are four saucepans of different sizes: 1 2/2, 2, 3, and 4 ½ quarts. There is also a large stockpot that can accommodate 6 quarts of your delicious recipes as well as two skillets (8-inch and 10-inch). To complete that is the 4 ½ quart sauté pan.
All pans have clear covers. These are all oven-safe for up to 400 degrees Fahrenheit.
Agave Blue Hard Anodized 12-Piece Cookware Set 87641
Rachael Ray Cucina Hard-Anodized Aluminum Nonstick Pots and Pans Cookware Set, 12-Piece, Gray, Agave Blue HandlesCheck Price
If you are starting out in life and you need essential pans and pots, this great 12-Piece collection with agave blue handles would be enough for you.
It consists of 2 covered saucepans, a 1-qt, and a 3-qt, a 6-qt covered stockpot, a covered 3-quart sauté pan, and two open skillets, 8.5 and 10 inches.
The covers are clear tempered glass, so you watch over your food as it simmers or boils.
You can now monitor your cooking without removing the lid every few minutes.
The handles are made of silicon rubber that stays cool. The secure grips are in the color blue, so they will also match your blue décor.
Related Reading: Storing Food In Pots And Pans In Refrigerator
Rachael Ray Stainless Steel Cookware
Rachael Ray Create Delicious Stainless Steel 0-Piece Cookware Set 70413
Rachael Ray Create Delicious Stainless Steel Pots and Pans Cookware Set, 10-Piece, Red HandlesCheck Price
Made from stainless steel, this cooking utensil collection contains a 1 Qt. open saucepan and 2 Qt. covered saucepan, a 6 Qt. Covered Stockpot, a 3 Qt. Covered Saute, 10.25″ deep skillet, and solid wood spoon and turner. All items are safe for cleaning convenience.
These cooking utensils are made with a thick base so that heat can be distributed evenly throughout the entire surface. The handles are rubberized to facilitate easy maneuverability and easy handling without causing any damage to the one holding them.
Most importantly, to increase the accessibility to monitoring food, the lids are glass-made, heat resistant, and near transparent.
Available colors:
Red handles – 70413
Blue handles – 70412
Rachael Ray Porcelain Enamel Cookware
Rachael Ray Classic Brights 14-Piece Hard Porcelain Enamel Nonstick Cookware Set
Rachael Ray Classic Brights Hard Enamel Nonstick 14-Piece Cookware Set, RedCheck Price
Equipped with grips for handles, the kitchen utensil set contains 14 pieces, including a carbon steel baking sheet, 2 covered saucepans, a 6 Qt covered stockpot, a 3 Qt sauté pan with lid, 8.5in and 10in skillets covering all essential fields of cooking, baking, and reheating.
Pots and pans are covered with ceramic porcelain enamel.
The transparent glass lid is considered shatter resistant and locks the moisture and heat inside. The utensil collection also includes nylon and silicone prep tools – a dishwasher-safe spatula, a slotted turner, and a spoon.
As long as the heat is below 350°F, the utensils will be immune to any form of damage in the oven. And, when serving the cooked meal, this set helps present the dish in the most visually attractive way possible.
Available colors:
Red Gradient – 16223
Sea Salt Gray Gradient – 18801
Orange Gradient – 16222
Marine Blue – 17638
Red Gradient – 16223
Related Reading: How To Dispose of Old Pots and Pans
Comparisons
Rachael Ray vs Paula Deen Cookware
People often want to know about comparing Rachael Ray, and Paula Dean sets.
If it is something you also are interested in, drop me a line, and I will have a look.
I am also working on these comparisons of cookware types from Rachael Ray:
enamel vs hard anodized
hard anodized vs hard enamel
porcelain enamel vs hard anodized
Rachael Ray vs Wolfgang Puck Cookware
Are you interested in seeing how Rachel Ray stands against the Wolf Gang Puck cookware brand? Let me know!
Where To Buy Rachael Ray Sets?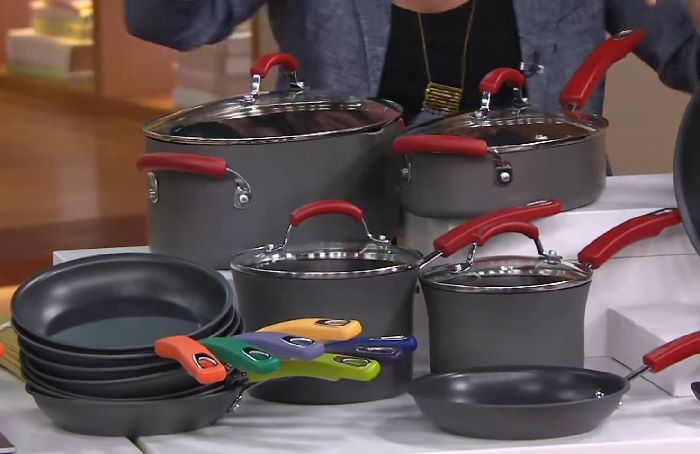 So, even if you are not a huge fan of Rachel Ray's personality, you will be a big fan of her pans and pots.
Enjoy your home cooking with these sets. Meal preparation won't be this beautiful without this kitchenware.
BTW did you know that you can get great deals and prices for Rachel Ray products online?
Frequently Asked Questions
What types of cookware Rachael Ray sell?
Racheal Ray sells Baker, Casseroles, Cookware Sets, Dutch Ovens, Everything Pans, Frying Pans, Griddles, Grill Pans, Mixed Tool Sets, Roasters, Saucepans, Sauciers, Sautés, Steamer Sets, Stir Frys, Stockpots, and Woks.
Conclusion
I am reviewing the latest additions to the product lineup, so visit my Rachael Ray cookware review in a couple of weeks and learn about the newest models!