Wolfgang Puck Cookware Review | Wolf Gang Puck Pots And Pans Reviews (Updated Dec 2022)
The quality of your cookware has a significant impact on your dishes. The material, the quality, the size, every little detail matters in cooking utensils if you want to serve up the best meal possible.
One of the most renowned kitchenware brands worldwide is Wolfgang Puck Cookware. The brand is by the chef Wolfgang Puck and is one of the many companies he owns.
People are often asking – is Wolfgang Puck cookware any good?
Every single product in this line is made to be used by professionals and at home alike, for each product is designed to make cooking a simpler and more fun activity.
The less trouble one goes through while cooking, the more fun the activity becomes for them, and the cooking utensils line provides precisely that.
With numerous sets of numerous finishes, materials, designs, and sizes, there will undoubtedly be at least one for every cooking enthusiast out there.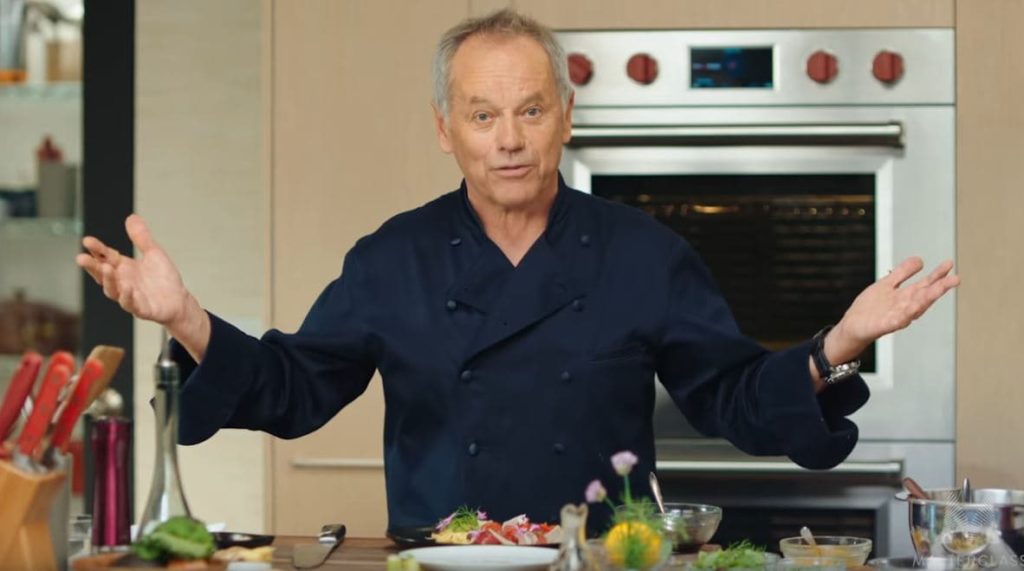 Wolfgang Puck Stainless Steel Cookware
When it comes to pots and pans, stainless steel is considered to be the best material for it.
The product line has many different collections of kitchen utensils, from small sets to sets with almost 20 pieces so everyone can get what they want.
The kitchen utensils are made from the best alloy that can go onto any stovetop, including induction (selected models only – check product description before buying!).
Alloy steel is used in households and is the material professional chefs prefer mostly because the metal does not leach into the food even at high heat. This material does not chip, rust, or stain easily and will go scratch-less for long time to come and is super durable.
Lastly, the WP stainless steel cookware sets are a sight to the eyes because of their ergonomic and attractive designs. These could potentially replace your serving bowls.
Related Reading: Storing Food In Pots And Pans In Refrigerator
Wolfgang Puck Stainless Steel Cookware 10 Piece (WPDS10PC)
This set is not only beautiful to look at but very functional as well. The set includes a one, and a half quart covered saucepan, a three-quart saucepan that has pour spots and a colander cover, an 8-inch and 10-inch omelet pan so you can have your omelets however you like it, a 10-inch covered sauté pan, and last of all an 8-quart covered stockpot.
Every single one of the products in the set is made of heavy-gauge alloy which helps these utensils to withstand heavy-duty use.
The bottom of all of these products is encapsulated aluminum. The aluminum lets the heat transfer a lot faster than your average metal. The results are faster and much more even heating which helps to cook dishes to perfection.
The handles provided with every item in the set are also made from steel. Except these are double-riveted and cast iron which overall helps you to get a good and secured grip while cooking.
Some of the pieces in the set also come with a tempered glass lid which helps to trap in the heat and moisture, eventually keeping all your nutrients intact. The items are oven proof up to 400°F and also dishwasher safe.
Customers have said that these are not non-stick even though they are made of alloy, a common misconception amongst most buyers. Although a lot of customers have complained about chipping, others have said it is only due to using a lot of extra heat which this particular utensil does not require.
Because of the encapsulated aluminum base, a minimal amount of heat is needed to get properly cooked meals, and any more can end up damaging the product, or at least its bottom.
Wolfgang Puck 18-Piece Stainless Steel Cookware Set (SWC1815)
When talking about large pot and pans collections, we all know the best ones are made of steel. The brand offers several lines of pots and pans, and the Wolfgang Puck SWC1815 18 Piece kitchenware set is one of them. Being one of their largest collections, this is loved by families, especially big ones, and is a standard gift item for large families as well.
This large set of 18 comes with a 1-quart saucepan and a 3-quart saucepan that have to pour spouts and colander covers on both for ease of use. The two sizes are also convenient when it comes to cooking different types of meals. There are a 5-quart Dutch oven and an 8-quart stockpot; both come with glass covers, so it is easier for the cook to see how their food is coming. The collection also sports an 8-inch omelet pan and an 11-inch sauté pan which also comes with glass covers.
Lastly, there are six additional tools to make cooking more of a more relaxed job. These tools include a slotted spoon, a solid spoon, a sold tuner, a slotted turner, a whisk and a fork.
Customers who have bought this kitchenware have said that the glass lids will shatter if too much heat is applied, and also have recommended not to wash while the pots are hot as that might end up destroying the material.
Other than that, most reviews are positive about the kitchenware being beneficial and cooking meals very evenly throughout. However, these are not induction stove friendly, so they will have to be used on regular stoves.
Wolfgang Puck 27-piece Stainless Steel Cookware Set
Whatever the occasion might be, we all need food, and for a bunch of people, you need an army of cookware. The Wolfgang Puck 27 piece kitchenware collection is one of the more massive sets this brand offers and is also the reason that this set is loved by customers.
This big collection comes with a lot of things, namely an 8-inch nonstick omelet pan which stands out because a lot of other models do not come with a nonstick base. A 10-inch sauté pan with a lid, an 11-inch French skillet, a 12-inch everything pan with lid, and 12-inch Wok with lid, a 1,2, and 3-quart saucepan with lid and a 6-quart stock pot also with a cover. Other than these, this set also includes tableware.
Every pot and pan in this set is made of pure chromium steel, while the bases are encapsulated aluminum discs for better, faster, and much more even cooking.
All the lids that come with every individual pot are composed of tempered glass and metal, and so are all the other tools. The handles are made of Y-cast steel. Overall the exteriors of these pans and pots have a beautiful mirror finish which makes it look very fancy and unique for kitchenware, while the insides have a matte finish.
All these are oven safe up to 350 degrees for the lids, and 400 degrees for the pans and are dishwasher safe, although it is recommended to hand wash to maintain the shine. Reviews about this product are pretty much all positive, and customers love every bit of it.
Related Reading: Rachael Ray Cookware Reviews
Wolfgang Puck Hard Anodized Cookware Sets
Aluminum is an excellent conductor of heat and one of the most commonly used materials for kitchen utensils. For that reason, even steel sets use aluminum as the bottom for an evener cooking and heat distribution. Amongst the many collections and types of kitchenware that Wolfgang Puck has, there is also a line of hard anodized kitchen utensils.
In normal conditions, aluminum is considered to be toxic, but because these are anodized the aluminum does not get into the food, so it is not harmful.
What makes these anodized sets so great are that they are super hard-wearing and are one of the most long-lasting materials used for making kitchenware. On top of that, it is very affordable as well.
These sets do not chip or peel, and you do not have to use them light-handedly like you would with other materials.
Wolfgang Puck 12 Piece Hard Anodized Cookware Set (SWCHA12)
Anodized kitchenware sets are by far one of the most common and best cookware set types to be used by people at home. Renowned chef Wolfgang Puck has an entire line of high standard utensils, and the Wolfgang Puck SWCHA12 12 Piece Hard Anodized Set is one of them.
This is a comprehensive kitchen utensil collection that includes a whole range of items, so you need not buy anything else for cooking and reheating your premade meals.
This 12-piece set sports a 1.5 quart and 3-quart saucepan with glass lids, an 8-inch and 10-inch skillet, a 3.3 quart sauté pan with a lid, a 12 inch everything pan with a glass lid, and an 8-quart stockpot with a glass cover.
The base has an added layer of alloy steel which adds to the durability of the already hard-wearing product. The exterior is also resistant to machine washing, so you can just put anodized cookware in the dishwasher without concern.
These items can also be used in the oven, which means you can pop them in without worry. The handles are made of metal and are double riveted which adds strength and durability. The glass lids are all composed of tempered glass which allows the cook to see their dish.
All of these are made of heavy gauge anodized aluminum that can be put on any stovetop for use, and this includes an induction top as well.  The reason why this is so famous is that these are very affordable, and they cook food very evenly and in a small amount of time.
The insides of these kitchenware items feature Eterna nonstick, a form of topcoat from Whitford. This coat is convenient while cleaning, and of course during cooking as well as nothing sticks to the sides.
Other Goods From Wolfgang Puck
While many home cooks know about Wolf Gang Puck pots and pans, many people are unaware of the wide selection of other products from this brand.
I am considering adding a couple of chapters dedicated to Wolfgang Puck dutch ovens and frying pan and stockpot sets.
Please let me know in the comments below if you think you would benefit from this information.
Frequently Asked Questions
Where to buy Wolfgang Puck cookware?
You can buy WP pots and pans sets in stores like HSN, Sam's Club, Bed Bath & Beyond, and even on eBay, but I suggest to start by checking out what is available on Amazon.com.
Who makes Wolfgang Puck cookware?
As far as I have found, Wolfgang Puck cookware is made in China.
Can I use the WP pans to reheat meals?
Yes, you can use Wolfgang Puck pans to reheat meals. Be sure to follow the manufacturer's instructions on how to properly reheat meals in the pans.
Related Reading: How To Dispose of Old Pots and Pans
Conclusion
This Wolfgang Puck cookware review is far from complete. I am planning to add sections about Wolfgang Puck's ceramic cookware.
Wolfgang Puck cookware is an excellent choice for anyone who wants to make delicious meals with ease and convenience. The cookware is made from high-quality materials and designed to provide even heat distribution and superior non-stick performance.
Whether you are a beginner or a professional chef, Wolfgang Puck cookware has something to offer. With its superior quality and design, Wolfgang Puck cookware is sure to make your cooking experience a success.